Boston Red Sox:

Decision 2013
November, 5, 2012
11/05/12
10:21
PM ET
BOSTON -- Now that the
Boston Red Sox
have finalized two of the organization's top priorities this offseason -- hiring John Farrell as manager and signing designated hitter
David Ortiz
to a two-year contract extension -- general manager Ben Cherington can focus on the rest of the coaching staff and roster moving forward.
There have been plenty of phone conversations already this offseason, and Cherington will join his counterparts at the annual GM meetings on Wednesday and Thursday in Indian Wells, Calif.

The main purpose of the meetings will be to build the foundation for possible trade deals or free-agent signings as baseball's annual winter meetings approach Dec. 3-6 in Nashville, Tenn.
"The offseason is a bit of a mosaic," Cherington said Monday. "You've got to look at one piece and how it affects the other, but at some point the other balls have to fall. David was a big one and we'll try to identify the next one."
Now that Ortiz is signed, the Red Sox will continue dialogue with veteran free-agent outfielder
Cody Ross
. Unlike Ortiz, the Red Sox did not tender Ross with a qualifying offer and he's free to negotiate with all other clubs at this point. That will make it tougher for the Red Sox to re-sign Ross and the club already has started to explore other options just in case.
The Red Sox have been talking with Ross about a new deal since July, but as much as they express their love for him, that affection
has yet to translate into a three-year offer
, according to sources familiar with negotiations told ESPNBoston.com's Gordon Edes.
"We've had a number of conversations," Cherington said. "That door will remain open and we'll continue to talk, but obviously once you're in free agency, he's got opportunities to talk to other teams and we fully expect him to do that."
Other points of interest:
* The Red Sox have yet to hire a new pitching coach. Cherington said Monday that the team is getting closer, but isn't quite there yet. His hope is that a hire could be finalized by the end of the week. Veteran baseball man Rick Peterson is the front-runner for the position, a source tells ESPN Boston's Gordon Edes, but there are others in the mix, including Marlins pitching coach Randy St. Claire, White Sox bullpen coach Juan Nieves and Royals bullpen coach Steve Foster.
Cherington also has indentified some potential candidates he wants to interview for the vacant hitting coach position. That process could begin during the GM meetings, but Cherington hopes to have a better grasp on the situation by next week at the latest.
"We're moving along at a pretty good speed," Cherington said.
* Cherington and Farrell have made the starting rotation a priority. The team is content with
Jon Lester
,
Clay Buchholz
,
Felix Doubront
and a healthy
John Lackey
for 2013, but also is considering other options.
[+] Enlarge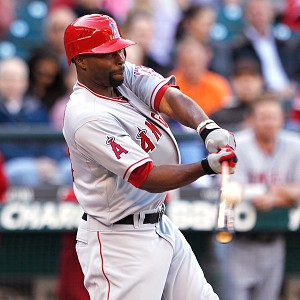 Elaine Thompson/AP PhotoFree agent Torii Hunter could be a good fit for the Red Sox on and off the field.
"We're considering all sorts of pitching options, both free agents and also I'm sure we'll talk to some teams about a trade," Cherington said. "We're not ruling out acquiring someone we would control longer, but what we want to do is add to the 2013 rotation and we'd like to do that in a way that's smart for the long term too. We do believe we have better upper-level starting pitching depth than we did a year ago and we want to make sure that continues to mature and we eventually get some of those guys in the rotation, but we'd like to add somebody for 2013."
* If Cherington is focused more on the free-agent market as opposed to trades, he could be in the market for a veteran presence like free-agent outfielder
Torii Hunter
. The 37-year-old Hunter could be a solid choice to have both on and off the field. Going in this direction would allow the development and growth of prospects
Ryan Kalish
, Jackie Bradley, Jr. and Bryce Brentz.
"It's the beauty of these decisions," Cherington said. "In this game, sometimes young players don't come up and do what you want them to do right away and you have to go off your conviction and you're collective organizational wisdom about what those guys are and what they can do. If we're committing to a young player that means we believe in them and we believe that they'll make the adjustments over time to become good big leaguers.
"That's not the case with everyone, but this offseason we're going to do the best we can to improve the team, address the holes we have without putting up too many artificial barriers to the young players we believe in the most. We'll see where it ends up."
* Another intriguing possibility could be the return of
Kevin Youkilis
. The veteran corner infielder was traded to the
Chicago White Sox
last June, but now that Bobby Valentine is no longer managing, the Red Sox have begun their due diligence and standard background conversations with Youkilis and his agent, Joe Bick, about a possible return since the club needs a first baseman. He's not a major target at this point, but Youkilis could be an interesting option.
Cherington has a lot remaining on his offseason to-do list and he's hoping to make another major dent at the GM meetings this week.
"We have to keep our options open as much as we can, knowing we've got a lot of work to do," Cherington said.
November, 1, 2012
11/01/12
2:45
PM ET
On each weekday until baseball's GM meetings Nov. 7, we will spotlight one key decision the Red Sox need to make this offseason that will help determine the success or failure of the 2013 team.
Today's topic: Who will play first base for the Red Sox in 2013?
That is a question no one figured to be asking until the end of the decade, after the Red Sox signed
Adrian Gonzalez
to a seven-year, $154 million contract extension in 2011 that took him through the 2018 season. But Gonzalez, who was supposed to be the anchor of the Sox lineup for the future, was traded to the Dodgers in August, a shocking reversal of direction for a franchise that thought it had landed the most attractive first-base option out of a field that included
Albert Pujols
,
Prince Fielder
,
Ryan Howard
,
Mark Teixeira
and
Joey Votto
.
Now AGon is gone, and players of his caliber do not appear available on either the free-agent nor trade market.
Lars Anderson
, anyone? (No, wait, he's gone, too, traded to the
Cleveland Indians
.)
Defining the decision: In the absence of superstar options at the position, how do the Sox assess the market for their next first baseman?
[+] Enlarge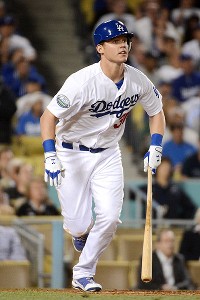 Harry How/Getty ImagesJerry Sands, a first baseman the Red Sox acquired in the blockbuster with the Dodgers, was L.A.'s minor league player of the year in 2010.
The Red Sox actually acquired two first basemen from the Dodgers as part of the Gonzalez deal,
James Loney
and
Jerry Sands
. Loney, a huge disappointment for the Dodgers, hit just 4 home runs in 114 games for L.A., and was worse in 30 games here, posting a .574 OPS. He gave the Sox little reason to pursue him in free agency.
Sands, however, who was one of two players to be named later in the Gonzalez deal, could be a sleeper. He's a 6-foot-4, 225-pound right-handed hitter who as recently as 2010 was the Dodgers' minor-league player of the year, and considered one of the team's best prospects. The 25-year-old played 61 games for the Dodgers in 2011 and last season was one of the team's last cuts in spring training, where he struggled. But in Triple-A Albuquerque, admittedly a hitters' yard, he has hit 55 home runs combined in the last two seasons, and had a terrific second half in 2012, posting a .354/.422/.635/1.058 batting line for the Isotopes. He also hit two grand slams in a game.
Sands plays first and the outfield, so at worst he offers some organizational depth. At best, he could be in the mix for either first base or a corner outfield spot. "If he ever figures out his swing, he'll hit a thousand home runs,'' one National League talent evaluator said.
If Napoli could promise Boston he would hit other big-league teams the way he has wasted Sox pitching, especially at Fenway Park, the Red Sox should sign the free-agent catcher/first baseman at 12:01 a.m. Saturday, when free agents are free to talk to other teams.
Napoli has been an absolute beast against the Sox, with 15 home runs in just 145 plate appearances and a 1.075 OPS. At Fenway Park over the last three seasons, he has 6 home runs in just 48 plate appearances (1 every 8 PA), and in an otherwise down season in 2012, he went 6 for 13 with 3 home runs and a 1.731 OPS in the Fens.
Napoli, who turned 31 on Wednesday, batted just .227 last season, a big drop from the .320 he hit the year before. But he hit 24 home runs, and would give the Sox a slugging right-handed bat behind
David Ortiz
.
But Napoli, who was paid $9.4 million in 2012, is one of the few available free-agent options at two positions, catcher and first base, so it probably will take an aggressive bid. If the Sox can get him for short years, they'd have to be interested.
Option B: Trade for Kendry Morales
With Pujols their first baseman, the Angels are likely to listen on offers for Morales, the 29-year-old Cuban who missed 22 months after breaking his left leg in a celebration at home plate. Morales's performance last season (26 doubles, 22 home runs, .787 OPS) did not come close to matching his last full season with the Angels, 2009, when he had 43 doubles and 34 home runs with a .924 OPS, but some allowance should be made for the long layoff. The Angels would probably look for starting pitching or bullpen help in return, but Morales is just a year away from free agency, which may keep the price reasonable.

Other free agents include the Yankees'
Nick Swisher
, who figures to command more dollars and years than the Sox are willing to go, and
Adam LaRoche
, who made a cameo appearance for the Sox before they traded for
Victor Martinez
, then had a breakout season with the Nationals this season. LaRoche just declined his mutual option and became a free agent, but Nats are expected to make a big push to re-sign him.
Long shot: Bring back Youk
With Bobby Valentine out of the way and
Kevin Youkilis
available as a free agent, there is yearning in some precincts of the Nation that the Sox bring back their former corner infielder. That possibility has not been discussed, at least by Youkilis's camp. Youkilis will be 34 next March, his style of play has taken a toll on his body, and his best years are behind him. He might still have another good year or two in him, but it probably makes sense for both sides to move on.
Your turn: What's the best option for the Red Sox?
We've outlined the possibilities, now tell us what you would do if you were in Ben's shoes. Vote in the poll above and leave your more detailed thoughts in the comments section.
October, 31, 2012
10/31/12
4:03
PM ET
On each weekday until baseball's GM meetings Nov. 7, we will spotlight one key decision the Red Sox need to make this offseason that will help determine the success or failure of the 2013 team.
Today's topic: How can the Red Sox beef up the bullpen?
For the majority of the 2012 season, the Red Sox's bullpen did its job and was one of the bright spots during a dismal season, despite ranking 11th of 14 American League teams in relief ERA (3.88). Boston's rotational struggles forced relievers into action sooner than the team would have liked on most nights. As a result, the Red Sox finished sixth in the AL in innings pitched by relievers. The Red Sox bullpen fanned 475, which ranked fourth in the league.
Defining the decision: Add from internal options or shop for free agents?
More than any other part of the team, the bullpen should be in good shape moving forward.
If
Andrew Bailey
is healthy, he will be the team's closer. Bailey missed the majority of the 2012 season, his first in Boston, due to a thumb injury he suffered during spring training that needed surgery. He returned in late August and finished with six saves in 19 games (15 1/3 innings).
[+] Enlarge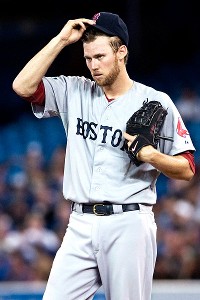 AP PhotoWhether John Farrell can turn Daniel Bard back into a dominant late-inning reliever is the biggest bullpen question of the offseason.
High on John Farrell's to-do list will be to help right-hander
Daniel Bard
return to dominance as a late-inning guy. For 2 1/2 seasons, Bard was considered one of the best eighth-inning pitchers in the game, compiling a combined 2.88 ERA and 213 strikeouts in 197 innings from 2009 to 2011.
But in 2012 he lost his way after transitioning to the starting rotation, failing miserably in that role, and then stumbling again after returning to Triple-A and eventually the majors in a relief role. To put his struggles in perspective, consider this: He walked 72 batters in 91 1/3 innings between the PawSox and Red Sox in 2012. From 2009 to 2011, he walked just 76 in 197 innings. New manager (and former Red Sox pitching coach) Farrell believes Bard can be salvaged. If he's correct, Bard could be one of the biggest additions the team could make this winter.
Right-hander
Alfredo Aceves
was the team's closer for most of 2012 and recorded 25 saves in 69 games (84 innings). A late-season suspension and demotion soured his relationship with the team, but that doesn't mean he won't be back. He is still under the organization's control and Farrell said he is impressed with his versatility. If Aceves is not converted into a starter, he could serve as the team's long reliever, a role in which he thrived in 2011.

Right-hander
Junichi Tazawa
is in a similar situation as Aceves and could work as either a starter or reliever. Tazawa ranked second in the AL among pitchers with at least 40 innings pitched with a 1.47 ERA and allowed only seven earned runs in 44 innings. He struck out 45 and walked only five during that stretch, which was the best strikeout-to-walk ratio in the majors (minimum of 40 IP).
As for potential lefties out of the 'pen,
Rich Hill
,
Andrew Miller
,
Craig Breslow
and
Franklin Morales
could fit that bill. Morales might also challenge for a role in the starting rotation.
Miller in particular will be an important piece to the puzzle again in 2013. He was outstanding last season and held opposing left-handed hitters to a .149 average, allowing just one extra-base hit by a lefty all season. He stranded 39 of 46 inherited runners and recorded a new career single-season mark with 13 holds.
The remaining right-handers that will battle for a spot include
Mark Melancon
,
Scott Atchison
,
Chris Carpenter
,
Clayton Mortensen
and possibly
Vicente Padilla
, who is a free agent.
Option A: Add to the rotation externally; use internal assets in bullpen
The bullpen's makeup depends largely on what the Red Sox add to the rotation. If the Sox add a couple of quality arms to the starting staff, that would mean guys like Morales, Aceves and Tazawa could stay in the bullpen.
No doubt Aceves would be a solid starter, but the Red Sox would be better off keeping him in the bullpen because of his ability to work multiple innings.
The idea of adding some younger arms is also an intriguing option for Boston.
Rubby De La Rosa
, the 23-year-old right-hander the Red Sox acquired from the
Los Angeles Dodgers
, is considered a starter but could be a reliable reliever for the Red Sox.
Option B: Add short-term, short-money relievers via free agency
If the Red Sox decide to fill the rotational vacancies internally (Morales? Aceves? Tazawa?), that could force them to look to the free-agent market to round out the bullpen.
Among the intriguing options available are
Jonathan Broxton
and
Joakim Soria
, both of whom are former closers who will be looking to cash in. It's more likely the Sox would fill the available slots with short-term, short-money contracts.
Long shot: Shake it up and add Soriano
Now here's something really interesting. With
Rafael Soriano
opting out of the final year of his contract ($14 million) with the
New York Yankees
, the Red Sox could pursue the 32-year-old right-hander who notched 42 saves in 45 opportunities filling in for
Mariano Rivera
in 2012.
This truly would be a long shot, however, because the Yankees would still make a qualifying offer, which means Boston would lose its first-round pick and New York would gain a "sandwich" pick. Soriano is also surely looking for a closing gig, which currently is unavailable in Boston (unless the Sox decide Bailey isn't their guy).
Plus, can you picture Ben Cherington spending upward of $14 million per season for a reliever?
Your turn: What's the best option for the Red Sox?
We've outlined some possibilities, now tell us what you would do if you were in Ben's shoes. Vote in the poll above and leave your more detailed thoughts in the comments section.
October, 30, 2012
10/30/12
1:13
PM ET
On each weekday until baseball's GM meetings Nov. 7, we will spotlight one key decision the Red Sox need to make this offseason that will help determine the success or failure of the 2013 team.
Today's topic: How do the Red Sox improve their starting rotation?
Red Sox starters ranked 27th in major league baseball with a 5.19 ERA, with only the Indians, Twins and Rockies worse, three teams that lost even more games than the Sox in 2012.
Franklin Morales
was the only Boston starter with a sub-4.50 ERA, and he made just nine starts.
Defining the decision: Do the Sox have the pieces internally to improve or are big changes needed?
The Sox already have made one change, and it is a significant one, bringing back former pitching coach John Farrell as the team's manager. When the Red Sox won the World Series in 2007, Farrell's first season as pitching coach, they had the fourth best ERA in baseball, 4.21, and a year later lowered that to 4.02, eighth best. That ERA was 4.17 in Farrell's last season, 2010.

On the day he was introduced as Sox manager, Farrell insisted that the team has a strong core to build around in
Jon Lester
,
Clay Buchholz
,
Felix Doubront
and
John Lackey
, who will be returning next season after missing the 2012 season with Tommy John reconstructive elbow surgery. Skeptics abound, especially with Lester coming off the worst season of his big-league career and Lackey having shown little in his first two seasons in a Boston uniform, though it's possible he has never been healthy here. Lackey looked to be in very good shape by the end of the summer, though, and impressed the Sox with his throwing sessions.
Lester and Buchholz are healthy, Doubront made impressive strides in his first full season in the big leagues, and Lester already has expressed great enthusiasm at being reunited with Farrell, who he credits for molding him during his successful run as one of the most consistent left-handers in the American League.
Still, the Sox will need much more than these four going forward, a fact recognized by both GM Ben Cherington and Farrell when they spoke of acquiring additional pieces.
Option A: Add from within
The Sox could promote Franklin Morales and
Alfredo Aceves
to full-time starters, convert
Junichi Tazawa
from reliever to starter, and give long looks to the two pitchers who came in the Dodgers megadeal, Allen Webster and Rubby de la Rosa.
[+] Enlarge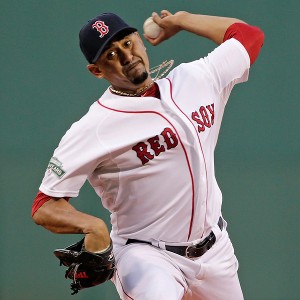 AP Photo/Charles KrupaIs Franklin Morales, who was shut down for the 2012 season's final five weeks with a "tired" shoulder, ready to be a starter?
Morales was brought along slowly in spring training because of shoulder weakness, then was shut down for the season's final five weeks with a "tired" shoulder, so he comes with questions heading into next season.
On performance alone, Aceves probably should have won a starting job coming out of camp, but
Daniel Bard
got the nod and when
Andrew Bailey
went down, Aceves became the closer. He also clashed openly with manager Bobby Valentine and was suspended, leading to suggestions he would be persona non grata going forward. That doesn't appear to be the case. Aceves' versatility still holds great appeal to the Sox, and Farrell appears on board with the notion of keeping him. But because of his ability to pitch multiple innings out of the 'pen, the Sox may be inclined to keep him there.
The most intriguing candidate may be Tazawa, who returned from Tommy John surgery to make a sensational impact on the bullpen, posting a 1.43 ERA while striking out 45 and walking just five in 44 innings. Of the last 46 batters he faced over a span of 15 appearances, Tazawa allowed just four to reach, on three hits and a walk. He allowed just one home run all season, to
Adrian Beltre
of the Rangers.
Tazawa, 26, has all the makings of a dominant setup man/potential closer. But he began his career with the Sox as a starter and has a three-pitch mix (fastball, splitter, slider) that would lend itself to returning in that role, although he questioned whether he has enough arm strength to maintain his velocity as a starter.
What the Sox do with Tazawa may be impacted by their plans for de la Rosa, who touched 100 miles an hour before undergoing Tommy John surgery last year. De la Rosa's velocity appeared back upon his return to the Dodgers, but there is some debate over whether his future is as a starter or closer type.
The other pitcher acquired from the Dodgers is Webster, who probably needs more time in the minors but like homegrown prospect Matt Barnes figures to help the Sox by 2014 at the latest, if not by the end of next season.
Option B: Look for help in the free-agent market and through trades
The Red Sox are not expected to be players for the high-end starters on the free-agent market, which include
Zack Greinke
,
Anibal Sanchez
,
Kyle Lohse
,
Jake Peavy
and
Edwin Jackson
.
Dan Haren
and
Ervin Santana
could join that list if the Angels don't exercise their options. All are expected to command multiyear deals beyond what the Red Sox are willing to give, though Sanchez, who originally belonged to the Sox before being part of the trade with the Marlins that brought back
Josh Beckett
and
Mike Lowell
, might be tempting.
[+] Enlarge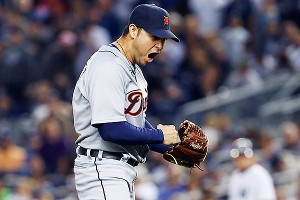 Alex Trautwig/Getty ImagesHow would Anibal Sanchez look in a Red Sox uniform?
The Sox would prefer to acquire pitchers that would require a shorter-term commitment, and thus may be more active on the lower end of the free-agent market. That could mean pitchers such as
Francisco Liriano
(elbow issues),
Brandon McCarthy
(shoulder),
Jeremy Guthrie
or
Carlos Villanueva
(who Farrell knows from Toronto).
The Sox also will look into the trade market while not wanting to part with top prospects.
Matt Garza
,
Wandy Rodriguez
,
Josh Johnson
,
Paul Maholm
and
Mark Buehrle
could be names worth exploring.
Long shot: Lee or Lincecum
Cliff Lee
or
Tim Lincecum
? Both are in the $20-million-plus range, Lee for three more seasons, Lincecum for one more before becoming a free agent. Neither the Phillies nor Giants are likely to move Lee or Lincecum, respectively, but they're both worth asking about.
Your turn: What's the best option for the Red Sox?
We've outlined the possibilities, now tell us what you would do if you were in Ben's shoes. Vote in the poll above and leave your more detailed thoughts in the comments section.
October, 29, 2012
10/29/12
12:53
PM ET
On each weekday until baseball's GM meetings Nov. 7, we will spotlight one key decision the Red Sox need to make this offseason that will help determine the success or failure of the 2013 team.
Today's topic: Who will play LF and RF for the Red Sox in 2013?
The Red Sox need to shore up the left field position for next season and beyond. It's a position GM Ben Cherington and new manager John Farrell will focus on this offseason. But who ends up in left field could have a lot to do with who plays right field.
Defining the decision: LF was a constant concern for the Red Sox in 2012.
With
Carl Crawford
limited to 31 games due to injuries and ultimately traded to the
Los Angeles Dodgers
in August, Boston was forced to mix and match for the majority of the season.
[+] Enlarge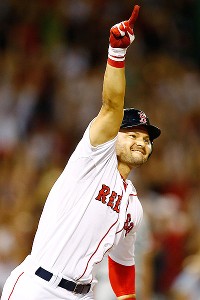 Jared Wickerham/Getty ImagesCody Ross hit 22 homers in his first season with the Red Sox.
A total of nine players -- Crawford,
Cody Ross
,
Pedro Ciriaco
,
Ryan Kalish
,
Darnell McDonald
,
Daniel Nava
,
Scott Podsednik
,
Nate Spears
and
Lars Anderson
-- roamed the landscape in left field. Nava played the most with 76 games and hit .243 with six homers and 33 RBIs. A recurring wrist injury limited his ability to produce. Combined, Sox left fielders hit .267 with 14 homers and 72 RBIs on the season.
The Red Sox won't solely focus on left field. In fact, the club has a few options available in hopes of stabilizing all three outfield positions. The key could be to find interchangeable parts with players that can play more than one outfield position.
Now that the free-agency period has opened with the conclusion of the World Series, the Red Sox will increase their talks with Ross. If the sides are able to come to an agreement and Ross re-signs with Boston, Cherington's challenge to stabilize left field becomes more interesting.
If Kalish can remain healthy and produce the way he did during his rookie season in 2010, his ability to play both corner outfield positions will help. If the Red Sox want Kalish to play right, Ross could easily play left field. The problem is, Kalish can't stay healthy. After missing the majority of 2011 with neck and shoulder injuries, he spent the first half of 2012 recovering from surgeries on both. He was shut down in the final weeks of this season in order to help jumpstart his offseason rest period because it was such a long and arduous year of rehab for him.
Boston's new bench coach, Torey Lovullo, managed Kalish at Triple-A Pawtucket in 2010 and witnessed first-hand what the outfielder can achieve when healthy.
"When Ryan Kalish is healthy, he's as capable as any young player that the Red Sox have," Lovullo said. "We got a little snapshot of that in 2010 when he had a great run. Unfortunately, these injuries have kind of sidetracked him."
When center fielder
Jacoby Ellsbury
was limited to 18 games in 2010 due to three separate rib injuries, Kalish emerged as a potential long-term option in the outfield. He hit .252 with four homers and 24 RBIs in 53 games as a 22-year-old that season.
Option A: Stay with current personnel
If Ross re-signs, the Red Sox don't trade Ellsbury and Kalish is healthy, that threesome could be the starting outfield for Boston from left to right. Nava, a switch-hitter, proved he could be reliable.
Ryan Sweeney
, who played only 63 games due to injury in his first season in Boston, is arbitration eligible and also could be in the mix.
Option B: Go outside
[+] Enlarge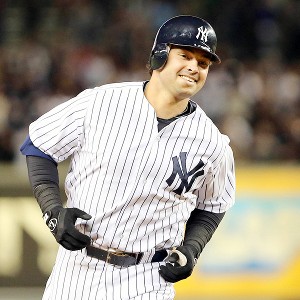 Anthony Gruppuso/US PresswireNick Swisher hit 24 homers in 2012 for the Yankees.
Yankees right fielder
Nick Swisher
is a free agent and his ability to play right field and first base could be a major asset to the Red Sox. Despite his tenure with the Yankees, Red Sox fans would certainly be drawn to a player like Swisher for his personality. He'll be looking for another big payday, but it's possible the 31-year-old will have to settle for a mid-level deal instead.
Another interesting addition could be veteran All-Star
Torii Hunter
. He's close friends with
David Ortiz
and would fit well in the Red Sox clubhouse. A center fielder by trade, Hunter could play right and allow Ross or Kalish to play left.
Adding either Swisher or Hunter could allow the Sox to move Ross to left field.
Among the other intriguing free-agent options are Michael Bourne,
B.J. Upton
,
Melky Cabrera
,
Ryan Ludwick
and
Shane Victorino
.
The Red Sox went out of their way to shed more than $200 million in salaries after trading Crawford, first baseman
Adrian Gonzalez
, pitcher
Josh Beckett
and infielder
Nick Punto
to the Dodgers last August. Even though Hamilton is the most intriguing free agent this offseason, Cherington and the Red Sox would be taking a risk given the club's recent history with high-priced free agents.
Only Delmon Young swung at a higher percentage of pitches this past season. No one missed on a higher percentage of his swings or chased a higher percentage of pitches outside the zone.

Hamilton is a hugely productive hitter right now, but it's pretty easy to envision a time when age catches up to him. Few power hitters have survived into old age without plate discipline. Notable exceptions include Andre Dawson and Joe Carter.
For a 31-year-old about to enjoy a huge payday, that's a troubling thought.
Hamilton would infuse the Red Sox with star power, but a risky signing seems counterproductive for a team seeking fiscal responsibility.
Your turn: What's the best option for the Red Sox?
We've outlined the possibilities, now tell us what you would do if you were in Ben's shoes. Vote in the poll above and leave your more detailed thoughts in the comments section.
Information from ESPN Stats & Information's Jeremy Lundblad was used in this report.
October, 26, 2012
10/26/12
4:54
PM ET
On each weekday until baseball's GM meetings Nov. 7, we will spotlight one key decision the Red Sox need to make this offseason that will help determine the success or failure of the 2013 team.
Today's topic: Who will be the Red Sox catchers in 2013?
The Red Sox gave their first extended look last season to
Jarrod Saltalamacchia
as heir apparent to
Jason Varitek
, who retired last spring after shepherding Sox pitching staffs for the better part of 15 seasons as the team's catcher. They also gave rookie
Ryan Lavarnway
his first big-league audition behind the plate.
Defining the decision: Is Salty/Lavarnway combo a long-term solution?
Saltalamacchia hit 25 home runs, one short of the team record for home runs by a catcher, but his on-base percentage of .288 ranked 11th among catchers with 300 or more plate appearances, as did his WAR (wins above replacement) of 1.2. Except for home runs, his offensive numbers were almost identical from the previous season. Lavarnway only had 153 at-bats, but struggled mightily (.157 batting average, 2 homers) after slugging his way through the minors.
[+] Enlarge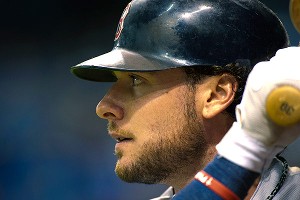 Al Messerschmidt/Getty ImagesJarrod Saltalamacchia hit 25 homers, but his .288 OBP ranked 11th among catchers with 300 or more plate appearances.
Saltalamacchia will be eligible for free agency after next season, so if the Red Sox do not believe he is the long-term answer at catcher, now might be the time to start thinking about an upgrade.
But a catcher's value to a ballclub is measured by more than just his offense, and while scouts have offered mixed reviews of the catchers' defensive ability, Gary Tuck, the team's bullpen coach and highly respected catching instructor, was effusive in his praise of the team's tandem.
"(Saltalamacchia) can catch the ball and block the ball as good as anybody in the game,'' Tuck said at the end of the season. "He made strides in calling a game this year, and if we ever give him the chance, he'll throw guys out.
"Blocking the plate, we introduced a couple new things, but he's as good an athlete as you can have back there. He made a lot of strides. I'm very proud of him.''
Saltalamacchia blocked 339 pitches in 852 innings, which compares favorably to Orioles catcher
Matt Wieters
, who was named the 2012 Fielding Bible's best defensive catcher last season (329 blocked pitches in 1,188 innings).
Saltalamacchia threw out just 18.4 percent of the runners who attempted to steal on him last season, a significant drop from the 31 percent caught-stealing rate he had in 2011, which in part reflects the team's preference to emphasize getting the batter out (no slide step, for example) than throwing the runner out. Tuck noted how new White Sox manager Robin Ventura emphasized shutting down the running game, resulting in a significant spike in runners thrown out by catcher
A.J. Pierzynski
, who is not regarded as a strong thrower.
[+] Enlarge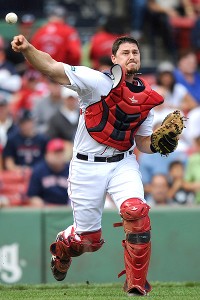 Michael Ivins/Getty ImagesRyan Lavarnway threw out just 3 of 31 would-be base stealers in 2012.
Lavarnway had an even worse time of it throwing out runners (3 of 31, 9.7 percent), although arm strength does not appear an issue. Better technique, and more help from the pitchers, should improve those numbers.
"Do I want our guys to be throwing guys out? Are you kidding me?'' Tuck said. "We've got to do a better job.''
But Tuck also spoke of Lavarnway having great potential. "He's a different player than a year ago,'' he said. "He made great strides. An absolute leader. He calls a good game. He made physical strides.
"He has a feel for not even taking a plan but giving a plan and adapting a plan to hitters. He has a real feel for the game. That's a special gift. (Joe) Girardi had it. Jason (Varitek).''
He also noted that between his time in Pawtucket and his stint with the Red Sox, Lavarnway caught more games than he'd ever had and finished the season tired. He'll have a greater awareness of the physical demands going into next season.
Option A: Stay with the current tandem

This appears to be the most likely course. Only one catcher, Pierzynski, hit more home runs than Saltalamacchia last season, so there is value in having a catcher with power, even if it means living with the strikeouts (139 in 2012).
Lavarnway, even in his short time in the big leagues, appeared to gain the trust of Sox pitchers, most notably
Jon Lester
. The familiarity of both catchers with the staff can't be discounted and should prove beneficial to new manager John Farrell, whose own knowledge of Sox pitchers should favor improvement.
If Lavarnway hits, he could ultimately be Saltalamacchia's biggest challenger for the No. 1 job.
Option B: Trade Saltalamacchia, consider other options
Saltalamacchia, who is eligible for his second year of arbitration, remains one of the more affordable players in the Sox lineup, though his salary will take a significant jump from its current $2.5 million. Both Pierzynski and
Mike Napoli
, who are regarded more for their offense, are free agents, but Pierzynski is 36 and Napoli might make more sense for the Sox as a first baseman.
When Joe Mauer reportedly was placed on waivers by the
Minnesota Twins
during the August waiver period, there were rumors that the Red Sox might place a claim. But for physical reasons, Mauer's days of catching every day appear to be over (only 74 games behind the plate last season), and he still has 6 years and $138 million remaining on his contract.
Your turn: What's the best option for the Red Sox?
We've outlined the possibilities, now tell us what you would do if you were in Ben's shoes. Vote in the poll above and leave your more detailed thoughts in the comments section.
October, 25, 2012
10/25/12
3:39
PM ET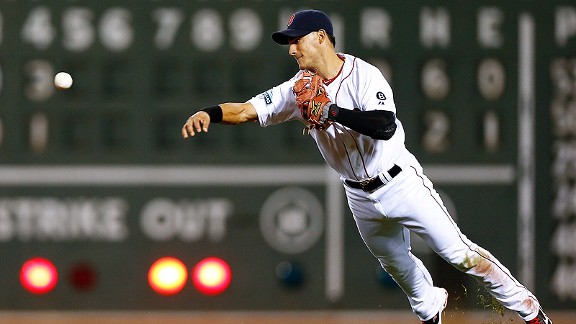 Jared Wickerham/Getty ImagesJose Iglesias is an elite fielder, but can the Sox afford to carry his weak bat?
Each weekday from Oct. 25 until baseball's GM meetings Nov. 7, we will spotlight one key decision the Red Sox need to make this offseason that will help determine the success or failure of the 2013 team.
Today's topic: Who's the starting shortstop?
There's been too much turnover at shortstop for the Red Sox in the last decade and the club will be looking for some stability at that position, especially now that veteran shortstop
Mike Aviles
was traded to the
Toronto Blue Jays
as the compensation for manager John Farrell and there is no obvious answer.
Defining the decision: Is Iglesias ready for the big leagues?
There's no denying the defensive ability of rookie shortstop
Jose Iglesias
, but he drastically needs to improve his offense if he has a chance to become a full-timer at the major league level. The Red Sox have already begun to evaluate the roster, especially the shortstop position.
"It's something we'll look at this offseason," said Red Sox GM Ben Cherington. "We'll see what the offseason bares. John and I have already started to talk about the roster and different positions and different needs, but we'll get more into that now. We'll have our eyes open if there are ways we can strengthen that position, build protection at that position, it's something we'll look at."
When it was obvious the Red Sox were out of contention, upper management decided to begin its focus on 2013 and wanted the younger players on the team to get more playing time and that included Iglesias. He was given the opportunity, and while he wowed with his glove, his bat went silent.
In one of the easiest months to hit in the big leagues, when teams are out of it and pitchers are worn down, Iglesias still struggled and hit only .118 and struck out in 24 percent of his at-bats. He was clearly overmatched.
"We believe Jose is ready to be a major league shortstop, but we're not ready to commit to that," Cherington said. "We're going to look at ways to improve the team and shortstop could be one of those areas and we'll see what opportunities exist. If there are ways to improve the team in other ways, we'll do that, too. He can help a major league team, particularly if the rest of the roster is set up right."
Farrell saw Iglesias during those games in September and has already talked to Cherington about the shortstop position.
"(Iglesias is) a good defender and showed good range, particularly to his glove side. A couple of times you saw him get the bat head out and take some aggressive swings and there were other times when he got tied up a little bit offensively," Farrell said. "Whether it's a matter of strength, whether it's a matter of timing in his swing, we'll find out more about that as we get deeper."
Option A: Make Iglesias the starter and hope he grows into the job
In order for the 22-year-old Iglesias to remain in the everyday lineup, he'll need to hit at least .240 because the Red Sox can't afford to carry dead weight at the plate at the shortstop position.
"We saw a lot of positive strides through the second half of the Triple-A season in (Iglesias') approach," explained Red Sox assistant GM Mike Hazen. "He was seeing more pitches, working deeper into counts, getting on base, driving the ball better, being more aggressive and attacking the fastball early in the count.
"It didn't necessarily transfer up here right away because there was still that adjustment period. We saw some better at-bats as he moved into his time up here, certainly not from a results standpoint, but the consistency of contact and the approach started to show by the end of the season. Those are the things he's going to need to build upon to be the offensive player he wants to be up here."
Iglesias hit .266 in 88 games at Triple-A Pawtucket last season. If he could find a way to do that in Boston, he'd be their guy.
Option B: Find a stop-gap option until Iglesias blossoms
If the Red Sox determine that Iglesias just isn't ready, they probably will need to sign a free agent this winter to a short-term deal to serve as both everyday shortstop and mentor for Iglesias.

An intriguing option could be
Arizona Diamondbacks
infielder
John McDonald
. The 38-year-old, 14-year veteran spent seven seasons in the AL East with the Toronto Blue Jays. He's a defensive specialist and could serve that role well in Boston. He has one year remaining on his contact with Arizona, but the Diamondbacks recently acquired shortstop
Cliff Pennington
from the
Oakland Athletics
, so the Red Sox could pretty easily strike a deal for McDonald.
There aren't many intriguing options on the free-agent market. The best shortstop available is likely old friend
Marco Scutaro
, whose value has risen since his trade to the Giants. A's shortstop
Stephen Drew
(yes, J.D.'s brother) has a mutual $10 million option, so he could be available.
If the Red Sox decide to stay in-house, infielder
Pedro Ciriaco
could be an option, too. He produced in 2012 in any role he was asked to play and posted a .293 average with two home runs, 19 RBIs and 16 stolen bases in 76 games.
Long shot: Make a deal for a superstar
If Cherington wants to dismiss the stop-gap route and decides Iglesias is no longer the shortstop of the future, he could try to make a deal for
Texas Rangers
stud infielder
Elvis Andrus
. The Rangers, after all, have prospect
Jurickson Profar
waiting in the wings, so they might be persuaded.
In order to pull off a blockbuster like that, however, the Red Sox would have to deal a player like center fielder
Jacoby Ellsbury
or a package of their top prospects. It doesn't seem likely.
Your turn: What's the best option for the Red Sox?
We've outlined the possibilities, now tell us what you would do if you were in Ben's shoes. Vote in the poll above and leave your more detailed thoughts in the comments section. One commenter thinks the solution is actually prospect Xander Bogaerts, a shortstop prospect who starred at Double-A in 2012. He would probably be major league ready in 2014 at the earliest.