Boston Red Sox:

Derek Lowe
October, 24, 2013
10/24/13
9:51
PM ET
By
Kyle Brasseur, Special to ESPNBoston.com
BOSTON -- While comparisons can be made between the 2013 Red Sox and the 2004 team that won it all against the
St. Louis Cardinals
to bring Boston its first World Series title in 86 years, this year's bearded band of brothers is different from the '04 group of self-proclaimed "idiots."
"This team is them," former Red Sox outfielder
Trot Nixon
said Thursday. "They've got their own identity."
[+] Enlarge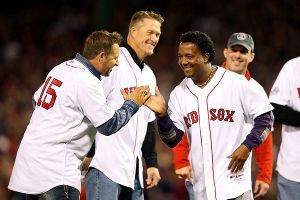 Rob Carr/Getty ImagesKevin Millar and Pedro Martinez high-five each other before Thursday's ceremonial first pitch.
Nixon played an integral role on the 2004 championship team, collecting five hits in 14 World Series at-bats. And joining him before Thursday night's Game 2 against a familiar opponent, St. Louis once again, were 2004 Game 3 starter
Pedro Martinez
and Game 4 starter
Derek Lowe
, sharing their thoughts on a 2013 team looking to bring Boston its third championship in the past 10 years.
"This team has a lot of character," Martinez said. "It's a team that looks pretty much like us, yes, because they can't wait to get to the field.
"It's a team that wants to play. They want to leave it all out. And I don't know if you guys have been noticing the way they play the game -- they play the game like a wolf pack."
The Red Sox pounced on Cardinals Game 1 starter
Adam Wainwright
on Wednesday night, scoring five times in the first two innings en route to an easy 8-1 win. Martinez, now a TBS postseason analyst, was not impressed with the Cardinals' play.
"They did not execute. They did not do anything right," Martinez said. "[Jon] Lester had his good stuff and he beat them. That's it, clean and simple."
The three former Red Sox champions also gave their opinions on the beard phenomenon that has spread from the clubhouse throughout Red Sox Nation this season. The consensus? Thumbs up across the board.
"It's a long season," Nixon said. "I think it's just to change the monotony that you go through every day. Clubhouses get crazy and guys have a little bit of fun, whether it's their beards or mustaches or haircuts. But I like it, it's pretty good."
"I second that," Lowe said. "I think [manager] John Farrell may be the only one that doesn't have one. Clubhouse guys, clubhouse kids, parking-lot attendants have them. It's a positive thing, it's a cool thing that they've done."
"I think it's great for the morale that the team has in the clubhouse," Martinez said. "Even though they look like Santa Claus, pretty much every one of them with red beards. But don't make a mistake, those guys are going out there like professionals, like they should, and they're not out there to embarrass anybody or embarrass the organization. They're representing the organization really well."
Nixon, Lowe and Martinez were joined on the field by former teammates
Kevin Millar
,
Jason Varitek
,
Mike Timlin
and
Keith Foulke
for the ceremonial first pitch Thursday night. Out of the dugout came the only holdover from the 2004 team,
David Ortiz
, to join in the moment with them. It was a flashback met with an eruption of applause from a Fenway crowd anxiously awaiting the chance to see their beloved Red Sox try to take a 2-0 lead over the Cardinals, just as Boston did in 2004.
"The Red Sox organization has always done a great job of bringing ex-players back, and I know for me personally it's very special," Lowe said. "[But] this is the current team's moment."
May, 11, 2012
5/11/12
12:17
AM ET
By
Tony Lee
| ESPNBoston.com
BOSTON -- After walking to the mound to begin his warm-up tosses for the bottom of the first inning Thursday night,
Derek Lowe
turned to retrieve a ball from home plate umpire Jim Wolf but saw the throw sail well over his head. When Wolf reached into his pocket for another try, Lowe playfully spread his arms and legs to give the ump a large, comical target.
It was a light moment for the current Cleveland Indian and former
Boston Red Sox
right-hander. Then again, it's all fun and games when you get to face the Red Sox these days.
In his second start at Fenway Park since leaving Boston after the 2004 season, Lowe severely outdueled counterpart
Josh Beckett
in an 8-3 victory over the reeling Sox. He allowed two runs on nine hits in six innings, a stark contrast to Beckett's 2 1/3-inning, seven-run disaster, all in the wake of "Golf-Gate."
Lowe did what he used to do at Fenway back in the day, inducing 18 ground-ball outs in a methodical manner. He also watched as Beckett left to a torrent of boos. To Lowe, that was a blast from the past, too.
"When you play here, you understand that's part of it," said Lowe, who won 70 games and saved 85 in his eight years with the Sox. "When you go out there and probably don't pitch the way you'd like, they're going to let you know about it.
"I've been there," he added. "Until they have to stop the game. ... I was telling a couple of guys. I was closing in '03 [actually 2001]. I blew a three-run game in, like, literally 30 seconds and it happened to be, they gave out my posters that night. Well, they turned into airplanes really fast. A 10-minute delay, stop the game, whole nine yards. I sat in the clubhouse until 2 o'clock and I would stick my head out to see if [the fans] were still there and they would be like, 'I see you in there.' "
Lowe told the story like a grandfather in his rocker trying to get the little ones to laugh. And while Beckett served up a reminder as to what the Red Sox are dealing with today, Lowe is giving Cleveland a taste of what the Red Sox had years ago.
The 38-year-old right-hander is now 5-1 with a 2.47 ERA. He has just 13 strikeouts and 13 walks in 43 2/3 innings. But it almost doesn't matter when he shows the veteran escapability he did on Thursday.
Lowe struck out
Adrian Gonzalez
to strand runners on the corners in the third. He left the bases loaded in the fourth. He allowed a run before leaving two men in scoring position in the fifth. A double play got him out of the sixth.
One man who has seen Lowe perform on this mound before was not surprised by the solid effort.
"It was great, getting all those ground balls," said Indians left fielder and fellow 2004 world champion
Johnny Damon
. "Didn't have great command in the strike zone tonight but Derek knows how to get the job done. Been around a little bit. He's definitely a Red Sox for life for what he's brought to this organization. ... Great pitcher, great player and I'm glad he's still my teammate, again."
Only two players from Boston's '04 World Series-winning team,
David Ortiz
and
Kevin Youkilis
, remain with the Red Sox. Because of that, the nostalgia has worn off a bit for Lowe.
"I enjoyed it," he said of his second Fenway start since leaving. "It's my second time but it's been eight years and it's a completely different team. So you don't have that emotion where maybe three years ago I had because there were still a lot of guys there. This was just, you know, another team."
That last line, as much as anything, spoke to the state of the Red Sox. Just another team. A perfect opponent if you're looking to have a little fun.
Material from the Associated Press was used in this report.
April, 27, 2012
4/27/12
9:59
PM ET
Ten years ago today, Red Sox pitcher Derek Lowe tossed a no-hitter against Tampa Bay in a 10-0 win.
This moment ranks No. 46 on ESPNBoston.com's list of
100 Greatest Fenway Moments
.