Boston Red Sox:

Detroit Tigers
May, 17, 2014
May 17
10:17
PM ET
BOSTON -- One of the best teams in baseball is in town this weekend for a critical series, and Friday night, against reigning Cy Young winner
Max Scherzer
, the
Red Sox
could barely get off the runway.
Saturday night, they couldn't get out of second gear. The Red Sox dropped their second straight game to the American League Central-leading
Detroit Tigers
, a 6-1 loss in which Boston produced seven hits with almost nothing to show for them.
While starter
John Lackey
had some good moments -- particularly the fourth inning, in which he worked in his curve fluidly to ring up
Nick Castellanos
and
Andrew Romine
on strikes -- this will go down as another forgettable night. He allowed nine hits and six runs (five earned) in 5⅓ innings, fanning four and walking two on 96 pitches (70 for strikes) and taking the loss to fall to 5-3.


Lackey's counterpart,
Rick Porcello
, kept Sox batters at bay with his arsenal of curves, sliders and four-seamers, striking out four in eight innings, scattering six hits and allowing just one earned run. He threw 110 pitches, 71 for strikes, and improved to 7-1.
The Tigers got to work on Lackey early in the second, with
Victor Martinez
leading off by singling through a shift.
Austin Jackson
then worked a 10-pitch walk after starting the at-bat down 0-2, and he was moved to second on a Castellanos base hit through the left side.
Dustin Pedroia
made a quick-twitch snag of
Alex Avila
's grounder at second, but Avila beat out
Xander Bogaerts
' double-play relay to first to keep the inning alive and score Martinez. Lackey settled down after that, striking out Romine on a fastball-curve-slider sequence, then getting
Rajai Davis
to fly out to center.
In the third,
Miguel Cabrera
sat red and took Lackey's 94 mph four-seamer opposite field, slicing it around Pesky's Pole for a solo home run and 2-0 lead.
The Tigers got two more in the fifth, first with Hunter scoring
Ian Kinsler
from second on a liner down the third-base line, then Cabrera scoring Hunter with a double deep to left-center. That was followed by two more runs in the top of the sixth that ultimately ended Lackey's night -- a Davis RBI double off the Green Monster, then a Kinsler sacrifice fly to score Davis.
Cabrera -- who came into Saturday's game with a .333/.385/.667 career slash line against Lackey -- finished the night 3-for-5 with two RBIs, one strikeout and one run.
Sox stranded:
The Sox failed to produce any run support for Lackey, stranding 12 runners. Their best chance was in the fourth, when they loaded up the bases.
David Ortiz
hit a liner off the Green Monster, then
Mike Napoli
knocked a bloop hit to shallow center. After
Mike Carp
drew a five-pitch walk,
A.J. Pierzynski
dribbled Porcello's third pitch -- a 92 mph four-seamer -- into a 4-3 putout to end the rally before it started.
In the ninth, Napoli singled to left, then moved to second on
Grady Sizemore
's groundout to first, but Carp grounded out to third, followed by a flyout to center by Pierzynski to end the game.
The Sox's woes weren't devoid of controversy. In the eighth,
Shane Victorino
hit a dribbler down the first-base line but was called out on batter's interference, leading Red Sox manager John Farrell to leave the dugout to protest the call to no avail.
Bogaerts' blast a bright spot:
Sandwiched between the outpour of Tigers runs was a powerful solo shot from Bogaerts, who planted Porcello's 89 mph four-seamer in the third row of Green Monster seats for his second homer of the season. Bogaerts finished 2-for-3 with an RBI.
Holt takes hot corner, Victorino returns:
Wearing a brace on his left knee, Victorino returned to the lineup after missing Friday night's contest. He finished 1-for-5 with an RBI and a strikeout.
Brock Holt
was called up to take over third base for
Will Middlebrooks
, who was placed on the disabled list with a nondisplaced fracture in his right middle finger. Holt finished 0-for-2 with a walk.
June, 1, 2012
6/01/12
12:21
AM ET
BOSTON --
Red Sox
manager Bobby Valentine called it a "competitive" outing for starter
Josh Beckett
.
Beckett himself described it as a lack of execution at the most inopportune times.
In any case, the right-hander suffered the loss, dropping his record to 4-5 as the
Detroit Tigers
avoided a potential four-game sweep and defeated the Red Sox 7-3 on Thursday night at Fenway Park.
[+] Enlarge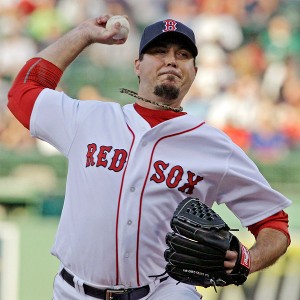 AP Photo/Charles KrupaJosh Beckett was OK, but he didn't seem to have his best stuff working against the Tigers.
Beckett worked seven innings and allowed four runs on 10 hits with one walk and only one strikeout. He tossed 102 pitches (67 for strikes).
"It was a real competitive, battling outing," Valentine said. "He gave us a chance to win the game. I don't know that was his best stuff and it seemed like he didn't have his curveball until the sixth inning. He made some pretty good pitches and they hit a few of them for hits, but he did a good job of keeping them at bay."
Beckett entered his 10th start of the season after having given up only three runs combined in his previous three starts (21 2/3 innings). The 10 hits Beckett allowed Thursday were the most since Sept. 29, 2010, when he surrendered 11 against the
Chicago White Sox
.
His teammates gave him a 2-0 cushion in the bottom of the second inning that also included a solo home run by catcher
Jarrod Saltalamacchia
. Detroit, however, pushed across three runs in the top of the third inning.
"I made some pitches when I needed to and didn't make some other ones," Beckett said. "I talk about this a lot, but you're going to have five pitches in a game that you have to make and I think I made three of them today. The other two cost me three runs in one inning."
The Tigers added one more run in the top of the fifth inning, and it could have been worse had it not been for Boston's defense.
The Sox turned a crucial 6-4-3 double play in the top of the fifth inning. With Detroit holding a 4-3 lead with one out and two runners on,
Delmon Young
hit a high chopper to the left side. Red Sox shortstop
Mike Aviles
showed quick reflexes when he snared a bad hop and quickly made the transfer to second baseman
Nick Punto
, who showcased quick hands, too, making the throw to finish the DP and keep the damage to a minimum.
The Red Sox couldn't get their offense going. Only one batter reached base after the fourth inning (Punto drew a leadoff walk in the seventh).
"I thought if we could get a few runs in the seventh, and with the way we were swinging the bats, he'd leave with a win and we would have a good flight to Toronto," Valentine said.
That wasn't the case.
Instead, it was Tigers starter
Max Scherzer
who held a recently explosive Sox offense still.
He worked six innings and allowed only three runs on seven hits with two walks and six strikeouts. It was his first career win against the Red Sox. This outing was certainly much different than his first start against Boston earlier this season, when he allowed seven runs on eight hits and lasted only 2 2/3 innings on April 8 at Detroit.
"We just let him off the hook," Valentine said of Thursday's outing. "We had his pitch count up into the 80s after four innings and we were having good at-bats. We just kind of let it slip away."
In fact, with his win on Thursday, Scherzer now has won his past four decisions and has 42 strikeouts (28 2/3 innings) during this span.
Meanwhile, Beckett is no longer the strikeout pitcher he once was. He fanned just one batter Thursday, bringing his season total to 46 in 63 1/3 innings. He has struck out at least one batter in each of his 289 career starts in the big leagues, which is the longest active streak in the majors and the second-longest to begin a career after Dwight Gooden's 349 straight from 1984 to 1997.
"I'll take any outs I can get," Beckett said. "I'm just trying to get as many outs as I can. I'm trying to save the bullpen a little bit. It's nice to get a strikeout when you need one."
May, 26, 2011
5/26/11
5:00
PM ET
DETROIT -- Here's some advice for major-league advance scouts currently following the Red Sox: When filing your reports, skip the details and keep it short. Like this:
Take cover.
Fresh off inflicting a fearsome beating on the
Cleveland Indians
, the team with the best record in baseball, the Red Sox surfed a couple of hours west on Lake Erie, beached in Detroit, and smacked the Tigers upside the head, 14-1. The game was called after a 55-minute rain delay in the middle of the eighth inning.
(Note to potential tweeters/e-mailers: We understand we are exaggerating a bit here. Technically, Detroit is not on Lake Erie and no sane person surfs there.)
But there is no overstating the way the Red Sox are brandishing the bats -- for the month of May, for the last week, for the last two games. And
Carl Crawford
, at long last, is all in with the rest of his swinging teammates.
Crawford had four hits Wednesday, including a home run, and four more hits Thursday, including two triples, which should allay any lingering concerns that Crawford's skills had somehow atrophied the moment he left the employ of the
Tampa Bay Rays
.
When Crawford awoke Wednesday morning, he was batting a fretful .212. A little more than 24 hours later, after 8 hits in 9 at-bats, Crawford was upwardly mobile, moving into the vastly more respectable neighborhood of .244, with a bullet.
"It felt real good just to be able to hit the ball and be yourself,'' Crawford said. "I haven't felt that way in a long time, so to have that feeling back for a few days, it's great.''
The Sox, meanwhile, scored 14 runs in back-to-back games for the first time since July 2-3, 1998, although Thursday it took them three innings to score seven runs, a feat they accomplished in one against the Indians during Wednesday's 14-2 win.
Go back to the 15-run explosion they enjoyed last Friday night against the
Chicago Cubs
, and the Sox have scored 57 runs in their last 7 games. In that span, they added these video-game numbers: 21 doubles, 11 home runs, and 3 triples, all by Crawford.
"Two good days in a row, but as far as tomorrow goes, Porcello will have something to say about that,'' said Red Sox manager Terry Francona, referring to Friday's scheduled starter for the Tigers, Rick Porcello. "That's always the case. But it's nice to have games like that once in a while. They're good for you.''
The improbable catalysts Thursday were journeyman backup
Drew Sutton
and newly arrived
Josh Reddick
, who combined for five hits and four runs and knocked in the first two runs in the second inning, which was soon followed by Jacoby Ellsbury's three-run home run, his fifth of the season.
Sutton was playing shortstop in place of
Jed Lowrie
, who was given a day off by Francona after going hitless Wednesday, and why not? Sutton had three hits Wednesday, including two doubles, while filling in for Kevin Youkilis, and had two more doubles Thursday.
Reddick, who has been yo-yo'd up and down eight times in the last three seasons by the Red Sox, arrived from Pawtucket, space made for him when the Sox placed
Darnell McDonald
on the disabled list with a strained left quadriceps muscle. With
J.D. Drew
hampered by a sore hamstring, the Sox decided they needed some reinforcements. With three singles Thursday, Reddick drove in three runs -- generating in one afternoon nearly one-third of Drew's RBI total (10) this season.
The beneficiary of Thursday's Motown mauling was
Alfredo Aceves
, who went six innings, allowed just one run, came up with a couple of inning-ending strikeouts when he needed them, and has now given up one run in each of two starts he has made since
John Lackey
and
Daisuke Matsuzaka
became fodder for the disabled list.
Aceves' is now 16-1 overall, the best record of any pitcher with 15 or more decisions in history. The so-called insurance policy is paying big-time premiums. And Sox starters have now gone six straight starts in which they have allowed two or fewer runs. We could tell you who pitched for the Tigers, but other than rookie Adam Wilk, who pitched 3 2/3 innings of relief and allowed just one unearned run in his big-league debut, the other guys are better off left in the small print of the box score.
The Sox, winners of 11 of their last 13 games, lead the majors in every meaningful offensive category in May, except for home runs; they began the day two home runs behind the Yankees. Yes, there is a correlation between that and their 17-7 record for the month, the best in the bigs.
May, 19, 2011
5/19/11
10:22
PM ET
BOSTON -- In the mud and the blood and the beer, another great night of drama at the Fens, and for the second night in a row,
Jonathan Papelbon
was right in the middle of it.
And for the third time this month,
Carl Crawford
delivered a walkoff hit, singling with the bases loaded in the bottom of the ninth to give the Sox a 4-3 win over the
Detroit Tigers
.
Papelbon struck out
Brennan Boesch
and
Miguel Cabrera
with the bases loaded in the ninth inning, preserving a 3-all tie. On Wednesday night, Papelbon struck out
Alex Avila
and
Ryan Raburn
with the tying run on third in the ninth.
The degree of difficulty was multiplied Thursday by the presence of Cabrera, one of the game's best hitters, who went down swinging on a 97-mph fastball, and by the line drive that smacked Papelbon in the area behind his left knee at the start of the inning. Papelbon recovered to throw out Alex Avila at first, threw a few warmup pitches, then elected to stay in the game.
He loaded the bases on singles by
Brandon Inge
and
Austin Jackson
and a walk to
Scott Sizemore
but reached back to punch out Boesch and Cabrera.
The Sox then responded in the bottom of the ninth, but not before left-fielder
Andy Dirks
threw out pinch runner
Jose Iglesias
at the plate on an apparent game-winning single by
Jed Lowrie
, who had fouled off five two-strike pitches before flaring a ball over the infield. The ball bounced directly to Dirks, and Iglesias, who had to hold up to make sure the ball was not caught, was gunned down.
The Sox have now won six in a row to move three games above .500.
Josh Beckett
held the Tigers to a run on five hits through six innings, but left with what the club called neck tightness.
JD Drew knocked in two runs with a sacrifice fly and home run, and
David Ortiz
also homered for the Sox.
May, 19, 2011
5/19/11
7:12
PM ET
By
Jack McCluskey
| ESPNBoston.com
BOSTON -- Terry Francona doesn't like to look too far ahead or spend too much time on the past, preferring to keep his eyes on the here and now. So when he was asked before Thursday night's game with the Tigers about the significance of the
Chicago Cubs
visiting the Red Sox for the first time in 93 years, at first he balked.
"I'm not good at that," he said. "It's hard for me to talk about a series coming up because we've got Detroit tonight."
Then, after a beat, he relented. "Go ahead, what do you want?"
The reporter pressed on, through the laughter of his peers, citing the history between the two clubs.
"Yeah, I know," Francona said. "You know what, though, I have a feeling that if you talk to the Tigers they're gonna feel that way about their team, too. I think this is a great series for the fans. You're right, there is some history there, I understand that. I think it's gonna be a big ticket.
"I think from where we look at it, though, it's an opportunity to win a game," the manager said. "That's how we always [approach it]: We've got a team coming in that we'd like to beat. That's why I get hesitant to talk about a team that's coming in because right now the Tigers are in our sights and we've got our hands full tonight and we don't ever want to overlook that."
Asked what he recalled about his own time playing for the Cubs -- he appeared in 86 games with the Cubs in 1986, hitting .250 (31-for-124) with three doubles, two homers and eight RBIs -- Francona was at his self-effacing best.
"Wasn't very good," he said, drawing more laughs. "I always seemed like I hit at about a quarter to six, it'd be about the eighth inning, and there was always shadows. I lived north of the city so I fought the traffic in, fought the traffic home and didn't get very many hits."
Jack McCluskey is an editor for ESPN.com and contributes to ESPNBoston.com.
May, 19, 2011
5/19/11
5:28
PM ET
By
Jack McCluskey
| ESPNBoston.com
BOSTON -- If recent results are an accurate predictor of future performance, the starting pitching matchup suggests that runs will be hard to come by in the finale of this brief, two-game set with the Tigers.
Josh Beckett
takes the ball for the Red Sox tonight, and
Justin Verlander
does the same for the Tigers.
Verlander, of course, fired a no-hitter at the Blue Jays two starts ago. In his next start, all he did was hold the Royals hitless for 5 2/3 innings, threatening to become just the second pitcher in baseball history to throw back-to-back no-hitters. He finished that start with this line: 8 IP, 2 H, 1 ER, 3 BB, 7 K.
The recent run of dominance has improved Verlander's win-loss record to 4-3, his ERA to 2.91 (from 3.75 three starts ago) and his WHIP to 0.94.
"I mean, this guy tonight, you go into the game knowing you're not gonna knock him around the ballpark," Red Sox manager Terry Francona said of Verlander in his pregame meeting with the media. "But if we can make him earn everything he gets, then maybe we get him out an inning early, maybe he makes a mistake. Because his stuff is phenomenal."
That stuff includes a curveball, a changeup and a fastball that can hit triple digits on the radar gun. And unlike many flamethrowers, Verlander has an uncanny ability to maintain -- or even increase -- his velocity late in starts.
When a reporter reminded Francona that last year Verlander was throwing close to 100 mph late in his start against the Sox, the manager deadpanned: "I know, I appreciate you bringing that up. He has that ability. He certainly does."
And while he hasn't flirted with no-hit history, Beckett's been no slouch himself of late. The big right-hander hasn't allowed a run in three May starts, spanning 17 1/3 innings, and has allowed just 11 hits and six walks while he's struck out 17. The consecutive blank slates have lowered Beckett's ERA to 1.75, though he collected only one win in the three-start span, last time out against the Yankees.
When it comes to the head-to-head matchup, Beckett has had a bit more success versus the Tigers than Verlander has had versus the Red Sox. Beckett is 3-1 with a 2.60 ERA, an 0.87 WHIP and 29 K's against Detroit; Verlander checks in at 2-2 with a 3.89 ERA, a 1.24 WHIP and 30 K's against Boston. Beckett has held the Tigers to the lowest batting average (.170) of any team he's faced.
And then there's the fact Beckett is 2-0 with a 0.34 ERA at home this season.
Add in the unpleasant weather -- the tarp is back in its recently customary position over the infield, as the late-afternoon rain pelts down -- to the success of the starters and it would certainly seem that offense should be at a premium Thursday night.
Jack McCluskey is an editor for ESPN.com and contributes to ESPNBoston.com.
May, 18, 2011
5/18/11
8:45
PM ET
By
Brendan Hall
| ESPNBoston.com
BOSTON --
Victor Martinez
took a stroll into the Red Sox clubhouse Wednesday afternoon and was greeted with handshakes all around from his former teammates. Then, he laughed, "I lost my son for about 5 to 10 minutes."
[+] Enlarge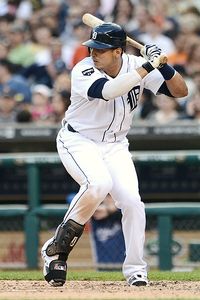 Mark Cunningham/MLB Photos via Getty ImagesVictor Martinez said he loved his time in Boston. "By far it's been the best time in my career," he said.
Indeed, 6-year-old Victor Jose Martinez, dressed in a kiddie-sized Tigers uniform with his father's number on the back, was a superstar in the clubhouse.
Dustin Pedroia
guided him around, and he hung out in manager Terry Francona's office before meeting up with little D'Angelo Ortiz for a game of catch out on the field.
Martinez returns to Fenway Park with all smiles and no regrets about his short tenure here.
"I don't have any word to describe it," he said, as he spoke to reporters from the visiting dugout. "By far it's been the best time in my career. To come in here and play with this team, in this city, in front of these great fans, it's definitely by far the best time I've had in my career."
By the looks of it, perhaps the Sox wouldn't mind a do-over on their decision to let Martinez go following the 2010 season. They decided to spend their available cash elsewhere, shedding Martinez and
Adrian Beltre
, signing free agent
Carl Crawford
and trading for
Adrian Gonzalez
. Martinez signed a four-year, $50 million deal with the Tigers. The Sox made two offers: a three-year, $36 million deal and a four-year, $42 million deal.
Between the struggles of
Jason Varitek
(.183/.269/.233) and
Jarrod Saltalamacchia
(.217/.261/.313), catching has been the glaring weak spot in the batting order. Meanwhile, Martinez has been worth every cent so far in Detroit, putting up .317/.375/.525 numbers in 27 games this season, with an OPS of .900, 23 RBIs and four home runs. He's also the reigning American League Player of the Week, going 11 for 19 last week with four doubles, two homes and 11 RBIs.
Often playing out of the middle of the order as a designated hitter, Martinez noted the challenging switch, and has been seeking out advice from
Travis Hafner
-- not to mention, his old friend
David Ortiz
, too.
"It's a challenge. It's not easy," Martinez said. "It looks easy, you go out there and have four at-bats, five at-bats, but you have to do a lot of stuff to keep warm. That's the hard part of being a DH."
Said Francona, "Having the offense at that position is huge. When he was here, he was hitting third a lot of times. You got a guy catching that's hitting third, doing what you're doing offensively, that's a bonus."
Missed just as much, some suggested, is his leadership in the clubhouse. Francona and players alike noted how quickly he meshed into the clubhouse fabric, and what a veteran presence he crafted in spite of his short time here.
"All the things we heard when he was with Cleveland, they came to fruition in a hurry," Francona said. "It's one thing to come into a team and integrate yourself, but to become a leader that quickly is not easy to pull off, especially with a veteran team that's trying to win. That's the one thing he really pulled off. Guys followed him, and he had an immediate impact. That's not so easy to do."
Said Ortiz, "Oh man, it was great. You can't have no better teammate than Vic. Just a great personality, incredible human being, great player, it's like all the good things you can think of somebody."
Asked by a Detroit reporter what the Tigers have gotten, Ortiz said, "They got a guy that you definitely can build an organization around him. He worked really hard and he's into it. He brings everything he's got, every day."
July, 26, 2010
7/26/10
4:06
PM ET
ANAHEIM --
Mike Lowell
is doing his part in trying to prove he could be a useful piece to another club, collecting four hits in a game Saturday night and batting .357 (5 for 14) overall in the first three games of his rehab assignment for Triple-A Pawtucket.
But the two teams that have shown the most interest in Lowell, the
Texas Rangers
and
Detroit Tigers
, appear headed in other directions. The Rangers, who had a scout in Pawtucket for Lowell's first game, are closing in on a deal with the Marlins for right-handed hitting infielder
Jorge Cantu
, a major-league source said Monday, which would eliminate Lowell from Texas' list. There are other teams -- the Rockies and Giants -- also bidding for Cantu, the source said, but he asserted that the Marlins are well down the road with Texas, as long as the commissioner's office signs off on the financials of the deal.
Meanwhile, the Tigers sent two scouts to Pawtucket, including amateur scouting director David Chadd, who used to hold the same position with Boston. But over the weekend, the Tigers lost two key run producers to injuries,
Magglio Ordonez
and
Carlos Guillen
, both players winding up on the DL. The Tigers are actively looking for bats, but one big-league source with direct knowledge of the Tigers' thinking said it's unlikely Detroit will deal for Lowell.
May, 16, 2010
5/16/10
12:37
PM ET
By
Dave Hogg
| ESPNBoston.com
DETROIT --
Dustin Pedroia
wanted to play Sunday afternoon.
Unfortunately for the Red Sox second baseman, Terry Francona still gets to fill out the lineup card.
Pedroia was in the original lineup for the day game against Detroit, but was scratched when Francona noticed he was limping slightly.
Pedroia had taken an awkward step while trying to score from second on
David Ortiz
's fourth-inning single. He was tagged out by
Gerald Laird
in what turned out to be a key play after the Tigers rallied to win
7-6 in 12 innings.
"He twisted his knee a little when he was trying to avoid the play at the plate," Francona said. "I don't think it is a problem, but I decided it made for a good time to give him a day off. He wanted to go, but he wants to play full-out every day, and sometimes that isn't the best idea."
Two other Red Sox players -- closer
Jonathan Papelbon
and catcher
Victor Martinez
-- were also given Sunday off for more traditional reasons.
"Pap pitched 2 1/3 innings last night, and even though he did a great job, we aren't about to bring him back 12 hours later -- that's just not how we do things," Francona said. "Victor caught 12 innings, so it was an easy decision, especially with a day game after a night game."
NO REGRETS:
Francona didn't lose any sleep wondering what would have happened if the Red Sox had gotten a better bounce on
J.D. Drew
's third-inning double. With two out and the bases loaded, the runners were going, and
Adrian Beltre
would have scored easily had the ball not bounced over the 420-foot sign and into the shrubbery atop the center-field fence.
Instead, Beltre had to stop at third on the ground-rule double, and was stranded there when
Bill Hall
popped out. That run could have prevented the marathon defeat.
"When J.D. hits a ball like that, you don't think about being disappointed that the ball bounced over the fence and that we didn't get another run," Francona said. "You are happy that the guy just hit a 400-foot double that got you a couple runs, and I didn't really think about it again after the game."
INJURY UPDATES:
Josh Beckett
reported no ill-effects from Saturday's bullpen session, and is now officially the scheduled starter for Tuesday's game in New York. Beckett skipped his last start due to a sore back.
In the meantime, injured outfielders
Mike Cameron
and
Jacoby Ellsbury
could bump into each other in Pawtucket. Cameron was not scheduled to make a rehab appearance Sunday, but could play one more minor-league game in Pawtucket's afternoon game on Monday before rejoining the Red Sox in New York.
Ellsbury is also scheduled to play Monday in Pawtucket, then go to Double-A Portland for a Tuesday game before rejoining the Red Sox for an examination and a decision on the next steps in his recovery from fractured ribs.
May, 16, 2010
5/16/10
2:31
AM ET
By
Dave Hogg
| ESPNBoston.com
DETROIT -- The
Boston Red Sox
took one positive out of Saturday night's 12-inning loss to the
Detroit Tigers
.
It wasn't going to be long before they got a chance to get it out of their minds.
"The good news is that we've got another game in 13 hours, so we won't be able to dwell on this," said
Kevin Youkilis
after Boston stranded 13 runners in a 7-6 defeat. "There is just no way we should have lost this."
Through five innings, the game looked to be completely in Boston's control. They led 6-1 and
Jon Lester
had only allowed one hit:
Adam Everett
's third-inning RBI double.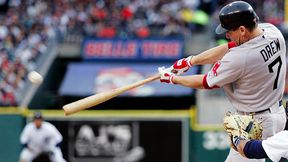 AP Photo/Duane BurlesonJ.D. Drew ripped a long double in the third, but even that didn't go well as it bounced over the fence to cost the Red Sox a run.
As it turned out, though, while the Red Sox didn't realize it at the time, they had already cost themselves the game by not scoring more runs off Detroit starter
Dontrelle Willis
.
At times this season, Willis has shown glimpses of the pitcher who went to two All-Star Games with Florida, but on Saturday, he fell back into the bad habits that have plagued his career in Detroit. He walked the game's first batter --
Marco Scutaro
-- on four pitches, with the fourth sailing to the backstop. He then went to a 2-0 count on
Dustin Pedroia
before throwing his first strike of the game, which earned him a sarcastic ovation from the sold-out crowd of 40,742.
Pedroia, though, flew out and
Victor Martinez
struck out before Youkilis drew the first of his career-high five walks.
David Ortiz
-- the hero of Friday's victory -- then struck out, setting a pattern of missed opportunities that would continue throughout the night.
Boston put its first two runners on in the second -- a single and Willis' third walk in seven batters -- but wasted the chance when
Darnell McDonald
grounded into an inning-ending double play.
Even when the Red Sox appeared to take control of the game, scoring three times in the third inning, there was the feeling that they should have had more. Ortiz hit an RBI single and
Adrian Beltre
walked to load the bases before
J.D. Drew
hit a high fly to the deepest part of Comerica Park. Normally, all three runners would have scored easily, but the ball bounced over the 420-foot sign and into the shrubbery atop the center-field fence for a ground-rule double. That meant Beltre had to stop at third, and he was stranded there when
Bill Hall
flew out.
The fourth brought an end to Willis' disastrous night -- he gave up four hits and seven walks in 3 1/3 innings -- but, once again, the Red Sox left runs on the table. This time, on Ortiz's second RBI single in as many innings, Pedroia was thrown out at the plate while trying to score from second.
Still, after Hall's fifth-inning homer gave the Red Sox a five-run lead, it seemed the early-inning mistakes were going to be meaningless.
"We knew that we had missed some opportunities against Willis, but we never thought it would cost us the game," Terry Francona said. "It looked like we had things under control."
Instead, the Red Sox didn't score in the remaining seven innings, stranding six more runners. Boston had runners in scoring position in the eighth, 10th and 11th innings, and would have won the game if they could have gotten any of them home.
The Red Sox finished with nine hits and drew 12 walks, and seemed stunned that they weren't able to turn that into a win.
"It's really tough to lose that one because we had plenty of opportunities to win it," Youkilis said. "I think maybe the Tigers pitchers were so wild that it was actually helping them because we were never really able to get a feel for where the ball was going to be. That sounds strange, but it happens sometimes."
May, 15, 2010
5/15/10
5:24
PM ET
Fresh off a two-homer night Friday,
David Ortiz
is back in the lineup Saturday against Tigers left-hander
Dontrelle Willis
. The full order:
1.
Marco Scutaro
, SS
2.
Dustin Pedroia
, 2B
3.
Victor Martinez
, C
4.
Kevin Youkilis
, 1B
5. David Ortiz, DH
6.
Adrian Beltre
, 3B
7.
J.D. Drew
, RF
8.
Bill Hall
, LF
9.
Darnell McDonald
, CF
P--
Jon Lester
, LHP