August, 22, 2012
8/22/12
6:30
PM ET
BOSTON --
Daisuke Matsuzaka
believes he's ready to pitch again, but the
Boston Red Sox
haven't decided if and when the right-hander might make another start.
Matsuzaka worked seven scoreless innings in his rehab start for Triple-A Pawtucket on Tuesday at McCoy Stadium in Pawtucket, R.I. He left after facing two Rochester Red Wings batters in the eighth inning. He allowed only one hit with four walks and seven strikeouts, tossing 102 pitches (59 for strikes).
He was at Fenway Park on Wednesday and deemed himself healthy and ready to go. He could be in line to start against the
Kansas City Royals
on Sunday, but there's been no official word from the Red Sox.
"After my last start down in Pawtucket I told [manager] Bobby [Valentine] and [pitching coach] Randy [Niemann] that I felt good and I was ready. I haven't spoke with them this time around, but I'll be speaking to them soon and I think a decision will be made then," Matsuzaka said.
Red Sox left-hander
Felix Doubront
has been on the DL since Aug. 10 with a right knee contusion. He's also set to be activated this weekend and is another option for Sunday's start. He tossed a bullpen Tuesday, and was up and down four times during the session.
As far as Dice-K's latest outing, Matsuzaka was pleased with his performance for the PawSox.
"It's the first time I threw deep into a game in a while and my body feels fine today," he said.
Valentine mentioned during his daily pregame news conference that Dice-K has a sore calf, but the pitcher said he's not worried about it at all.
"The reports were good," Valentine said. "He threw the ball well, he kept it down, had his locations and mixed his pitches. He came out of it all right, just a little sore calf is all I hear. All of the things that we were dealing with seemed to be OK."
Matsuzaka had Tommy John surgery on June 10, 2011, and returned to the rotation in less than a year, but has made only five starts for Boston this season with a 0-3 record and a 6.65 ERA. He's made a total of 11 minor league rehab starts for the PawSox this season, too.
"After I had the surgery, my body definitely feels better than it did before, which is a good thing," he said. "But it's definitely been stressful and frustrating to have to fight through all these injuries, but I think I'm finally at a good place and I'm looking forward to getting better and better every time I pitch."
There are only six weeks remaining in the regular season, and Matsuzaka's six-year contract will expire at the conclusion. There's been no indication that the Red Sox might want to re-sign the oft-injured performer, but Matsuzaka said he wants to remain in the majors and would like to do that in Boston.
"I've really enjoyed my time in Boston and my family has also enjoyed our time here, so of course I would like to but it's a little early to say where I'm going to be, or even talking about that," Matsuzaka said. "No matter how long I'm going to be here, I'd like to wear this Red Sox uniform with honor and play hard for the rest of the season and do what I can to contribute to the team."
June, 20, 2012
6/20/12
9:23
PM ET
BOSTON -- Red Sox pitcher
Daisuke Matsuzaka
will make his third start of the season Thursday night at Fenway Park when the Sox host the
Miami Marlins
.
It's been a little more than a year since the right-hander had Tommy John surgery on June 10, 2011, and he's 0-2 with a 5.73 ERA since returning to the rotation on June 9.
Scott Boras, Matsuzaka's agent, is in town and spoke about his client's return from surgery.
"Very encouraged," Boras said. "His stuff is better and he's much better. He's come back stronger and I've been very encouraged by his fastball, and obviously you expect the command to improve as he does more, and the main thing for him is to establish his durability, keep the team in games and take the ball every five days. I think he's really encouraged to be back pitching. His attitude is he's really pleased about being back and performing."
Matsuzaka arrived in Boston and posted a 33-15 record in his first two seasons and helped the Red Sox to a World Series title in 2007. But since the 2008 season, he's battled a slew of injuries and has been relatively unproductive.
He was finally shut down after seven starts in 2011 and had the reconstructive surgery.
"When the game is taken away from you for the first time, I think you come back with kind of a renewed attitude," Boras said. "When you haven't played for a while and you get around the field and you know you can do it again is a real relief, a reward, to be back."
This is the last year of Matsuzaka's six-year contract with the Red Sox. Boras said his client fully intends to stay in major league baseball and not return to play in Japan.
June, 8, 2012
6/08/12
6:21
PM ET
BOSTON -- It is mostly a lonely endeavor, much of it spent hundreds of miles away from teammates and other familiar faces and lacking the trappings of the typical major league existence.
It is often boring, sometimes painful, and always repetitious. It requires patience and perseverance, and an ability to fight past the doubts that creep in along the way.
[+] Enlarge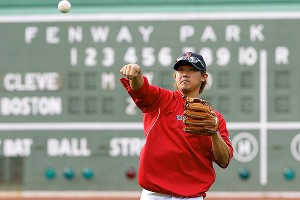 Jim Rogash/Getty ImagesHow effective will Daisuke Matsuzaka be in his first major league action since Tommy John surgery?
It is the life that
Daisuke Matsuzaka
has led for the better part of the past 364 days. That life ends Saturday when the Japanese right-hander returns to a big-league mound for the first time since submitting to a reconstruction of his damaged right elbow last June 10.
Matsuzaka's return dovetails nicely with the usual timetable offered for pitchers rehabilitating what has come to be known as Tommy John surgery. A year to 15 months of rehab is the usual prognosis; Matsuzaka makes it back on the front end of that projection.
He has made eight starts in the minor leagues as part of his rehabilitation, including six for Triple-A Pawtucket, after spending many months in Fort Myers working on his own with the training staff there.
Now he returns, with just over 3½ months left on the six-year, $52 million contract he signed with the Sox to great fanfare in the winter of 2006.
His tenure here has been very much a mixed bag: auspicious debut, first Japanese pitcher to win a World Series game, 18-win season in 2008, a disastrous turn in 2009, when the Sox in exasperation sent him back to Florida to work himself back in shape, and injury issues that have limited him to a total of a dozen wins over the last two seasons.
A pitcher once envisioned to be a top-of-the-rotation starter returns now as little more than a place-holder, a No. 5 starter on a team still deciding whether
Daniel Bard
has what it takes to be a starter. He has expressed an affection for Boston, but there is little indication that he fits in the team's long-term plans going forward.
So this could be the start of what in essence may be a last hurrah, the final act of an expensive chapter in which the Red Sox made a $103-million-plus investment -- counting the $51.1 million posting fee -- in unrealized hopes that Matsuzaka would be as great a sensation here as he was in his native Japan.
What to expect from him Saturday?
"It's hard to know,'' said Red Sox manager Bobby Valentine, who was managing in Japan back when Matsuzaka's fame there mirrored that of Michael Jordan here.
"It's basically the anniversary [of the surgery], so it's hard to predict what's going to happen. I hope he throws strikes, and I hope he has more than two pitches to do it with. I would be happy if that happened,'' he said.
Those certainly sound like minimalist expectations, but probably realistic, given the time Matsuzaka has been away from the big leagues.
"Saturday's game will be a special game,'' Matsuzaka, who does not speak the day before a start, told the team's Japanese liaison, Mikio Yoshimura, in a statement distributed to the media. "It's going to be a very emotional day, but I have to remain calm and treat it like any other start I've had throughout my career.''
Matsuzaka's velocity touched 94 mph in his last start in Pawtucket, a four-out tuneup Tuesday, and Valentine said he has been able to throw his other pitches at times with some consistency. He appeared prepared to return a couple of weeks ago, but the team elected to administer a cortisone injection for a strained trapezius muscle.
"I have seen some of his games, I thought they were terrific,'' Valentine said. "I would like for him to pitch like some of his past terrific games. I don't want to generalize on what he was, or can be. Let's just take it as his first start of 2012 and then we'll talk about it.''
Valentine made no predictions on how long he expects Matsuzaka to pitch Saturday.
"We are going to go inning by inning and I'm going to check with him after the inning,'' Valentine said. "Hopefully he will be able to get in the dugout before I have to make a decision.''
June, 5, 2012
6/05/12
5:35
PM ET
BOSTON -- The Red Sox elected to send
Daniel Bard
to Triple-A Pawtucket to work out his pitching issues, manager Bobby Valentine said Tuesday.
The decision was made in the aftermath of Bard's last start Sunday in Toronto, in which he walked six and hit two batters in 1 2/3 innings.
Bard will continue to work as a starter in Pawtucket, at least for the time being, Valentine said.
Daisuke Matsuzaka
is pitching Tuesday night in Pawtucket and will be limited to three innings; a decision on whether he will take Bard's spot in the rotation Saturday will be made after that, the manager said.
"Ben [Cherington] and I met yesterday and we met with the coaches today," Valentine said. "We felt it was the best thing for the organization and Daniel to work on his mechanics and not have to worry about his big league record and teammates. He thinks it will be a quick turnaround."
The pitcher was opposed to the demotion, Valentine said. "He thought he could find it on the fly. But we're taking a conservative route."
Bard, who turns 27 on June 25, has never been back to the minors since making his major league debut on May 13, 2009. His conversion from shutdown setup man to starter has been rocky. In 10 starts and one relief appearance, he has a 5-6 record with a 5.24 ERA, and has walked 37 batters in 55 innings.
After his outing in Toronto, Bard talked about the difficulties he has encountered in making the transition.
"There's no reason the way I threw the ball out of the bullpen shouldn't translate to starting," he said after Sunday's start. "I know it's not exactly the same. We've tried to change too many things. We just need to get back to being simple."
Bard's lack of command is a direct consequence of his inability to consistently repeat his delivery.
"He has three little checkpoints he is trying to correct at the same time," Valentine said. "He's going to try to simplify a little."
Valentine said there will be another meeting Wednesday to map out a schedule for Bard in Pawtucket. The player was not at Fenway Park when reporters entered the clubhouse Tuesday; his locker was cleaned out.
Valentine said there are no physical issues hindering Bard. "He feels real good," he said, adding that while Bard didn't feel a demotion to Pawtucket was warranted, he was in a "real good frame of mind."
Valentine was asked if Bard is overthinking matters.
"I think a player has to feel it," he said. "In Daniel's case, he wants to think it and feel it. The thinking part may get in the way.
"Pitchers like to make everything a little more complicated. It's a feel we're looking for. You don't have to write a thesis on this. Feel it."
Valentine acknowledged that in preparing Bard to become a starter in the offseason and spring, there may have been "a little bit of overload. A lot of things were being digested at the same time," he said. "It may have been too much."
Beyond Matsuzaka, the Sox do not have a great deal of starting depth, which is a factor in keeping Bard as a starter in hopes he can resolve his problems.
June, 1, 2012
6/01/12
7:02
PM ET
By
Ian Harrison
| ESPNBoston.com
TORONTO --
Boston Red Sox
second baseman
Dustin Pedroia
took grounders during batting practice Friday but remained out of the lineup for a fourth straight game.
Pedroia hasn't played since jamming his right thumb in the fifth inning of Monday's win over Detroit after, an injury later diagnosed as a torn muscle.
Red Sox manager Bobby Valentine joined provided an optimistic outlook.
"It's the meaty part of the hand, where the ... muscles that control the thumb get bruised by a pitch being thrown inside and the bat vibrating in the hand," Valentine said during his weekly appearance on the Michael Kay Show on ESPN New York 98.7 FM. "Most of his swelling is down, he's gripping a bat, he played catch [Thursday].
"I don't think the DL is going to be in the cards for him. That being said, he's not ready to play just yet, so we're playing -- as they say -- a man short."
Valentine added that while there is natural concern that Pedroia could get hurt worse when he's able to return, he's not worried about it.
"I think Dustin can go out there and play, and not be affected at all, unless a re-occurrence of the original situation presents itself. That fastball that comes inside that you don't get the head of the bat out and you get your hands out, and it hits close to your hand and you get that vibration, it can be painful."
Nonetheless, Valentine did not offer any specifics in Toronto on when Pedroia might be able to resume hitting. The 2008 AL MVP has had a special brace fitted to his bats, but has been told not to swing until swelling in the thumb subsides.
"We just want to let nature take its time," Valentine said before the Red Sox faced the Blue Jays.
Pedroia took grounders from bench coach
Tim Bogar
during the first half of batting practice, then walked off the field and returned to the clubhouse.
Valentine had hinted Thursday that Boston would not continue to play short-handed through the weekend, with speculation rife that infielder
Pedro Ciriaco
would be promoted from Triple-A Pawtucket.
Rookie
Will Middlebrooks
, who played shortstop in high school, took grounders at short before Thursday's loss to Detroit.
Like Pedroia,
Kevin Youkilis
was also out of the lineup Friday, a scheduled day off. Valentine said he offered Youkilis the chance to take consecutive days off Sunday and Monday, when Boston does not play, but Youkilis preferred to split up his days of rest.
Youkilis, the subject of trade rumors, is batting .313 (10 for 32) with two homers in nine games since returning from a 22-game absence caused by a sore back.
"He's been great," Valentine said. "Youk's 100 percent and when Youk is 100 percent, he's a really good member of the team. He's playing good defense, running the bases well and having good at bats."
Nick Punto
started at second base Friday, with Will Middlebrooks at third and
Adrian Gonzalez
at first base and
Ryan Sweeney
in right.
Asked whether Gonzalez, who has started eight of the past 12 games in right, would return to the outfield this weekend, Valentine said "maybe," and denied suggestions Gonzalez is unhappy in right.
"I don't sense that," Valentine said. "There's been no indication of that."
Valentine called the defensive rotation between Gonzalez, Youkilis and Middlebrooks "a workable situation but maybe not long term."
"I think after the off day would be a good time to collect everyone's thoughts on it, or maybe even in the next couple of days," he said. "It just depends on how it affects the guys physically and mentally."
While Pedroia's situation remained murky, there was clearer news for a trio of Red Sox currently on the disabled list:
" Outfielder
Cody Ross
, out with a fractured left foot, has told Valentine he "feels great." Ross will have his walking boot removed and undergo a physical exam when the Red Sox return home next week, and could be cleared to resume baseball activities or begin a minor league rehab stint.
" Right-hander
Daisuke Matsuzaka
(right elbow) allowed two runs, including a solo homer, in 5 1/3 innings at Pawtucket on Thursday, his second rehab start.
"He's staying there, he's going to throw his bullpen there and throw again (Tuesday)," Valentine said. "The reports were much better. First inning home run, up to 94, sat at 91, had a good changeup. Worked quick with men on base, there were only a couple of men on base."
" Outfielder
Darnell McDonald
(right oblique) is also at Pawtucket, and will play through the weekend there.
" Also joining the PawSox this weekend is right-hander
Mark Prior
. The former first-round pick, who last pitched in the majors in 2006, was signed to a minor league deal last month and had been at extended spring training.
Valentine called Prior's advance a "great story."
"He's made constant progress. People have liked his attitude and his throwing ability."
Ian Harrison is a special contributor to ESPNBoston.com.
May, 27, 2012
5/27/12
1:32
PM ET
BOSTON -- The reports that Red Sox manager Bobby Valentine received on pitcher
Daisuke Matsuzaka
continue to be encouraging.
The rehabbing right-hander worked five scoreless innings and allowed only one hit for Triple-A Pawtucket Red Sox Saturday night against the ToledoMud Hens. He will make another rehab start for the PawSox later in the week, but that day will be decided once all the particulars are figured out, according to Valentine.
"He had much better command of it and he felt good during and after the performance," Valentine said. "He didn't hold runners very well but he wasn't concerned with the runners because he wanted to get through the throwing part of it. He did OK."
It's been nearly one year (June 10) since Matsuzaka had Tommy John surgery. Matsuzaka has not been happy with his mechanics during his minor league rehab stint, but now that he's made more than a handful of starts, he's becoming more comfortable.
"They said it was much better and that's why he was able to command the ball so much better," Valentine said. "[PawSox pitching coach] Rich [Sauveur] said he was much better. His velocity was only up to 92, which is pretty good."
Matsuzaka was recalled from his first rehab assignment on May 19 and remained sidelined for seven days with a strained right trapezius muscle before Saturday's start. His first assignment was set to expire on May 23, but the 30-day window begins again since he was injured again prior to that date.
The Red Sox are taking his situation slow and there's no timetable when he'll return.
"It's going to be a situation where we'll evaluate it case by case," Valentine said.
Meanwhile, Red Sox outfielder
Ryan Sweeney
(concussion) received medical clearance to participate in all baseball activities and will run, hit and throw today in hopes of being activated on Monday.
May, 18, 2012
5/18/12
8:22
PM ET
PHILADELPHIA --
Daisuke Matsuzaka
has one more start left before his 30-day rehabilitation assignment ends, and the
Boston Red Sox
then must either place him back on the active roster or, according to the collective bargaining agreement, persuade Major League Baseball there is either a new injury or recurrence of an old one that requires him to go on another rehab assignment.
If that were to happen, the team would have to shut down Matsuzaka for seven days before the clock starts up again, and the player would have to give his written permission to go on another rehab assignment. But given that Matsuzaka says he is feeling no pain or discomfort, it would appear to be a tough argument for the Sox to make.
Red Sox manager Bobby Valentine sounded like a man who would prefer more time before the team needs to make that decision. Matsuzaka is scheduled to pitch again Tuesday, with the Sox decision due the next day.
"I still haven't wrapped my head around that whole thing," Valentine said. "I really dislike calendars dictating when good health has returned."
Matsuzaka went 6 2/3 innings for Pawtucket in a 5-0 loss to Durham on Thursday night, the deepest into a game he has pitched thus far, and reported no ill effects Friday.
"I feel fine right now," he said through interpreter Jeff Cutler. "Nothing awkward. No pain. I feel good."
Matsuzaka said in his previous start, he had experimented with his arm angle and delivery. That was not the case Thursday night, he said.
"Yesterday I was able to figure out my mechanics to a point where I felt very comfortable out there," he said. "I'm in a really good place right now.
"During yesterday's start I felt very confident out there. I felt I was able to grasp something I was missing in previous starts. I definitely am feeling closer to making it back to the majors."
Matsuzaka said he pitched better than his yield of five runs showed. If he could take one pitch back, he said, it would be a curveball that was taken deep for a three-run home run. But he is now at a stage, he said, where he has to show some results, too.
"Going forward it's all about the results coming together with how I feel," he said. "With that I should feel more comfortable and should give the front office more confidence in getting back up here."
May, 17, 2012
5/17/12
11:40
PM ET
DURHAM, N.C. --
Daisuke Matsuzaka
agrees with Boston manager Bobby Valentine. The Red Sox pitcher isn't quite ready to return to the big leagues -- yet.
[+] Enlarge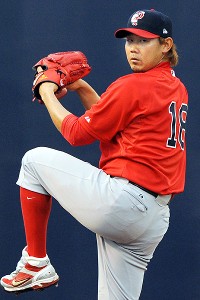 AP Photo/Bernard ThomasSo just how close is Daisuke Matsuzaka to pitching on a major league mound?
Matsuzaka had his longest rehab start for Triple-A Pawtucket on Thursday night, but allowed five runs -- four earned -- in 6 2/3 innings of a 5-0 loss to the Durham Bulls. He threw 64 of his 95 pitches for strikes while allowing seven hits.
The Japanese star struck out three, hit one batter and gave up two home runs -- including one to the first hitter he faced, and a three-run shot in the sixth.
"Of course, the three-run home run isn't something to be proud of, but being able to throw 95 pitches and throw as deep into the game as I did is something positive to take away from this game," Matsuzaka said through an interpreter.
Matsuzaka has been on the disabled list for more than a year, is working his way back from Tommy John surgery last June and allowed five runs in 5 1/3 innings in his previous start.
He made his fifth rehab start and third with Pawtucket, and hadn't gone more than 5 1/3 innings in his previous four. He's expected to start again Tuesday at Norfolk. Pitchers' rehab assignments may last no more than 30 days, and for Matsuzaka, that period ends next Wednesday.
Valentine has said he doesn't believe Matsuzaka is close to pitching in the majors.