Boston Red Sox:

Drake Britton
March, 28, 2014
Mar 28
6:52
PM ET
The
Boston Red Sox
optioned catcher
Ryan Lavarnway
and left-handed pitcher
Drake Britton
to Triple-A Pawtucket after Friday's 4-0 win over the
Minnesota Twins
at Hammond Stadium in Fort Myers, Fla.
Thirty players now remain in big league camp: 25 from the 40-man roster, plus 5 non-roster invites.
On Thursday the Red Sox placed two players, LHP
Craig Breslow
and RHP
Steven Wright
, on the 15-day disabled list (both retroactive to March 21).
March, 20, 2014
Mar 20
11:33
PM ET
FORT MYERS, Fla. -- Takeaways from the Fort, where with nine days left before the Red Sox depart from Florida:
Chris Capuano
's three hitless innings of relief Thursday night against the Yankees reinforced his place on the team's roster, not an unhappy development for a free agent who was unsigned when camp began.
[+] Enlarge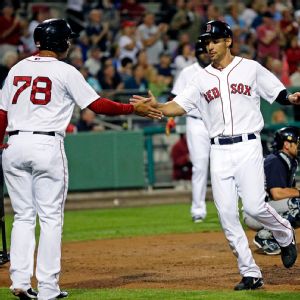 AP Photo/Gerald HerbertGrady Sizemore, Boston's Opening Day center fielder? He looked the part again Thursday.
A full nine innings from
Grady Sizemore
in center field -- he had a single in four at-bats, scored a run and remained fully upright at the end of Boston's 3-2 loss to the
New York Yankees
-- continued the countdown to what now seems inevitable, that he will break camp as the team's Opening Day center fielder and leadoff man. The Yankees, meanwhile, announced Thursday that their intended center fielder and leadoff man,
Jacoby Ellsbury
, was administered an MRI on his right calf, though manager Joe Girardi termed the move precautionary.
Sizemore will be excused from game activity until Sunday, manager John Farrell said, then embark on a stretch in which he will play five games in a span of six days -- three in a row, off Wednesday, back-to-backers Thursday and Friday. Assuming he survives that gantlet intact, and without a dramatic dropoff in performance, Sizemore looks poised to play in his first opener since 2010, a season in which he lasted just 33 games with Cleveland before blowing out his left knee and requiring microfracture surgery in June.
Assuming Sizemore is on the team (likely relegating
Jackie Bradley Jr. to Pawtucket
), this is how the 25-man roster figures to take shape:
Starting rotation (5):
Jon Lester
,
John Lackey
,
Felix Doubront
,
Jake Peavy
,
Clay Buchholz
. That's the order in which John Farrell intends to keep them, at least at the outset.
Relievers (7):
Koji Uehara
,
Junichi Tazawa
,
Andrew Miller
,
Edward Mujica
,
Burke Badenhop
, Chris Capuano,
Brandon Workman
.
Catchers (2):
A.J. Pierzynski
,
David Ross
.
Infielders (5):
Mike Napoli
,
Dustin Pedroia
,
Xander Bogaerts
,
Will Middlebrooks
,
Jonathan Herrera
(The Sox optioned
Brock Holt
to Pawtucket on Thursday, clearing the way for Herrera to win the job as utility infielder).
Outfielders (5):
Jonny Gomes
,
Shane Victorino
,
Daniel Nava
, Grady Sizemore,
Mike Carp
.
Designated hitter (1):
David Ortiz
.
That's also assuming left-handed reliever
Craig Breslow
opens the season on the DL, a reasonable assumption given that he will be making his first appearance in a game this spring on Monday. With Farrell's assertion that he would prefer a pitcher who can give him multiple innings out of the pen if Breslow is unavailable, Workman is the logical choice, though not a mortal lock. Lefty
Drake Britton
, who threw a scoreless ninth Thursday, also is in the mix.
[+] Enlarge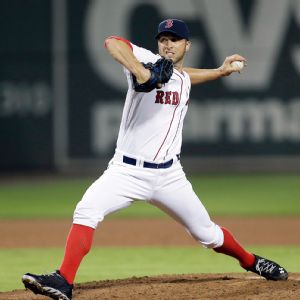 AP Photo/Gerald HerbertChris Capuano looks like he'll earn a spot in the bullpen to begin the season.
Capuano cruises:
The only base-runners allowed by Capuano came on walks to
Mark Teixeira
and Zelous Wheeler, a nonroster infielder who was No. 98 on your program. The 35-year-old lefty, who signed with the Sox after
Ryan Dempster
withdrew from playing, lowered his ERA to 2.45 and gave every indication of giving the Sox the rotation protection they were seeking. Given the usual surfeit of starting pitching around baseball, which increased this week with a rash of pitchers needing Tommy John surgery, GM Ben Cherington is likely hearing from plenty of teams looking for another starter, but the Sox don't appear inclined to part with him.
"He continues to throw the ball very well," Farrell said. "He uses all of his pitches. He's not afraid to throw in on right-handers with his fastball. He's got a good mix to throttle some hitters back and forth with fastballs and changeups. He continues to make quality pitches. He's been very good."
Capuano, a native of Springfield, Mass., and Duke graduate, has been used almost exclusively as a starter in his big league career, which has spanned stints with five teams: the Diamondbacks, Brewers, Mets, Dodgers and Sox. Of his 238 big league games, 209 have been starts, and the Sox intend to keep stretching him out.
"Probably the biggest thing is the shape he keeps himself in," Farrell said. "It was apparent he had thrown a number of bullpens prior to signing with us. And to have the command that he's shown, that's as impressive as anything we've seen with him. The assortment of pitches, the execution, reading swings, and the pitch selection has been very good. He's been a very good addition.
"We want to be sure that we get enough repetition, enough pitches thrown, in the event that he's got a spot start," Farrell said.
X files:
Bogaerts went hitless in three at-bats and is hitting .176. He handled all four chances at short.
Dot, dot, dots:
Buchholz threw 73 pitches in five innings, in which he gave up five hits and three runs, the first coming on a faux Monster-clearing home run by
Francisco Cervelli
. He'll have two more outings here, including a camp game a week from Sunday, Farrell said, after the team heads to Baltimore. He'll join the club there. ... Pedroia doubled in both of Boston's runs. ... Lester draws the start Friday in Clearwater against the Phillies, with Lackey following in Lake Buena Vista against the Braves. Middlebrooks, Pierzynski, Gomes,
Jackie Bradley Jr.
, and Carp are among the regulars going to Clearwater. Nearly all of the starters, with the exception of Ortiz and Sizemore, are scheduled to face the Braves. Ortiz was hitless in two at-bats with a walk. He was thrown out from short right field on a ball hit sharply into the shift.
March, 1, 2014
Mar 1
8:00
PM ET
FORT MYERS, Fla. -- Takeaways from the Fort, where
Grady Sizemore
lost his footing on the warning track of Hammond Stadium and lived to tell about it,
A.J. Pierzynski
went back to his baseball roots and was booed,
Allen Webster
had a bumpy first ride, and
Drake Britton
made a strong case for the Mohawk to be this year's Red Sox fashion statement, though his disciples have yet to surface.
The details:
The result:
The Sox fell to the Twins for the second straight game, this time by a 6-2 score in Hammond Stadium before a crowd of 8,547, a record for this part of town. The Twins have added hundreds of seats in the first phase of a $48.5 million renovation, the money ponied up by Lee County, the same folks who are on the hook for the construction of the $78 million JetBlue Park. Can't be having the Twins feeling left out, now can we?
[+] Enlarge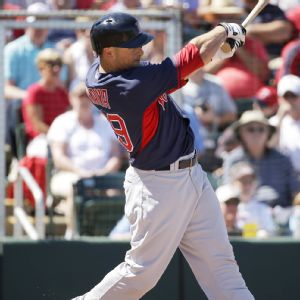 AP Photo/Steven SenneDaniel Nava blasted a home run in his first right-handed at-bat of the spring.
The long balls:
Daniel Nava
, in his first swing from the right side against a pitcher this spring, hit a home run to left field off Twins lefty
Scott Diamond
. Nava had not participated in batting practice sessions against Sox pitchers because of a pinched nerve in his neck.
Chris Parmalee hit a three-run home run for the Twins off nonroster pitcher
Jose Mijares
, a Venezuelan who at 5-foot-11 and a listed 265 pounds is reminiscent of a left-handed version of El Guapo,
Rich Garces
, who pitched for both the Twins and Sox. Mijares was lit up for four hits and three runs in two-thirds of an inning.
The day's major development:
That came from the Twins' side, where the club announced that one of the game's top prospects, 20-year-old third baseman Miguel Sano, will require
season-ending Tommy John surgery
on his throwing elbow.
Sox highlight No 1:
That would be the two innings turned in by left-hander Drake Britton, who struck out four of the first five batters he faced before giving up a two-out double to
Eduardo Escobar
.
"He was great," said Pierzynski, who was catching him for the first time. "Obviously, the results speak for themselves. He hung the one slider to Escobar for the double. Other than that, he struck out the side in the first inning. It was good for him to give up the hit and have to bounce back in a situation where he couldn't give up a run. But he threw the ball great. He threw the ball inside, outside, threw sliders, some changeups, pretty much had it all going."
Manager John Farrell was no less impressed. "He was crisp, he was powerful," he said. "I think one of the more impressive things was his ability to throw the ball in to right-handers. He had an assortment of secondary pitches, the breaking ball and changeup, he also threw for strikes. Just a very good and clean two innings of work today."
Britton said he's been working hard on refining his mechanics -- "staying back over the rubber, not rushing out front, just letting my arm work to get my foot down and to get extension out front."
He's in a much better place than he was at this time last year, when he blew a chance to attend what would have been his first big league camp with an arrest on charges of driving at excessive speeds (111 mph in a 45 mph zone) and driving under the influence. The DUI eventually was reduced to a misdemeanor reckless-driving charge. Last November, Britton pleaded no contest to one reckless-driving charge and also was found guilty of reckless driving that caused damage to property, according to Lee County Criminal Court records. The court placed restrictions on his driver's license, fined him $1,100, required him to perform community service and required him to attend DUI school.
But after the Sox had sent Britton back down to minor league camp and had him enroll in an employee assistance program, the pitcher expressed public remorse for his actions. He made great strides in putting his career back on track, culminating with his promotion to the big leagues last July. He made 18 appearances, all in relief, and did not allow a run in his first seven appearances.
He comes into camp competing for a spot as the third left-hander in the bullpen, though newly acquired
Chris Capuano
could prove a formidable competitor. Saturday's outing was a great opening statement.
[+] Enlarge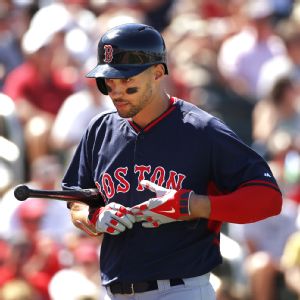 AP Photo/Steven SenneGrady Sizemore wasn't happy after striking out in the third inning, but he was pleased to "feel good, and feel strong" after the game.
Sox highlight No. 2:
Sizemore, making his first Grapefruit League start, led off and played center field, collecting a ground ball single in three at-bats. He slipped on the track in left-center while chasing
Brian Dozier
's double and bounced off the fence but quickly recovered and threw the ball into the infield.
"Recognizing that he had to pivot and torque on the leg, but he came out of it fine," Farrell said. "No issues. It was good to see him get three at-bats and continue to build."
Sizemore will not play again until Tuesday, Farrell said, and will receive another three or four days off after that as the Sox proceed cautiously in increasing his workload.
"I felt good today," Sizemore said. "Everything felt good. As much as I could hope for as far as my body and knees and everything. I'm happy just to get through these games and feel good and feel strong, and not come in the next day with any lingering issues. So far, it's been good."
Pierzynski, who played regularly against Sizemore in the AL Central when he was with the White Sox and Sizemore was with the Indians, is encouraged by the early returns.
"From what I've seen, he's fine," he said. "He's always been one of my favorite guys to be around, he always has a smile on his face, I always loved to watch him play because he's an amazing player. He seems fine physically. Everything I've seen -- the way he swings the bat and moves around, he looks good to me, like the old Grady Sizemore. If he's healthy, he's going to help."
Is he beyond the point of being a long shot to make the club?
"You'd have to ask someone smarter than me," Pierzynski said. "I don't know his medical records, [but] from what I've seen, he's doing everything. He looks like he's moving around well, looks like he's running well, he's swinging the bat. I mean, he looks like a normal Grady Sizemore. I don't know any different. I've asked him a couple of times and he says he feels great. I don't see any limp. He looks like a normal player."
The work in progress:
Rookie right-hander Allen Webster made seven starts for the Sox last season. He gave up first-inning runs in four of them: an unearned run to the Royals in his first start, four to the Twins and four to the Tigers in his next two starts, and two against the Mariners in his next-to-last start. The Red Sox, sensing a pattern, had Webster simulate an inning in the pen before taking the mound for his first spring start Saturday. It didn't help, as Webster gave up three runs on four well-hit balls: two doubles, a single and a sacrifice fly. He also walked a man and hit a batter.
The second inning went much better. He got a lineout and struck out
Aaron Hicks
before giving up a two-out hit to Dozier, who had doubled and scored in the first. Webster was lifted at that point.
"I got a little anxious, left a few balls up and they made good contact," he said.
Pierzynski, who also was catching Webster for the first time, also said he missed up in the first inning but mixed in some two-seamers in the second with much better results.
"I hope Webby takes the second inning and works off that," he said. "Because that's the Webby that I've heard about, and that's the Webby people will be talking about for a long time."
[+] Enlarge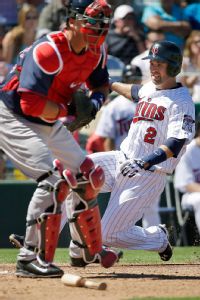 AP Photo/Steven SenneA.J. Pierzynski found the fun in receiving a little razzing from fans.
The boos:
Spring training makes for mellow crowds as a rule, but that didn't keep Pierzynski from hearing some boos when he stepped into the box for the first time Saturday, even though he began his career with the Twins. Pierzynski, of course, doffed his cap.
"I expect nothing less," he said of the reception. "Funny moments. It was good."
The project:
Catcher
Ryan Lavarnway
saw his first action at first base, entering the game in the sixth inning. He handled the only ball hit to him, a slow roller. Farrell said he will likely play there again this week in Jupiter, where the Sox have games against the Cardinals and Marlins.
The bulletin-board material:
Pierzynski was asked about Johnny Manziel, the Texas A&M football star who has a marketing agreement with Fenway Sports Management and made an appearance in Sox camp this weekend. He said they'd met last year when Pierzynski was with the Rangers, so he just said hello and wished Manziel luck.
"Obviously, he's a great player," Pierzynski said. "Me being an SEC guy [Florida Gators fan], him being an SEC guy, I root for those guys. I know I liked watching him play. I liked the way he played because he was an amazing player.
"I think he'll do good if given the right opportunity. He should be a heckuva NFL player. Maybe he could come and take over for Tom Brady."
Whoa. Stop the presses?
"I'm joking. I'm joking. I'm joking," Pierzynski said amid the laughter. "Joking. Anyone forgets that I was joking, I'll sue for slander."
The Mohawk: Britton came into camp with a much more extreme version of the Mohawk he sported last season. Could that replace the beards?
"I don't know if people are into it," he said with a smile. "If everyone is, I'm down with it."
The submariner:
Shunsuke Watanabe pitched a scoreless eighth, striking out one. He topped out at 76 miles an hour. Watanabe had Twins manager Ron Gardenhire reminiscing about Pete Delkus, a pitcher he had in Class A ball in Kenosha, Wis., in his first year of managing.
"[He] threw 79 miles an hour, tops," Gardenhire told reporters. "He was my closer in Kenosha. He did not give up an earned run until, like, Aug. 11. And he ended up only giving up [two] for the year. He was my closer with [33] saves.
"Seventy-nine miles an hour with a little lollipop slider -- just like that. And when [Watanabe] was throwing, I'm going, 'I've seen that before.' [Delkus] made it all the way to Triple-A before they started whacking him, and now he's a newscaster; he does the weather. He did the weather in Orlando, and I think he does it in Cincinnati now. He should do the weather, because he threw under the weather."
February, 26, 2014
Feb 26
5:17
PM ET
By
Rick Weber, Special to ESPNBoston.com
FORT MYERS, Fla. -- Pedro Martinez barreled through the double doors and hopped onto the elevated bench to meet the media.
"When is this going to end?" he asked. "You guys still think I'm a ballplayer, huh?"
He said it boisterously, with his trademark smile and not a hint of sarcasm. He looked like he had just found out that he was the Powerball winner.
And in a sense, he was. This is Pedro's Powerball. Mingling with the fans? Sure. He did that for almost an hour after Wednesday's workout, and he looked like he wanted to remain there even longer than his admirers did. More importantly, though, it's his role as special assistant to general manager Ben Cherington.
[+] Enlarge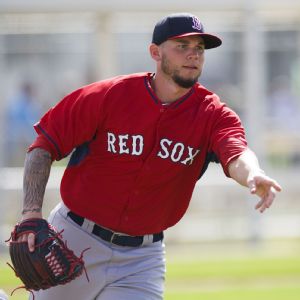 Michael Ivins/Boston Red Sox/Getty ImagesYoung pitcher Drake Britton "was very receptive" when Pedro Martinez visited him at Double-A Portland and offered him advice last season.
Martinez, 43, is ecstatic to be doing it for the second year. He doesn't want to just be a figurehead, an ambassador. He wants to get his hands dirty.
"It's just that I think I have so much to offer," said Martinez, who will be inducted into the Red Sox Hall of Fame later this year along with Roger Clemens, Nomar Garciaparra and broadcaster Joe Castiglione. "It's stuff that I'm not going to put into use anymore, so I might as well pass it along, and I'm trying to do that. I'm trying to get more involved in baseball, more with young players and veteran players -- whoever needs me. I would just love to pass everything I know -- all my knowledge, all my experience -- to some of those guys and hopefully get some good results out of every one of them."
The transformation of Drake Britton was a testament to Martinez's effectiveness.
Britton, enjoying his first big-league camp last spring as a 23-year-old, was arrested March 2 in Fort Myers on misdemeanor charges of reckless driving, driving under the influence, and property damage after his 2008 Chevrolet Silverado was clocked at 111 mph in a 45-mph zone. The next day, he was humiliated when the Red Sox sent him to minor-league camp.
Briton was scuffling at Double-A Portland when he got a surprise visit from Martinez. This was more of a case of Martinez being a father figure than a mechanical pitching coach. The heart-to-heart seemed to ignite Britton, who was called up to the Red Sox on July 20 and pitched well as a reliever (a 3.86 ERA and 17 strikeouts in 21 innings).
"I was honest to him," Martinez said. "And I will always be. I went straightforward to him and told him exactly what I probably would love to hear if I was in the same situation. I talked about his stuff, trusting his stuff, about his personal life, how he should treat some of the things that were happening, and how much of a battle he wanted to put up after things like that happen.
"I'm extremely proud of him, extremely proud to see him overcome all of that and actually pay me back. Pay me back. Because that's all I wanted -- to see him have success. And to see him at the end of the year pitching so well and doing so well and helping the team so much, it really made me like a proud father."
Martinez described himself as an "old goat" who's not inclined to hang out with 23-year-old kids. But when he looked in Britton's eyes, he saw he was having an impact.
[+] Enlarge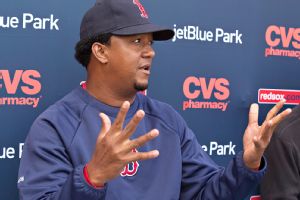 Matthew J. Lee/Getty ImagesMartinez says he tries to make young players feel more comfortable around him by treating them like teammates. "I know that some of them might be a little shy, but they know I'm open and I'm flexible to do anything," he says.
"He was very receptive," Martinez said. "I have to tip my hat to him. He took it with maturity. Not only that, he took the right approach toward it. He was dedicated to what I kind of wanted to help him with. And he did great. The credit doesn't go to me. It goes to him for doing what he was supposed to do."
Why did he take such an interest in Britton? Because when he saw him in spring training, he thought he was headed directly for the big leagues in a few weeks. If Cherington had asked him, Martinez would have told him, "Take that lefty with you."
"If they asked me my opinion, I would have said, 'He's big-league ready,' " Martinez said. "When I saw him struggling in Double-A, I chose myself to go and see him and let him know that everything he had before was still there. It was just a matter of putting his mind, his heart, his desire, where it had to be. He took it graciously."
Said manager John Farrell, "There's a lot of wisdom and knowledge he can give to young pitchers, and it's not just here in camp. In the case of Drake Britton, it had a huge impact on him."
Martinez said his approach is to empower young players to have confidence and reach a comfort level so they "have no fear."
It might be intimidating for a young player to be in the presence of a three-time Cy Young Award winner with a 2.93 career ERA and more strikeouts (3,154) than innings pitched (2,827). But Martinez has a way to solve that.
"I run around like they are my teammates," he said. "I know that some of them might be a little shy, but they know I'm open and I'm flexible to do anything. I don't treat (Jon) Lester like I wouldn't treat Britton. They are all the same. They're my teammates. They're my friends. They can talk to me anytime."
It's hard to believe, but four years have already passed since Martinez last threw a pitch in the major leagues. Next year, he'll be eligible for the Baseball Hall of Fame. Cooperstown beckons. But the way he talks, it's anything but a lock.
"I think I should have a shot, but it's not up to me," he said.
Let's call it a really good shot.
August, 10, 2013
8/10/13
1:36
AM ET
KANSAS CITY, Mo. -- A cure-all he isn't, and never pretended to be.
But this was quite a comedown for
Jake Peavy
after his inspiring debut in a
Boston Red Sox
uniform last Saturday -- one witnessed by his family, including his parents -- a night that he called among the best of his career.
This, on the other hand?
[+] Enlarge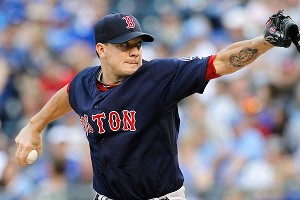 AP Photo/Colin E. BraleyJake Peavy said his "stuff just wasn't sharp at all," and he paid the price for it in Kansas City.
"Just one of them nights that just wasn't our night," Peavy said after being barbecued for six runs and leaving before recording an out in the sixth inning, when the
Kansas City Royals
scored six times to wipe out a three-run deficit en route to a 9-6 win over the Red Sox.
"Obviously, I take the blame. Your offense can't score six runs and not win a game that you start. It's no excuse. [I] Didn't get it done."
The Sox gave Peavy a 1-0 lead on
Daniel Nava
's RBI single in the first, a departure from recent custom, in which opponents had scored first in 15 of the previous 19 games.
When the Royals touched Peavy for two runs in a 37-pitch second that included a
Justin Maxwell
home run to left, the Sox seized the lead back again when
David Ortiz
hit his 22nd home run and
Jarrod Saltalamacchia
doubled in the run that made it 3-2 in the third.
When the Royals tied it in the bottom of the third --
Alex Gordon
cleared the fence in dead center -- the Sox responded yet again, with
Mike Napoli
emerging from a prolonged slump with what he does best: deliver a big hit with the bases loaded, this time a three-run double in the fourth.
For Sox manager John Farrell, after two relatively quick innings for Peavy in the fourth and the fifth, the plan was to let his starter go one more inning. That stratagem lasted just three batters, as Maxwell,
Mike Moustakas
and
Alcides Escobar
produced a run and left the tying runs on base.
Rookie
Drake Britton
entered and walked
George Kottaras
, the former Sox backup catcher who isn't hitting a lick (.176) but has been a walk machine -- 23 walks in 99 plate appearances, including two Friday, which gives him a legitimate claim to being the Greek god of walks, unlike that Romanian impostor,
Kevin Youkilis
.
Britton coaxed a popup out of pinch hitter
Miguel Tejada
for the inning's first out. Rookie
David Lough
flied out to right, and, even though he slipped,
Shane Victorino
nearly threw out the baserunner, Moustakas, at the plate. That would have ended the inning. Instead, Moustakas just beat the throw, and, worse, the other runners both moved up a base.
That proved critical when the next hitter,
Eric Hosmer
, stuck out his bat and directed a ground ball through the left side for a two-run single that gave the Royals a 7-6 lead.
Pedro Beato
entered,
Billy Butler
hit his first pitch for a double that made it 8-6 and Maxwell's second hit of the inning produced Kansas City's final run of the night.
"I didn't have good stuff," Peavy said. "I didn't feel very good stuff-wise and command-wise. You knew going in this bunch [the Royals] is scrappy. They don't strike out, they put the ball in play and good things happen. You saw it tonight. A lot of two-strike hits. My stuff just wasn't sharp at all."
Of the 10 hits allowed by Peavy, five came with two strikes. Hosmer threw his bat at a two-strike slider from Britton after swinging and missing at the same pitch moments earlier. Maxwell's RBI single off Beato also came with two strikes.
Peavy wasn't exaggerating when he said the Royals put the ball in play. They have the fewest strikeouts in baseball, 705, 235 fewer than the Sox (940), who rank 12th in the AL in whiffs.
Of the 105 pitches Peavy threw, the Royals swung and missed exactly two.
"I think the putaway pitch was a little elusive," Farrell said.
Even so, Farrell was hoping to coax one last inning out of Peavy because he wanted to stay away from
Junichi Tazawa
, who pitched two innings Wednesday. The seventh was set up for Britton, the eighth for
Craig Breslow
.
It all looked so tidy on paper, but the Royals, winners of 17 of 21 since the All-Star break, have been messing up a lot of plans these days. The Sox KO'd starter
Ervin Santana
in the fourth, but the Royals' lockdown bullpen delivered 5⅓ innings of two-hit, scoreless relief.
This is a different team, Peavy said, than the one he'd held to four hits and a run in his first start of 2013, back on April 3.
"Of course," he said, "you definitely can tell they've been playing well."
The Sox, not so much. They opened this trip by being shut out by Houston, the team with the worst record in baseball, and spotted the Astros big leads the next two nights before rallying for wins. Now, they've lost the first two to the Royals, who are craving legitimacy, with
Jeremy Guthrie
and
James Shields
primed to give Kansas City its biggest series win -- of how long? The season? This century? The past 20 seasons? Don't look now, but the Royals are in the wild-card hunt, one of six teams ahead of the Yankees.
The Sox, meanwhile, saw their lead in the AL East remain at two games after the Dodgers, down 6-0 in the seventh inning, rallied back to stun the Rays for a 7-6 walk-off win in Los Angeles on Friday night. The dog days are here, and it's going to take more than Peavy to pull Boston through.
August, 9, 2013
8/09/13
11:49
PM ET
KANSAS CITY, Mo. --
Jake Peavy
, who was everything the Red Sox could have wished for in his first start, was nobody's idea of a good time Friday night in a 9-6 loss, with the exception of the
Kansas City Royals
, who are known to have fun at Peavy's expense, especially here.


The Sox gave Peavy a lead on three different occasions, only to have the Royals seize it back all three times, scoring six runs against Peavy and two relievers,
Drake Britton
and
Pedro Beato
, in a sixth-inning collapse in which Kansas City sent 11 men to the plate.
Peavy gave up 10 hits, including home runs by
Justin Maxwell
and
Alex Gordon
, did not strike out a batter and was charged with six runs on a night when the Royals swung and missed at only two of his 105 pitches.
Peavy had a 6-3 lead entering the sixth, courtesy of a bases-loaded, slump-breaking double by
Mike Napoli
that cleared the bases in the fourth. But the Royals opened the sixth with singles by Maxwell,
Mike Moustakas
and
Alcides Escobar
to cut the score to 6-4 and bring an end to Peavy's labors.
Rookie lefty Britton entered and walked light-hitting catcher
George Kottaras
, who came into the game batting .167, then retired pinch hitter
Miguel Tejada
on a pop fly. Rookie
David Lough
followed with a sacrifice fly, on which
Shane Victorino
's throw to the plate was a whisker too late to catch Moustakas and allowed the runners to advance into scoring position.
Eric Hosmer
then stuck out his bat and placed a ground-ball single through the left side to give the Royals a 7-6 lead.
Billy Butler
greeted right-handed reliever Beato with a two-base hit, beating the throw into second from
Jacoby Ellsbury
. After a walk to Gordon, Maxwell delivered his third hit of the game -- and second of the inning -- a run-scoring single that made it 9-6.
Peavy is no stranger to long nights in Kauffman Stadium; he is 1-5 with a 6.42 ERA in seven starts in Kansas City.
The Sox brought the tying run to the plate after Worcester, Mass., native
Tim Collins
walked Ellsbury and Victorino to open the eighth inning, but
Dustin Pedroia
's sharp ground ball to third erased both baserunners on a double play, and
David Ortiz
, who had earlier hit his 22nd home run of the season, popped out to end the inning.
The Sox, who had to come from behind twice to salvage wins in three games against the last-place Astros, have now dropped two straight to the Royals, who are 17-4 since the All-Star break, have climbed seven games over .500, and have thrust themselves into the wild-card race.
August, 8, 2013
8/08/13
2:21
AM ET
By
Jordan Godwin, Special to ESPNBoston.com
HOUSTON -- Right before "Take Me Out to the Ball Game" began playing in the middle of the seventh inning on Wednesday night, a different tune rang out over the Minute Maid Park speakers.
It was Queen's "Another One Bites The Dust," and it was playing because another
Boston Red Sox
hitter had struck out to end an inning.
To that point, the Red Sox had ended six of seven innings with runners in scoring position.
[+] Enlarge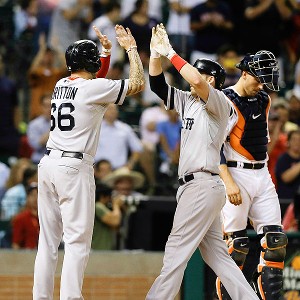 Bob Levey/Getty ImagesUnlikely pinch runner Drake Britton high-fives Stephen Drew after scoring on Drew's home run.
Missed opportunity stacked upon missed opportunity as the
Houston Astros
-- the same Astros who have the worst record in baseball -- appeared to be headed for a shocking upending of the Red Sox in the rubber game of the series.
Stephen Drew
had other things in mind.
Just two outs shy of a 5-4 loss, Drew crushed an 0-1 curveball deep to right for a go-ahead three-run homer, giving the previously choking Red Sox a wild 7-5 win in Clutch City.
"This team has done it all year," Drew said. "Everybody has fun, but everybody knows their role. Everybody has been clutch in late innings. This is what good teams do."
The Red Sox came from behind for the sixth time in their past seven wins, improving to 18-7 in games decided in the last at-bat. With their 70th win in 116 games this year, the Sox eclipsed 2012's season total of 69.
Despite the fact that they were playing the Astros (37-76), the stakes felt high on Wednesday night. For the third straight night, the Red Sox trailed against the Astros; for the second consecutive night, they found a way to win.
"Credit to Houston -- they pushed us to the hilt in this three-game series," Red Sox manager John Farrell said. "I'm just proud of the way we continued to fight back and show a lot of character and a lot of grit."
With a fatigued and injured bullpen and a skimpy bench, Farrell pulled out all the stops in this one.
The dugout made a seventh-inning phone call to the bullpen to inquire about a pitcher, except it had nothing to do with needing a mound replacement.
"They called down to the bullpen and said, 'Hey, do you think
Drake [Britton]
is faster than
David [Ortiz]
?" Britton said. "And they said, 'We think so.' They asked me, 'Hey, how fast are you?' and I said, 'I don't know.'"
Knowing Britton was unavailable for work after pitching 2 1/3 innings on Tuesday night, Farrell was looking for the speediest baserunner within arm's reach. After
Brandon Snyder
and
Mike Napoli
had already been used as pinch-hitters in the game, catcher
Ryan Lavarnway
was the only bench player left.
"It was a big surprise when they called down and told me to get my legs loose," Britton said. "They said, 'If David gets on, you need to be ready to pinch-run for him.' And I said, 'I'm sorry -- what?'"
The wide-eyed 24-year-old did as instructed, but he was nervous. He hadn't run the bases in more than six years. The last time he did it was during a high school baseball tournament, which happened to be played at Minute Maid Park.
Britton went to Tomball High School, which is about a half-hour from the stadium.
When Ortiz led off the ninth inning with a single to right, Britton's name was called. He hurriedly tried to find a helmet, struggled to find one that fit and finally found a match -- one that belonged to
Daniel Nava
, who was on his last day of paternity leave.
After Matt Carp lined out,
Jonny Gomes
walked, moving Britton in scoring position.
He said his heart was pounding at the thought of trying to beat out a play at the plate, but he remembered the advice his coaches gave him before he ran onto the field.
"They told me to be smart and don't do anything stupid," Britton said.
Britton didn't have to use his instincts or beat out a throw, as Drew made things easy with his towering home run.
Britton didn't seem to mind.
"It was awesome, especially because he hit a home run, and I got to trot around the bases," Britton said.
For the Red Sox, it was a happy ending to a game loaded with frustration.
Shane Victorino's ejection in the top of the seventh inning was the tipping point before the Red Sox decided to climb out of the 5-2 deficit and work their magic.
Victorino declined to comment on the ejection.
"Shane obviously had a little bit of a different opinion," Farrell said. "We had many opportunities and seemingly couldn't get that two-out hit."
Farrell said starter
Ryan Dempster
was "crisp," as he went six innings, allowing five runs and seven hits, while striking out seven. Reliever
Junichi Tazawa
earned the victory after pitching two hitless innings, while striking out two.
Koji Uehara
picked up his 11th save by striking out three in the ninth, while allowing one hit.
Ortiz reached base safely in 10 straight plate appearances, from his third plate appearance on Friday through his third on Wednesday night. Over that span, Ortiz went 8-for-8 with eight singles and two walks. He lined out to first in the seventh and finished 4-for-5 with his ninth-inning single.
"Hey, that ain't bad, huh?" Ortiz said with a wide grin.
August, 1, 2013
8/01/13
2:09
AM ET
By
Tony Lee, Special to ESPNBoston.com
BOSTON -- In 2012, August was the month when the Red Sox's season went into the toilet. In a hurry.
Few will remember that Bobby's Bashers won the final four games of July to get above .500 and were just a few games out of a wild-card spot when the calendar turned. Sure, the team was springing leaks and at each other's throats, but on the surface it looked like a unit with a pulse.
Then came a 9-20 August, which was followed up by a 7-19 September that was about as painful, for very different reasons, as the previous September.
There is absolutely nothing to indicate this current version is headed toward any kind of late-season swoon. The character the 2013 Red Sox have shown, as in Wednesday's 15-inning victory over the
Seattle Mariners
, simply won't allow for it.
"I've played on teams when [the other team] ties it up late and it's just like the air [goes] out of your sails right away," said left fielder
Jonny Gomes
, who factored heavily in the 5-4 outcome. "Not on this team."
Here are 10 takeaways from the game that put Boston in first place on Aug. 1:
[+] Enlarge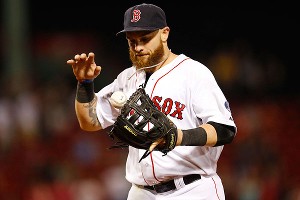 Greg M. Cooper/USA TODAY Sports"I've been waiting years to do that," Jonny Gomes said of his unassisted double play to end the top of the 15th inning.
* Gomes did not enter the game until he pinch hit for
Daniel Nava
in the 13th. Gomes was the third left fielder of the game for the Sox, and he made the defensive play of the contest in the 15th to stifle a Mariners' scoring chance, nabbing a sinking liner to left with two runners on and then carrying the ball all the way in to second base to double off
Raul Ibanez
, who had already rounded third and never even tried to retreat.
It was the old 7-unassisted double play, and Gomes was pretty proud of himself for accomplishing a first.
"With [Michael] Saunders up and [Drake] Britton [pitching], he has some velocity and that good slider. ... I was pretty sure a ball would come my way," Gomes said of his mindset after Seattle got runners to first and second with one out. "When he got to two strikes, thought he was kind of, just try to bloop one in. He got a fastball and it stayed up long enough and like I said, do or die."
Gomes could have thrown the ball in to double off Ibanez immediately. Instead, he glanced at the Mariners' runner, tucked the ball away and jogged to second base to end the inning.
"As a fan of the game, history of the game, a numbers guy, it definitely was on purpose," he joked about recording the play unassisted. "I've been waiting years to do that.
"Never had one, never seen one, that's why I was happy to get one on my resume."
* Without Gomes' play,
Stephen Drew
's heroics might not have come to fruition. Drew stepped up with the bases loaded and two outs in the bottom of the 15th and worked the count to 2-1 before lining a shot that found dirt just inside the right-field foul line to win the game.
Within seconds, teammates had ripped the jersey off Drew's back in a scene that has become all-too-familiar at Fenway Park this year.
"It's huge. It's just huge to get a win out of this type of a game," said Drew, who added that he knew the ball was going to land fair the moment he hit it.
* Boston leads the majors in walk-off wins with 10, which is the club's most in a season since 1996 (also 10) and is tied for the organization's most before August, matching the 1918 and 1930 clubs. It was the team's longest game since a 17-inning contest against Baltimore on May 6, 2012.
* In a game that featured 89 outs, 28 hits, 10 walks, 26 strikeouts and 448 pitches thrown by 12 pitchers, many plays can be forgotten. It's important to remember one from the top of the 11th, also executed by Drew.
With a man on first and one out,
Michael Morse
hit a chopper behind the mound. Drew charged and fielded and had momentum and loads of opportunity to get the second out at first base. To the surprise of many on hand, he flipped the ball almost behind him to
Dustin Pedroia
at second base to get a close out there. Jerry Meals, the umpire at the center of Monday night's controversy, made the call, much to the chagrin of Seattle's bench.
It was a calculated risk that Drew was willing to take.
"Right when I grabbed it, my thought is, 'go ahead and get him out [because] even with two outs a single scores him,'" Drew said. "I think Saunders was coming up and believe it or not, he got a hit after that, so it worked out. Close play but he was still out."
* Prior to Drew's walk-off hit, Boston's best chance to score the game-winner came in the 14th, when
Brandon Snyder
snapped seven innings of hitless ball for the Sox with a leadoff double. He moved to third on a sacrifice bunt and tried to dash home on
Shane Victorino
's fly to center, but was cut down easily at the plate on a great throw by Saunders.
Unlike the controversial play at the plate involving Nava on Monday, this one was cut-and-dry.
"In that situation he didn't give me a choice," Snyder said, referencing whether he should have slid or tried to run over catcher
Humberto Quintero
. "The ball beat me."
By a lot.
* Somewhat forgotten was another solid outing by
John Lackey
, who allowed three runs in seven innings. It was Lackey's team-leading 13th quality start and the 15th time in 19 starts that he has surrendered three earned runs or less.
Lackey got his fair share of boos in 2011 as he contributed to the team-wide collapse, but he has turned Fenway Park into a comfort zone, posting a 2.15 ERA in eight home starts in 2013.
*
Junichi Tazawa
's recent struggles continued when he served up a game-tying solo homer to
Kyle Seager
in the eighth, but the bullpen was marvelous from that point on.
Koji Uehara
threw 17 of his 19 pitches for strikes in two perfect innings, and both
Matt Thornton
and
Craig Breslow
wiggled out of some jams before
Drake Britton
threw two scoreless frames to pick up his first career win.
Britton has thrown eight scoreless innings since joining the Red Sox.
"What Koji, Bres, Drake Britton and certainly Matt Thornton did, just an outstanding job on their part," manager John Farrell said.
* On the heels of a slump that qualified as a pretty severe one by his standards, Pedroia has now recorded three RBIs in consecutive games for the first time in his career. His leadoff walk in the 15th ignited the game-winning rally, and the moment he took ball four the energy level in Fenway increased greatly.
"We somehow find some energy late in the game," Farrell said. "It's been many different guys that have been the reason for the walk-off. I can tell you, the conversation each time we're at the plate in extra innings, we're looking for something to draw energy from to make one last push and we were able to do that here again tonight."
Pedroia was eventually able to stroll home with the winning run.
* With
Jake Peavy
arriving Thursday and the bullpen pretty worn out, moves are forthcoming.
Brandon Workman
is in the bullpen now but not available until Saturday. Britton threw 35 pitches, Breslow 30 and Uehara two innings.
"We've got some moves to make," Farrell said. "The need for multi-innings [in the bullpen]. Peavy's arrival. We've got a couple of decisions we've got to make here tonight."
Those will all be announced Thursday afternoon when the Sox and Mariners prepare for their season and series finale. It'll be the first game in August, which has the look of a much more pleasant one for the Red Sox than 2012.
March, 21, 2013
3/21/13
9:39
PM ET
FORT MYERS, Fla. -- Red Sox GM Ben Cherington touched on a number of subjects besides rookie Jackie Bradley Jr. and shortstop
Stephen Drew
during his session with the media Thursday afternoon, including the status of reliever
Daniel Bard
on the eve of the season.
Bard is still in camp competing for a bullpen spot, but he has an option left, allowing the Sox to send him to Pawtucket without exposing him to waivers. Given the depths to which he plummeted last season, the Sox are likely inclined to have him start in Pawtucket and experience some success there. That would allow them to get some value out of
Clayton Mortensen
, who is out of options.
[+] Enlarge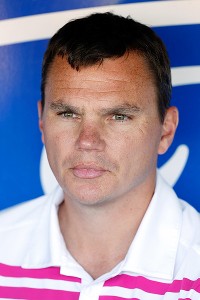 J. Meric/Getty ImagesBen Cheringon touched on a number of topics Thursday, providing some clues as to how the roster will shape up.
"Well, we think he's a lot further ahead than where he ended the season," Cherington said. "Probably still not all the way to where he wants to be, but in the range of possibilities he's a lot closer to where he wants to be than where he was struggling last year.
"I think the nice thing, from my standpoint, of his spring is we haven't talked much about it, it doesn't seem like. He has been able to get in his work and get ready for his season. There have been definitely a few outings where he looked pretty close, and I think he's feeling gradually better about himself."
*
Daniel Nava
's spot on the rotation as a backup outfielder-first baseman seems assured, judging by Cherington's comments.
"He's done a good job," Cherington said. "He's had good at-bats, he's done well defensively. He seems more and more comfortable at first base, not that that would be a primary part of his role, but he has the ability to go there if needed."
* Cherington acknowledged that the fact
Lyle Overbay
is not on the roster and
Mike Carp
is could factor into which player is kept as a left-handed hitting first-base alternative to
Mike Napoli
. Overbay is one of three players -- the others being
Mitch Maier
and
Ryan Sweeney
-- who have opt-out options in their contract that come into play next week. It was reported here incorrectly Thursday morning that
Drew Sutton
also had an opt-out.
* Cherington's assessment of the way the starting rotation has performed this spring:
"They'd all tell you it's spring training, but a lot of encouraging things. There's clearly a purpose to the work. They're going out, taking certain things into the game, whether it be pace, aggressiveness within the strike zone, attention to detail -- for the most part, they've been paying attention to the running game. We saw [the work] early in camp and now they're taking it into games. The pitching overall has been pretty encouraging."
* On whether the team needed to add depth to the rotation:
"I guess you can't be deep enough. Our job is to look out for reinforcements, but we feel pretty good about some of options we have, in addition to the five guys [in the rotation]. [
Alfredo Aceves
] has been stretched out, he gives us another guy. The guys projected to start at Pawtucket, we feel better than we did last year at this time about our options.
"[Chris] Hernandez, [Terry] Doyle, [Allen] Webster...
[Rubby] De La Rosa
, we'll give some time to get his pitch count built up. There are a lot of guys coming after them. We feel hopefully we're a little further ahead than we have been."
* On Drake Britton, the Red Sox pitcher whose first big league camp was curtailed after he was arrested on multiple DUI charges and is now awaiting an April court date:
"I've had a number of conversations with Drake and gone over some things I'm not going to comment on. At this time we don't have reason to believe he's going to miss time. There's obviously a legal progression that needs to be worked out; we'll let that work itself out."
Britton could face up to a year's jail time on the most serious charge, a DUI with property damage.
"There's a protocol I'd rather not get into," Cherington said when asked if the team has a set protocol for dealing with situations in which a player faces criminal charges. "For a player on the 40-man [roster], it's a little different than a nonroster player. It's not all a discipline process the player goes through."
Presumably, Cherington was referring to counseling, though he would not elaborate.
"I just think it's better to let that process play out behind closed doors," he said, " but I will tell you this is something we take very seriously. Part of what it gets to is a matter of reliability. Part of being a major leaguer with the Red Sox is being reliable, being someone we feel we can trust day in and day out to perform and be ready. Certainly, on the field is part of it, but the other stuff is part of it, too.
"He's shown a great deal of remorse and understands the gravity of what happened and is going through the steps to learn from it."
March, 19, 2013
3/19/13
9:35
PM ET
FORT MYERS, Fla. --
Boston Red Sox
pitcher Drake Britton faces an April 12 hearing in Lee County Court on multiple misdemeanor charges for allegedly driving under the influence, reckless driving and DUI with property damage stemming from an incident here March 2.
The most serious of the charges, DUI and damage to property, is a first-degree misdemeanor in Florida and punishable by up to a year in jail, a fine of $1,000 or both. A first-offense DUI is punishable by up to six months in jail and a fine of up to $500, while a reckless driving charge is a second-degree misdemeanor punishable on first conviction by up to 90 days in jail and a fine up to $500. In addition, Britton was charged with speeding and faces a $1,101 ticket on that charge, according to court records.
Britton was arrested, according to the report filed by the Lee County Sheriff's Office, at 4:42 a.m. March 2 on Ben Hill Griffin Parkway in Estero, which is adjacent to Fort Myers. According to the arrest report, Britton, driving a 2008 black Chevrolet Silverado, was paced at a maximum speed of 111 mph in a 45-mph zone. With a police car in pursuit, Britton's truck swerved between other moving vehicles and jumped over a curb, continuing down a small decline and knocking down a barbed-wire fence.
Britton then allegedly continued down a dirt road for a quarter mile and attempted to pull into a wooded area before coming to a stop. When the officer approached and asked for his license, police claim Britton first handed him his debit card.
According to the arresting officer, Britton's breath smelled of alcohol and he had slurred speech and bloodshot, watery eyes. Britton refused a breath test, but the officer said he admitted he had been drinking. He was taken to Lee County jail.
Bond was posted that day, and Britton made a mandatory court appearance on March 5. Six days later, pleas of not guilty were entered by his attorney, Peter Duncan Ringsmuth, and the hearing was set.
A 23rd-round draft choice in 2007 out of Tomball (Texas) High School, Britton underwent Tommy John reconstructive elbow surgery in 2008, bounced back to rank No. 3 on Baseball America's top prospects list for the Red Sox in 2010, struggled in 2011 but finished strong last season for Double-A Portland and was rated No. 11 on the BA list this year.
Britton, 23, was attending his first big league camp and was scheduled to pitch in an exhibition game for the Red Sox the day after he was arrested. That appearance was scratched, and on March 4 the Red Sox announced he had been optioned to Double-A Portland, before Britton's arrest had been reported.
The next day, the team issued a statement. "This is a matter that the Red Sox take very seriously, and it is being addressed," with the team adding it would have no further comment.
On Tuesday, Red Sox general manager Ben Cherington wrote in an e-mail that Britton is a full participant in the minor league camp.
It was a year ago this week that two players, Red Sox pitcher
Bobby Jenks
and Tampa Bay minor-leaguer
Matt Bush
, were arrested on multiple DUI charges in southwest Florida. Bush's case was the most serious of the two; On March 22, 2012, he was involved in a DUI hit-and-run accident in which the SUV that he was driving struck a 72-year-old motorcyclist in Port Charlotte, Fla., causing brain hemorrhaging and multiple fractures, among other injuries. The DUI conviction was the third for Bush, a former No. 1 draft pick of the
San Diego Padres
who pleaded no contest and was sentenced to four years and three months in prison. He is currently serving his sentence in a state facility in Jasper, in the Florida panhandle.
Jenks, who was in the second year of a two-year, $12 million contract he had signed with the Red Sox as a free agent, was rehabbing from multiple back surgeries when he was arrested on March 23 on DUI charges, reckless driving and DUI with property damage, stemming from an incident in which he allegedly struck parked vehicles while leaving a strip club. Jenks said he had become disoriented from the use of muscle relaxers and the DUI charges were subsequently dropped, according to media reports. In July, the Red Sox reached a termination agreement with Jenks on his contract.
February, 23, 2013
2/23/13
6:45
PM ET
By
Rick Weber
| ESPNBoston.com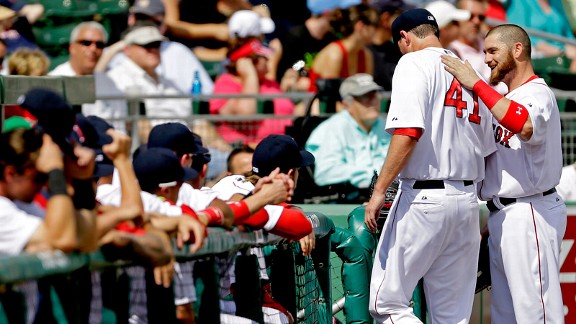 AP Photo/David GoldmanJohn Lackey got a pat on the back from Jonny Gomes after his one-inning outing Saturday.
FORT MYERS, Fla. -- A few takeaways from the Fort, where it was all about
John Lackey
in the Red Sox's 4-3 loss to the split-squad
Tampa Bay Rays
on Saturday in their Grapefruit League opener:
* The offseason was short on big-splash acquisitions, but catcher
Jarrod Saltalamacchia
said we might have forgotten about one that cost the Red Sox nothing: Lackey.
"He's been a No. 1 [starter] his whole career," Saltalamacchia said. "He's got that in him to be a No. 1 again. That's the fortunate thing this team has: We've got four guys who can be No. 1. We had a free-agent signing in him because he's back and he's healthy. We're getting a guy we didn't have to go out and sign. It's going to be nice to have a guy like him to eat up innings like he's done his whole career."
Lackey, who underwent Tommy John reconstructive elbow surgery that sidelined him for nearly 16 months and who was pitching for the first time since Sept. 25, 2011, got out of a bases-loaded jam by giving up just one run.
[+] Enlarge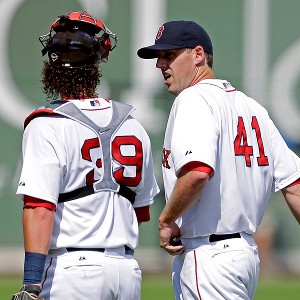 AP Photo/David Goldman"He's got that in him to be a No. 1 again," Jarrod Saltalamacchia said of John Lackey.
"It could have gotten ugly," Saltalamacchia said. "He worked back, kept the ball down and the ball was coming out nice. We came into that knowing that we were going to throw fastballs. We didn't have anything else but two changeups we were going to throw. It was strictly a feel-good outing."
Manager John Farrell said the biggest bonus was no pain.
"It's a big step," Farrell said, "and it's one that over the last 16 months, he was obviously on his own program and probably at times felt he was the only one going through it. And today was the first step, the first building block toward spring training and getting back to being a regular member of the rotation.
"I think there was a lot of anticipation on a number of people's part -- and mostly John's. But now he's able to get into a five-day rotation -- normal sides, normal turns through the schedule."
According to
Jon Lester
, those who were surprised by Lackey's jovial postgame demeanor shouldn't have been.
"As far as in here, he's been the same since day one," Lester sad. "He's probably one of the greatest teammates I've ever had. ... He's on that top list for me. As far as dealing with the media, everybody struggles with that in their own way. John came from a place in Anaheim where no matter if you did good or bad, you were still the guy. [It was] a little bit smaller market, and he didn't have to deal with all this. We're all trying to get better at it."
*
Jose (.118) Iglesias
fired a shot over the bow with a two-run, seventh-inning homer over Fenway South's Green Monster, quickly sending Marquis Fleming's high fastball into orbit after an offseason in which his hitting was ridiculed.
"Wish there were a couple more like it," Farrell said. "He's a little more upright and more free in his overall swing. He got a fastball up in the zone and did what he's capable of doing. But I think more than anything, it's just the freeness and aggressiveness to the swing."
* Left-hander
Drake Britton
pitched a scoreless second inning but then was nicked for a run in the third when he gave up a double to
Desmond Jennings
and watched Jennings steal third and score on a throwing error by Saltalamacchia.
February, 20, 2013
2/20/13
2:28
PM ET
By
Rick Weber
| ESPNBoston.com
FORT MYERS, Fla. -- It may seem counterintuitive -- and
Drake Britton
still can't quite figure it out -- but an unexpected conversation with a hitting coach inexorably altered his pitching career with the Red Sox.
[+] Enlarge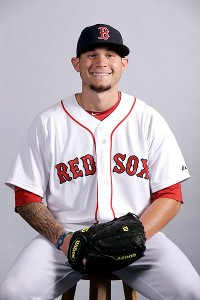 AP Photo/Chris O'MearaA conversation with hitting coach Rich Gedman last May got pitching prospect Drake Britton back on track.
Britton, a 6-foot-2, 200-pound lefthander, was eating an early breakfast alone in Class-A Salem's team hotel in Winston-Salem, N.C., one morning last year in the first few days of May.
He hadn't been able to sleep the night before -- same as the night before and the night before that. He had endured a disastrous 2011 season in Salem, going 1-13 with a 6.91 ERA, after starting the year as the organization's No. 3 prospect, according to Baseball America. And he was scuffling around in 2012 with a 1-3 record and 10.71 ERA.
During breakfast, Rich Gedman, the team's hitting coach, appeared "out of nowhere" and asked if he could join Britton.
"The conversation just happened from there," Britton said. "He told me instead of worrying about my personal stats and where I want to be and things like that, just go out and pitch with the mentality that I'm going to give my team the best opportunity to win."
Britton said Gedman didn't offer any mechanical tips he gleaned from working with big-league pitchers for 13 years as a two-time All-Star catcher with the Red Sox. But he was somehow able to get inside Britton's head with something he said.
"It was just that little thing," Britton said. "It was a complete turnaround overnight. It took all the weight off me. It was no longer about me and the things I was doing. I put that into my team and what I wanted to do just to help us win. That took all the pressure off me and allowed me to have fun again and play for the team rather than myself."
Britton went 2-2 with a 2.10 ERA in May, and later was called up to Double-A Portland, where he was 4-7 with a 3.72 ERA in 16 starts, striking out 76 in 84 2/3 innings.
The 23-year-old Britton, who is expected to be part of the starting rotation in Triple-A Pawtucket, has come so far that he will be handed the ball in the second inning of Saturday's Grapefruit League opener against the
Tampa Bay Rays
. Following
John Lackey
, Britton will go two innings or 35 pitches.
"I'm going to be pumped," he said. "It's going to mean a lot."
And at some point, he would like to get an extended session with special assistant
Pedro Martinez
.
"I've seen him around and have had some small talk, joking with him from time to time," he said. "I'd love to get a chance to sit down and talk baseball with him, talk pitching. I mean, it's Pedro Martinez."
Breakfast would be nice, but he'd settle for 10 minutes on Field 3.