Boston Red Sox:

Drew Sutton
March, 6, 2013
3/06/13
8:44
PM ET
FORT MYERS, Fla. -- Takeaways from the Fort, where one intrasquad game in college at Rice University is all the third base
Brock Holt
ever played before Boston's 9-3 spring training loss to the
Pittsburgh Pirates
on Wednesday afternoon.
[+] Enlarge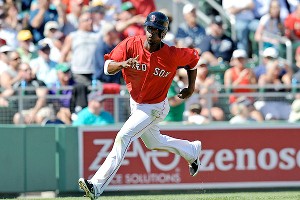 Steve Mitchell/USA TODAY SportsIs Pedro Ciriaco leading the race to be Boston's utility man?
Naturally, it took only two batters before Holt was tested, and he was equal to the task, diving to his left and spearing a ground ball by
Andrew McCutchen
, and throwing out the swift McCutchen with a strong throw across the diamond. In the fifth inning, he came in on a chopper and threw to second for a force.
And just like that, the battle was joined in earnest for one of the few jobs available on a Sox roster offering very little in the way of intrigue, other than the Big Question posed by Big Papi and his troublesome Achilles tendon.
The Sox are looking for a backup infielder who can play at least three positions, with bonus points if that player can also play the outfield. There are three candidates. The incumbent is
Pedro Ciriaco
, 27, whose fast start and impressive mugging of the Yankees masked the fact that he limped to the finish line, posting a .233/.269/.291/.560 line in the season's last month. There is veteran
Drew Sutton
, 29, who was with the Sox in 2011, played the infield for the Rays last season and the outfield for the Pirates, and has hit in spurts.
And there is Holt, 24, the other player in the deal that brought closer
Joel Hanrahan
to the Red Sox from the Pirates. Holt stands nose to nose with
Dustin Pedroia
, and put up impressive on-base numbers during a rapid ascent through the minors that led to a late-season call-up to the Pirates.

Holt is a shortstop by trade and has also played a lot of second, but had never played third until John Farrell started him there Wednesday afternoon. It won't be long, Farrell said, before the Sox take a look at Holt in center field, too.
"He's a good athlete, and he's shown a lot of good aptitude," Farrell said. "He's taken on third base, one new position. Gradually, we'll look to incorporate [center field] as well, but he made a couple pretty good plays today at third base."
Procedural matters favor Ciriaco, who is out of options and would have to pass through waivers for the Sox to send him back to the minors. Sutton is a non-roster player, which means the Sox would have to create a roster spot for him to make the team, which is not an enormous obstacle but would require some shuffling. Holt has options, which means the team could stash him in Pawtucket, have him play every day there, and be on call should the need arise.
That's why making a strong impression in camp is of some urgency to Holt, who suspects that the ability to play third behind
Will Middlebrooks
will be an important determining factor.
"I think it's huge," Holt said. "Obviously, right now it's just Middlebrooks. Ciri has proven he can play over there. He plays great defensively, no matter where he's at. The more positions I can play, the better.
"I'm coming here every day, trying to get as much work as possible at every position. If I'm at second in the morning, I'm trying to take ground balls at short and third after practice, trying to get as much work as I can. Hopefully, they see I'm working hard and starting to get more comfortable over there. I think it's been going good."
[+] Enlarge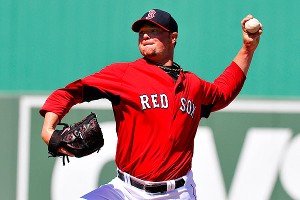 Steve Mitchell/USA TODAY SportsJon Lester had "four good innings of work" Wednesday, in Sox manager John Farrell's estimation.
* The novelty of having a knuckleballer in camp has been a popular storyline early, but
Steven Wright
, still a kid in knuckleballer years (28), very much remains a work in progress, one that Farrell said Wednesday will require patience. Wright was cuffed for five hits and three walks in two innings by the Pirates, who in his last outing had three hits and three walks while scoring two runs in 2 1/3 innings.
"Going back to the final inning in the previous outing and today, just not the consistent feel or the shape to the knuckleball," Farrell said. "It's one of those things where we have to be patient with the pitch and him as a knuckleball pitcher."
Farrell then cast the issue in terms suitable for discussion in a Harvard philosophy class: How do you perfect the imperfect?
"If you look at the bigger picture, he's at the early stages of trying to perfect this pitch, one which is an imperfect pitch," Farrell said.
* Hot prospect
Rubby De La Rosa
also had a flawed afternoon, giving up three runs on three hits and a walk.
*
Jon Lester
threw 52 pitches while giving up a run on two hits in four innings, walking three and striking out three. "Good four innings of work," Farrell said. "I thought he used his curveball more today than in the previous two outings. Part by design, part by situations that arose. Might not have been as sharp as his last time out, still 52 pitches in four innings, a good day of work for him."
March, 1, 2013
3/01/13
9:33
PM ET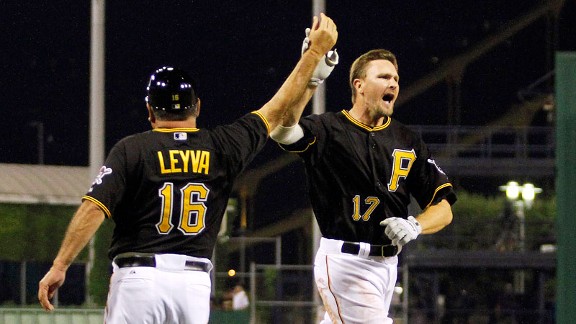 Justin K. Aller/Getty ImagesDrew Sutton celebrates his walk-off homer for the Pirates last July 3.
FORT MYERS, Fla. -- There were 4,934 home runs hit in the big leagues last season. This one stands out, for the unabashed joy that swept
Drew Sutton
around the bases after he hit the first walk-off home run of his big league career.
And then you learn the backstory of the player who hit it.
About a player hanging on through seven big league organizations in the span of a decade, including two go-rounds with two different teams.
About a player traded twice on the same day last May, then let go on waivers a month later.
About the loneliness of a husband and pregnant wife separated all summer, haunted by the memories of the child they had lost.
About Karsyn, who lived a single day, her death leaving baffled doctors unable to provide an explanation to her grieving parents. And the subsequent birth of a healthy baby boy, Ryder, who this spring can be seen here in the stroller pushed by his mother, Staci, and a family reunited.
And the moment becomes far more special, and joyous, than you ever imagined.
"It was a rough year," Drew Sutton said.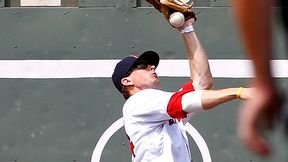 Jim Rogash/Getty ImagesDrew Sutton hit .315 in 31 games for the Red Sox in 2011.
Last May, Sutton was in Rochester, N.Y., with the Gwinnett Braves, Atlanta's Triple-A team, when he was told that he had been traded to the
Pittsburgh Pirates
. He received the news at 4 in the afternoon. "The Pirates asked me if I could rent a car and drive the next morning to meet their Triple-A team," Sutton said.
At 10 o'clock, another call. It was the Pirates again, telling him to forget about the rental car. He was flying to Tampa instead. The Pirates had just traded him to the Rays, who had just lost infielder
Jeff Keppinger
that same day to a broken toe, and were scrambling for a replacement.
The upside was that Sutton was on his way back to the majors. And that one of his best friends,
Ben Zobrist
, played for the Rays. "We got drafted together with the Astros," Sutton said.
But a month later, after just 18 games for the Rays, Sutton was designated for assignment by the Rays, who placed him on waivers. Three days later, he was claimed. By the Pirates. Sutton flew to Philadelphia to join his new team.
A week later, the Pirates were back in Pittsburgh. At the time, they were one of the surprise teams in the National League, just a game out of the division lead in the National League Central. Pirates manager Clint Hurdle was using Sutton, who had primarily been an infielder throughout his career, in right field.
The Pirates took a 7-6 lead into the ninth, but closer
Joel Hanrahan
blew the save, allowing the tying run to score. There was one out in the bottom of the ninth when Sutton came to the plate to face Astros left-hander
Wesley Wright
.
"I remember I was really upset when Drew came to bat," Hanrahan said. "I thought I blew the game. But I went from really ticked off to really happy real fast."
[+] Enlarge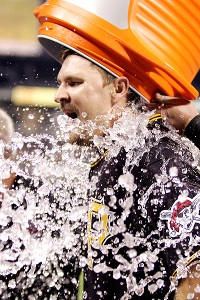 Charles LeClaire/USA TODAY Sports"I just want to enjoy the time I have in the big leagues," says Drew Sutton.
Hanrahan was on the bench when Sutton crushed a breaking ball to the deepest part of the ballpark, straightaway center field, the ball clearing the wall and landing to the left of the shrubbery behind it. Sutton raised both of his arms overhead, like a true believer seized by the spirit at a tent meeting, as he rounded first base, and followed that with a fist pump. The helmet came off as he rounded third base. Fireworks illuminated the sky. The welcoming committee of Pirates at home plate swarmed over him upon arrival, grown men dancing as giddily as schoolchildren, and in the stands, a Pirates fan waved the skull and crossbones.
"The new guy, Sutton," Pirates broadcaster Tim Neverett said. "Welcome to the 'burgh, Drew."
The Pirates were tied for first place. A kid born in Arkansas, raised in Tennessee, and educated in Texas [Baylor] had just eclipsed anything that had ever appeared on his personal highlight reel. The home run was his fourth in the big leagues, his first since the last day of the 2010 season.
"It just all came out," Sutton said. "When I watched it back, yeah, it surprised me a little. You'd think I'd won the playoffs or something.
"But it's just like, you play so much in the minors, it's such a struggle to get up here, you sign minor league contracts and try to get here, hope you have breaks go your way so you get an opportunity like that.
"I just want to enjoy the time I have in the big leagues."
The year before, Sutton had been with the Red Sox, who summoned him back and forth repeatedly from Pawtucket. In the time he did spend in Boston, he played well, as Terry Francona used him at all four infield positions and Sutton hit .315 in 31 games. But it was in Boston where Karsyn was born, with lung and heart defects that took her life away. "What made it even harder," Sutton said, "is doctors couldn't tell us why."
Red Sox teammates and officials did what they could to surround Drew and Staci Sutton with love. That winter, Sutton signed with the Braves. When Staci became pregnant again, the couple decided she should remain home in Texas, under the care of one doctor. Sutton was home, the season having ended, when Ryder was born. On Nov. 2, he signed a minor league contract with the Red Sox, for whom he hopes his versatility might win him a spot.
"I don't know if I'll get back this year," he said. "I'd like to, but I just don't know.
"But that night in Pittsburgh? Pretty sweet. Pretty cool."
July, 26, 2011
7/26/11
5:45
PM ET
BOSTON -- The
Boston Red Sox
officially placed right fielder
J.D. Drew
on the disabled list with a left shoulder impingement and recalled infielder
Drew Sutton
from Triple-A Pawtucket, according to manager Terry Francona.
"J.D. will be DLed for real and Drew Sutton is recalled," Francona said.
Francona had before Monday's game that Drew was going to be placed on the disabled list, but the move ended up being delayed by a day.
In two stints with Boston this season (26 games), Sutton is batting .294 with seven doubles and seven RBIs.