February, 25, 2015
Feb 25
8:32
PM ET
By
Rick Weber, Special to ESPNBoston.com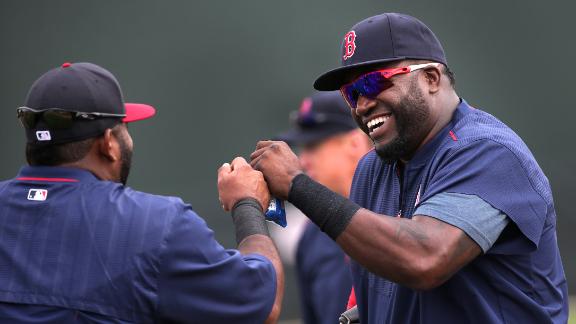 FORT MYERS, Fla. -- The day dawned under a blanket of ominous gray. The sun would ultimately break through, but even if it hadn't, there would be something transcendent about this day at Fenway South.
It's not every day that a woman dresses up in a baseball uniform and ends up getting tips on nail polish and manicures from a knuckleballing pitcher. It's not every day that a fan flies 2,708 miles just to see a Panda Bear. It's not every day that
Dustin Pedroia
answers questions from two distinguished Marines who want to know about that scar on his right arm. And it sure isn't every day that The Spaceman touches down.
Outside the clubhouse, just after 9 a.m. on the first day of full-squad workouts for the
Boston Red Sox
, Staff Sgt. David Foraker and Sgt. Ron Michael Abeleda stood tall in their freshly pressed dress Marine uniforms. Their visit, which included meeting Pedroia and
Mike Napoli
, was sponsored by the Red Sox Foundation and Massachusetts General Hospital's Home Base Program, dedicated to serving veterans coming back from Iraq and Afghanistan who are experiencing signs of combat stress or traumatic brain injury.
[+] Enlarge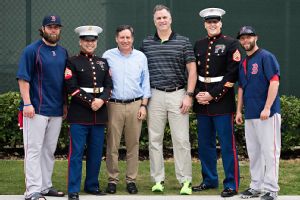 Michael Ivins/Boston Red SoxMarines Ron Michael Abeleda and David Foraker visited with Mike Napoli, Sox chairman Tom Werner, New Balance general manager of sports marketing Mark Cavanaugh and Dustin Pedroia.
"First time I've been here," said Foraker, who lives in southwest Florida. "You walk through the gates and you can smell the grass. Just seeing the facilities is outrageous. We heard that the field over there is the exact size of Fenway. Those are just cool facts to know. I couldn't be more excited to be here. You get starstruck. Right when they came out, I was like, 'Oh, gosh. There they are.' Napoli had a great beard."
After meeting Pedroia and learning that a scar on his right arm was caused by a falling toy while playing with his daughter, Abeleda said, "Just being with them, you see they're just like us. Just very simple guys. They love what they do, just like we love what we do, and you love what you do. We're all just proud to be here together."
Over on Field 3,
David Ortiz
,
Hanley Ramirez
and
Pablo Sandoval
-- aka "The Tres Amigos" -- went through stretching exercises, organized in the row the way they probably will be on manager John Farrell's lineup card on game day.
Near the fence just in front of them, Bianca de la Garza mimicked their movements in front of a video camera. Wearing a ballgirl's red jersey and white pants, she looked into the camera and said, "Steven Wright's going to teach me how to throw a knuckleball today. Good luck with that."
De la Garza, 39, signed off as news anchor for WCVB-TV Channel 5 in May 2014 to develop entertainment programming under her new company, Lucky Gal Productions LLC. She's in camp to film segments for her show, "Bianca Unanchored," which airs every Saturday night.
"It's spontaneous," she said later. "They put me in all situations and I just go with it. It's a cool format. It's me kind of out there, boots on the ground. It's been a thrill. This has been a real tough winter in New England, and people are dying for Opening Day."
Her segment with Wright, a 30-year-old journeyman knuckleballer who resurrected his career two years ago when the Red Sox signed him, was a real eye-opener for her.
"His nails were better than mine," she said, laughing heartily. "I need a manicure, next to his. They look great. They're short, squared, shiny. He told me he uses 'Hard As Nails' on two fingers. He doesn't cut his nails, just files them.
"These are the types of hard-hitting questions you get on 'Bianca Unanchored.' What's your hair product? Do I look official enough as a ballgirl? You've got to have fun. I think they actually enjoy it, I think because the media is so hard on sports. They like to loosen up a little, and it's a good setting. They have a ton of personality. This team is built on it. It's going to be fun to watch and see how it comes together."
Later on, in the clubhouse, Wright was asked about the knuckleball lesson. He paused a few seconds, trying to formulate a genteel way to describe it.
"I mean, she tried," he said. "She tried hard. She wasn't hurt. She understood the concept, but it's a pitch that not everybody can do. There are guys who have pitched 20 years in the big leagues that can't throw it, so to have somebody who's not really thrown a baseball to throw a knuckleball, it's a little different."
Over on Field 4, it was a learning experience for Ramirez. The last time he was with the Red Sox, they trained near City of Palms Park. Now, they're at the $80 million Fenway South complex, with players moving from field to field through labyrinthian tunnels created by fence openings and yellow rope to keep the mob of spectators in line.
"Hanley!" Farrell yelled. When he got Ramirez's attention, Farrell motioned for Ramirez to leave through the third-base dugout rather than first base.
Sandoval appeared to have the whole maze figured out. Or maybe he was just following Ramirez.
As Sandoval headed in that direction, a fan shouted from behind the fence, and he acknowledged her with a wave and a smile.
[+] Enlarge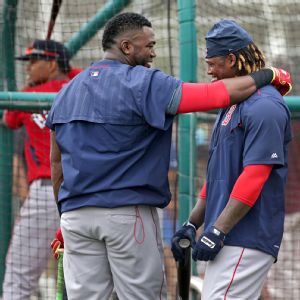 Barry Chin/The Boston Globe/Getty ImagesDavid Ortiz shares a laugh with Hanley Ramirez near the batting cage.
Jacqueline Pereira, 42, knows Panda and also has a PANDA KNOWS baseball cap. That's not all she has. She carries in her purse a picture taken with Sandoval at the Omni Hotel near Petco Park in San Diego. She also has a furry Panda hat, which was noticed by Vin Scully during a
Dodgers
-
Giants
broadcast a year ago, inspiring a Scully quip that went something like, "Very attractive, my dear."
Pereira flew from Southern California on Sunday, spent Tuesday and Wednesday at Fenway South and was scheduled to fly out late Wednesday. She's a Giants fan but probably an even bigger Panda fan. Now that Panda is in the American League, she plans on booking trips to Oakland, California, in May and Anaheim in August to see him.
"Panda knows me from seeing him at the Dodgers games," she said. "Every time the Giants come to L.A., I'm always there. For the last two years, I've been to every game there. I met him in San Diego two years ago, and he knows I'm a familiar face wherever he's at."
"I'm harmless," she said, clarifying her status as a nonstalker.
Harmless, but saddened at the change of address for Sandoval.
"I'm torn," she said. "Yeah, I'm torn. All my friends ask me, because they know how dedicated I am to Panda, 'So, are you a Red Sox fan now?' I'm like, 'No, I'm a Panda fan.'
"He's so entertaining to watch. He exudes an aura. There's something about him that really makes it fun. I am excited that he is here for you guys. I'm excited that the Bostonians seem to be embracing him as well. I wasn't sure how that was going to go over at first with the Panda stuff, but it looks like it's taking off."
Well, maybe, but not at the souvenir stand. Panda-mania had not yet commenced. They're selling a Panda Bear cap -- featuring 10-inch flaps, each holding a baseball -- for $15. But as of late in the workout, there were no takers.
"There has been some interest," Joseph Knoll said. "Some people have asked about them, but I have not sold any yet."
Over on Field 3, ESPN's Karl Ravech and Curt Schilling did a live feed for "SportsCenter on the Road." The sight of Sandoval and Ortiz launching shots onto the metal roof of the batting cage in right field seemed to impress them.
"You get the sense that this is real," Ravech said.
The mood was jovial, with Sandoval video-bombing an interview being conducted with Ramirez. When Ortiz came over to join them, Ravech had to remind Ortiz, "Now that we're on live TV, whatever you're saying is going through that little mic there."
In the end, when the fans had started to stream for the exit gate and Schilling had satisfied a moving, pushing, autograph-seeking throng, a bearded former player strolled slowly down the sidewalk near the clubhouse, carrying two bats in his right hand, a bit of a hitch in his 68-year-old giddyup.
Bill "Spaceman" Lee is always welcome here.