Boston Red Sox:

Earl Weaver
January, 20, 2013
1/20/13
6:00
PM ET
Mark Rogoff had dinner with Earl Weaver on Friday night, just hours before the Hall of Fame manager died in his berth on the Celebrity Silhouette, the cruise ship carrying Orioles and Red Sox fans on their annual winter voyage organized by Ken Nigro, the former Baltimore sportswriter and Sox consultant.
Rogoff, a former Red Sox public relations aide who is now media relations director for Triple-A Rochester, called Dr. Charles Steinberg the next day.
"You've got to know,'' Rogoff told Steinberg, whose career in baseball -- and first brush with fame -- came as a 20-year-old intern with Weaver's Orioles, "down to the end, Earl was arguing about the points score in a game of 'Win, Lose and Draw' they were playing on the ship.'''
On the final weekend of the 2012 season, the Red Sox were in Baltimore and were present when the Orioles unveiled a bronze statue of Hall of Fame third baseman Brooks Robinson. Weaver had come for the ceremony, and he was pretty feeble, moved easily to tears. "I think he knew,'' Steinberg said, referring to a death that came less than four months later, of an apparent heart attack at age 82.
[+] Enlarge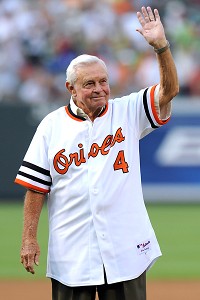 AP Photo/Gail BurtonWorking for legendary Orioles manager Earl Weaver, says Dr. Charles Steinberg, prepared him for his time with Larry Lucchino.
Weaver had gotten his own statue outside of Camden Yards earlier in the season, and Steinberg had sat at Weaver's table at a small dinner for friends the night before the ceremony.
"There are so many things Earl should be remembered for,'' Steinberg said, "but the thing he wanted to be remembered for was moving the Kid to shortstop.''
"The Kid" in this case was
Cal Ripken
Jr., the son of the long-time Orioles coach. Though he had played short in the minors and made seven starts at the position when he was called up to the big leagues in 1981, the Orioles were grooming Ripken to be a third baseman. He was too tall (6-foot-4), in the prevailing view, to be a shortstop.
Weaver thought differently.
"I think Earl loved the idea of having a power hitter at the position,'' Steinberg said. "And why did he think Cal could be a good shortstop with his size? In his mind's eye, he saw his childhood shortstop -- Marty Marion of the Cardinals.
"He saw Marion's long legs and thought Cal with his long legs and long strides could cover as much ground as the pitter-patter strides of Mark Belanger (the Orioles' former defensive whiz at the position) used.''
At the dinner that summer's night, Weaver reaffirmed the story. "Marty Marion was my guy,'' he told Steinberg. Marion wore No. 4 as a player. Is that why Weaver wore No. 4 as a manager? "He gave me a big smile and nodded vigorously,'' Steinberg said.
"Earl had announced long before he planned to retire after the '82 season. 'Charles, what were they going to do, fire me if I moved him?' he said. 'Nobody wanted me to do it. A manager today couldn't do it. But if they fired me, I just would have started my retirement three months early.'''
The move paid off in historic fashion. Ripken was in the starting lineup on July 1, 1982, at short, and started every game there until long after he'd broken Lou Gehrig's record for consecutive games played.
"But make no mistake,'' Weaver told Steinberg. "Cal was a Hall of Fame shortstop. He's not in the Hall of Fame just because of the streak. Remember, Cal made as many errors in one season (3 in 1990) as Brooks did in one inning once. I'm very proud of that.''
As part of Steinberg's intern duties in 1979, he put together pitcher-batter matchups for Weaver, putting the information on white index cards. Weaver was one of the first to rely on stats to an advanced degree. During the 1979 ALCS against the California Angels, Weaver went to consult his cards before selecting a pinch-hitter to bat against Angels reliever John Montague, but could not find a card for Montague. The pitcher had been added to the Angels' roster late in the season, and the 20-year-old Steinberg had neglected to add him to Weaver's file.
A call was made up to the press box, a frantic Steinberg quickly looked up the stats, and the info was delivered to Weaver in time for him to send John Lowenstein to the plate. Lowenstein hit a game-winning home run, but that was of small comfort to Steinberg, who went to Weaver's office after the game, bracing for the worst.
"I thought my baseball career was over. With my head down, I said, 'Mr. Weaver, I'm so sorry.' He said, 'Charles, come in here, have a beer.' I said, 'I'm so sorry.' He said, 'Shuddup, I got the stats in time. You won us the game.'''
It was a lesson, Steinberg said, that he never forgot, and one that reminded him of another baseball figure who he first came to know in Baltimore and would become an ongoing influence on his life.
"Some people are loyal,'' he said. "Some are fiercely loyal, and some are ferociously loyal. Earl was ferociously loyal, to his ballplayers in particular, but even to a 20-year-old intern.
"Volatile, irascible, aggressive, abrasive, with a relentless pursuit of winning,'' Steinberg said. "Who did I just describe? Earl, yes, but also Larry Lucchino. Lucchino is Earl in a suit. I told him that once, and he said, 'I'll take that.'
"In both cases, people mistake that aggressiveness, intensity, volatility for anger. No, no, no. Animated, agitated, yes. The bark is not anger. The bark is for aggressiveness, and wanting to win. If you want to charge that Earl and Larry want to win every year without taking a step back, they are guilty as charged. That's their nature.''
January, 20, 2013
1/20/13
5:00
PM ET
Red Sox owner John Henry shared a memory of Earl Weaver, the Hall of Fame manager who died Saturday at the age of 82.

"I moved to Florida in 1989," Henry wrote in an e-mail, "to do the Senior Professional Baseball Association." Henry owned the West Palm Beach Tropics. "Our manager was Dick Williams. We had Dave Kingman, Mickey Rivers, Al Hrabosky, Ron Washington and many others.

"One day in preseason we were playing in Miami against Earl Weaver's team. After the game, I went into Earl's office and introduced myself. I told him that we had a catcher who we were going to have to cut who had been playing in the Mexican League. 'He can really hit, but we have two excellent catchers. Your catching looks suspect.'

"He replied, trying to suppress laughter, 'Young man, this has to be the first time in my baseball career anyone on the other side of the field ever tried to help me. And boy, do I need help.'

"We always laughed about it whenever I saw him after that."
January, 20, 2013
1/20/13
4:34
PM ET
On the March day in 1996 when Earl Weaver was elected to the Hall of Fame, his wife, Marianna, rushed out of their home, borrowed a ride on a golf cart and rushed to the ninth hole to give him the news.

For a moment, Earl said, his knees grew weak and his hands shook, and he bogeyed the hole. But he rallied, he said, to win the round against the rest of his foursome.

"I'm 65, I got my Medicare card, and I shot 80 today," Weaver told me later that day.

I was working for the Fort Lauderdale Sun-Sentinel at the time, and Weaver was a long-time resident of nearby Pembroke Pines -- coincidentally, the same town in which new Red Sox first baseman Mike Napoli went to high school.

I thought back on my conversation with Weaver that day upon hearing Saturday that he had died at the age of 82. Weaver, of course, was famous for battling umpires, earning 91 ejections over the course of his 17-year career.

"The last thing my mother used to say to me before I'd go to the ballpark was 'Please, don't get thrown out,'" Weaver said that day. "Every time I did, I called and said I was sorry."

And for that day, at least, he was willing to pay tribute to the men in blue.

"While I was manager, they made about 20,000 calls, including balls and strikes," he said. "And I only thought they got about 90 of 'em wrong.

"And the greatest thing is, when I walked up to home plate [the game after an ejection], their minds were clear, like yesterday never happened. That's my tribute to them. They were tremendous."