Boston Red Sox:

Garin Cecchini
June, 1, 2014
Jun 1
1:06
PM ET
BOSTON -- Garin Cecchini is one excitable young man.
Upon getting his call-up from Triple-A Pawtucket on Saturday night, the 23-year-old third baseman could hardly sleep. In fact, he got to Fenway Park so early he was concerned he wasn't going to be let in.
"I'm glad there was somebody around to let me in," Cecchini said of his first major league experience. "It took a little while."
It's been an exciting few days for Cecchini, who saw PawSox roommate
Alex Hassan
get his big league call on Friday.
"When he got the call, I think I was more excited than him," Cecchini said of Hassan, who will make his major league debut on Sunday, playing right field against the
Tampa Bay Rays
.
To make room for Cecchini, right-handed reliever
Alex Wilson
was optioned back to Pawtucket.
Cecchini's stay in Boston could be brief -- he likely will be sent down when
Stephen Drew
is activated this week -- but he was simply intent on soaking up the scenes of Fenway. He was out early before batting practice with Red Sox third base coach Brian Butterfield learning the lay of the land and going over defensive shift assignments.
"It's cliché, but I'm just trying to live this day," Cecchini said. "It's a big day for me and my family."
While observers say Cecchini has a way to go defensively before becoming a major league third baseman, he's in the process of acclimating to Triple-A pitching, leading the PawSox with 49 hits. A fourth-round selection of the Red Sox in the 2010 draft, Cecchini was hitting .278 (.354 OBP) with a home run and 21 RBIs at the time of the recall.
"I'm getting more consistent every day," Cecchini said. "That's what it's all about now. I'm just getting the job done. It doesn't matter how it looks -- just get the job done."
Local boy makes debut:
Even in Boston, there's little separating Cecchini from his roommate, Hassan. There are two temporary locker stalls set up for Cecchini and Hassan in the middle of the Red Sox clubhouse.
Red Sox manager John Farrell looked back fondly on Hassan's spring training experience, seeing promise in the plate discipline from the Milton native and Boston College High School graduate.
"If goes out and puts on the at-bats we've seen in spring training, he's going to be just fine," Farrell said. "He had some of the most consistent at-bats the entire time he was there with us."
Hassan is batting sixth in Sunday's lineup.
Holt in a new role:
Is there anything
Brock Holt
can't do? Sunday we'll see if the utility infielder, who's taken up residence in the leadoff spot of the Red Sox lineup, can tackle first base as well.
Holt said has never played the position at any level of competitive baseball -- "until about 10:30 this morning."
With
Mike Carp
being given a day's rest -- after being hit by several pitches in the last week -- and a left-hander on the mound in former Red Sox
Erik Bedard
, the move was made to keep Holt in the lineup, as Farrell continues to seek out ways to expand Holt's on-field repertoire.
"He's adding versatility," said Farrell, who also has had Holt taking fly balls in the outfield during recent batting practice sessions.
"Really, it's just hold the guy on and then coming off," Holt said of navigating the first base bag. "Other than that, you mess around at BP catching balls for guys at first. It's going to be fun being over there today."
Injury front:
It might be a while still, but some members of the Red Sox MASH unit that has grown over the last couple of weeks could be getting closer to the field -- in particular, first baseman
Mike Napoli
.
Farrell expects Napoli (finger) to be ready next Sunday, in Detroit, when he's first able to come off the disabled list.
"Everything projects for him to be ready to go," Farrell said.
Farrell also provided updates on several other Red Sox who are a bit further away.
Shane Victorino
(hamstring) has begun running the bases, while
Clay Buchholz
(knee) will throw a simulated game on Monday.
Felix Doubront
(shoulder) has thrown two bullpen sessions this week, but plans have not yet been made to begin a rehab assignment.
Farrell also reported that
Will Middlebrooks
(right index finger) now has a full range of motion with his injured digit, meaning he soon could be cleared for baseball activity.
March, 9, 2014
Mar 9
11:23
PM ET
FORT MYERS, Fla. -- They'd just gotten back from a three-hour bus ride across the bracing underbelly of Florida, through the poor towns and past the RV lots and dreary landscapes that don't show up in the tourist guides, when Deven Marrero noticed that one of his roommates,
Garin Cecchini
, was walking past with a bat in his hand.
[+] Enlarge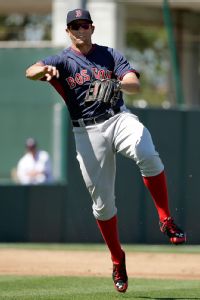 AP Photo/Steven SenneAfter growing up in a baseball family, Garin Cecchini is getting close to making his big league dream a reality.
"What are you doing?" Marrero asked.
Cecchini continued on, into the living room.
"I know it may sound weird," he would say a couple days later, "but I went to practice my swing for the next 30 minutes to an hour in the living room, visualizing fastballs and curveballs, and the pitches that I missed."
That day, in an exhibition against the
St. Louis Cardinals
, the rookie third baseman had struck out in all four of his plate appearances. "First time ever," he said, "that I struck out four times in a game."
He called his mother, Raissa, after the game, but this was not about an overwhelmed kid looking only for a sympathetic ear. Raissa Cecchini (pronounced chick-KEE-knee), like her husband Glenn, was a baseball coach, assisting her husband at powerhouse Barbe High School in Lake Charles, La., a team that has won six state titles since 1998 and was ranked sixth in the country in one poll this spring.
Raissa eventually cut back to raise her family, Garin said, including the two boys, Garin and Gavin, who are both in spring-training camps now, Garin with the Red Sox, Gavin with the
New York Mets
. Garin, a third baseman, was drafted in the fourth round in 2010 by the Red Sox; Gavin, a shortstop, by the Mets in the first round in 2012.
"Shoot, man, he's a lot better than me," Garin said of his younger brother. "What would he say? He's going to tell you the truth, that he's better than me."
Raissa Cecchini was pregnant with Garin, only days from going into labor, and still coaching first base. Gavin was still pretty much a newborn, Garin says, when his mom left him in the charge of 2-year-old Garin in the dugout.
"I guess she trusted me," Garin said.
And in this moment, Garin Cecchini trusted that his mother would have the right words to say.
"It sounds to me like you have to simplify things," she said. "Be on time with the fastball, and don't swing at bad pitches. And remember, it's still early in spring."
There's such a thing as growing up in a baseball family. And then there were the Cecchinis. "It was great," Garin said. "I remember when I was young and I'd say to my teammates, 'You mean your mother doesn't throw you batting practice? My mom does.'"
Mom, dad, the kids, and baseball at the center.
"The first time I remember?" Garin Cecchini said with a smile, something that comes easy and often. "I used to have a pacifier, and my dad told me if I got rid of the pacifier, he'd get me a bat and ball. He took me to Walmart, and got me a bat and ball. He'd throw to me, and he said I never wanted to hit right-handed, so he never changed me."
Even the family dog, a black Labrador, had a baseball tie-in. "I named him Nick," Gavin said, "after one of my dad's best players, Nick Bourgeois."
Bourgeois, after starring at Barbe, did the same for Tulane and was drafted in the fourth round by the Phillies. A left-handed pitcher, he advanced as far as Triple-A. "He was a left-handed hitter and a left-handed pitcher," Cecchini said. "I loved his swing."
[+] Enlarge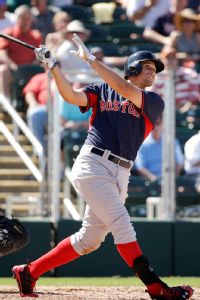 AP Photo/Steven SenneCecchini's mother has been helping him hone his swing since day one.
Glenn Cecchini was a student of pitching, and the mental side of the game. Raissa studied hitting, coached hitting, helped teach her boys to hit. "She has thousands of videos, from Babe Ruth to
Dustin Pedroia
, on her computer," Garin Cecchini said. "She'd compare swings, study their strengths."
Mom and dad passed on what they could to their son, and it shows. Cecchini, who turns 23 on April 20, has impressed the Sox with his advanced hitting approach, particularly his patience and selectivity at the plate, reflected in a .469 on-base percentage in Class A Salem last year, and a .420 OBP after he was promoted to Double-A Portland in midseason. He has not shown the power typical of a corner infielder -- he was a shortstop in high school -- but neither did another patient-hitting third baseman,
Kevin Youkilis
, early in his pro career.
When CEO Larry Lucchino, on his first visit to camp last month, appeared on WEEI's Dennis and Callahan show and was asked about a new player who might make an impact, he said: "How about Garin Cecchini? How about that? There's a name. There's a guy with a major league hitting approach."
Manager John Farrell, like Lucchino, brought up Cecchini without prompting early in camp.
"There are some who come to us with a greater level of instinct, and that happens because they're taught as a young, young kid," Farrell said. "One example of that is Garin Cecchini. He's a guy with tremendous instincts on the baseball field, but he was raised in a baseball home. Both of his parents are coaches. There's a reason for that."
The family's influence on their son does not begin and end with baseball. When Garin Cecchini played for his dad in high school, every year the team would go to Shreveport, La., to visit the Shriners Hospital for Children. "Just to help us keep things in perspective," Garin said. When he was a senior, his beloved grandmother succumbed to breast cancer. Shortly thereafter, he injured his right knee, and six days later, on March 19, he underwent surgery to repair the anterior cruciate ligament (ACL) in the knee. A player regarded as a certain first-rounder was now damaged goods. "Strike three," he said.
But that's not the way it played out. The Red Sox drafted him in the fourth round but gave him first-rounder's money, a $1.3 million bonus, to persuade him to sign. In gratitude, on the night his signing was announced, Garin Cecchini announced he was making a $20,000 donation to the Jimmy Fund. "Cancer directly affected my family," he said. He has since interacted with young cancer patients at the Jimmy Fund Council's New Stars for Young Stars fund-raising events, and said he looks forward to the day when he is in Boston and can become a frequent visitor.
That day has not yet arrived, but Garin Cecchini, the kid who stood in the middle of his living room practicing his swing after a bad game ("That's not weird," hitting coach
Greg Colbrunn
told him afterward. "I used to do the same thing") can visualize when it does.
"I can sniff it," he said. "I can definitely sniff it."
That four-strikeout game? It had begun with a terrific 11-pitch at-bat against Marlins pitcher Nathan Eovaldi, whose fastball averaged 97 miles per hour last season and was clocked at 101 mph. After that, Colbrunn said, it looked like he'd gotten a little anxious. Cecchini concedes that maybe he did, and that he was late on the fastball and not recognizing curves. Breaking balls that he would normally swing at only if they were up, he was chasing out of the zone or in the dirt. Learn from it, Colbrunn said. And it probably won't be the last time it happens.
On the walls of the Sox clubhouse here there are quotes from Sox legends printed in large, bold letters, designed to engage and inspire the young players who enter.
Cecchini reads aloud the line from Carl Yastrzemski.
"I think about baseball when I wake up in the morning," he reads. "I think about it all day and I dream about it at night. The only time I don't think about it is when I'm playing it."
Cecchini remembers being in high school, and his friends urging him to come out with them.
"This is the God's honest truth," Garin Cecchini said. "I told them, 'No, man, I'm gonna sit in bed tonight, thinking about pitchers, thinking about hitting, thinking about my swing.'"
Thinking about this day, and the days to come.
February, 27, 2014
Feb 27
7:45
PM ET
FORT MYERS, Fla. -- Takeaways from the Fort after the
Boston Red Sox
beat Northeastern and Boston College by the identical scores of 5-2:
[+] Enlarge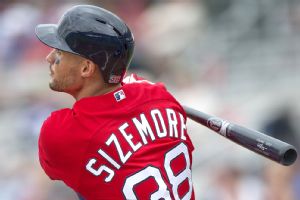 Michael Ivins/Boston Red Sox/Getty ImagesGrady Sizemore was 0-for-2 Thursday in his first game action with the Red Sox.
•
Grady Sizemore
looked comfortable on a baseball field. It has been two years since he was able to say that. Sizemore played left field and went 0-for-2 in his two at-bats, flying out and lining out. He is scheduled to play again Saturday.
"He's working hard,"
David Ortiz
said. "Looked good. Trying to stay healthy. We'll see how it goes."
When someone asked a follow-up question about Sizemore, asking Ortiz what he sees, he replied: "Looks all sexy and good-looking. What do you want me to tell you?
"He's a great player, man, but he's just been dealing with injuries. Sad, man, that he's dealing with injuries. It's hard to want to continue playing when things go that way, but he looked good to me."
• A dozen pitchers got in work for the Sox, six in each game.
Brandon Workman
started the first game,
Rubby De La Rosa
the second. Each pitched two scoreless innings, allowing a hit and striking out two.
"I thought for the most part we threw strikes, stayed in control of the count for the better part of the guys who walked to the mound,"Red Sox manager John Farrell said. "And it was good to see guys in game situations, to see their instincts."
• Nonroster outfielder
Corey Brown
was hit in the back of the left hand while swinging at a pitch in the third inning of Game 2 and was taken out for precautionary reasons, but checked out OK afterward, Farrell said. No fracture of any kind, he said.
• Catcher
Christian Vazquez
hit the day's only home run, a long ball over the top of the left-field wall, in the second game.
• Three players had two hits apiece for the Sox on Thursday: third baseman
Garin Cecchini
, first baseman Travis Shaw, and catcher
Ryan Lavarnway
. Shaw and Lavarnway each had a double.
[+] Enlarge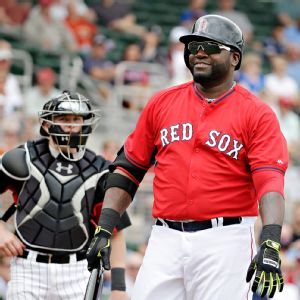 AP Photo/Steven SenneDavid Ortiz smiles after getting fooled by a pitch from Northeastern's James Mulry.
• The Sox remain undefeated against their college visitors, 12-0 against Northeastern and 24-0 over BC. The Huskies actually took a 2-1 lead into the sixth, but the Sox scored four runs in the bottom of the inning, helped by a double error and a triple by
Scott Cousins
, the former Marlin.
• The only extra-base hits by the college kids were doubles by Northeastern freshman Jimmy Hand in the first game and Boston College senior first baseman John Hennessy in the nightcap. Hand is from Georgia, Hennessy from Andover, Mass. Another Andover kid, Huskies freshman Dustin Hunt, pitched two scoreless innings in the first game, while West Roxbury (and Boston Latin School) pitcher James Mulry had a moment to savor for Northeastern when he retired
Dustin Pedroia
on a called third strike and struck out David Ortiz, the next batter, with a breaking ball on which Ortiz was fooled badly, sending him back to the dugout laughing.
"He threw me a nasty breaking ball," Ortiz said. "He can party tonight."
Something for the kid to talk about years from now? "Why that long?" he said. "He can have a drink tonight, say, 'I struck out Papi.'"
February, 22, 2014
Feb 22
5:44
PM ET
FORT MYERS, Fla. -- Red Sox reliever
Andrew Miller
was limited to 37 games last season due to a left foot injury on July 6. The left-hander is completely healthy and is working on regaining his form.
"He's a guy trying to get his timing in his delivery," Farrell said of the 6-foot-7 hurler. "You're talking about someone with that length of limbs, there's a little more that needs to be timed up, and with each bullpen you can see some progression with that. There's no question on the foot or anything he dealt with after the injury. We're looking forward to him being a mainstay in this bullpen."
[+] Enlarge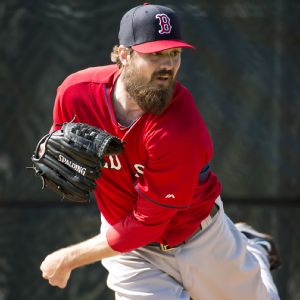 Michael Ivins/Boston Red Sox/Getty ImagesAndrew Miller is working his way back to hopefully recapturing his lights-out 2013 form.
Prior to his injury, Miller allowed no runs in 29 of his 37 appearances and averaged a career-high 14.1 strikeouts per nine innings.
"I thought last year when he went down he was doing such a good job against righties and lefties in key spots," Farrell said. "That was a big blow to our bullpen and to have him 100 percent healthy, a guy that you can go to with men on base for a strikeout, provided he picks up where he left off, that is a huge weapon."
Only once during his 37 outings did he allow multiple earned runs last season. Other than that one outing where he allowed three earned runs in 1/3 of an inning on May 12 against the
Toronto Blue Jays
, Miller posted a 1.78 ERA.
"It didn't really matter where we were in the lineup, we were attacking and he's got stuff to get any hitter out in the league," Farrell said. "In the role for two years now, he's gained a lot of confidence with that transition that's been made."
* Newly acquired left-handed pitcher
Chris Capuano
arrived in camp Saturday, passed his physical and will throw his first bullpen session with the Red Sox on Sunday. Farrell also said Capuano would begin to throw live batting practice in a couple of days.
* Red Sox right-hander
Jake Peavy
tossed his first bullpen session on Saturday and is expected to start throwing live BP on Feb. 26. A hand/finger issue earlier in camp kept Peavy off the mound.
* Red Sox utility infielder
Jonathan Herrera
has experience playing second, third and shortstop in his career and he could be relied on to play all three if needed. Not Bugs Bunny style, but in case of an injury or if a player needs a day off. The utility depth, at this point, for the left side of the infield includes
Brandon Snyder
,
Brock Holt
and
Garin Cecchini
.
* Speaking of Cecchini, Farrell described the third base prospect as a "baseball rat" with intelligence, instincts and a tireless work ethic.
* The exhibition season begins on Thursday with the annual doubleheader against Northeastern University and Boston College. Farrell said he has his pitchers lined up for both games, but he's not ready to announce them yet.
February, 17, 2014
Feb 17
11:48
AM ET
By
Rick Weber, Special to ESPNBoston.com
FORT MYERS, Fla. --
Garin Cecchini
isn't just chatty. He's a curious, serious student of the game, with the desire to acquire knowledge and apply it.
In his first big-league camp, the third-base prospect wants to know everything. So on Saturday, he approached Red Sox first baseman
Mike Napoli
and asked him about his routine in batting practice.
"I was really impressed with it," Cecchini said. "I noticed he'd go the opposite way down the first-base line the first couple of rounds, then kind of move his way into left field. That's what makes him so good. He has a routine he's set to every day, and he sticks to it. That's what gets him out of these slumps we all get in. It makes him a lot more consistent."
"

It's awe-inspiring being here. You've grown up watching these guys. At the same time, it's the same game, you know? It's the same game you've played your whole life -- it's just a different level.

"

-- Red Sox prospect Garin Cecchini
It was a fascinating study: Cecchini, a 22-year-old who has never even played in a Triple-A game, and Napoli, a 32-year-old with a bushy beard, bold tattoos and a legendary, larger-than-life status in the clubhouse built off last year's magical World Series run. Cecchini came away from their meeting knowing it won't be their last.
"Awesome guy, awesome guy," Cecchini said. "It's really cool because he shoots you straight. And that's all you want. You want to know the truth. When you ask him a question, you just want to know the truth.
"He gave me the truth of what his routine was, and it's pretty cool. I don't think he minds us younger guys. He's a veteran, and the age difference is big. But he treated me with respect. And that's all anyone asks for. And I respect that a lot."
It won't just be Napoli. It'll be everybody.
"Once I get deeper into camp, I want to be able to create relationships with them," he said. "I'm going to try to pick their brains on everything."
Cecchini appears to be on the fast track after leading the organization's farm system with a .322 batting average and .443 on-base percentage in 129 games last year (63 with High-A Salem, 66 with Double-A Portland).
In the offseason, according to Peter Gammons, the Marlins inquired about dealing for Cecchini but were rebuffed. The Red Sox added Cecchini to their 40-man roster to protect him in the Rule 5 draft.
Cecchini, a fourth-round draft pick in 2010 and three-time minor league All-Star, was solid in the Arizona Fall League, hitting .277 (18-for-65) to help the Surprise Saguaros to the championship. That's where Baseball America's Therron Brockish, a scout and former college coach, started the hype by comparing Cecchini to Wade Boggs and writing that his advanced approach to the game was in the mold of
Albert Pujols
and
Dustin Pedroia
.
Cecchini, Baseball America's No. 6 Red Sox prospect, said he's not paying much attention to it.
"I don't really follow that," he said. "At end of the day, we're just prospects. We haven't done anything in baseball. We play minor-league baseball. Until you're a major leaguer and have done something, you're a prospect."
Cecchini said that his time in Arizona was spent primarily working on fielding fundamentals with minor-league infield coordinator
Andy Fox
.
"We got a chance to get down to the itty-bitty stuff, the details," Cecchini said. "I think it's fielding I need to improve on the most. But it's all things, really. I need to be better at everything. If I was good at everything, I'd be in big leagues right now. So I'm trying to soak in everything from the veterans."
It'll be a recurring theme over the next six weeks.
"It's awe-inspiring being here," he said. "You've grown up watching these guys. At the same time, it's the same game, you know? It's the same game you've played your whole life -- it's just a different level. You have to keep in mind that you're here for a reason. You're good. You belong."
July, 18, 2013
7/18/13
12:31
PM ET
ESPN.com's Keith Law unveiled his
midseason top 50 prospects
(insider access) list today and the Red Sox are well represented with four players appearing.
Leading the way is SS Xander Bogaerts (No. 3). Other Red Sox on Law's list: 3B Garin Cecchini (No. 21), OF Jackie Bradley Jr. (No. 24) and LP Henry Owens (No. 31).
Click
HERE to read Law's full analysis
on each of the Sox prospects and the rest of his Top 50.
Bogaerts is also the subject of a
feature by Jerry Crasnick
, who wonders if the 20-year old can help the Sox this season. Writes Crasnick:

Beyond his talent on the field, Boston Red Sox shortstop prospect Xander Bogaerts rates aTorii Hunter-like grade on the 20-80 player congeniality scale. He displayed his people skills during the All-Star Futures Game, when he stood near the third-base dugout at Citi Field in New York and gave one media interview after another on a day so hot it could melt a Cliff Lee death stare.

Bogaerts, 20, answered questions about his position preference (open-minded), his linguistic skills (he speaks fluent English, Spanish, Dutch and Papiamento) and his feelings about spending last August and this spring with Boston's Double-A affiliate in Portland, Maine.

"Cold," Bogaerts said, laughing. "Last year was such beautiful weather, and I came into Portland this year and it was a hard time -- especially being from Aruba. It was a good learning experience. It's definitely challenging. Hopefully next year, wherever I am, I'm accustomed to the cold."

Apparently Bogaerts' swing is weather-resistant. He hit .311 with a .909 OPS for the Seadogs to earn a promotion to Triple-A Pawtucket, where he has seven home runs in his first 29 games. For Red Sox fans and die-hard prospect watchers wondering when he might break through and earn a promotion to the big club in Boston, here's a hint: He's getting warmer.
Click
HERE
to read the rest of Crasnick's piece.
July, 14, 2013
7/14/13
12:04
AM ET
OAKLAND -- The Red Sox will be represented by three players at Sunday's All-Star Futures Game in New York's Citi Field: much heralded shortstop Xander Bogaerts on the World team and 6-foot-7 right-handed pitcher Anthony Ranaudo and third baseman Garin Cecchini on the U.S. team. Cecchini, who like Ranaudo is playing for Double-A Portland after a promotion last month from Class A Greenville, was a late addition, replacing Joey Gallo of the Rangers.
Bogaerts, who is batting .260 in 29 games for Pawtucket, is starting at short and batting third for the World Team in a game that will be televised by ESPN2 beginning at 2. It also can be seen on MLB.com. The 20-year-old Bogaerts, who batted .311 in 56 games in Portland before being promoted, already has more home runs for the PawSox (7) than he did for the Sea Dogs (6), in slightly more than half the number of games.
"

They're going to be nervous, there's going to be a lot of people watching, it's going to be their first time on national TV in a lot of cases. Good. You have to go and perform. For 162 games in Boston, you're on TV, and people are watching. Start getting used to it.

"

-- Mike Hazen, Red Sox vice president/assistant GM
ESPN analyst Keith Law ranks Bogaerts as the fifth best prospect in the big leagues, with three of the players listed ahead of him -- infielder
Jurickson Profar
of the Rangers (No. 1), pitcher
Dylan Bundy
of the Orioles (No. 3) and outfielder
Wil Myers
of the Rays (No. 4) -- already promoted to the majors.
Law ranked Bogaerts as being one of the top two power-hitting prospects in the Futures game.
"Bogaerts doesn't have that enormous, grade-80 power yet, but the ball comes off his bat well and he has 30-homer potential down the road," Law wrote.
Ranaudo, who took a step backward last season when he fought a series of injuries, has had a terrific bounce-back season this year, going 8-2 with a 2.67 ERA in 16 starts. Cecchini, meanwhile, is batting .361 in 19 games with the Sea Dogs after batting .350 in 63 games for Salem. Ranaudo is 23, Cecchini 22.
Sox vice president/assistant GM Mike Hazen extols the benefits of playing in the Futures game for Sox prospects.
"Very valuable," he said. "Being around really good players is important for these guys to watch how -- we talk about this a lot, and you've seen it up here. These guys a lot of times don't believe it until they see it.
Dustin Pedroia
is the hardest-working player on this team, and Dustin Pedroia may be the best player on this team. And the minor-league guys don't get that all the time. They don't understand that. They know, yeah, he's the best player. But he's the best player because he's also the hardest-working player. And yeah, he's supremely talented, but while you can be good without the work, you can't be elite without the work.
"And I think when they go see these other players, these elite-type players (at the Futures Game), they do that, too. I think they see that: 'Man, that guy is ridiculously talented, and look how hard he works.' I think that's one.
"And I think playing on that stage. They're going to be nervous, there's going to be a lot of people watching, it's going to be their first time on national TV in a lot of cases. Good. You have to go and perform. For 162 games in Boston, you're on TV, and people are watching. Start getting used to it. You might be unsettled, you might stink, you know? You might lay an egg. OK. You know what? In the big leagues, the key is coming out the next day and making that adjustment.
"Everybody lays an egg, but you have to be able to come back the next day and be good. That doesn't necessarily meaning getting hits, doesn't necessarily mean throwing a shutout, it means, be good. That's the mark of a big leaguer who gets to stay up here. So I think when they get on that stage, and development is so hard, because we talk about the prospects, and wins and losses at the minor league level -- we want to win, we try to win, but everybody knows what the ultimate goal is. These guys want to climb the ladder.
"So they know, 'OK, if I got two hits, I'm still on the path I need to go.' Yeah, but you made that crucial error that lost the game. At the major league level, that gets you sent down. On the minor league level, we don't do that. You get to go out and play the next day.
"So that's why the minor league playoffs are so important. That's when they play for keeps. Take the focus off development. And that's what the Futures game will be about. It's not about development. It's about performing and succeeding. That's why it's such a great stage for those kids."
May, 28, 2013
5/28/13
3:35
PM ET
ESPN.com's Keith Law has
updated his Top 25 prospects
in baseball (insider access required). Xander Bogaerts, who was No. 5 in the preseason, moves up to No. 3. Meanwhile, 3B Garin Cecchini, who wasn't in the top 100 at the start of the season, has moved all the way up to No. 23.
Here are excerpts of Law's analysis:
Bogaerts: Still just 20 years old, Bogaerts has been playing solid shortstop for Portland with a solid walk rate but isn't yet generating the power expected from his explosive swing.

Cecchini: Cecchini is a high-IQ player with a good feel for hitting but no plus tools who just missed my preseason top 100 and now looks like he clearly should have made it, hitting .365/.475/.615 and translating that ability to hit into above-average power production.
To see the rest of the Top 25 and to read the full write-ups on Bogaerts and Cecchini,
click HERE
.
In addition to Law's updated Top 25, ESPN.com's Greg Rosenstein takes a closer look at Bogaerts' defense and whether of not he can stay at shortstop. Writes Rosenstein:

When talking to scouts and front-office executives about Boston Red Sox prospect Xander Bogaerts, the initial observation is always the same: hitting. The 6-foot-3, 185-pound shortstop has thrived offensively at every level since signing with the organization in August 2009.

ESPN's Keith Law, who ranked the Aruba native as the No. 5 prospect in all of baseball heading into the season, said earlier this year that "a shortstop who can hit like this is a pretty special commodity."

Bogaerts has elite bat speed and power. Despite a slow start that he blames on the weather -- "It was so cold I couldn't even hold the bat" -- the 20-year-old is hitting .284/.367/.432 with two homers for Double-A Portland.

It's a skill set that have most within the industry wondering not if he'll suit up for the Red Sox, but when. However, while his rise through the organization appears quick, it isn't without questions.
Click
HERE to read the rest
of Rosenstein's piece.
May, 8, 2013
5/08/13
2:49
PM ET
By
Jon Meoli, SoxProspects.com
| ESPNBoston.com
Garin Cecchini is hard not to notice on a baseball field, no matter the circumstances.
You'll hear him shouting back and forth with teammates during infield drills before games, and hours later he'll still be calling encouragement to his pitcher from third base in a near-empty stadium during extra innings.
But this year with High-A Salem, after a solid if unspectacular full-season debut in 2012 with Greenville, Cecchini is making opponents, teammates and scouts alike take note of his bat -- and he's doing it pretty much every day.
[+] Enlarge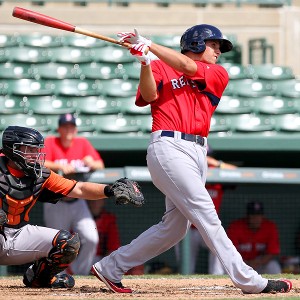 Cliff Welch/Icon SMI Garin Cecchini batted .392/.478/.709 with three home runs, 13 RBIs and 10 stolen bases in April.
"His consistency is just unbelievable, really," Salem second baseman Sean Coyle said of his teammate and high school friend Cecchini. "Every day, he feels the same. He doesn't come out and say, 'Man, I'm feeling really good today,' and he never comes out and says, 'Man, I'm feeling really bad today.' "
That consistency -- Cecchini had at least one hit in 20 of his first 26 games -- earned him SoxProspects.com Player of the Month honors for April. In the first month of the season, he batted .392/.478/.709 with three home runs, 13 RBIs, and 10 stolen bases, which put him among the Carolina League's offensive leaders and garnered national attention.
As of Tuesday, Cecchini is hitting .379/.467/.670 with four home runs -- matching his 2012 total with Low-A Greenville. Through 27 games, Cecchini has more walks (17) than strikeouts (16).
Cecchini, a fourth-round pick out of Barbe (La.) High School, attributes his success so far in 2013 to a simple understanding that if he puts himself in good situations at the plate, his abilities will allow good things to happen.
"I am seeing the ball well," he said. "God has given me the ability to hit, and that's the biggest thing that's clicking for me is just trusting what He's given me -- and trusting that I'm going to see the ball and get a pitch that I'm going to hit."
In the past, he found himself jumping at the ball and swinging at pitchers' pitches, not his own. Now, Cecchini said he tries to "not necessarily (go) deep into counts, but get a pitch that you can hit and drive with authority, and hit a line drive with backspin."
By honing his selection and swinging at more hittable pitches, Cecchini has seen a spike in the power numbers that eluded him in a 2012 season where his four home runs seemed to loom larger than his impressive 38 doubles.
"He's performed probably better than he expected so far in this early sample, and you'd think that he'd have a high ceiling based on what he's done last year and the small sample this year," Salem manager Billy McMillon said.
With Low-A Greenville in 2012, Cecchini hit .305/.394/.433 with 51 stolen bases and 46 extra-base hits. Though he's an aggressive base runner who has 10 steals in 13 attempts this season, Cecchini profiles as an average runner.
Cecchini is listed at 6-foot-2, 200 pounds -- down from his listed weight at draft time of 215 pounds -- but his strong lower body provides leverage for his easy swing from the left side.
His bat speed allows him to let balls on the outer half of the plate get deeper into the strike zone, as evidenced by his display in Salem's 10-3 loss last week to Wilmington. Against tough left-hander John Lamb, Cecchini sent the ball down the left field line in each of his first three at-bats, demonstrating his approach of letting outside pitches get to his back knee to hit them the other way.
In his first at-bat, Cecchini poked a ball down the line that rolled into the corner for a double. In the third inning, he hit the ball a bit harder, one-hopping the short bullpen wall in left field for his second double of the game. And on the first pitch of his at-bat in the sixth, Cecchini drove a ball into the bullpen for his third homer of the season. Lamb isn't a hard thrower -- his fastball tops out at 86 m.p.h. -- but Cecchini timed him well and made better contact in each at-bat.
Cecchini didn't have trouble acclimating to his new level initially, but the challenges in High A have begun as Salem repeats opponents in the eight-team Carolina League. Salem played two four-game series against Wilmington one week apart, and Cecchini saw pitchers making adjustments as his batting average in the season series crept towards .500.
"I got one fastball on the first pitch," Cecchini said. "They're throwing curveball, changeup, split-finger. It's a cat-and-mouse game. They're going to make adjustments to you, it's a matter of how quickly you're going to adjust to them, and then they're going to make adjustments to you. How can you bounce back and make [the next] adjustment?"
But whether it's the cat-and-mouse game at the plate or the tedious pregame grounders at third, that Cecchini spends his days and nights on a baseball field means he's at least starting in the right place.
"I love everything about it," he said. "I feel like if you're not having fun playing baseball, then what are you going to have fun doing in life?"
Jon Meoli is a senior columnist for SoxProspects.com. Follow him on Twitter @JonMeoli.
August, 16, 2010
8/16/10
8:42
PM ET
With the midnight deadline for MLB teams to sign their draft picks approaching, the Red Sox reportedly signed a number of their top selections and were working toward finalizing a deal with right-hander Anthony Renaudo (1st round supplemental, No. 39 overall), who shined for Brewster this summer in the Cape Cod League.
According to
Baseball America
, the Sox reached agreements with right-hander Brandon Workman (2nd round, 57th overall); infielder Sean Coyle (3rd round, 110th overall); and infielder Garin Cecchini (4th round, 143rd overall).
Baseball America reports Workman's deal is worth $800,000, Coyle's is for $1.3 million, and Cecchini's is worth $1.31 million.
We'll have a full report later.
More from Baseball America:
A shortstop from Germantown Academy in Fort Washington, Pa., Coyle is a 5-foot-8, 175-pounder who plays bigger than his size and projects as a second baseman in the mold of Brian Roberts. He has plus speed and good instincts on the bases, as well as surprising power and a competitive makeup. He had committed to North Carolina, where his brother Tommy is the starting second baseman.

A shortstop at Barbe High in Lake Charles, La., Cecchini was one of the top high school hitters in the draft and a potential first-rounder until he tore the anterior cruciate ligament in his right knee and required reconstructive surgery in mid-March. He led the U.S. 18U national team–which also featured Bryce Harper–in slugging (.708) and on-base percentage (.529) en route to its first-ever gold medal at the Pan American Junior Championship last summer in Venezuela. A Louisiana State recruit, Cecchini has a fluid lefthanded stroke, good pull power, soft hands and a strong arm. He profiles best as a third baseman.