Boston Red Sox:

Garin Cecchini
July, 18, 2013
Jul 18
12:31
PM ET
ESPN.com's Keith Law unveiled his
midseason top 50 prospects
(insider access) list today and the Red Sox are well represented with four players appearing.
Leading the way is SS Xander Bogaerts (No. 3). Other Red Sox on Law's list: 3B Garin Cecchini (No. 21), OF Jackie Bradley Jr. (No. 24) and LP Henry Owens (No. 31).
Click
HERE to read Law's full analysis
on each of the Sox prospects and the rest of his Top 50.
Bogaerts is also the subject of a
feature by Jerry Crasnick
, who wonders if the 20-year old can help the Sox this season. Writes Crasnick:

Beyond his talent on the field, Boston Red Sox shortstop prospect Xander Bogaerts rates aTorii Hunter-like grade on the 20-80 player congeniality scale. He displayed his people skills during the All-Star Futures Game, when he stood near the third-base dugout at Citi Field in New York and gave one media interview after another on a day so hot it could melt a Cliff Lee death stare.

Bogaerts, 20, answered questions about his position preference (open-minded), his linguistic skills (he speaks fluent English, Spanish, Dutch and Papiamento) and his feelings about spending last August and this spring with Boston's Double-A affiliate in Portland, Maine.

"Cold," Bogaerts said, laughing. "Last year was such beautiful weather, and I came into Portland this year and it was a hard time -- especially being from Aruba. It was a good learning experience. It's definitely challenging. Hopefully next year, wherever I am, I'm accustomed to the cold."

Apparently Bogaerts' swing is weather-resistant. He hit .311 with a .909 OPS for the Seadogs to earn a promotion to Triple-A Pawtucket, where he has seven home runs in his first 29 games. For Red Sox fans and die-hard prospect watchers wondering when he might break through and earn a promotion to the big club in Boston, here's a hint: He's getting warmer.
Click
HERE
to read the rest of Crasnick's piece.
July, 14, 2013
Jul 14
12:04
AM ET
OAKLAND -- The Red Sox will be represented by three players at Sunday's All-Star Futures Game in New York's Citi Field: much heralded shortstop Xander Bogaerts on the World team and 6-foot-7 right-handed pitcher Anthony Ranaudo and third baseman Garin Cecchini on the U.S. team. Cecchini, who like Ranaudo is playing for Double-A Portland after a promotion last month from Class A Greenville, was a late addition, replacing Joey Gallo of the Rangers.
Bogaerts, who is batting .260 in 29 games for Pawtucket, is starting at short and batting third for the World Team in a game that will be televised by ESPN2 beginning at 2. It also can be seen on MLB.com. The 20-year-old Bogaerts, who batted .311 in 56 games in Portland before being promoted, already has more home runs for the PawSox (7) than he did for the Sea Dogs (6), in slightly more than half the number of games.
"

They're going to be nervous, there's going to be a lot of people watching, it's going to be their first time on national TV in a lot of cases. Good. You have to go and perform. For 162 games in Boston, you're on TV, and people are watching. Start getting used to it.

"

-- Mike Hazen, Red Sox vice president/assistant GM
ESPN analyst Keith Law ranks Bogaerts as the fifth best prospect in the big leagues, with three of the players listed ahead of him -- infielder
Jurickson Profar
of the Rangers (No. 1), pitcher
Dylan Bundy
of the Orioles (No. 3) and outfielder
Wil Myers
of the Rays (No. 4) -- already promoted to the majors.
Law ranked Bogaerts as being one of the top two power-hitting prospects in the Futures game.
"Bogaerts doesn't have that enormous, grade-80 power yet, but the ball comes off his bat well and he has 30-homer potential down the road," Law wrote.
Ranaudo, who took a step backward last season when he fought a series of injuries, has had a terrific bounce-back season this year, going 8-2 with a 2.67 ERA in 16 starts. Cecchini, meanwhile, is batting .361 in 19 games with the Sea Dogs after batting .350 in 63 games for Salem. Ranaudo is 23, Cecchini 22.
Sox vice president/assistant GM Mike Hazen extols the benefits of playing in the Futures game for Sox prospects.
"Very valuable," he said. "Being around really good players is important for these guys to watch how -- we talk about this a lot, and you've seen it up here. These guys a lot of times don't believe it until they see it.
Dustin Pedroia
is the hardest-working player on this team, and Dustin Pedroia may be the best player on this team. And the minor-league guys don't get that all the time. They don't understand that. They know, yeah, he's the best player. But he's the best player because he's also the hardest-working player. And yeah, he's supremely talented, but while you can be good without the work, you can't be elite without the work.
"And I think when they go see these other players, these elite-type players (at the Futures Game), they do that, too. I think they see that: 'Man, that guy is ridiculously talented, and look how hard he works.' I think that's one.
"And I think playing on that stage. They're going to be nervous, there's going to be a lot of people watching, it's going to be their first time on national TV in a lot of cases. Good. You have to go and perform. For 162 games in Boston, you're on TV, and people are watching. Start getting used to it. You might be unsettled, you might stink, you know? You might lay an egg. OK. You know what? In the big leagues, the key is coming out the next day and making that adjustment.
"Everybody lays an egg, but you have to be able to come back the next day and be good. That doesn't necessarily meaning getting hits, doesn't necessarily mean throwing a shutout, it means, be good. That's the mark of a big leaguer who gets to stay up here. So I think when they get on that stage, and development is so hard, because we talk about the prospects, and wins and losses at the minor league level -- we want to win, we try to win, but everybody knows what the ultimate goal is. These guys want to climb the ladder.
"So they know, 'OK, if I got two hits, I'm still on the path I need to go.' Yeah, but you made that crucial error that lost the game. At the major league level, that gets you sent down. On the minor league level, we don't do that. You get to go out and play the next day.
"So that's why the minor league playoffs are so important. That's when they play for keeps. Take the focus off development. And that's what the Futures game will be about. It's not about development. It's about performing and succeeding. That's why it's such a great stage for those kids."
May, 28, 2013
May 28
3:35
PM ET
ESPN.com's Keith Law has
updated his Top 25 prospects
in baseball (insider access required). Xander Bogaerts, who was No. 5 in the preseason, moves up to No. 3. Meanwhile, 3B Garin Cecchini, who wasn't in the top 100 at the start of the season, has moved all the way up to No. 23.
Here are excerpts of Law's analysis:
Bogaerts: Still just 20 years old, Bogaerts has been playing solid shortstop for Portland with a solid walk rate but isn't yet generating the power expected from his explosive swing.

Cecchini: Cecchini is a high-IQ player with a good feel for hitting but no plus tools who just missed my preseason top 100 and now looks like he clearly should have made it, hitting .365/.475/.615 and translating that ability to hit into above-average power production.
To see the rest of the Top 25 and to read the full write-ups on Bogaerts and Cecchini,
click HERE
.
In addition to Law's updated Top 25, ESPN.com's Greg Rosenstein takes a closer look at Bogaerts' defense and whether of not he can stay at shortstop. Writes Rosenstein:

When talking to scouts and front-office executives about Boston Red Sox prospect Xander Bogaerts, the initial observation is always the same: hitting. The 6-foot-3, 185-pound shortstop has thrived offensively at every level since signing with the organization in August 2009.

ESPN's Keith Law, who ranked the Aruba native as the No. 5 prospect in all of baseball heading into the season, said earlier this year that "a shortstop who can hit like this is a pretty special commodity."

Bogaerts has elite bat speed and power. Despite a slow start that he blames on the weather -- "It was so cold I couldn't even hold the bat" -- the 20-year-old is hitting .284/.367/.432 with two homers for Double-A Portland.

It's a skill set that have most within the industry wondering not if he'll suit up for the Red Sox, but when. However, while his rise through the organization appears quick, it isn't without questions.
Click
HERE to read the rest
of Rosenstein's piece.
May, 8, 2013
May 8
2:49
PM ET
By
Jon Meoli, SoxProspects.com
| ESPNBoston.com
Garin Cecchini is hard not to notice on a baseball field, no matter the circumstances.
You'll hear him shouting back and forth with teammates during infield drills before games, and hours later he'll still be calling encouragement to his pitcher from third base in a near-empty stadium during extra innings.
But this year with High-A Salem, after a solid if unspectacular full-season debut in 2012 with Greenville, Cecchini is making opponents, teammates and scouts alike take note of his bat -- and he's doing it pretty much every day.
[+] Enlarge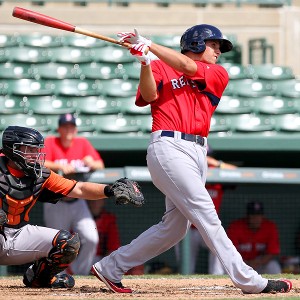 Cliff Welch/Icon SMI Garin Cecchini batted .392/.478/.709 with three home runs, 13 RBIs and 10 stolen bases in April.
"His consistency is just unbelievable, really," Salem second baseman Sean Coyle said of his teammate and high school friend Cecchini. "Every day, he feels the same. He doesn't come out and say, 'Man, I'm feeling really good today,' and he never comes out and says, 'Man, I'm feeling really bad today.' "
That consistency -- Cecchini had at least one hit in 20 of his first 26 games -- earned him SoxProspects.com Player of the Month honors for April. In the first month of the season, he batted .392/.478/.709 with three home runs, 13 RBIs, and 10 stolen bases, which put him among the Carolina League's offensive leaders and garnered national attention.
As of Tuesday, Cecchini is hitting .379/.467/.670 with four home runs -- matching his 2012 total with Low-A Greenville. Through 27 games, Cecchini has more walks (17) than strikeouts (16).
Cecchini, a fourth-round pick out of Barbe (La.) High School, attributes his success so far in 2013 to a simple understanding that if he puts himself in good situations at the plate, his abilities will allow good things to happen.
"I am seeing the ball well," he said. "God has given me the ability to hit, and that's the biggest thing that's clicking for me is just trusting what He's given me -- and trusting that I'm going to see the ball and get a pitch that I'm going to hit."
In the past, he found himself jumping at the ball and swinging at pitchers' pitches, not his own. Now, Cecchini said he tries to "not necessarily (go) deep into counts, but get a pitch that you can hit and drive with authority, and hit a line drive with backspin."
By honing his selection and swinging at more hittable pitches, Cecchini has seen a spike in the power numbers that eluded him in a 2012 season where his four home runs seemed to loom larger than his impressive 38 doubles.
"He's performed probably better than he expected so far in this early sample, and you'd think that he'd have a high ceiling based on what he's done last year and the small sample this year," Salem manager Billy McMillon said.
With Low-A Greenville in 2012, Cecchini hit .305/.394/.433 with 51 stolen bases and 46 extra-base hits. Though he's an aggressive base runner who has 10 steals in 13 attempts this season, Cecchini profiles as an average runner.
Cecchini is listed at 6-foot-2, 200 pounds -- down from his listed weight at draft time of 215 pounds -- but his strong lower body provides leverage for his easy swing from the left side.
His bat speed allows him to let balls on the outer half of the plate get deeper into the strike zone, as evidenced by his display in Salem's 10-3 loss last week to Wilmington. Against tough left-hander John Lamb, Cecchini sent the ball down the left field line in each of his first three at-bats, demonstrating his approach of letting outside pitches get to his back knee to hit them the other way.
In his first at-bat, Cecchini poked a ball down the line that rolled into the corner for a double. In the third inning, he hit the ball a bit harder, one-hopping the short bullpen wall in left field for his second double of the game. And on the first pitch of his at-bat in the sixth, Cecchini drove a ball into the bullpen for his third homer of the season. Lamb isn't a hard thrower -- his fastball tops out at 86 m.p.h. -- but Cecchini timed him well and made better contact in each at-bat.
Cecchini didn't have trouble acclimating to his new level initially, but the challenges in High A have begun as Salem repeats opponents in the eight-team Carolina League. Salem played two four-game series against Wilmington one week apart, and Cecchini saw pitchers making adjustments as his batting average in the season series crept towards .500.
"I got one fastball on the first pitch," Cecchini said. "They're throwing curveball, changeup, split-finger. It's a cat-and-mouse game. They're going to make adjustments to you, it's a matter of how quickly you're going to adjust to them, and then they're going to make adjustments to you. How can you bounce back and make [the next] adjustment?"
But whether it's the cat-and-mouse game at the plate or the tedious pregame grounders at third, that Cecchini spends his days and nights on a baseball field means he's at least starting in the right place.
"I love everything about it," he said. "I feel like if you're not having fun playing baseball, then what are you going to have fun doing in life?"
Jon Meoli is a senior columnist for SoxProspects.com. Follow him on Twitter @JonMeoli.
August, 16, 2010
8/16/10
8:42
PM ET
With the midnight deadline for MLB teams to sign their draft picks approaching, the Red Sox reportedly signed a number of their top selections and were working toward finalizing a deal with right-hander Anthony Renaudo (1st round supplemental, No. 39 overall), who shined for Brewster this summer in the Cape Cod League.
According to
Baseball America
, the Sox reached agreements with right-hander Brandon Workman (2nd round, 57th overall); infielder Sean Coyle (3rd round, 110th overall); and infielder Garin Cecchini (4th round, 143rd overall).
Baseball America reports Workman's deal is worth $800,000, Coyle's is for $1.3 million, and Cecchini's is worth $1.31 million.
We'll have a full report later.
More from Baseball America:
A shortstop from Germantown Academy in Fort Washington, Pa., Coyle is a 5-foot-8, 175-pounder who plays bigger than his size and projects as a second baseman in the mold of Brian Roberts. He has plus speed and good instincts on the bases, as well as surprising power and a competitive makeup. He had committed to North Carolina, where his brother Tommy is the starting second baseman.

A shortstop at Barbe High in Lake Charles, La., Cecchini was one of the top high school hitters in the draft and a potential first-rounder until he tore the anterior cruciate ligament in his right knee and required reconstructive surgery in mid-March. He led the U.S. 18U national team–which also featured Bryce Harper–in slugging (.708) and on-base percentage (.529) en route to its first-ever gold medal at the Pan American Junior Championship last summer in Venezuela. A Louisiana State recruit, Cecchini has a fluid lefthanded stroke, good pull power, soft hands and a strong arm. He profiles best as a third baseman.