Boston Red Sox:

Gary DiSarcina
December, 5, 2013
12/05/13
4:39
PM ET
Gary DiSarcina, who managed the Pawtucket Red Sox to the 2013 Governors' Cup Finals before taking a job with the Los Angeles Angels in November, was named Baseball America's 2013 Minor League Manager of the Year.

DiSarcina, a native of Billerica, Mass., managed the PawSox for just one season and led them to the International League North division title with an 80-63 record. Throughout the regular season, DiSarcina juggled 64 different players -- with 23 promoted to Boston during the course of the year.

DiSarcina will be the Angels' third-base coach. The All-Star shortstop played his entire 12-year major league career with the Angels organization (1989-2000).


August, 13, 2013
8/13/13
8:23
PM ET
PAWTUCKET, R.I. --
Will Middlebrooks
was back in the Red Sox lineup Tuesday for the third consecutive game after being recalled from Triple-A Pawtucket on Saturday.
The PawSox had been on the road in Syracuse, N.Y., when manager Gary DiSarcina gave Middlebrooks the news of his promotion back to the big leagues after suffering through a sophomore slump earlier this season in Boston.
The 24-year-old third baseman began the season with the Red Sox and batted .192 with 25 RBIs and 9 homers in 53 games. He was optioned to Pawtucket on June 25. Middlebrooks' numbers with the PawSox didn't jump off the stats sheet, hitting only .268 with 5 doubles, 10 homers and 35 RBIs, but he ultimately accomplished what the organization asked him to work on.
[+] Enlarge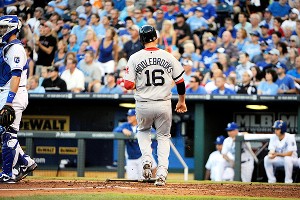 John Rieger/USA TODAY SportsOne area that Will Middlebrooks focused on during his time in Pawtucket was base running, according to PawSox manager Gary DiSarcina.
"He played hard down here and he earned it -- no doubt," DiSarcina said. "It wasn't by default."
In his first two games back with the Red Sox, Middlebrooks was 3-for-7 with two RBIs, two runs and a walk.
At the time Middlebrooks was promoted, the chatter throughout Red Sox Nation focused on whether it should be him or fellow infield prospect Xander Bogaerts to get the call. Bogaerts, a natural shortstop, has played some games at third base and fans can't wait to see the 20-year-old at the big league level.
Internally, Middlebrooks and Bogaerts have been pushing each other because they know if they succeed they'll probably make up the left side of the Red Sox infield for a long time.
"Man, Will's a really nice guy," Bogaerts said. "When he got demoted, it was weird for me to go talk to him. Of course, he must have felt bad, but I just couldn't get the confidence to go talk to him. But man, he helped me out a lot at third base, especially at spring training and before I went to the WBC. He was the guy who was there helping me take grounders. He helped me here in Pawtucket and it was really nice. He's helped me a lot and I have to give him a lot of credit. I really like Will and hopefully he does good up there. He's been having a tough year this year but I hope he turns things around."
Middlebrooks made his major league debut on May 2, 2012, and was Boston's everyday third baseman until he suffered a season-ending wrist fracture on Aug. 10. He hit .288 with 14 doubles, 15 home runs and 54 RBIs in 75 games for Boston, and was one of the lone bright spots as the Red Sox suffered through one of their worst seasons in club history.
Middlebrooks entered this season as the club's starting third baseman. But due to the lack of performance, he was optioned to Pawtucket.
"It's easy to fall into that sense of entitlement trap," said DiSarcina, a veteran of 12 seasons in the big leagues. "Where you feel like you've played three good months and you're going into camp and it's your job. It's so easy because he had such a good year, but you can't take anything for granted in this game. I don't care how old you are. There's a boatload of big league players that had three good months -- a ton of them. To get sent back down for him was a reality check."
Middlebrooks learned that if you're not performing at the big-league level, you don't stay at the big-league level. In Pawtucket, he had to improve his off-field preparations and also worked on his daily routine, according to DiSarcina.
While trying to concentrate on baseball activities, Middlebrooks couldn't help but hear all the trade rumors leading up to the July 31 deadline.
"

He's helped me a lot and I have to give him a lot of credit. I really like Will and hopefully he does good up there. He's been having a tough year this year but I hope he turns things around.

"

-- Xander Bogaerts, talking about Will Middlebrooks
"Getting past the trade deadline helped him out a lot," DiSarcina said. "For a young player in this market, you can't help but be affected by outside noise, you just can't. You can't live in a bubble, especially being a young player, it's just not natural. He's going to listen to things. He's going to hear things, so when he got by that he started settling down, especially with his routine and his at-bats."
From an offensive standpoint, Middlebrooks worked with PawSox hitting coach Dave Joppie, who helped him square up more in the batter's box. The adjustment worked and Middlebrooks started to see the results at the plate.
"I've never seen him so excited about something in my life," DiSarcina said. "He's getting on third base and wants to talk about hitting mechanics with me and I'm like, 'Will, you've got no outs.' But that's how excited he is about it."
DiSarcina also said that Middlebrooks worked on his swing after games in his hotel room during road trips.
As for defense, DiSarcina said that he always felt comfortable with Middlebrooks' glove while he was in Pawtucket. But one of the biggest areas of improvement for the third baseman, according to the PawSox manager, was in was his baserunning.
"That's kind of the first thing that goes on guys when they don't have their concentration, like 'Why do I have to run the bases.' But he took it real serious."
Once again, Middlebrooks has an opportunity with the Red Sox, and DiSarcina hopes he'll never see him again in a PawSox uniform.
"He has a lot to prove and he knows it," DiSarcina said. "He has a lot to prove to himself and his teammates. Go out there and help the team win, that's the bottom line. Sometimes when you're a young player, it's all about you. If anything, he can look at the short time he had down here and learn from it. I don't want to see him again down here."
December, 13, 2012
12/13/12
7:32
PM ET
PAWTUCKET, R.I. -- Gary DiSarcina will be introduced Friday as manager of the Pawtucket Red Sox, Boston's top farm team.

The 45-year-old comes from the Los Angeles Angels, where he was recently promoted to special assistant to the general manager. He played shortstop for the Angels from 1989-00.

DiSarcina managed the Lowell Spinners, a Red Sox minor league affiliate, from 2007-09 and was Boston's minor league infield coordinator in 2010.

He replaces Arnie Beyeler, who became Boston's first base coach. The PawSox won the International League last season but lost to Reno in the Triple-A championship.
December, 11, 2012
12/11/12
4:10
PM ET
BOSTON -- The
Boston Red Sox
have hired former big-league infielder Gary DiSarcina as their Triple-A manager, according to a source.
DiSarcina, a native of Billerica, Mass., played his entire major league career for the California and Anaheim Angels from 1989 to 2000. He finished his playing career with the Pawtucket Red Sox in 2002.
He eventually worked for the Red Sox as a minor league infield coordinator and also managed for Single-A Lowell. DiSarcina also was an analyst for NESN. He most recently worked as a special assistant in the Angels organization.
DiSarcina replaces Arnie Beyeler, who was recently promoted to Boston and will serve as the Red Sox first-base coach.
CSSNE.com first reported the hiring.
During his three-year stint (2007-2009) as manager of the Spinners, DiSarcina worked closely with prospects
Ryan Kalish
,
Will Middlebrooks
,
Felix Doubront
and Ryan Westmoreland.
"It was incredible," Westmoreland said. "I have nothing but good things to say about DiSar and I know a lot of players, like me, are very thankful for having him as the manager. It goes beyond just being a baseball coach, he's one of the greatest guys out there and I'm sure there are a lot of guys who will attest to that."
Kalish and Middlebrooks have credited DiSarcina for helping them learn the pro game as they were on the fast track to the big leagues. Westmoreland flourished under DiSarcina at Lowell in 2009. The young outfield prospect hit .296 with seven home runs and 35 RBIs in 60 games before a health condition known as a cavernous malformation in his brain derailed his career during spring training in 2010.
"The main thing about DiSar, we learned that you're at where you're at because of your talents, and he was always one of those guys that was not up in your face, but he certainly wasn't afraid to be a little disciplined," Westmoreland said. "But he's one of those guys who lets you go out there and play and the talent will take care of itself.
"He had our immediate respect. He's one of those guys you know not to push his buttons. He's so smart about the game and everyone looked up to him. It didn't matter if you were an older guy or a younger guy, he was a role model for everybody. He's one of those guys you give immediate respect to. How he handles himself as a manager, and just as a human in general, was incredible."
Westmoreland is thrilled DiSarcina is back in the Red Sox organization.
"He's a guy I'll always have respect for," Westmoreland said.