Boston Red Sox:

Hideki Okajima
May, 24, 2011
5/24/11
6:25
PM ET
By
Chuck Murr
| ESPNBoston.com
CLEVELAND --
John Lackey
threw 40 fastballs without discomfort in the Red Sox bullpen on Tuesday.
The right-hander, sidelined since May 12 with a strained right elbow, said he was encouraged and eager to give it another test soon.
"I felt pretty good and it was a step in the right direction," Lackey said. "I was happy with how I was finishing. I was able to let it go."
Lackey admitted he had pain in the elbow for "a little longer" than his last two starts, when he was touched for 17 earned runs in only 10 2/3 innings in losses to the Angels (11-0 on May 5) and Blue Jays (9-3 on May 11).
"It hurt when I fully extended -- but not today," Lackey reported. Asked if he's experienced anything like this injury in his career, he said, "I'm in my 10th year, so I've had a little of everything."
Manager Terry Francona said that pitching coach Curt Young was encouraged by Lackey's session.
"Curt said the ball was coming out of his hand real nice and easy," Francona said.
Lackey said he will try to throw all his pitches in his next session and is eager to get out on a minor-league rehab assignment and then back into Boston's rotation.
The Red Sox have him penciled in to start on June 5 at home against Oakland.
"I definitely need to face some hitters," he said. "Next time, I want to throw everything, sit down, then get back up again to simulate a game -- then go out somewhere" on rehab assignment.
Lackey said a cortisone shot stopped the swelling in his elbow, and that he went three or four days without even playing catch.
"I only had one shot, but they stuck me in a couple different places," he said.
Planning ahead:
Francona said he was tempted to move
Carl Crawford
into Pedroia's No. 2 spot in the batting order behind leadoff man
Jacoby Ellsbury
, but thought better of it.
Francona said he didn't want three lefties in a row in the lineup, even though Cleveland was starting right-hander
Fausto Carmona
. Francona was more concerned about facing the Indians' bullpen, where setup man
Tony Sipp
is 2-0 with a 1.33 ERA.
"Sipp has been getting out every lefty in the world," Francona said. " I didn't want to invite that."
Left-handed batters are 1-for-25 (.040) against Sipp this year.
Francona also said he would try to avoid using right-hander
Daniel Bard
, who worked the previous two games and was the loser Monday night.
"I'll stay away from Bard, even though he said he feels good," Francona said. "But we won't use him.
"He's so good, so durable, but he has such a career ahead of him and we want to watch it with him. It isn't about innings only with him. Some of his are high-level innings and when he goes over an inning, those are the ones you have to look at."
Okajima gives OK:
Left-hander
Hideki Okajima
has accepted an outright assignment to Triple-A Pawtucket. The left-hander was designated for assignment on May 19 to clear roster space when lefty
Franklin Morales
was acquired from the
Colorado Rockies
.
Okajima went 1-0 with a 4.32 ERA in seven relief outings for the Red Sox this year. He burst upon the big-league scene as a 31-year-old rookie in 2007, going 3-2 with five saves and a 2.22 ERA and making the AL All-Star team. In 261 games, all in relief, he has a 17-8 record and 3.11 ERA for Boston.
Late payoff:
The Indians are just now reaping the rewards of trading
Victor Martinez
to the Red Sox in July 2009 for right-handers
Justin Masterson
and Bryan Price along with lefty Nick Hagadone.
Masterson is a valuable member of Cleveland's rotation, going 5-2 with a 2.50 ERA in 10 starts.
Hagadone, 25, has been converted to relief. In 14 outings combined at Double-A Akron and Triple-A Columbus, he is 3-1 with a 1.82 ERA. He could be a valuable addition to the Indians' bullpen if Cleveland continues its breakneck pace atop the AL Central and needs relief help down the stretch.
Price, 24, was moved to the bullpen a year ago in the minors and is 1-2 with a 5.40 ERA at Akron.
May, 20, 2011
5/20/11
12:38
AM ET
BOSTON -- Reacting swiftly to their need for pitching depth, the Red Sox on Thursday announced they had made a trade with the
Colorado Rockies
for left-handed reliever
Franklin Morales
, signed veteran right-handed starter
Kevin Millwood
to a minor-league deal, and designated left-handed reliever
Hideki Okajima
for assignment.
The Sox also were expected to make two more roster moves before Friday night's game with the
Chicago Cubs
. Reliever
Dan Wheeler
, who has been rehabbing in Pawtucket, is eligible to come off the DL on Friday, so
Michael Bowden
is expected to return to the PawSox, while veteran utilityman
Drew Sutton
is expected to take the place of rookie shortstop
Jose Iglesias
, who has played sparingly since his call-up when
Marco Scutaro
went on the disabled list.
Morales, just 25, has had a wildly inconsistent tenure with the Rockies, his lack of control evidently leading the Rockies to give up on a pitcher who served as the team's closer for a short time in 2009, recording seven saves. Morales walked an average of 7.5 batters per nine innings in 2010, when he had an 0-4 record with a 6.28 ERA, and had walked 8 batters in his first 14 innings this season.
Last weekend, after Morales gave up a run-scoring double to the only batter he faced, Rockies manager Jim Tracy had counseled patience with the native of Venezuela. "We're not going to pull the trigger here,'' Tracy told reporters afterward. "Patience is the operative word here.''
But according to Red Sox GM Theo Epstein, the Sox learned a few days ago that Morales might be available, and swung a deal for a player to be named later or cash.
"He's a very hard thrower, tough on left-handed hitters when he throws strikes,'' general manager Theo Epstein said after Thursday night's game. "This guy was one of the top prospects in all of baseball a few years ago. He's been a little bit erratic with his strike-throwing, but he still has plenty of upside there. It was a very reasonable acquisition cost, and if things are going right he has upside.''
Clearly, the Red Sox did not trade for Morales based on how he pitched against them. He was a 21-year-old rookie in 2007 when he faced them in relief in Game 1 of the World Series in Fenway Park and was charged with seven runs on six hits and a walk in just two-thirds of a inning. Last season in Denver, he faced them again and gave up a two-run home run to
Adrian Beltre
.
Morales' acquisition made Okajima expendable. The 35-year-old left-hander, who had been nontendered by the Sox last December but signed a minor-league contract to return late in the winter, had appeared in just seven games this season for the Sox after starting the season in Pawtucket, pitching 8 1/3 innings. He had pitched just once since May 4, as Red Sox manager Terry Francona turned to
Matt Albers
for regular use and also began spotting
Rich Hill
since his call-up from Pawtucket.
"We weren't using Oki all that much the way that things evolved lately,'' Epstein said. "Morales is someone with significant upside. If we can get him to repeat his delivery and throw strikes, he can be tough to hit. He's going to take that second lefty spot and see if we can get some results.''
Hill's performance -- he has yet to allow a run in four appearances spanning 4 2/3 innings, has allowed just two hits and walked one while striking out six -- freed the Sox to make the move with Okajima.
"Rich has been throwing the ball well all year down in Pawtucket and got off to a nice start here,'' Epstein said. "He's certainly someone who matches up well against left-handed hitters. That second spot, not that we're experimenting with it, but it gives us a chance to capture some upside there that makes some sense for us.''
The Sox still have left-hander
Felix Doubront
, who performed in that role for a period of time last season, but he is currently on the disabled list with Triple-A Pawtucket because of a strained groin.
Epstein also confirmed the signing of the 36-year-old Millwood to a minor-league deal, contingent on his passing a physical.
"He'll start out in Fort Myers and throw a couple of sides before he goes to Pawtucket,'' Epstein said.
The Yankees signed Millwood late in spring training to a minor-league deal, one that allowed him to opt out if they didn't add him to the big-league roster by May 1. Millwood, who could have made as much as $1.5 million if the Yankees had summoned him, exercised that opt-out after making four minor-league starts (4.50 ERA) and was sitting at home.
Millwood was counted upon by the
Baltimore Orioles
to anchor their rotation in 2010, the Orioles agreeing to pay $9 million of his $12 million salary in a trade with the
Texas Rangers
. Instead, he was a bust, going 4-16 with a 5.10 ERA. But he did make 31 starts last season, and in a pitching-poor environment could offer the Sox some insurance in the short term.
Millwood has a similar out clause with the Red Sox as he did with the Yankees, according to a baseball source.
The Sox have 10 days to either place Okajima on waivers, work out a trade for him or release him. If he clears waivers, he becomes a free agent and theoretically could accept an outright assignment back to Pawtucket.
Okajima, who played a valued role in the Sox bullpen in his first three seasons here, told Japanese reporters he had no regrets about re-signing with the Sox.
"I started the season down in the minor leagues, so I knew I had to regain the team's confidence in my pitching,'' Okajima told Japanese reporters. "It is my first time in this situation, so I'm not sure of what happens next.
"Having re-signed with Boston during the offseason, it is disappointing that this is happening, but signing here was not a mistake. I am very grateful for the opportunity the Red Sox have given me over five years."
Iglesias, widely regarded as the Red Sox shortstop of the future, appeared in six games for the Red Sox since his call-up May 8. In three of those games he appeared as a pinch runner, including Thursday night, when he was thrown out at the plate on a rare play, an apparent bases-loaded single to short left field on which Iglesias had to hold up to see whether it would be caught. The ball took a perfect hop to Tigers left-fielder
Andy Dirks
, who made a strong throw to nail Iglesias.
Iglesias also appeared in two games as a defensive replacement and made one start, on May 11 in Toronto, going hitless in three at-bats. He had struck out but reached on a wild pitch in his first big-league at-bat the night before.
The switch-hitting Sutton, 27, has appeared in a total of 55 games in the big leagues for the Reds and Indians the last two seasons. He signed as a six-year minor-league free agent with the Red Sox last November. He can play all four infield positions but also can play the outfield -- he was in left field Thursday night in a 2-1 loss at Columbus. He singled in two at-bats, raising his average to .307, and also has five home runs. That includes the two he hit, one from each side of the plate, on May 9 against Gwinnett.
Jack McCluskey contributed to this report.
March, 14, 2011
3/14/11
4:42
PM ET
FORT MYERS, Fla. -- Red Sox pitchers
Daisuke Matsuzaka
and
Hideki Okajima
were at the gates prior to Monday night's game collecting donations earmarked for relief in the aftermath of the earthquake and tsunami that devastated Japan last Friday.
[+] Enlarge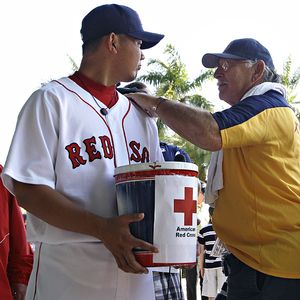 AP Photo/Charles KrupaDaisuke Matsuzaka gets a pat on the back from a fan as the Red Sox pitcher collects donations to help his native Japan.
The Red Sox Foundation has donated $50,000 to the effort, and is encouraging fans to make donations through the foundation. Fans can go to
www.redsoxfoundation.org
to make a tax-deductible donation via credit card online or by mail via check/money order. Checks should be made out to "Red Sox Foundation/Japan Relief" and sent to Red Sox Foundation, 4 Yawkey Way, Boston, MA 02215. According to the team, 100 percent of the monies received will support Red Cross relief efforts in Japan.
Matsuzaka and Okajima recorded video messages in Japanese and English expressing support for their country and asking fans to make a donation. The videos and donation details are available on the team's website at redsox.com/japan.
"Japan has been brave fighting through damages caused by the earthquake and tsunami," Matsuzaka said on the Japanese-language video message.
"We are especially concerned with all those who are missing and are waiting to be rescued," said Okajima, also on the Japanese-language video. "And we pray for their safe return to their family and friends."
Rehabbing pitcher
Junichi Tazawa
and minor leaguer Itsuki Shoda are scheduled to join Matsuzaka and Okajima at the gates. They are scheduled to be there from 5:30 to 6.
February, 27, 2011
2/27/11
10:23
PM ET
FORT MYERS, Fla. -- After the 2010 season, there was some debate whether the Red Sox would re-sign lefty reliever
Hideki Okajima
.
Okajima struggled mightily last year and dealt with many health issues, but the Sox re-signed the 35-year-old to a one-year $2.75-million contract. He made his first spring training appearance Sunday night against the
Minnesota Twins
at Hammond Stadium.
He allowed four runs on five hits and struck out two in his only inning of work.
"We were falling behind [in the count] early," Sox catcher
Jarrod Saltalamacchia
said. "He went with the heater a lot. It was the first time out, even [
Josh Beckett
] had a little nerves going. The first time out [Okajima] had the nerves going and they were able to hit some pitches up."
Okajima said he wasn't happy with the results.
"It was the first exhibition game and the results were clearly poor, but I was able to get out there and enjoy myself," he said.
Okajima said his overall health is good.
Okajima finished last season with a 4-4 record and a 4.50 ERA in 56 games. He stuck out 33 and walked 20 in 46 innings.
January, 10, 2011
1/10/11
3:39
PM ET
Catcher
Max Ramirez
, who was claimed off waivers by the Red Sox from the
Texas Rangers
on Jan. 5, is now heading to the
Chicago Cubs
. The Sox announced that Chicago had claimed Ramirez off waivers on Monday when Boston had to open a spot for reliever
Hideki Okajima
.
Okajima's deal became official Monday.
Ramirez, 26, batted .217 in 26 games for Texas last season.
August, 25, 2010
8/25/10
12:52
PM ET
BOSTON -- It's a wet and quiet day at Fenway Park, but it appears both games will be played as the rain is tapering.
"Everything says this is supposed to clear out and I don't think they anticipate any problems," Red Sox manager Terry Francona said. "I hope they're right. Now, they said that yesterday, too."
Red Sox pitcher
Josh Beckett
is still on tap to start the matinee, while
Jon Lester
gets the ball in the nightcap against the
Seattle Mariners
.
* Red Sox second baseman
Dustin Pedroia
is still waiting to get the results of his second opinion. Scans of his fractured left foot have been sent to Drs. Jonathan Deland and Robert Anderson, but the Red Sox have not heard back.
"I'm sure at some point we're going to talk to Anderson," Francona said. "Deland is in Austria, so I can't guarantee when he's going to see that disk."
Meanwhile, Pedroia is getting anxious.
"He's a little bit sore," Francona said. "There's no reason to push it right now, because he's on the disabled list. We would like, for his peace of mind, for everybody's peace of mind, to get more information. Then we'll move forward."
Pedroia talked recently with NBA legend Michael Jordan, who suffered a similar injury during his playing days. Pedroia said the conversation was productive and brief. Francona managed Jordan during his brief minor league baseball career.
"[Pedroia] had an interest in talking to him, and I don't bug Michael very much, but I thought because it was Pedey, he'd probably get a kick out of it, which I think he did. It was a good conversation."
* Red Sox reliever
Hideki Okajima
continues his minor league rehab and will pitch for the PawSox tonight in Buffalo. The lefty, who is on the DL with a right hamstring strain, will return to Boston on Thursday to be reexamined before the Sox travel to Tampa.
August, 24, 2010
8/24/10
12:22
AM ET
By
Steven Krasner
| ESPNBoston.com
BOSTON -- The plan this season was to bat
Marco Scutaro
at the bottom of the Red Sox order.
But with
Jacoby Ellsbury
out of action most of the season, Scutaro was thrust into the leadoff role. And despite battling injuries all year, notably a bad right (throwing) shoulder, Scutaro has been very valuable at the top of the order.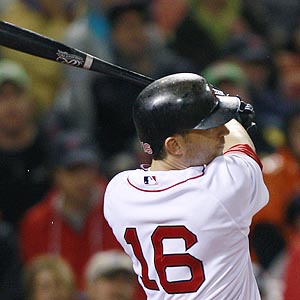 AP Photo/Charles KrupaMarco Scutaro, who matched his career high with four RBIs on Monday, is a .321 career hitter with the bases loaded.
In Monday night's 6-3 win over the Mariners, he had one of his most productive games. Scutaro, who signed a two-year contract as a free agent last offseason, came through with a two-out, two-run single through the right side in the fifth to erase a 1-0 deficit and sparking the Sox to a three-run flurry. In the seventh, Scutaro drilled a tie-breaking single to center over the drawn-in Seattle infield, putting Boston on top 5-3.
The four RBIs matched Scutaro's career high, something he has done four times, including once this season, on July 28 in Anaheim.
His first two-run single came with the bases filled, improving his recent bases-loaded success surge to 5-for-5 with a sacrifice fly and 12 RBIs. For his career Scutaro is batting .321 (25-for-78) with the sacks filled with two homers and 66 RBIs.
"You just want to make sure you get a good pitch, try to hit the ball in the air. It doesn't always happen, but you try," Scutaro said with a shrug when pressed about the reason for his good fortunes with the bases loaded.
His overall contributions this season have not gone unnoticed.
"He has given us stability all year," said manager Terry Francona. "He's played through a lot. We know that. I've appreciated him from the beginning. We were real excited when we got him and we still are. He pretty much gives you the same player every game and I mean that in a good way."
"With Ells going down, he has really stepped up, giving us a good presence at leadoff," winning pitcher
John Lackey
said of Scutaro. "He was always a tough out. He never gives away an at-bat."
Scutaro says his game plan has never changed.
"Since Day 1, I just try to get on base and score runs, no matter where I hit," said Scutaro, who is batting a solid .276 with seven homers and 44 RBIs.
Okajima struggles
Hideki Okajima
's rehab outing didn't go well. He recorded only one out and was tagged for four runs on four hits, including a two-run homer for Triple-A Pawtucket in Buffalo. He is scheduled to be re-evaluated in Boston on Tuesday ... The Red Sox had 10 hits -- all singles. It was Boston's first game with at least 10 hits and none for extra bases since a 12-inning, 6-3 victory in Seattle on July 23, 2008. The Sox had 11 hits in that game ... Lackey was the first Red Sox pitcher to notch at least 10 strikeouts since
Jon Lester
, who fanned 13 Mariners in Seattle on July 24 ... Rookie
Ryan Kalish
failed to come through with the bases loaded and one out in the fifth, popping the first pitch weakly to shortstop. But he also dropped down an important sacrifice bunt in the seventh, setting up a go-ahead three-run rally, and he recorded an assist from center field, gunning down
Casey Kotchman
trying to stretch a hit into a double in the second inning ...
Mike Lowell
's single in the eighth inning was his 1,600th career hit.
August, 23, 2010
8/23/10
8:02
PM ET
By
Steven Krasner
| ESPNBoston.com
BOSTON -- In news on the injury front, catcher
Jarrod Saltalamacchia
(infected right leg) was out of the hospital and back in the clubhouse.
Manager Terry Francona said Saltalamacchia, who was placed on the disabled list on Aug. 19, four days after last appearing in a game for Boston, would be heading to Rochester on Thursday to join the Pawtucket Red Sox for some rehab action. Going with Saltalamacchia for some Triple-A games will be outfielder
Eric Patterson
, who was placed on the DL on Aug. 18 with a stiff neck.
Catcher
Kevin Cash
(hamstring) is expected to be activated from the DL on Tuesday. While Francona didn't commit to a roster move on Monday, presumably catcher
Dusty Brown
will be sent back to Pawtucket. Brown had been recalled on Aug. 19.
Left-hander
Hideki Okajima
(hamstring) is scheduled to throw for Pawtucket in Buffalo Monday night. He will fly to Boston early Tuesday morning and to be re-evaluated.
The surgery date has not yet been set for
Mike Cameron
(abdominal muscle).
August, 20, 2010
8/20/10
8:36
PM ET
BOSTON -- Red Sox reliever
Hideki Okajima
will begin a minor-league rehab stint for Triple-A Pawtucket on Saturday in Buffalo, N.Y. The lefty is scheduled to pitch Saturday and Monday.
Read the full story
HERE
.
July, 25, 2010
7/25/10
9:44
PM ET
SEATTLE -- When a team is struggling to score runs, it has to be almost perfect in all other aspects of the game in order to have success.
Fundamentals play a major role in that philosophy, and right now the
Boston Red Sox
are having difficulties at the plate and out of the bullpen. Red Sox general manager Theo Epstein has made it clear he's looking to acquire a reliever before the July 31 trade deadline, and with the happenings over the weekend at Safeco Field, he's probably using up his cell-phone minutes.
Boston dropped its second in a row to the lowly
Seattle Mariners
on Sunday, losing 4-2. The Sox were clinging to a 2-1 lead heading into the bottom of the eighth inning when things unraveled because of poor pitching and poor defense by reliever
Hideki Okajima
.
The struggling left-hander was summoned from the bullpen with one runner on and no outs. He allowed a single to the Mariners'
Justin Smoak
before completely botching a sacrifice bunt attempt.
Seattle's
Casey Kotchman
dropped a bunt on the grass between the mound and third base. Okajima fielded the ball and had plenty of time to get the lead runner at third. Instead, he stopped, turned toward first and made a lackadaisical throw to
Kevin Youkilis
.
Everyone was safe.
Sox third baseman
Adrian Beltre
was livid and threw his hands in the air. The miscue proved crucial because the Mariners'
Michael Saunders
followed with a two-run single to give Seattle a 3-2 lead.
"I saw that we had enough time to make a play at third," said Beltre, who added he was surprised Okajima did not throw the ball. "Yeah, I was yelling for it, but I don't know why he didn't throw it. Maybe he didn't have a good grip, or he thought he didn't have a chance. Did you talk to him?"
Okajima declined requests to talk to reporters. He typically talks only when he pitches well.
"He looked to third and looked like he had time and Beltre got back," said Red Sox manager Terry Francona. "It started out looking good, but he didn't take the throw to third. We always give [pitchers] the option; if you're not sure, get an out. From there, it just, I don't know if he didn't have a handle, but it didn't look like there was a lot of urgency. They're trying to give you an out and you don't take it. A lot of times good things don't happen after that."
Later that inning, Okajima botched another bunt play when he interfered with Youkilis' ability to field the ball, allowing the Mariners' fourth run to score.
"Looked like they were both converging and it looked like he cut in front of Youk," said Francona. "Kotchman didn't break [from third base] right away and I think we had a pretty good play at the plate. When [Okajima] cut in front of Youk, Youk lost it. He screened him."
After numerous requests to discuss his outing, Okajima just sat in the corner of the clubhouse and told a Red Sox official he was not talking. That didn't go over well among his teammates.
"I have never understood him," said one Red Sox player. "He's moody." It didn't take long for Okajima's teammates to realize he wasn't answering questions.
The Red Sox split the series with the Mariners and are now 3-4 on their three-city, 10-game road trip. Other players made critical mistakes in this series, and all of them held themselves accountable.
In the first game on Thursday, reliever
Manny Delcarmen
entered the game with a five-run lead in the ninth inning but quickly surrendered four runs (three earned) on two hits, including a home run. The Mariners eventually tied the game and the Sox needed 13 innings before posting an 8-6 victory.
After his meltdown on the mound, Delcarmen swore for perhaps the first time during an interview. But it wasn't his choice of vocabulary that mattered, it was the fact he took the blame for his subpar performance.
On Saturday, Red Sox starter
Jon Lester
was in the midst of a perfect game until center fielder
Eric Patterson
dropped a fly ball with one out in the sixth inning. After the Sox lost, 5-1, Patterson was at his locker ready for reporters' questions.
"Everyone is kind of different when they deal with things," Patterson said in general terms and not singling out Okajima. "For me personally, I've always been ..., guys are always willing to talk when they do well and I think it should be the same when things don't go their way. It's one thing if they don't -- period -- if that's their deal."
No one is more willing to discuss his failures than closer
Jonathan Papelbon
. If he blows a save opportunity, he takes all the blame.
"Everybody deals with things differently," Papelbon said. "More writers talk to me after I blow a save."
That's because he's always front and center, and holds himself accountable when he gives it up.
The Sox's struggles of late can't be blamed solely on Okajima. During this series, the Mariners scored 11 of their 16 runs in the eight and ninth innings, so there's reason for Epstein to talk with other GMs, looking for bullpen help.
Another big problem has been Boston's offense, which has been almost nonexistent since the All-Star break.
"It's disappointing," Beltre said. "There were a lot of things we didn't do right today and we lost. It wasn't just that [bunt] play, but that play was probably one of the key plays. We didn't do a lot of things right to win this ballgame. We didn't play well the whole series. We need to start playing better. Not just offensively, but in all [aspects] of the game. There's no doubt we've been down offensively and we know we can get better."
July, 6, 2010
7/06/10
1:06
AM ET
ST. PETERSBURG, Fla. --
Hideki Okajima
was unavailable for Monday night's 6-5 loss to the
Tampa Bay Rays
because of a stiff back, Red Sox manager Terry Francona said, a condition that has bothered him at least off and on for a couple of weeks. Okajima last pitched June 29 against the Rays in Boston.
Okajima's back problems are likely to accelerate Boston's search for left-handed relief help heading toward the July 31 trading deadline. Okajima has hardly been the reliable out producer he was in the past -- he is 2-2 with a 5.81 ERA, and opposing hitters are batting .324 (36-for-111) against him, with lefties hitting him at a .308 (16-for-52) clip.
Here are some names of left-handed relievers to keep an eye on:
*
Scott Downs
, Toronto.
*
Will Ohman
, Baltimore.
*
Sean Marshall
,
Chicago Cubs
.
*
Javier Lopez
, Pittsburgh
*
Craig Breslow
, Oakland
Of the lefties on the market, Downs and Ohman will be at the top of most teams' lists. Lopez and Breslow have both been with the Sox before, while Marshall, according to one major league scout, doesn't have the stuff to compare to Downs and Ohman, but is a veteran with a decent track record.
April, 9, 2010
4/09/10
11:16
PM ET
KANSAS CITY, Mo. -- This was supposed to be Salute to the Old Man Night in Kauffman Stadium, where
Tim Wakefield
gave the Sox seven strong innings. But the bullpen coughed up the game for him in a 4-3 loss to the Royals. Kansas City scored two in the eighth off
Hideki Okajima
and
Daniel Bard
. Rick Ankiels' broken-bat, two-run single was the difference.
* The Sox put a potential tying run at second base on
Mike Cameron
's single and
Marco Scutaro
's sacrifice, but
Jacoby Ellsbury
took a called third strike and
Dustin Pedroia
fouled off seven pitches before flying to right.
* Wakefield, nervous? "Not really,'' said the oldest pitcher ever to start a game for the Sox. "I was just talking to my wife about it. I feel a little bit maybe on my way to the park, but once I'm here and settle into my routine, I'm fine.''
Wakefield had no idea who he had to pass to become the oldest. Told it was a former teammate, he guessed
Bret Saberhagen
, then
Pete Schourek
, and was surprised to hear it was The Boomer,
David Wells
, who was 43 years and 98 days in his last start for the Sox on Aug. 26, 2006. Wakefield is 43 years and 250 days old.
Sox manager Terry Francona, upon hearing that Wakefield was the oldest Sox pitcher to start a game, said: "I hope he becomes the oldest player to win one.''
*
J.D. Drew
hit a ball a very long way -- 443 feet to dead center, a two-run shot on a 2-and-0 change from Royals starter
Kyle Davies
, that gave the Sox a 3-0 lead in the fourth.
* The Royals still do all the little things that lead to a loss, like getting consecutive runners cut down on the base paths.
Rick Ankiel
wasted his one-out double in the fourth when he tried to advance on a ball hit in front of him, to short.
Jose Guillen
, who reached on the play, was then erased at the plate on Dustin Pedroia's strong relay,
Victor Martinez
doing a nice job of blocking the plate.
Then, after drawing to within 3-2 on home runs on consecutive pitches by
Billy Butler
and Ankiel, Royals reliever
Robinson Tejeda
entered and walked the only three batters he faced. But J.D. Drew was cut down stealing, and
Kyle Farnsworth
retired Jacoby Ellsbury (tapper to first) and Dustin Pedroia (whiff) to end the threat.
*
David Ortiz
was ejected for the eighth time in his career after plate umpire Mike Estabrook ruled he went around on a pitch in the sixth, and refused to accede to Ortiz's request to ask the third-base ump for help.
January, 14, 2010
1/14/10
6:32
PM ET
By
ESPN.com news services
The Red Sox on Thursday agreed to terms with left-handed reliever Hideki Okajima on a one-year, non-guaranteed contract for the 2010 season, thus avoiding salary arbitration, according to the team. Terms were not disclosed.

Okajima figures to be one of the primary set-up men for the Sox, along with Daniel Bard, a role Okajima has filled most of the last three seasons.

Okajima, 34, went 6-0 with a 3.39 ERA in a career-high 68 appearances in 2009. He finished third among qualifying American League pitchers and sixth in the majors by allowing just 16.2 percent (6 of 37) of inherited runners to score. He also tied for fifth in the AL with 24 holds and leads the majors with 74 since the start of the 2007 campaign.
Signed by the Red Sox as an international free agent on Nov. 30, 2006, Okajima is 12-4 with six saves and a 2.72 ERA in three big-league seasons. He has made at least 60 appearances in each of his first three seasons, becoming just the fifth AL left-hander to do so.