Boston Red Sox:

Jerry Remy
May, 28, 2014
5/28/14
4:24
PM ET
Jerry Remy will not rejoin the Red Sox game broadcasts until at least Friday in the wake of his son pleading guilty to first-degree murder, according to a Boston Globe report.

Jared Remy on Tuesday pleaded guilty to killing his girlfriend, Jennifer Martel, and got a sentence of life in prison without parole.

Remy has missed the past two games and will miss Wednesday night's opener of a homestand at Fenway Park, which will be preceded by a ceremony honoring the 2004 championship team.
February, 20, 2014
2/20/14
12:04
PM ET
FORT MYERS, Fla. -- Red Sox chairman Tom Werner, whose television background has made him ownership's point man in its oversight of NESN, said Thursday he was "delighted" analyst Jerry Remy was returning to the booth.
Remy had taken a leave of absence last August after his 35-year-old son, Jared, was arrested and charged with murder in the stabbing death of Jennifer Martel, the mother of the couple's 4-year-old child.
"I think what we said to Jerry at the time, we just offered our support after the tragedy and said, 'There's a place for you if and when you want to come back,''' Werner said. "'This is going to be a very personal decision. You have a home here at NESN if and when you feel it's appropriate to come back.'
"We're delighted that he's back. I know that he's very mindful of the tragedy. I think he's excited about returning to the booth.''
Werner also addressed the decision not to retain Jenny Dell as a reporter on NESN Red Sox telecasts because of her relationship with
Will Middlebrooks
, the team's third baseman.
"We talked about it internally,'' Werner said. "I think Jenny is a terrific reporter. We came to the conclusion, and Jenny came to the same conclusion, that it would be a distraction for her to be a reporter, so she's moving on.
"I think it wasn't a black and white decision, can she sort of divorce her personal life from being professional, but in the end, we decided it was better to move on and not be a distraction.''
Dell is still employed by NESN but does not currently have a role. Werner said she was offered other positions at the network but "she's looking for other opportunities.'' There had been reports that NESN was exercising a noncompete clause in her contract to keep her from leaving, but Werner said Dell is free to go.
Werner, asked about the difference between coming to camp this spring compared to last, when the Sox had finished last in 2012, laughed.
"Last year,'' he said, "I think people thought we'd taken a stupid pill.
"We just got out of a meeting with John Farrell,'' he said, referring to the meeting of the full squad Thursday morning. "As much as we appreciate what happened last year, the focus is on 2014, what we're going to do now that the team has come to work. John Farrell said, 'Let's not think about the last out of the World Series but how we approach the year, the first day of spring training.' As much as we can appreciate what we did last year, we're focused on today and tomorrow.
"What John said is true: This is an extraordinarily close-knit group of guys. Almost to a man they came to work early this year, they're prepared, they're focused. Obviously we're very proud of what we did, but this year the focus is on today, tomorrow and getting off to a good start in April.''
Last season, the Red Sox had an 18-8 record in April, the best record in the league.
Werner was asked about the difference in how the Sox now view awarding lavish long-term contracts and the approach taken by the Yankees, who spent nearly $500 million this offseason.
"Well, we don't think necessarily spending the most money always produces a winner,'' Werner said. "We're always among the top three, four teams in terms of payroll. We have a great organization, we all know the moves Ben [Cherington] made last year putting the team together probably was part of the reason we won. It was not because we signed one player for 150, 200 million dollars. That all started with the decision we all made to shed payroll [in the Dodgers' deal] and redeploy it.
"I'm not saying the Yankees won't be very competitive this year. They've got an extraordinarily good team. I like our chances, too.''
August, 30, 2013
8/30/13
1:30
AM ET
BOSTON -- Jennifer Martel is the victim. Anything else said here begins and ends with the death of a 27-year-old daughter, mother, co-worker whose Waltham neighbors held a candlelight vigil for the murdered woman Tuesday night, 12 days after she was stabbed to death at her home.
Charged with her murder is Jared Remy, the father of their 4-year-old daughter, Arianna. Jared Remy, 34, who has a long history of domestic abuse, has a famous father: Jerry Remy, the former Red Sox second baseman who in 26 years as the team's color analyst on television has achieved a celebrity he never knew as a player.
Jerry Remy was in Toronto on Aug. 15, broadcasting a Red Sox game against the Blue Jays, when Jennifer Martel was slain. When police arrived, Jared Remy was at the couple's home, they said, covered in blood.
[+] Enlarge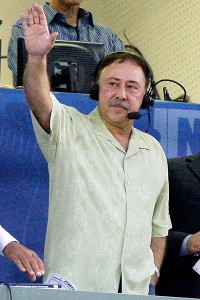 AP Photo/Elise AmendolaJerry Remy appropriately, but sadly, won't return to the Red Sox broadcasts this season.
Remy has not appeared on a Sox broadcast since. He has made no public appearances, his only statement coming on his official Twitter account, in which he said he and his wife, Phoebe, were "heartbroken.''
"Son or not,'' his statement read, "I am at a loss for words articulating my disgust and remorse over this senseless and tragic act.''
On Thursday night, minutes before the end of Boston's 3-2 loss to Baltimore at Fenway Park, Remy's business partner, John O'Rourke, released another statement on Remy's official Twitter account. In it, Remy announced he would not be back in the broadcast booth for the remainder of the season to spend time with his family.
Five minutes later, NESN released the same statement.
"I am full of grief for the Martel family,'' Remy said in the statement. "My thoughts and prayers continue to go out to them. My wife and I are sick about this senseless tragedy. It's clear this isn't the time for me to return to broadcasting Red Sox games. It's my hope that I can do so in the spring. I thank the Red Sox and NESN for their support through this nightmare.''
So much of this Red Sox season has been an unexpected joyride, with no end yet in sight. But there has never been a baseball season in the century-plus history of this franchise in which reality has intruded so darkly as in this one.
It was shortly after the Sox had finished playing their annual Patriots Day game when bombs went off less than a mile away on Boylston Street, near the finish line of the Boston Marathon. Five days later, Fenway Park was the designated temple of healing for a community grieving for the harm wrought to innocents.
And now this: In a region already shocked by murder charges brought against Patriots star Aaron Hernandez, fans returning their No. 81 jerseys in a ritual expression of communal loathing, the son of the homegrown RemDawg, as beloved a figure as ever has sat in front of a mike on Yawkey Way, was being held without bail, charged with killing the mother of his child. Murder times two in what we so often view as a make-believe world, where heroes don't run into burning buildings but score touchdowns and hit home runs, and villains sack star quarterbacks or strike out the hometown slugger but never draw real blood.
Jerry Remy, with his heavy Boston accent and nicotine-stained voice, has served as the trusted companion of baseball fans here for more than a quarter of a century. He earned respect with his knowledge and candor; he won affection through his comical by-play with his partners, especially Sean McDonough and for the last 13 seasons, Don Orsillo. Rem was a most welcome guest in New England's living rooms, and it was a source of great concern when Remy announced he had lung cancer, and of greater consternation when he still snuck butts after being diagnosed.
It in no way diminishes the magnitude of the tragedy entailed by the death of Jennifer Martel to state that Remy's absence from the booth has taken some of the joy from this baseball season. It is inconceivable, of course, to imagine Remy coming back under these circumstances, although according to a well-placed source, NESN gave him that option, telling him he could return for this homestand.
That would have been a terrible mistake. There is no room for RemDawg's shtick while his son is sitting in a jail cell, a 4-year-old deprived of her loving mother. The message boards and chat rooms have carried many words of support, but harsh judgments and accusations also have been rendered. By virtue of his bloodlines, Remy's presence would have cast its own shadow, something he fully recognized.
Besides, who says it's even possible to broadcast a baseball game with a broken heart?
August, 29, 2013
8/29/13
11:00
PM ET
BOSTON -- Red Sox TV broadcaster Jerry Remy, who has not appeared on air since Aug. 15, the night his son, Jared, was arrested after the stabbing death of his girlfriend, Jennifer Martel, announced Thursday night that he will not be returning to the NESN broadcast booth for the remainder of the season.

The announcement was made through Remy's business partner, John O'Rourke, who posted a statement on Remy's official Twitter account.

"I am full of grief for the Martel family,'' Remy said in the statement. "My thoughts and prayers continue to go out to them. My wife and I are sick about this senseless tragedy. It's clear this isn't the time for me to return to broadcasting Red Sox games. It's my hope that I can do so in the spring. I thank the Red Sox and NESN for their support through this nightmare.''

"We met with Jerry and conveyed our support,'' NESN president/CEO Sean McGrail said in the statement, "and when Jerry feels the time is right, we will welcome him back. All of us at NESN and the Red Sox once again express our deepest sympathies to the Martel family for their terrible and tragic loss.''

Jared Remy has been charged with murder and is being held without bail. He is scheduled to appear in Waltham District Court on Sept. 12 for a probable cause hearing.

Jared Remy and Jennifer Martel were parents of 4-year-old Arianna Nicole Remy.
August, 16, 2013
8/16/13
3:57
PM ET
Dennis Eckersley will fill in for Jerry Remy as the color analyst for NESN Red Sox game broadcasts starting tonight and through at least the team's upcoming West Coast trip (Aug. 19-25), the network announced.
Remy's son, Jared, was
arrested Friday and charged in the murder of his girlfriend
. He pleaded not guilty and was ordered held without bail.
August, 9, 2010
8/09/10
8:16
PM ET
NEW YORK -- Every player in the Red Sox clubhouse knows the team is better when
Jacoby Ellsbury
can produce like he did Monday.
Since coming off the disabled list, he's been struggling at the plate and entered Monday's series finale against the Yankees 0-for-16.
Red Sox manager Terry Francona decided prior to the game it would be best to move Ellsbury from the leadoff spot in the order to the No. 9 hole to take pressure off him.
It worked.
Ellsbury went 1-for-2, including a walk and hit batsman, and stole four bases.
"It shows when he gets on base we're a different team," Francona said. "That's stating the obvious. He can change the game with his legs and when he starts getting on base, that bodes real well for us."
"It was nice to get on base today," admitted Ellsbury. "When I'm on base, good things are going to happen."
Ellsbury set a career-high with his four swipes, tying the club record of Jerry Remy, who accomplished the feat on June 14, 1980 versus the Angels.
"I forgot about it," Ellsbury said. "I knew Remy had four. [Former Red Sox teammate]
Javier Lopez
was always getting on me, he wanted me to at least tie it or break it, so I'll have to give him a phone call tonight. It was one of those days where I got on base and had opportunities to run."
July, 21, 2010
7/21/10
1:30
PM ET
Red Sox color analyst Jerry Remy, who has been in the post for 23 years and will broadcast his 3,000th game on Sunday, has agreed to a multiyear contract extension with NESN, according to the network.

"I am truly fortunate to have been part of the NESN family for the past 23 years and that relationship will continue into the future," Jerry Remy told NESN.com. "I feel I have the best job in the world broadcasting Red Sox baseball."

Remy, 57, took a leave of absence from early May to mid August last season due to health issues. He had lung cancer surgery in November 2008 and also battled depression. This season Remy has been back full time.

The former Red Sox second baseman, who played from 1978 to 1984, joined NESN in 1988, working alongside play-by-play legend Ned Martin. He's been partnered with Don Orsillo for the past 10 years and is a four-time New England Emmy Award winner.

"Jerry is a fixture in New England who continues to be one of the most popular announcers in all of baseball," said Sean McGrail, NESN's president and CEO. "His commitment to NESN and the team has been exemplary and we are thrilled to continue our relationship for years to come."