Boston Red Sox:

Jerry Sands
November, 1, 2012
11/01/12
2:45
PM ET
On each weekday until baseball's GM meetings Nov. 7, we will spotlight one key decision the Red Sox need to make this offseason that will help determine the success or failure of the 2013 team.
Today's topic: Who will play first base for the Red Sox in 2013?
That is a question no one figured to be asking until the end of the decade, after the Red Sox signed
Adrian Gonzalez
to a seven-year, $154 million contract extension in 2011 that took him through the 2018 season. But Gonzalez, who was supposed to be the anchor of the Sox lineup for the future, was traded to the Dodgers in August, a shocking reversal of direction for a franchise that thought it had landed the most attractive first-base option out of a field that included
Albert Pujols
,
Prince Fielder
,
Ryan Howard
,
Mark Teixeira
and
Joey Votto
.
Now AGon is gone, and players of his caliber do not appear available on either the free-agent nor trade market.
Lars Anderson
, anyone? (No, wait, he's gone, too, traded to the
Cleveland Indians
.)
Defining the decision: In the absence of superstar options at the position, how do the Sox assess the market for their next first baseman?
[+] Enlarge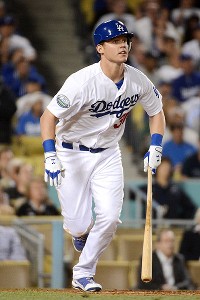 Harry How/Getty ImagesJerry Sands, a first baseman the Red Sox acquired in the blockbuster with the Dodgers, was L.A.'s minor league player of the year in 2010.
The Red Sox actually acquired two first basemen from the Dodgers as part of the Gonzalez deal,
James Loney
and
Jerry Sands
. Loney, a huge disappointment for the Dodgers, hit just 4 home runs in 114 games for L.A., and was worse in 30 games here, posting a .574 OPS. He gave the Sox little reason to pursue him in free agency.
Sands, however, who was one of two players to be named later in the Gonzalez deal, could be a sleeper. He's a 6-foot-4, 225-pound right-handed hitter who as recently as 2010 was the Dodgers' minor-league player of the year, and considered one of the team's best prospects. The 25-year-old played 61 games for the Dodgers in 2011 and last season was one of the team's last cuts in spring training, where he struggled. But in Triple-A Albuquerque, admittedly a hitters' yard, he has hit 55 home runs combined in the last two seasons, and had a terrific second half in 2012, posting a .354/.422/.635/1.058 batting line for the Isotopes. He also hit two grand slams in a game.
Sands plays first and the outfield, so at worst he offers some organizational depth. At best, he could be in the mix for either first base or a corner outfield spot. "If he ever figures out his swing, he'll hit a thousand home runs,'' one National League talent evaluator said.
If Napoli could promise Boston he would hit other big-league teams the way he has wasted Sox pitching, especially at Fenway Park, the Red Sox should sign the free-agent catcher/first baseman at 12:01 a.m. Saturday, when free agents are free to talk to other teams.
Napoli has been an absolute beast against the Sox, with 15 home runs in just 145 plate appearances and a 1.075 OPS. At Fenway Park over the last three seasons, he has 6 home runs in just 48 plate appearances (1 every 8 PA), and in an otherwise down season in 2012, he went 6 for 13 with 3 home runs and a 1.731 OPS in the Fens.
Napoli, who turned 31 on Wednesday, batted just .227 last season, a big drop from the .320 he hit the year before. But he hit 24 home runs, and would give the Sox a slugging right-handed bat behind
David Ortiz
.
But Napoli, who was paid $9.4 million in 2012, is one of the few available free-agent options at two positions, catcher and first base, so it probably will take an aggressive bid. If the Sox can get him for short years, they'd have to be interested.
Option B: Trade for Kendry Morales
With Pujols their first baseman, the Angels are likely to listen on offers for Morales, the 29-year-old Cuban who missed 22 months after breaking his left leg in a celebration at home plate. Morales's performance last season (26 doubles, 22 home runs, .787 OPS) did not come close to matching his last full season with the Angels, 2009, when he had 43 doubles and 34 home runs with a .924 OPS, but some allowance should be made for the long layoff. The Angels would probably look for starting pitching or bullpen help in return, but Morales is just a year away from free agency, which may keep the price reasonable.

Other free agents include the Yankees'
Nick Swisher
, who figures to command more dollars and years than the Sox are willing to go, and
Adam LaRoche
, who made a cameo appearance for the Sox before they traded for
Victor Martinez
, then had a breakout season with the Nationals this season. LaRoche just declined his mutual option and became a free agent, but Nats are expected to make a big push to re-sign him.
Long shot: Bring back Youk
With Bobby Valentine out of the way and
Kevin Youkilis
available as a free agent, there is yearning in some precincts of the Nation that the Sox bring back their former corner infielder. That possibility has not been discussed, at least by Youkilis's camp. Youkilis will be 34 next March, his style of play has taken a toll on his body, and his best years are behind him. He might still have another good year or two in him, but it probably makes sense for both sides to move on.
Your turn: What's the best option for the Red Sox?
We've outlined the possibilities, now tell us what you would do if you were in Ben's shoes. Vote in the poll above and leave your more detailed thoughts in the comments section.
October, 4, 2012
10/04/12
6:14
PM ET
The Red Sox officially acquired right-handed pitcher
Rubby De La Rosa
and first baseman/outfielder
Jerry Sands
from the
Los Angeles Dodgers
, completing the Aug. 25 trade that sent right-handed pitcher
Josh Beckett
, outfielder
Carl Crawford
, first baseman
Adrian Gonzalez
and infielder
Nick Punto
to the Dodgers in exchange for first baseman
James Loney
, infielder
Ivan De Jesus
Jr. and right-handed pitcher Allen Webster, the Sox announced Thursday.
De La Rosa and Sands were widely reported as being part of the deal when it was first reached, with De La Rosa seen as perhaps the biggest catch for the Red Sox. At the time of the trade, one scout told ESPN.com that De La Rosa could be a "top-of-the-rotation" starter if he fully recovers from the Tommy John surgery he had in August 2011.
De La Rosa, 23, tallied an 11-9 record with six saves, a 2.86 ERA, 237 strikeouts and just 187 hits allowed in 233 innings over 59 career minor league appearances (39 starts) in six seasons in the Dodgers system. He earned the organization's minor league pitcher of the year award in 2010.
After beginning the 2012 season on the disabled list, De La Rosa made one major league appearance for Los Angeles in August and compiled a 1-0 record with a 2.08 ERA and 12 strikeouts in 13 strikeouts over six minor league outings, including five on rehab, between the rookie-level Arizona League Dodgers, High-A Rancho Cucamonga and Double-A Chattanooga.
The 25-year-old Sands spent most of 2012 with the Dodgers Triple-A Albuquerque affiliate and was named to the Pacific Coast League's postseason all-star team. This season, he led all Triple-A batters with 107 RBIs and finished third in the PCL with 26 home runs while also tallying 17 doubles, 4 triples, 84 runs scored and 59 walks in 119 games.
To make room on the 40-man roster, catcher
Guillermo Quiroz
was designated for a assignment. Quiroz, 30, was acquired from the
Seattle Mariners
on Sept. 4 and appeared in two games for the Red Sox this season, going 0-for-2.
August, 25, 2012
8/25/12
4:51
PM ET
By
Chris Hatfield, SoxProspects.com
| ESPNBoston.com
The breaking news of the Red Sox's blockbuster trade with the Dodgers took fans to a place they never really had been before.
In trying to get our heads around the massive, nine-player, nearly $300 million deal, most of the focus has been, rightfully so, on the players leaving Boston:
Josh Beckett
,
Carl Crawford
,
Adrian Gonzalez
and
Nick Punto
. Never had we seen a group of major league players owed this much in contracts shipped out in the same trade. Never had we seen a general manager, Ben Cherington, so swiftly put his stamp on a team, making it his own.
[+] Enlarge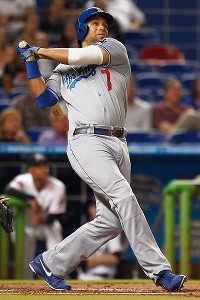 AP Photo/J Pat CarterJames Loney has a career-low slugging percentage this year.
But perhaps getting lost in the hubbub about who the Sox jettisoned is that they managed to get real value in return for those players, in addition to getting the Dodgers to pay just about $260 million of the more than $270 million owed to those four. Boston received two potential impact arms in
Rubby De La Rosa
and Allen Webster and useful bench pieces in
Ivan De Jesus
and
Jerry Sands
, while
James Loney
rounds out the deal as the man who will take over first base for the rest of this season.
So here is a primer on the five players coming east to Boston (or more accurately, in a few cases, Pawtucket or Portland):
1B James Loney
Age: 28; B/T: L/L
MLB Debut: 2006
Drafted by LAD in 2002 (first round)
The lone established major leaguer going to Boston in the deal, Loney is arguably the least important included player because he had zero use in L.A. with Gonzalez now taking over at first base. Although he has been the Dodgers' starting first baseman since 2008, Loney had become something of a punch line to the team's fans, not hitting nearly enough to justify playing at the least important position on the defensive spectrum. In 2012, Loney was hitting just .254 AVG/.302 OBP/.344 SLG with four home runs and 33 RBIs in 114 games, and his career line of .284/.341/.423 was essentially league-average over his time in the majors -- although not as bad as his poor numbers from this season, but again not the production one expects from a first baseman on a winning club. Loney is athletic and plays a good defensive first base despite his 6-foot-3, 220-pound frame.
Loney's time with the Sox may be short; he is a free agent after this season and his inclusion essentially gives the Sox a body to put at first base until they address the position in the offseason. But since we are about to delve into the "prospects" portion of the deal, it is worth mentioning that Loney, a former first-round draft pick out of Elkins High in Missouri City, Texas, was once a top prospect himself. He was one of Baseball America's top 100 prospects in 2003-05 and 2007, spending three of those years in the top 50 and peaking at No. 34. Yes, fans, the Red Sox are not the only team for whom top prospects do not reach their ceilings, although BA's 2007 Prospect Handbook did note a "wide range of opinion" on Loney's future power.
One final interesting note on Loney: He made his major league debut for the Dodgers in 2006 when their starting first baseman, a fellow by the name of
Nomar Garciaparra
, began the season on the disabled list. As they say, it's a small world, at least in the world of franchise-changing blockbuster trades.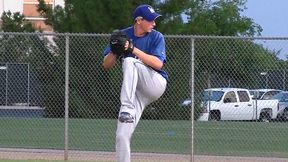 Jason Grey/ESPNThe Sox are hoping that Allen Webster becomes a household name and fixture in the rotation.
RHP Allen Webster
Age: 22
Drafted by LAD in 2008 (18th round)
Webster has been one of the steals of the 2008 draft for the Dodgers. Webster played mostly shortstop at McMichael High School in Madison, N.C., but the Dodgers moved him to the mound in the pros and Webster has taken off, rising to now being considered by many the top pitching prospect in the Dodgers' system before the trade.
Webster has been very good for Double-A Chattanooga this year, going 6-8 with a 3.55 ERA, striking out 117 and walking 57 in 121.2 innings with a 1.45 WHIP. His strength, however, is in inducing ground balls, which has earned him comparisons to
Derek Lowe
. He throws a fastball at 92-94 mph, touching 97, showing heavy sink even at higher velocities. His secondary pitches can also all be plus when they are working right and include an 82-84 mph changeup, an 80-82 mph slider and a 76-78 mph curve. All can be inconsistent at times, but when on, the changeup and slider in particular complement his sinker very well. Adding in his plus control, Webster profiles as a middle-to-back-end starter at the major league level.
Webster could be assigned to either Double-A Portland or Triple-A Pawtucket. With the PawSox just a half-game back in their chase for a playoff spot, the Sox could promote Webster to get him a taste of a playoff chase as a development tool. He should make his MLB debut at some point in 2013 and could even compete as a dark horse for a spot in the 2013 rotation out of spring training.
RHP Rubby De La Rosa
Age: 23
MLB Debut: 2011
Signed by LAD as an international free agent in 2007
De La Rosa, whose first name is pronounced "Ruby," will technically be included in the trade as a player to be named later after being claimed by Toronto on trade waivers. He only just made his return from Tommy John surgery, making one appearance for the Dodgers after being activated on Aug. 21.
[+] Enlarge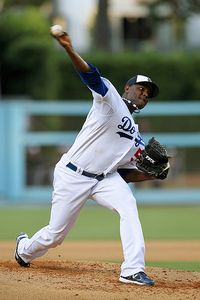 Stephen Dunn/Getty ImagesRubby De La Rosa needs to refine his secondary pitches, but boasts fastball that approaches 100 mph.
In his major league debut last year, which capped a meteoric two-year rise through the Dodgers' system, he struck out 60 batters in 60.2 innings, going 4-5 with a 3.71 ERA in 13 appearances, 10 of those starts. Control was a bit of a problem, as he also walked 30 batters.
De La Rosa is a true fire-baller, boasting a fastball that sits in the mid-90s and can hit triple-digits. Even a year removed from surgery (which took place on Aug. 9, 2011), he already has most of that velocity back, as he registered 96 mph on the gun in his return to the majors this week. His fastball gets lots of swings and misses and ground balls and is a true weapon. He mixes in two fringe secondary pitches in a changeup and slider. The slider played up better in his MLB debut, but both pitches need work. If he can develop one to be a true complement to the fastball, De La Rosa has the ceiling of a No. 3 starter or high-leverage reliever.
The right-hander signed out of the Dominican Republic in 2007 and spent two years pitching in the Dominican Summer League before making his U.S. debut in 2009. That debut was cut short, to just five appearances, before De La Rosa was sent home for disciplinary reasons. However, he apparently learned from that experience, and in 2010 he returned to the U.S. with a vengeance, reaching Double-A and going from being unranked in Baseball America's Dodgers top 30 entering 2010 to being ranked third in the system a year later and slotting in at No. 90 in the publication's top 100 prospects. In 2011, he made just eight starts in Double-A, striking out 52 batters in 40 innings before being called to the majors.
De La Rosa was optioned to the minors and could be shut down until he can be traded to the Red Sox. He presently has all three option years remaining but should not need to be optioned once he arrives in Boston if all goes well.
1B/OF Jerry Sands
Age: 24; B/T: R/R
Drafted by LAD in 2008 (25th round)
Sands was another 2008 draft steal for the Dodgers, who selected him out of Division II Catawba College in North Carolina in the 25th round and signed him for just $5,000. He has spent most of this season in Triple-A after making his major league debut and getting 227 plate appearances for Los Angeles in 2011, hitting .253/.338/.389 with four home runs.
Sands profiles best as a versatile bench player who can man first base and both outfield corners, although at his peak he could start at first or in left field for a second-division team. He makes slightly above-average contact with above-average power and solid plate discipline but can struggle against off-speed pitches. He has below-average speed, but he is an average defender in left and can play a decent right field thanks to his baseball instincts.
This season in Triple-A Albuquerque, a noted hitter's haven in a hitter's league, he is hitting .303/.380/.531 with 24 home runs and 101 RBIs. He has been scorching hot since the All-Star break, hitting .386/.448/.683 with 12 home runs in 37 games. Sands' breakout came in 2010, his second full season, when he made the jump from low Class A Great Lakes to Chattanooga and swatted 35 home runs, earning the Dodgers' minor league player of the year award.
INF Ivan De Jesus Jr.
Age: 25; B/T: R/R
Drafted by LAD in 2005 (second round)
De Jesus, son and namesake of the former major league shortstop who spent most of his 15-year career with the Dodgers, Cubs and Phillies, profiles as a versatile major league utility player. Ivan Jr. has not hit much in a limited, 40-game major league sample and has lost some of what was solid prospect luster since breaking his leg and missing nearly all of the 2009 season.
De Jesus' best position is second base, and he can passably play either position on the left side of the infield and even step into the outfield corners in a real pinch. He makes slightly above-average contact and has solid average bat speed, but below-average plate discipline and minimal power limit his offensive impact to being a solid line-drive hitter. Since the leg injury, De Jesus is an average runner.
Like Sands, De Jesus is likely headed to Pawtucket with
Pedro Ciriaco
manning with the utility infield spot in Boston. However, De Jesus will not have options remaining after this season, which means either he or Ciriaco may be traded this offseason, as they are relatively redundant position-wise.
Mike Andrews and James Dunne contributed research to this post.