Boston Red Sox:

Joe Maddon
May, 2, 2014
5/02/14
12:42
AM ET
By
Kyle Brasseur | Special to ESPNBoston.com
BOSTON -- If the
Tampa Bay Rays
had gotten their way on Wednesday, they would still be alone at the bottom of the American League East.
After trying to negotiate with the league in regard to the rescheduling of Wednesday night's rainout as part of a day-night doubleheader on Thursday, the Rays were upset with the decision to uphold the Red Sox's scheduling choice. Instead of sulking, the Rays responded by taking both games of the doubleheader, their first sweep of a Fenway Park twinbill in franchise history.
[+] Enlarge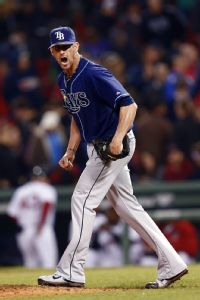 Mark L. Baer/USA TODAY SportsGrant Balfour earned two saves Thursday as the Rays swept a day-night doubleheader at Fenway.
"That's our only course of action in these kind of situations," Rays second baseman
Ben Zobrist
said. As the Rays' acting player representative, Zobrist was among the most vocal about not wanting to play two on Thursday. "We don't really have any pull off the field to make a decision when it comes to being on the road in these other stadiums. It's nice to know that regardless of the situation they put us in, we were able to pull one out."
So was it revenge?
"I'm not going to say that word, but it does feel good," Zobrist said. "I hope everybody enjoyed their bobbleheads."
Indeed,
Dustin Pedroia
bobblehead day became a hot topic of debate with regard to the rainout's rescheduling. Several Rays players reportedly believed that one reason the Red Sox wanted to play two on Thursday was so they wouldn't have to keep the bobbleheads in storage. The bobbleheads were given out to fans in attendance before Wednesday's afternoon game, which the Red Sox lost 2-1.
"I really believe that we had vociferously fought for just one game for a lot of obvious reasons," Rays manager Joe Maddon said. "I'm not going to hide from the reasons, of course, we have a lot of guys injured, we had a lot of very difficult games recently so we wanted one game that we could have played when we were at greater health. It just did not work out that way, thus our players came out and made a statement today and they kind of enjoyed it."
Both wins for the Rays were of the comeback variety, as the Red Sox were shut out after the first inning in Game 1 and blew a three-run lead late in Game 2. Rays closer
Grant Balfour
notched two saves in one day, becoming the first pitcher to do so since
Bobby Jenks
did it for the
Chicago White Sox
on Sep. 4, 2010.
"It's freaking awesome to do it in any stadium," Balfour said about his two-save day. "Definitely against a team that we're fighting [against] in our division is huge. Anyone is great, but especially against these guys."
Balfour said that sticking it to the Red Sox wasn't on his mind heading into the doubleheader. In fact, he didn't even know the team was upset about playing two.
"I didn't know we didn't want to play [a doubleheader], no one asked me," Balfour said. "I'm pretty happy that we did." Heading into this series against the Red Sox, the Rays had lost five of their previous six games, including three out of four to the White Sox in Chicago. Now Tampa Bay will head to New York to face the Yankees and look to end a 10-day, 10-game road streak riding the momentum the Rays built on Thursday.
"I'm so proud of the way our guys handled today; nobody complained about anything and they just went out and played really good baseball for 18 innings," Maddon said. "It was pretty astounding to watch the whole thing play out."
Added Maddon, "All I want us to do is go out tomorrow and play another really good game of baseball. We should get some bounce from this event, I would like to believe."
October, 5, 2013
10/05/13
4:11
PM ET
BOSTON -- One line of questioning to Rays manager Joe Maddon after Friday's 12-2 Red Sox win suggested that the Sox had run up the score on Tampa Bay in the team's four-run eighth inning, when
Jacoby Ellsbury
stole second and
Shane Victorino
went first to third on a hit-and-run single by
Dustin Pedroia
. Maddon didn't buy into that argument at the time.
"That's their prerogative," he said. "I've never been one to use that term 'embarrassed.' If we are, it's our fault. You look for the same opportunities, for them to arise, for you to do the same thing in return, if you can.
"But I don't play that game. I don't believe in that stuff. I know that's something that was written, I think, in 19 aught eight, and it's supposed to be adhered to the rest of your life. And part of it is, it is a different game, especially in this ballpark. Back in the day it took six or seven or eight singles in a row to score three or four runs. There were no homers. Today's ballgame there's a lot more homers and you've got the ability to score quickly in this ballpark. So I'm not of that ilk."
Pushed further on the issue, Maddon didn't waver.
"The old-school rules that were written when singles were the norm and homers were not there's a lot of the game that people get upset about, and part of it is the phrase that 'They are trying to embarrass us.' If they did, that was our fault. Entirely our fault. If you get embarrassed in the game, I blame it on me, us. The accountability lies with the Rays, not the Red Sox doing their job. The object of the game is to score runs, and that's what they were doing.
"Again, I think a lot of those old-school rules that were written were written based on the type of offense that was played back in the day. And I don't necessarily agree with all of them."
Sox manager John Farrell was asked Saturday while meeting in his office with beat reporters whether he sensed the Rays took any offense.
"I heard about [Maddon's comments]," he said. "I don't know, when they're holding our runners on late, or picking off -- pickoff attempts -- that's an indication to us, play it out."
June, 11, 2013
6/11/13
6:15
PM ET
ST. PETERSBURG, Fla. --
John Lackey
wasn't biting when asked about the comments made by Rays manager Joe Maddon, who accused Lackey of intentionally throwing at
Matt Joyce
in the sixth inning Monday night. Joyce had homered to lead off the Rays' first, then dropped his bat with an Ortiz-like flourish after hooking a long foul on a 3-and-0 pitch.
"I saw some of it when I was in the weight room," he said. "I don't have a [response]. He's got to stick up for his guys."
Lackey was asked if he was surprised that Maddon said he acted like a "bad teammate" by hitting Joyce, putting his teammates in danger of retaliation. "I got nothing for you, man," he said. "I'm not going to drag it on."
Asked if he thought it could linger, Lackey said: "I don't know. I can't tell you. It's the big leagues, man. Grown men playing out there. Things happen."
Did Lackey throw at Joyce? Of course he did. But contrary to being a bad teammate, Lackey did it exactly the way a big-league pitcher should, putting it right between the numbers. That's how it would have been handled in bygone times -- go ahead and take a huge cut at a 3-and-0 pitch, big boy, drop your bat like a latter-day George [Bleeping] Ruth, but be prepared to duck on a subsequent at-bat.
That frontier justice might seem antiquated to many, and baseball's unique brand of protocol suspect, but if Lackey was offended by how Joyce handled himself in that at-bat, then his response was clearly within the bounds of acceptable conduct. No head-hunting, no intent to injure, just a don't-mess-with-Texas kind of pitch.
Lackey said he saw no reason to seek out Maddon; the Rays manager, meanwhile, told reporters that while his view of the play hadn't changed, he didn't want it to ruin his longtime friendship with Lackey and intended to seek out the Sox pitcher.
December, 4, 2012
12/04/12
4:14
PM ET
NASHVILLE – When news broke Monday morning that the
Boston Red Sox
and
Mike Napoli
agreed on a three-year deal worth $39 million, many Red Sox players expressed their excitement.
Even a pair of Napoli's former managers weighed in on the type of player he is both on and off the field.
"Tremendous. Tremendous character," said
Texas Rangers
manager Ron Washington. "He's a winner. It's unfortunate things didn't work out here, but we do wish him well in Boston."
Napoli was one of the primary targets for a few teams, including Texas and Boston. Since he ultimately landed with the Red Sox, Texas will need to find a way to fill the void both offensively and defensively.
"It's always an impact when you lose a bat that supplies you with power, and hopefully with that power supplies runs," Washington said. "But we've always been a group of guys that go between the lines and we play for each other. We'll move on and hopefully someone else can pick up the slack and we wish Mike Napoli all the luck in the world."
Napoli spent two seasons with the Rangers and last year played a total of 108 games, including 72 at catcher, 28 at first base and nine as DH. He did have some injury issues, spending Aug. 11 thru Sept. 14 on the DL and missing a total of 33 games with a left quad strain. It was the least amount of games he had played in the last four seasons.
"I think things that happened to Nap were freak because he plays the game extremely hard. He's a winner," Washington said. "Like I said earlier, he's no longer a Texas Ranger and I don't want to get into trying to assess Napoli because he's not here."
Before his two seasons in Texas, Napoli spent five years with the Angels, where current
Tampa Bay Rays
manager Joe Maddon served as a coach.
"I love Nap," Maddon said. "He came on a couple of years in Texas. What makes him great is acceptance of the opposite field. He became much more difficult with two strikes. Nap's always had severe power.
"I remember working on him at the backfields at Diablo, just trying to clean up some things back then, because of this enormous power, but there was a lot of swing and missing, too. He's made some really great adjustments. He's a makeup guy like Jonny [Gomes] is. Not as outspoken as Jonny, maybe not as flamboyant in a sense, but a man's man kind of thing. He's going to be great in the clubhouse. Nap is a good catcher. Pitchers like him."
Maddon admitted that Napoli probably won't catch as much in Boston, but having he and Gomes on the same team will help the Red Sox, he said.
"Both of them together are going to bring a lot of positives to that clubhouse," Maddon said. "There's no doubt. And that's good for the Red Sox."
September, 17, 2012
9/17/12
6:58
PM ET
Tampa Bay Rays manager Joe Maddon said that he wasn't bothered by Red Sox manager Bobby Valentine bringing him into a heated discussion on Boston sports radio station WEEI last month in which Valentine was explaining why he arrived fewer than three hours before the start of a game in Oakland. In defending himself against criticism that he was late, Valentine said Maddon arrives at the ballpark "every day at 4 o'clock."

"I thought it was pretty funny. I didn't quite understand why I was being treated to such an illustrious moment," Maddon told reporters in St. Petersburg, Fla., on Monday, prior to Red Sox-Rays game, according to WEEI.com. "I was not upset. I was not anything. I just thought I needed to throw a little bit of humor out in response to that."

On the afternoon after Valentine's testy radio interview, Maddon said via Twitter: "Apologies to the writers for being late to today's pregame session. My pedicure appointment ran a little late."

Maddon said that on Monday, he showed up at the park "right around 3 o'clock."

"I was definitely going to come around 4, but I just thought the first game of the series, I couldn't do it. I had to get the lineup up," he said. "I definitely wanted to come at 4 o'clock today but I didn't."
May, 26, 2012
5/26/12
6:00
PM ET
BOSTON -- It was quite evident during batting practice on Saturday at Fenway Park that the
Boston Red Sox
and
Tampa Bay Rays
players and coaches were going out of their way to shake hands, give hugs and talk more than usual in an attempt to smooth things over from Friday night's bench-clearing altercation.
Whether those are acts of kindness or guerilla warfare tactics remain to be seen at this point.
Friday's scrum began in the top of the ninth inning after Red Sox reliever
Franklin Morales
drilled Tampa batter
Luke Scott
. No one was ejected but the respective coaching staffs were visible going at each other during the massive shoving and screaming match near home plate.
One Red Sox staffer said he did not appreciate some of the comments the Rays were making about Boston manager Bobby Valentine during the tussle. In fact, Tampa skipper Joe Maddon said after the game he believed there was a "hit" put out on Scott and called the Red Sox coaching staff "cowardly" and weak" for the way they acted.
Valentine's philosophy is coaches should try to stop events such as Friday night's from escalating, but he also thought Tampa's coaching staff aggravated the situation.
"I thought their coaches were really aggressive," Valentine said. "As a matter of fact, I took offense to the aggressiveness of their coaches. I thought it was very unprofessional and I really was proud of the way my coaches were trying to do what they were supposed to do in those situations. [Tampa's coaches] seemed very immature and out of control."
Valentine also did not like Maddon's comments about the Red Sox coaching staff calling for the "hit" on Scott.
"Is that how they do it there? When they throw at our guys it comes from the coaches, you mean? Oh. I don't know about protocol or how things are done on their side, and I don't think they know how things are done on our side. Whatever."
Despite the events of Friday and the history between these two clubs in recent years, Valentine said he didn't think each side would be issued a warning before Saturday's game.
"It seems like a pretty veteran umpiring crew," he said. "I don't know if they'll have to issue warnings before the game starts, but possibly."
When Friday's scrum began and the Tampa dugout emptied, Red Sox pitching coach Bob McClure was one of the first out of the home dugout.
"We're in it to win it," Valentine said. "There was no doubt that the coaching staff, me and the players were together -- unified."
Valentine said he did not plan on speaking with Maddon before Saturday's game, but added he really liked the Rays' manager. Valentine is even contemplating bringing the scorecard to home plate before the game, which is usually the job of bench coach
Tim Bogar
.
"Maybe I'll take it up tonight. I've taken it up a couple of times this year," Valentine said. "Yeah, maybe I'll take it up to see what everyone's temperature is before it starts."
March, 18, 2012
3/18/12
9:24
PM ET
PORT CHARLOTTE, Fla. -- Tampa Bay manager Joe Maddon, his head recently shorn on behalf of a fundraiser for pediatric cancer, touched on a number of topics Sunday, including his relationship with Red Sox pitcher
John Lackey
, his assessment of Sox catcher
Kelly Shoppach
and his comfort level with the Rays being cast as favorites in the American League East.
* Maddon was a coach with the Angels when Lackey broke into the big leagues and as a rookie was the Angels' winning pitcher in Game 7 of the 2002 World Series.
"When he first came up, John was unflappable,'' Maddon said. "We wanted him pitching the big games. The coaching staff did, the other players did. His rookie season we wanted him out there. He was always that guy for me in Anaheim.
"I don't know that's he's ever been really comfortable in Boston. To what degree his elbow was hurting him, fact [is] it ended up in surgery. John's a tough guy. He's not always going to tell you what's going on. He's not going to make excuses about physical problems.
"Obviously Boston hasn't seen the best of John yet. He and I are good friends. I have a lot of respect for him. He and I had a great relationship when we were together with the Angels. We'd go and have a beer together. I enjoyed his company.
[+] Enlarge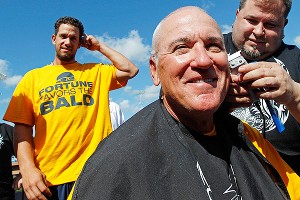 AP Photo/Charles KrupManager Joe Maddon has his head shaved as part of a fundraiser for the Pediatric Cancer Foundation. Maddon was one of 71 members of the Rays organization to participate.
"I'm curious to see how it all turns out for him. I hope it turns out well. I consider him a friend and I was a part of some big moments with him, and I have a lot of respect for him.''
* Maddon was Shoppach's manager the last two seasons with the Rays.
"Shop, I really thought did a couple things really well,'' Maddon said. "I thought he blocked well and thought he threw really well last year. I thought he did a better job in both of those things than the previous year. I think he's a pretty good receiver too.
"The thing I like about Shop is he's a very calm baseball player. In big moments, he doesn't get bothered by it whatsoever. He's always the same guy every day. That's a strength of his. I think the pitchers like to throw to him.
"Obviously the offense was sporadic, but he came through at the right time last year and he has that in his bat. He's got big power in his bat. If he gets hot, he can get really streaky.''
Maddon was asked how long it will take Shoppach to ingratiate himself with the Sox pitching staff.
"He's a very affable, likable guy, so I think he can relate to [Sox pitchers]. It won't take him long. He's very confident in himself, very sure of himself, and I think as a pitcher you like having a catcher who's that way. I don't know how he compares to [Jason] Varitek regarding the study; I've heard all the legendary academic moments with Varitek getting ready for a game. I don't know whether he compares on that level. I do know that I think pitchers will enjoy him.''
Maddon grinned knowingly when told of how Shoppach's bat went flying into the third-base stands Saturday.
"I really prefer to be in the first-base dugout when he's hitting,'' Maddon said. "He's got a great bat-throwing ability. He definitely took the term, 'throwing the head of the bat at the ball' to another level.''
* Loaded with starting pitching, the Rays are drawing plenty of support as favorites in the AL East.
"They're a good team, but I don't know about favorites,'' Sox manager Bobby Valentine said Sunday. "I wouldn't want to say anything to slight the Yankees.''
Valentine, of course, has shown no hesitation to tweak the Yankees.
Here's what Maddon said on the topic:
"I'm beginning my seventh year here and it's great to hear, based on where we've come from,'' Maddon said. "I've already talked to my players about it. I don't want us ever to run from expectations. I think it's wonderful to have expectations. I also believe that high expectations should bring out the best in you. I really want to believe that about any performer.
"It's just a validation of the fact of the last four years being in the playoffs. I believe you have to approach this with the right mindset. Part of it is to accept it. The other part of it is to really work through it, meaning that you don't always believe what you're reading, don't believe all the press clippings. Don't believe you can just throw your glove out there and do something, because that's the moment where everything will absolutely fold on you.
"So there's a certain amount of humility attached to that. Not false humility, but actual legitimate humility, which is a very strong human quality that permeates things like courage. I don't want any false humility, either. We feel we are good; let's go out and prove it.''
April, 11, 2011
4/11/11
5:44
PM ET
BOSTON -- Red Sox left fielder
Carl Crawford
sat alone in the home dugout at Fenway Park on Monday afternoon and kiddingly said he might have to perform some sort of séance to the baseball gods to get him out of his current 5-for-38 slump.
Crawford's start in Boston hasn't been the best, but he said he's not worried, because he has been hitting the ball hard the last couple of games.
"I'm not really disappointed because I know it's just the beginning. Let's hope it gets better," he said.
Maybe facing the club he grew up in as a professional will help. The Red Sox host Crawford's former team, the
Tampa Bay Rays
, in a three-game set, beginning tonight.
"It's going to be fun, seeing my old teammates," Crawford said. "I had a chance in spring to do that, but it should be fun."
Crawford is not the only former Ray set to face his old employer.
Red Sox reliever
Dan Wheeler
played seven seasons with Tampa during two separate stints. This is the first time he's faced a former club, and he said he'll treat it just like any other series.
"It's just another game," said Wheeler, a native of Warwick, R.I. "I know it's hard to believe, but that's how I'm treating it. There are a lot of different faces over there, but some familiar faces. At the same time, I need to go out and there's a job that needs to be done. They're going to try to get a hit, and I'm going to try to get them out."
Red Sox manager Terry Francona was asked about Crawford playing against his former team, and if it would help or hurt his confidence.
"I thought we did that in spring training," Francona said. "That's why I sent him up to Port Charlotte the first night just so he could talk to everybody and get everything out of the way. I guess it has to be the regular season too. He's been through the American League East and I don't think answering a couple of questions will effect whether he gets hits or not."
The managerial styles of Francona and Rays skipper Joe Maddon are completely different. While Crawford said with a laugh that he would pass on a request to compare the two, Wheeler talked about what it's like to play for each manager.
"Tito's a little more traditional and Joe is a little more out there," Wheeler said. "That works for [Tampa], it really does. I really enjoy both aspects of it. Joe thinks outside the box and it's good. He's good, he really is. I don't know how else to describe it, but he's a little out there -- in a good way."
Wheeler also said he can't believe the records of the respective clubs at this point. The Sox are 2-7, the Rays 1-8.
"No, absolutely not. I think there's way too much talent in both clubhouses."