Boston Red Sox:

Joe Mauer
November, 27, 2012
11/27/12
5:16
PM ET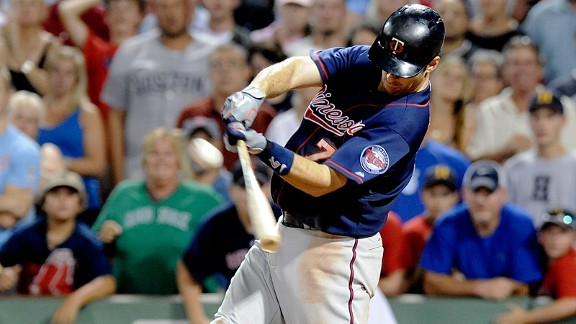 Bob DeChiara/US Presswire
Forget the Jon Lester rumors, the Red Sox's big spalsh this offseason should be making a trade for Twins catcher Joe Mauer, who would project to fill the first base void left by Adrian Gonzalez. That's the case Gordon Edes makes in his
latest column on ESPNBoston.com
. Writes Edes:

"Gonzalez's departure leaves a gaping hole in the middle of the Sox lineup, the kind of hole that in the American League East, especially, you fill not with complementary players but with stars. The right star. Josh Hamilton is not that guy. Wonderful talent, to be sure, but too many question marks.
"Joe Mauer is that player. Five-time all-star, three-time batting champion, former MVP. He will be 30 years old in April, still in the prime of his career, and almost certainly receptive to making a position change from catcher to first base, to save on the physical pounding he has absorbed in nine seasons in the big leagues."
Edes argues that Mauer -- who is owed $138 million over the next six seasons -- makes business sense, too:
"While the Red Sox have been knocked for making baseball decisions with an eye on how it will play in their marketplace, it's foolish and naive to suggest it shouldn't be a consideration. The Red Sox need to win back the support they lost in 2012, when season-ticket holders had trouble giving their seats away. The business model does not sustain rebuilding seasons in Boston; the Sox need to show their fans they're committed to competing in 2013."
Your turn:
Do you think Mauer makes sense for the Red Sox? Vote in the poll above and share your thoughts in the comments section.
November, 23, 2009
11/23/09
5:08
PM ET
The American League MVP winner was announced Monday afternoon and it was no surprise: Joe Mauer (future Red Sox catcher?).
The Twins catcher (and prospective free agent after the 2010 season) received 27 of 28 first-place votes; the last AL MVP to get at least 27 first-place votes, according to ESPN researcher Mark Simon, was Ken Griffey, a unanimous choice in 1997 while with the Mariners.
The other first-place vote went to Detroit's Miguel Cabrera; the lone voter presumably casting his ballot before Cabrera went on an all-night bender on the last weekend of the season, contributing to his team losing the AL Central title that was won by Mauer's Twins in a one-game playoff.
Red Sox players Kevin Youkilis and Jason Bay finished sixth and seventh, respectively. Youkilis had two second-place votes. Dustin Pedroia, the 2008 MVP, did not appear on any of the ballots cast, which ranked selections from first to 10th place. Incredibly, five other AL second basemen appeared on ballots: Tampa Bay's Ben Zobrist, Toronto's Aaron Hill, the Yankees' Robinson Cano, the Tigers' Placido Polanco and the Rangers' Ian Kinsler.
Mark Teixeira and Derek Jeter of the Yankees finished 2-3, respectively, with Cabrera fourth and Kendry Morales of the Angels fifth. Six Yankees received at least one vote: Teixeira, Jeter, Cano, Alex Rodriguez, Mariano Rivera and CC Sabathia.

Meanwhile, to keep up with how Sox prospects are doing in the Caribbean winter leagues, I highly recommend this link at Soxprospects.com. These guys have a great site.