Boston Red Sox:

Joe Nelson
April, 5, 2014
Apr 5
1:51
AM ET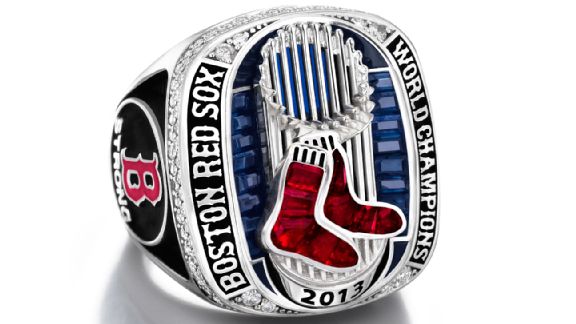 Courtesy of the Red Sox
PAWTUCKET, R.I. -- In
Brayan Villarreal
's only outing for the
Red Sox
last season, the right-hander faced one batter, issuing a four-pitch walk with the bases loaded in the bottom of the ninth inning as the
San Francisco Giants
posted a 3-2 win over the Red Sox on Aug. 20 at AT&T Park.
On Friday, Villarreal was at Fenway Park to accept his World Series ring.
David Ortiz
, a three-time World Series champion, was sporting all three rings, along with a special 2013 World Series MVP ring on a thick, silver chain around his neck after Friday's ceremony. He was asked specifically about Villarreal receiving a ring, and, without hesitation, Ortiz answered.
"Everybody who played on the ballclub last year did something to win a ballgame, so it's well deserved," Ortiz said.
After the ceremony, Villarreal returned to Pawtucket, R.I., where the Triple-A PawSox were hosting the Lehigh Valley IronPigs at McCoy Stadium. He did not pitch in Pawtucket's 9-4 win, but afterward, he was showing teammates his ring.
"Man, that was a pretty good experience," Villarreal said. "It's so good when you work hard and you see results, even though I didn't play that much with them. I only got to pitch in one game. I'm so blessed I got traded to the right team, in the right moment, so I was just enjoying it."
Villarreal was part of the three-team trade on July 13, 2013, that involved the Red Sox sending shortstop
Jose Iglesias
to the
Detroit Tigers
and receiving
Jake Peavy
from the
Chicago White Sox
. Villarreal remembers what it was like to pitch for the Red Sox last Aug. 20.
[+] Enlarge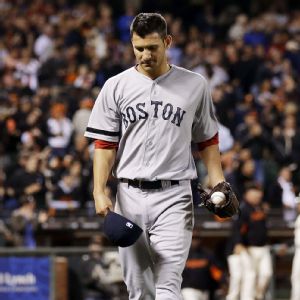 AP Photo/Marcio Jose SanchezBrayan Villarreal's lone 2013 big league appearance was Aug. 20 in San Francisco, where he walked home the winning run in the bottom of the ninth.
"I remember it exactly," he said. "I got called up the day before I got to pitch, and I was excited to be with a new team. While it didn't go good, it didn't go as I wanted it to, but that's just how it is. I didn't get to pitch anymore, but I got the ring. They became champions, and I was happy for them."
"We were part of the team. I faced only one batter, but we shared with the team. We wore the uniform. We cheered for them, and we were right there. Anyone that is part of the team is allowed to get a ring."
There have been many players who had limited roles on all three Red Sox championship clubs in the past decade that received rings. For many of those players, earning that ring was the highlight of their career. Some never returned to the big leagues.
Former Red Sox pitcher
Joe Nelson
spent parts of six seasons in the big leagues with five different teams, including two separate stints with the Red Sox. In 2004, he spent the majority at Triple-A Pawtucket, but he was recalled by Boston and made three appearances. He worked a total of 2⅔ innings during that stint, allowing five runs on four hits with three walks and five strikeouts.
Nelson earned a World Series ring.
"It's incredible," Nelson told ESPNBoston.com on Friday. "I pitched three innings, and I think I gave up five runs and I barely got anybody out, but they were in a stretch where a couple of guys got hurt and they were looking for anybody to help from Triple-A. I came up and they tried to keep me out of as many games as possible because I wasn't throwing that great. But I had to get in there a few times, and I don't look at it as I only played three games. I was on the '04 Red Sox, and no one can ever take that away from me. It was one of the highlights of my career. I got to be on a championship team."
Nelson was not on the Sox's postseason roster, and he wasn't part of the duck-boat parade.
"I didn't care. You think I was cheering any less when I was sitting at home when they were playing the
Yankees
[in the ALCS] and when they were playing the
Cardinals
[in the World Series]? Knowing that I was going to be a part of history -- I won a World Series ring," Nelson said. "
Barry Bonds
played his whole career and he never won one, and he's one of the greatest players of all time."
On July 2, 2004, the Red Sox acquired right-handed pitcher
Brandon Puffer
from the
San Diego Padres
. He was assigned to Pawtucket and spent the remainder of the season with the PawSox. On Sept. 1, the Red Sox needed reinforcements for the next day's game.
Puffer was recalled on Sept. 2 but never pitched that day for the Red Sox and was assigned back to the minors following the game. Due to the 72-hour waiver rule, and the fact that the PawSox's season ended on Sept. 6, Puffer's season was over.
Puffer earned a World Series ring.
"The Red Sox are a very class organization," Nelson said. "They made the choice in '04, '07 and last year that every player that was a member of the Boston Red Sox and suited up for them is going to get a ring. That shows the class of [owner] John Henry, [chairman] Tom Werner, [president and CEO] Larry Lucchino and [general manager] Ben Cherington and how they run the organization. They appreciate the fact that whether it's a small, small, small role or you're
Koji Uehara
or
Jon Lester
, you are an impactful player for the Boston Red Sox."
When hearing Villarreal received a ring this year, Nelson was thrilled.
"How many people on the planet? Only 18,500 have ever worn a major league uniform -- that's why he gets a ring, because he's pretty special," said Nelson, who is a pro scout for the
Seattle Mariners
.
Nelson's math is pretty close. Elias is not able to provide an exact number but says approximately 18,000 men have played in the majors. Think about that for a second: That's less than capacity for a
Boston Bruins
game at TD Garden.
Nelson, who is now a pro scout for the Mariners, thinks Villarreal definitely deserves a ring.
"If they need you for one batter or one game and you walk the guy; you are on the team, and you're a contributing factor in why they won the World Series -- whether it was organizational depth or whatever," Nelson said.
This past winter, Nelson attended a father/daughter dance, and his daughter asked him to wear the World Series ring.
"I'm proud of it," Nelson said. "Believe me, one day my son is going to get my World Series ring, and I hope he's as proud of it as I am because it meant a lot to me."
In April 2004,
Phil Seibel
made two appearances for the Red Sox. He worked a total of 3⅔ innings and allowed no runs and no hits with five walks and one strikeout. The left-hander was assigned to Pawtucket and remained there for the rest of the season before having Tommy John surgery in November.
He earned a World Series ring.
"As you can imagine, especially that ring, it was pretty surreal," Seibel said.
Seibel remembers arriving in spring training in 2005 and having no idea he would receive a World Series ring. As camp progressed, one of the team's clubhouse attendants informed Seibel he needed to be fitted that day for his ring, which was a complete surprise.
At the time, Seibel was rehabbing from Tommy John surgery and was scheduled to remain in Fort Myers, Fla., after the Red Sox broke camp. The representative from the organization informed him that he would join the Red Sox and receive his ring on Opening Day at Fenway Park.
On April 11, 2005, Seibel stood in the dugout with all the other members who played for the Red Sox in 2004 and waited to receive his ring in a pregame ceremony. He wanted to make sure his father was a part of his big moment, so he called his dad on his cell phone and kept the line open during the introduction. As Seibel walked out to receive his ring, a video clip of him striking out the Yankees'
Jason Giambi
was shown on the scoreboard.
When the ring ceremony was done, Red Sox legend Johnny Pesky came over and gave Seibel a big hug.
"It was a great experience, just a lot of fun," Seibel said. "It was a blast, and [I'm] obviously thankful the Red Sox decided to make it available to all of us."
June, 17, 2010
6/17/10
9:10
PM ET
BOSTON -- Former Red Sox reliever
Joe Nelson
, who was designated for assignment by the team last week and cleared waivers on Wednesday, has declined his minor-league assignment and will likely retire from professional baseball.
The 35-year-old righthander spent the majority of his 15 years in the minors and spent parts of six seasons in the big leagues with the Red Sox, Braves, Royals, Marlins and Rays. Nelson had two different stints with Boston he earned a World Series ring in 2004.
"I think I'm hanging them up," he wrote in a text message. "Unless somebody comes at me in the next day or two."
He's back home in Florida and ready to become a full-time dad. He said his family is happy with his decision.
"Yes they are," he wrote. "So am I. It's just time, no looking back. I achieved more than I ever dreamed possible. [I played] a kids' game until I was 35. What luck I have had."
He ends his career with a 7-2 record and a 4.38 ERA in 157 big-league games.
It's likely he'll end up in baseball operations for an organization because of his knowledge and respect for the game.
June, 11, 2010
6/11/10
5:35
PM ET
BOSTON –- It's been a busy day of transactions and injury updates for the
Boston Red Sox
.
* The club placed outfielder
Jeremy Hermida
on the disabled list with five fractured ribs. He suffered the injury in a collision with third baseman
Adrian Beltre
last Friday in Baltimore. It was a similar collision that has sidelined fellow outfielder
Jacoby Ellsbury
after his collision with Beltre on April 11 in Kansas City.
"We spoke to [Hermida] when he came in and we had a conference call. We're going to DL him and let these things calm down a little bit," said Red Sox manager Terry Francona. "We'll go at a pace he can tolerate. That doesn't really change. It's kind of eerily similar to -- Beltre is going to take out our whole outfield. We'll try to let that heal a little bit.
"He was feeling better today, which we know can happen. We just want to slow it down a little bit and not have him go one step forward, two back, the rest of the year."
Click here
for more on Hermida.
*Red Sox second baseman
Dustin Pedroia
had a MRI taken on his right knee today and the results came back clean. Pedroia said he feels fine and he's in the lineup tonight.
"They could amputate my leg and I'd still play," he said.
*Red Sox first baseman
Kevin Youkilis
, who was removed from Thursday's game in Cleveland with back spasms, is not in the starting lineup tonight against the Phillies. According to Francona, Youkilis is a little stiff.
"He did a good job of getting himself out of there. Maybe that's something he wouldn't have done in the past," Francona said. "He would have tried to play through, and it would have cost him three for four days. I'm pretty sure he'll be fine for tomorrow."
Francona said Youkilis could be available to pinch hit tonight.
*The Red Sox reinstated closer
Jonathan Papelbon
from the bereavement list and he's available to pitch tonight.
*Right-handed reliever
Joe Nelson
was designated for assignment. He said unless he gets picked up off waivers, it's unlikely he'll accept an assignment to Triple-A Pawtucket. Nelson is flying home to Florida tonight and will talk with his agent and wife before making a decision.
"In all likelihood, if I clear waivers, I've probably thrown my last pitch," he said. "I don't anticipate myself going back to Pawtucket, but that's emotion talking right now and we'll probably reanalyze it when I'm not as disappointed.
"I had every opportunity and I didn't produce. The thought of going to Triple-A doesn't sound that great. We'll wait and see what options present themselves. As a whole, you've got to perform better. That's what it comes down to. They gave me every chance to succeed and I didn't make the pitches. There's not a hard feeling in the world between the Red Sox and me. Every day I got to spend up here was a blessing and not taken for granted. I need to do a better job."
The Red Sox filled Nelson's bullpen spot by recalling reliever
Scott Atchison
from Pawtucket.
May, 30, 2010
5/30/10
6:38
PM ET
BOSTON --
Boston Red Sox
reliever
Joe Nelson
says he can't remember the last time he reached 91 miles per hour on the radar gun.
Actually, he does.
The 35-year-old righthanded finesse pitcher reached back and recorded a 90-plus fastball during his 1-2-3 ninth inning of work to help Boston to an 8-1 victory over the Royals on Sunday at Fenway Park. Nelson admitted after the game that he believes the last time he was clocked at that speed was 2008 when he was with the
Florida Marlins
.
So what made the difference Sunday?
Former Red Sox pitcher Luis Tiant was in the clubhouse on Saturday night, pulled Nelson aside and gave him some advice. Of course, "El Tiante" is known for his unique delivery and thought it was about time Nelson gave it a bid.
"Louie said, 'Hey, you need a little hip turn. It got me 172 wins. I think you need a little something in there,'" Nelson said. "So I played catch with it today and I took it into the game. My velocity was a little better and changeup was a little better, so now I just need to fine tune it."
Nelson's velocity did improve and his changeup was a filthy 79 mph.
This is Nelson's second stint in the Red Sox organization and he's clearly having fun with it. His entrance song is Miley Cyrus's teen anthem "Party in the USA", which is getting a lot of positive feedback. It's certainly a big difference from the song the reliever came out to for most of his professional career: Black Sabbath's "Iron Man".
His daughter asked him to use Cyrus' song, so Nelson changed it. Tiant asked him to use his hip turn, so he tweaked his delivery. Both are working for him right now.
April, 1, 2010
4/01/10
7:39
PM ET
The final spot in the Red Sox bullpen will go to left-hander Scott Schoeneweis, according to a team source, with right-handed reliever Joe Nelson starting the season at Triple-A Pawtucket.

Schoeneweis and Nelson both worked a scoreless inning in Boston's 5-3 victory over the Twins on Thursday. Nelson signed with the Red Sox this offseason and has been in camp for the entire spring. Schoeneweis signed with the Sox after being released by the Brewers on March 25.
April, 1, 2010
4/01/10
5:12
PM ET
With
Scott Atchison
assured of a bullpen job and
Alan Embree
certain to start the season back in Florida, it's down to either
Scott Schoeneweis
or
Joe Nelson
for the final spot in the Red Sox bullpen.
Each pitched a scoreless inning in Boston's 5-3 victory over the Twins on Thursday afternoon, the left-handed Schoeneweis giving up one walk and no hits in the eighth and the right-hander Nelson surrendering two hits and no walks in the ninth.
The team wasn't ready to announce a decision after the game, but we should know more Friday.
February, 24, 2010
2/24/10
10:08
AM ET
FORT MYERS, Fla. -- Red Sox veteran reliever
Joe Nelson
will be fighting for a spot in the club's bullpen this spring. The right-hander, who signed a one-year guaranteed minor-league deal with a non-roster invite to camp this offseason, says he's throwing the ball very well this spring.
He's definitely leading the relief staff in one category – sun tan.
"We've been doing a lot of running and it takes me a little longer than the other guys, so I'm nice and tan," the 35-year-old said jokingly.
February, 21, 2010
2/21/10
12:36
PM ET
FORT MYERS, Fla. -- Six quick hits on Joe Nelson, the veteran reliever bidding for a spot in the bullpen:

1. Resuscitated by the Red Sox: Nelson has been with the Sox before, for 18 days in 2002, and then re-signed in 2004 after missing all of '03 with elbow problems. "They resurrected my career by taking a chance,'' he said.

2. Basketball jones: Nelson was the shooting guard on Jason Kidd's high school basketball team at St. Joseph's High in Alameda, Calif.

"I only played with him my junior year, his senior year. I hit the shot that broke the all-time assist record for California high school sports. It was one of my, like, 12 buckets that year."

Nelson was a defensive specialist. "The coach said, 'We have a really good team. I need you to play defense against whoever their best player is. I need you not to worry about anything except filling the lane.' We played Rasheed Wallace that year. We played an amoeba zone like UNLV was running those days, and I was the 'one.' They could be 6-10 or 5-8, I was guarding them. I held Rasheed to 14 points.''

Kidd batted leadoff and played center field on a state-championship winning team. "There's no doubt in my mind if he had gone this way he would have been an all-star,'' said Nelson, who was a shortstop in high school. "Any sport he played, he's the best athlete I've ever witnessed in person, and I've seen some great ones.''

3. His nickname in high school was 'Jellybean': "I had bought my girlfriend some jellybeans and had 'em in a bag. I made a turn, and the whole bag opened up and spilled into my air conditioning vent. Every time my car got hot, it smelled like watermelon jellybeans. The name stuck. Every time I'm sitting in a bullpen and hear someone yell, "Hey, Jellybean," I know it's got to be someone from Chico or Alameda.''

4. His first year in the minors was in Eugene, Ore.: "My shortstop was Mark DeRosa,'' he said. "Our starting rotation was Bruce Chen, Odalis Perez, Rob Bell, Kevin McGlinchy and me. Five for five in guys making the big leagues.''

5. Best surgical outcome ever: The radiologist whom Nelson credits for diagnosing his elbow injury prior to undergoing Tommy John surgery in 1999 was Teresa Cortinas, who became Nelson's wife. "I got a scar, a ring, a good wife and three kids,'' he said.

6. Into the shop: Nelson says his problems last season with Tampa Bay were mechanical, but believes that former pitcher Jack Armstrong corrected the problem during an offseason session.

"Statistically, it wasn't that bad, but it could have been a lot worse. I got bailed out of a lot of bad innings by other guys in the pen. I couldn't figure it out for the life of me. My arm felt great, but I didn't have the same velocity, same action on my pitches. No fault of Tampa. It wasn't physical, it was all mechanical. Incredibly frustrating because throwing a baseball for me is like picking up a fork for you. It's not something you forget how to do.

"Pitching is a lot more confidence than you think. If you lack confidence and have self-doubt, it's tough.''

BONUS: Nelson uttered this immortal line the first day of Rays camp in Port Charlotte: "I didn't know they were having a casting call for 'Cocoon 3.'"

One more Port Charlotte observation: "Going to Chili's was the highlight for me.''