Boston Red Sox:

John Henry
August, 3, 2013
8/03/13
2:20
AM ET
BOSTON -- Businessman John Henry, the principal owner of the Boston Red Sox, has entered into an agreement to buy the Boston Globe.

The impending purchase marks Henry's "first foray into the financially unsettled world of the news media," the Globe said early Saturday. The deal will give Henry the 141-year-old newspaper, its websites and affiliated companies, it said.

The New York Times Co. announced in February it was putting the Globe and related assets up for sale four years after calling off a previous attempt to sell it. The company's CEO said at the time selling the Globe would help the company focus attention on the New York Times brand.

Henry, in a statement published by the Globe, cited the "essential role that its journalists and employees play in Boston, throughout New England, and beyond."

"The Boston Globe's award-winning journalism as well as its rich history and tradition of excellence have established it as one of the most well-respected media companies in the country," Henry said.

Henry said he would reveal details about his plans for the Globe in the next few days.

Along with the Globe, the Times planned to sell the Worcester Telegram & Gazette; the publications' related websites; the Globe's direct mail marketing company, GlobeDirect; and a 49 percent interest in Metro Boston, a free daily newspaper for commuters.

The Times bought the Globe in 1993 for $1.1 billion from the family of former Globe executive Stephen Taylor. The newspaper has faced difficulties in recent years as advertisers cut spending on newspapers and moved more ads online. Still, the Globe is a journalistic institution in New England and was lauded for its coverage of the April bombings at the Boston Marathon.

A round of cost-cutting in 2009, which involved pay cuts, helped put the newspaper on better financial footing and prompted the Times to call off a planned sale. In late 2011, the Globe started charging for access to its online version at BostonGlobe.com, which helped to boost circulation revenues.

The Times company doesn't separate Globe revenue from New York Times revenue in its financial statements. But the Globe had an average weekday circulation of 230,351 in the six months through September, up 12 percent from a year ago, according to the Alliance for Audited Media. The newspaper's increase in digital subscriptions more than offset declines in print. But the total is still down significantly from the nearly 413,000 it boasted in September 2002.
July, 30, 2013
7/30/13
8:38
AM ET
Red Sox owner John Henry had a succinct take on the blown call at home plate that might have cost his team a victory and dropped them into second place. He tweeted the following after the game:
A 2-game impact

— John W. Henry (@John_W_Henry) July 30, 2013
With the loss, the Red Sox dropped a half game behind the Rays in the AL East. A victory would have put them 1½ games in front of the Rays.
January, 20, 2013
1/20/13
5:30
PM ET
Here is a telegram (remember those?) that Red Sox principal owner John W. Henry received during the magical October of 2004:
Dear John,

Congratulations on winning the ALCS. This should be a great Series with these two championship teams. Missed you this summer in Boston. I will not be making the trip to Boston this weekend, but I am looking forward to seeing you in St. Louis on Tuesday. Good luck.

Your friend,
Stan Musial
There was a time when Henry's only goals, he once said, were to land a job in St. Louis and make enough money to buy season tickets to see the Cardinals. In the corner of his office in Fenway Park is an old radio, not unlike the kind Henry grew up listening to Cardinals games on, during a childhood divided between Ford City, Ark., and Quincy, Ill.
"I used to have an old Zenith -- a shortwave, about that size," Henry told me in 2004, before the Sox swept his boyhood idols in the World Series.
"Growing up on a farm in Arkansas, my nearest neighbor was about a mile away. I really didn't have much in the way of playmates. I was a complete introvert. I had a great front yard. People would come to my front yard, friends would come over and play baseball, but I was too shy to ask if I could play.
"The Cardinals were really my world. I had a rich inner life."
His hero, of course, was Stan Musial.
"Stan the Man," Henry said. "He was our Ted Williams.''
On Saturday, Musial died at the age of 92. He was a three-time MVP, a seven-time batting champion and so beloved in St. Louis there are two statues of the Hall of Famer outside Busch Stadium.
On Sunday, Henry shared his thoughts on Musial's passing in an e-mail.
"Shortly after I purchased the Florida Marlins, they asked if I would throw out the first pitch on Opening Day. I said no. I saw this as an opportunity to meet Stan Musial. Stan the Man had been my idol as a boy. As a boy, I wore a Cardinal cap so much that my schoolmates called me 'St. Louie.' I wore it because Stan wore it.
"When I played in Little League, I adopted his corkscrew stance and his demeanor. His demeanor, so well depicted in George Vecsey's recent book about Stan, was as much an attraction as his swing.
"I called Stan to ask him if he would throw out the first pitch of the 1999 season in Florida -- even though no one could argue that Stan Musial had any connection with the Marlins. He was delighted. He flew in the night before to stay at our home, played harmonica and he laughed heartily and often. We watched opening night (played in Mexico that year) together on television.
"Before he walked out onto the field for his pitch the next day, he said, 'I'm not going out there unless you throw one with me. This is a big day for you.' That's the kind of person he was.
"He would send me great little gifts over the years after that -- memorabilia -- and inscribe, 'For a great Musial fan, from Stan.'
"He was everything a boy growing up in the Midwest could aspire to be. He had time for everyone and loved life as much as he loved the game of baseball, Lil and his family. Baseball has lost what many of us who grew up with the Cardinals would say was its finest man.''
January, 20, 2013
1/20/13
5:00
PM ET
Red Sox owner John Henry shared a memory of Earl Weaver, the Hall of Fame manager who died Saturday at the age of 82.

"I moved to Florida in 1989," Henry wrote in an e-mail, "to do the Senior Professional Baseball Association." Henry owned the West Palm Beach Tropics. "Our manager was Dick Williams. We had Dave Kingman, Mickey Rivers, Al Hrabosky, Ron Washington and many others.

"One day in preseason we were playing in Miami against Earl Weaver's team. After the game, I went into Earl's office and introduced myself. I told him that we had a catcher who we were going to have to cut who had been playing in the Mexican League. 'He can really hit, but we have two excellent catchers. Your catching looks suspect.'

"He replied, trying to suppress laughter, 'Young man, this has to be the first time in my baseball career anyone on the other side of the field ever tried to help me. And boy, do I need help.'

"We always laughed about it whenever I saw him after that."
November, 9, 2012
11/09/12
5:58
PM ET
An investment company run by the owner of the
Boston Red Sox
says it will stop managing money for clients.
A notice on the website of John W. Henry & Co. says it will stop managing clients' assets on Dec. 31. The company trades commodities, foreign currencies and debt.
The company has suffered a well-publicized decline in business over the past five years. It assets under management have fallen from $2.4 billion in September 2004 to $188 million this July.
Henry is also the owner of Liverpool, of soccer's English Premier League.
October, 24, 2012
10/24/12
1:07
AM ET
BOSTON -- They liked the photo so much, it's on page 43 of the team's 2012 media guide, at the end of Bobby Valentine's bio.
Four men have their hands clasped together in front of them: from left to right, Red Sox CEO Larry Lucchino, GM Ben Cherington, Valentine and principal owner John W. Henry.
Tuesday afternoon at Fenway Park, only two men sat at the dais: Cherington and the new manager hired by the Red Sox, John Farrell. Lucchino sat to one side with other team officials and Farrell's wife, Sue. He could not have sent a more obvious message had he posted it on the center-field scoreboard: This was Cherington's hire, even though Lucchino and Henry had played central roles in negotiating with Toronto CEO Paul Beeton the compensation for Farrell.
That compensation, incidentally, began with Beeston asking for center fielder
Jacoby Ellsbury
, according to a baseball source. The Blue Jays also brought up the names of Red Sox pitchers, including
Clay Buchholz
, before yielding and taking shortstop
Mike Aviles
.
Henry, meanwhile, was not present at Tuesday's press conference, nor was chairman Tom Werner. Whenever their absence is noted at such affairs, often in snarky fashion, it is accompanied by speculation that they are becoming increasingly disengaged from the business of the club. That, in turn, feeds rumors that Henry is looking to sell the club.
Sam Kennedy, the team's executive vice president and chief operating officer and president of the Fenway Sports Group, has heard it all before.
"That's an easy one to address,'' Kennedy said Tuesday. "He's absolutely not looking for a buyer. He's absolutely not looking for a partner. I don't think he could have been any more clear about the fact that he's committed to the Red Sox. I think he says, it's what I do, sort of who I am.
"John is as actively engaged and committed to the Red Sox as he ever was. I either speak to him on the phone or e-mail with him every day. I know Larry probably multiple times a day, Ben probably multiple times a day.''
It was just over a month ago that Henry strongly denied a report by the Fox Business Network that he was thinking of selling the team, but the whispers persist.
"I think John has a philosophy of hiring -- and I'll leave myself out of this -- world-class executives to run his businesses day to day,'' Kennedy said. "He's involved in every major decision and has been since we got here in 2002.
"I understand (the absence of Henry's physical presence), people can take that and say, 'Well, he's not as committed.' It's just that he has other business interests and you just can't be in one place when you have other things going on. Sometimes things come up.''
Henry has stated on numerous occasions that Lucchino is in charge of the Sox.
"I think John and Tom look at Larry Lucchino as the president and chief executive officer and owner. He runs this club day to day,'' Kennedy said. "Are they involved in major decisions? Absolutely. I think they're unfairly criticized for not being physically at every single thing that happens at Fenway Park.
"Trust me, they're just as committed. I hear from them all the time. We're working on a couple of things right now, some business issues related to MLB. I know Ben is in constant communication with John and Tom and Larry. There are regular conference calls and meetings.''
Kennedy said it was appropriate that Cherington introduced Farrell at his introductory press conference. Henry and Werner were at Lucchino's house Saturday night sharing Chinese takeout with Farrell.
"At the end of the day, governance (of the Red Sox) works in a manner where the buck ultimately stops with John. He is the principal owner, so at the end of the day the buck stops with John.
"They really haven't changed their management style over the years. It's understandable when you have other high-profile sports assets and then when you don't perform, people are going to say, 'Have they taken their eye off the ball?'
"No, that's on us. We -- management -- have made poor decisions that haven't worked out because we're not playing baseball in October. That's our central mission and focus. That's on management. That's not on John and Tom, that's on us to fix it. We need to do a better job.''
October, 4, 2012
10/04/12
9:34
AM ET
The Red Sox finished their disaster of a season at 69-93, losing their final 8 games and 12 of their last 13. It was their worst record since 1965.
As is usually the case, there is plenty of blame to go around. Help us slice up the blame pie by ranking the parties/circumstances on
this rank 'em feature
according to the share of responsibility each deserves.
Here are the blameworthy seven:
* Ben Cherington:
GM was the architect of the 2012 Red Sox, so he certainly bears some responsibility.
* Bobby Valentine:
He was the skipper that steered the Red Sox ship directly into an iceberg. Couldn't motivate his players and felt his coaches undermined him.
* Larry Lucchino:
Red Sox president is widely considered the biggest proponent of hiring Valentine and is ultimately in charge of the team. Does the buck stop with him?
* John Henry:
Red Sox owner has been seen and heard from much more as the Sox season dragged on, but has he spread himself too thin with obligations elsewhere? And has he hired the wrong people?
* The players:
These are the guys who couldn't get it done on the field. Huge payroll, but very little to show for it. Did they ever give Bobby Valentine a chance?
* Injuries:
Who can blame the Sox for struggling when so many key players were injured? Not once did the team field its projected Opening Day lineup. They used 56 different players this season, which is the most players used in a single season in franchise history.
* Theo Epstein:
Yes, he was gone before the season even started, but the former Boston GM saddled the Sox with some pretty hefty contracts (think Carl Crawford, Adrian Gonzalez, Josh Beckett, John Lackey) that handicapped their ability to spend big last offseason.
August, 6, 2012
8/06/12
9:40
PM ET
Red Sox principal owner John Henry wrote an email in defense of manager Bobby Valentine and disseminated it to reporters Monday. Here's what Henry had to say:
To blame Bobby Valentine for the Red Sox being .500 at this point in the season is simply wrong. A lot has been written about injuries to key players this year. The impact of that on the Sox this year should not be discounted.

In baseball, managers often get too much credit and too much blame for what happens on the field. That seems to be a constant. There is often the thought in organizations, "This isn't working so the manager needs to go." But an organization is much more than the field manager. We all share responsibility for the success and failure of the Boston Red Sox. We are not making a change in manager.

There has been no lack of effort from our players and we have had a number of them playing hurt. I watch every game and the effort our players put in night after night is very clear to see.

In regard to the notion that we have somehow not empowered Bobby, you should ask him directly about that. We have been nothing but supportive of him inside and outside of the clubhouse. Stories that imply otherwise are due to speculation that is not warranted at all by the facts.

And the notion that we are not present and not attending games is misleading to the public. Tom, Larry and I seldom miss home games. This year is no different. We seldom miss a telecast when on the road if we aren't there. This is a 365-day-a-year sport for us – as it is for Ben and for Bobby. Even when we are away we discuss issues daily. Just because we aren't answering all media questions doesn't mean we aren't on the job. We are.

Our commitment to winning is unabated. That is our focus. We continue to have the 2nd highest payroll among the 30 clubs. We have been at this for more than 10 years in Boston, and winning is just as much our focus today as it was when we took over.
June, 15, 2010
6/15/10
6:33
PM ET
BOSTON -- They allowed
Nomar Garciaparra
to retire as one of their own and accorded
Pedro Martinez
a hero's welcome, inviting him to throw out the ceremonial pitch on Opening Day.
Now, with
Manny Ramirez
returning for the first time since he was traded almost two years ago, the Red Sox are choosing to overlook another acrimonious parting and focusing on happier days.
At least that's the position adopted by club owner John W. Henry, who declined to answer what he termed "negative questions" about Ramirez's time here -- questions about why the Sox explored trades for him as early as 2003, how unhappy Ramirez was when he was here, Ramirez reportedly referring to Henry and the Sox brass as "white devils," whether, as Ramirez claimed just before he was traded, the team had grown "tired" of him, or whether the club had suspected steroid use before his 50-game suspension last season by Major League Baseball.
Instead, Henry limited his remarks to an effusive evaluation of the nearly eight seasons Ramirez spent in a Red Sox uniform, suggesting that Manny can expect a positive reception from the organization -- any doubts that a video tribute is in the works? -- when he appears here this weekend as a member of the
Los Angeles Dodgers
.
"I don't think it makes sense to answer your negative questions on Manny,'' Henry wrote in an e-mail. "While Manny was here we won two world championships and he was one of the best players in baseball.
"All of us loved seeing him step to the plate. In fact, we loved just seeing him be the first out of the dugout to begin each game. He brought laughter and RBIs.
"We've never had a harder worker or a more entertaining player. He was a star who provided great, great moments on an almost regular basis.
"Welcome back, Manny, if only for a weekend...''
April, 7, 2010
4/07/10
7:03
PM ET
BOSTON -- The Red Sox announced their organization's 2010 Hall of Fame selections on Wednesday.

Center fielder Jimmy Piersall, manager Don Zimmer, infielder John Valentin and outfielder Tommy Harper have been selected as uniformed personnel to the Red Sox Hall of Fame. Also chosen to join the Hall as a non-uniformed member is Eddie Kasko, who played, managed, scouted and served as a vice president for the Red Sox.

Right fielder Tom Brunansky's diving catch with two outs in the ninth inning against the White Sox on Oct. 3, 1990, that helped the Red Sox win the Eastern Division title was selected as a Great Moment in Red Sox history.

"On behalf of our entire ownership and organization, I would like to congratulate the stellar Red Sox Hall of Fame Class of 2010," said Red Sox owner John Henry. "This year's class represents some of the very best talent to grace our field and our front office, and represents a broad expanse of Red Sox history spanning from the 1950s until the end of the 20th century. Tommy Harper, Jimmy Piersall, John Valentin, Don Zimmer and Eddie Kasko, along with Tom Brunansky's memorable catch on that October night in 1990, have all rightfully earned the ballclub's highest recognition. I join with all of Red Sox Nation in saluting these six remarkable men for their contributions to the glory and tradition of the Boston Red Sox."
February, 24, 2010
2/24/10
11:45
AM ET
FORT MYERS, Fla. -- Red Sox ownership just gave its annual spring training State of the Team address. John Henry, Larry Lucchino and Tom Werner were all here after a 30-minute meeting with the players and staff at the Player Development Complex.
[+] Enlarge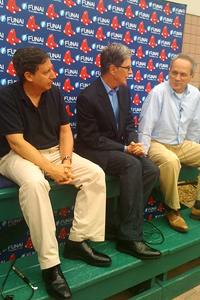 Gordon Edes/ESPNBoston.comTom Werner, John Henry and Larry Lucchino addressed a number of different Red Sox issues on Wednesday.
Ownership discussed the club's offseason acquisitions, goals for the 2010 season, the state of the economy and how it has affected the Red Sox, the continued renovation of Fenway Park, the sellout streak, the status of the new spring training complex and the success of the NHL's Winter Classic.
Here is a sampling from the Q&A:
How do you feel about the team for 2010?
"I think it's a very strong team," said Henry. "People have been talking about our offense, and Theo [Epstein] reminded us today that essentially the Angels and the Red Sox had the second-best offense in baseball last year. We think this is a very strong team, even stronger than last year. . . This year we have six very strong starters and having six strong starters is better than having four strong starters. I feel very positive about this team."
When Henry was done talking, Lucchino chimed in, telling Henry, "You're always the most optimistic."
How is the field at Fenway Park doing after the Winter Classic?
"It's too soon to say how the field is," said Lucchino. "It's obviously has a lot of wear and tear after a very successful Winter Classic."
New sod is being installed now and the team will have a better idea in a few weeks how it'll work out.
How confident are you the streak will continue?
"It's always a challenge," said Luchhino. "It's at 550 and counting and it is a challenge, but we think the fan loyalty is so deep that it will continue. Once you get to this level, you're at a new place and it's hard to predict what's going to happen."
Henry acknowledged it was a tough challenge to keep the streak going last season due to the struggling economy.
"I don't know how much better it is this year, it certainly feels better," he said.
In terms of season ticket sales and sponsorships this season, Lucchino said the team is roughly where it was a year ago.
"We have our work cut out for us in respect with corporate sponsorships," said Luchhino. "This is a critical time of the year to bring all that in."
On offseason spending for players:
With the offseason acquisitions of
John Lackey
,
Adrian Beltre
,
Mike Cameron
and
Marco Scutaro
, ownership believes it has put the team in a good position for 2010.
"We spent significantly more money this year than we did last year," said Henry. "We knew we had certain goals, but we didn't know for sure we were going to spend as much. We didn't know if the opportunity was there."
When those opportunities did come up, ownership and management wasted little time getting those players locked up.
The new Red Sox spring training facility in Fort Myers is on schedule to be completed expected in time for camp in 2012. It was reported recently that the new ballpark and player development complex will be a little smaller than first planned due to the local cost obligations of the project.
"We are sensitive to the fact the economy is not as strong, especially in Lee County," said Werner. "We've had nothing but healthy and productive conversations with officials down here. We've had very good dialogue and they will be announcing something shortly about the plans."
We'll pass along more on the owners' talk, inlcluding video in a bit ...