Boston Red Sox:

Johnny Pesky
April, 2, 2014
4/02/14
4:43
PM ET
BOSTON -- Memorabilia from longtime Boston Red Sox player and coach Johnny Pesky's personal collection will be sold during a live auction at Fenway Park next week.

The items include Pesky's 2004 and '07 World Series rings, as well as the Rolex watch he received when his number was retired by the team. Also to be auctioned are bats autographed by Ted Williams and a ball that includes a Babe Ruth signature.

Pesky was a player, manager, coach and broadcaster in a career with the club that spanned over 60 years. He died in 2012 at 93.

According to Hunt Auctions, his ring from the 2004 World Series championship is expected to fetch $50,000 to $100,000.

A portion of the proceeds from the auction will be donated to the Jimmy Fund.
August, 23, 2012
8/23/12
8:39
PM ET
BOSTON --
David Ortiz
, one of four Red Sox players who attended Monday's funeral for Sox icon Johnny Pesky, said all of his teammates "probably" should have attended, "but I'm nobody to say who should and who should not [have gone]."
A front-page story in Thursday's Boston Herald noted that Ortiz, pitchers
Vicente Padilla
and
Clay Buchholz
and catcher
Jarrod Saltalamacchia
were the only current players to attend, along with manager Bobby Valentine. Two busloads of other Red Sox employees and front-office officials -- numbering more than 100 in all -- also attended the funeral, which was held in Swampscott, the same North Shore town in which Pesky, 92, lived for decades.
The Red Sox did not arrive from New York, where they had played in a nationally televised game Sunday night, until around 4 a.m. Monday, according to club officials. New York was the last stop on a three-city, 11-day trip that had begun Aug. 8 with a flight to Cleveland.
"Me personally, I was close to Johnny and when it comes down to his funeral situation, there's no reason why you don't show up when a friend passes away," Ortiz said. "I felt like I needed to be there for him and his family. Everybody has their particular reasons why some of the guys didn't show up. We came back from New York very late and some of the guys probably had some things to do that day and that's probably the reason why some of the guys didn't show up."
Red Sox CEO Larry Lucchino said Thursday afternoon that players were informed of the funeral schedule while in New York but the club did not issue a directive either mandating they attend or requesting their attendance.
"We thought it was very much a personal decision," Lucchino said. "We also knew there would be other events at the ballpark. The thing Tuesday night [a pregame ceremony in which the entire team lined up wearing Pesky's No. 6 jersey], and we knew there would be a memorial service sometime around his birthday. We never contemplated making it mandatory."
The small number of players in attendance provoked a good deal of outrage in the media, most notably on talk radio, which was addressed by manager Bobby Valentine in his pregame session.
"I think it's very insulting to the family -- the Pesky family -- for people to be thinking that an organization that loved him so much did anything other than the right thing," Valentine said. "That's my answer to that."
One Sox employee said he skipped the organizational photo taken Thursday because of his anger toward the players, while two other employees said they were disappointed by the turnout.
"We didn't know how many guys would choose to come," Lucchino said. "It was completely personal and private. The buses were not for the players; they were for other team employees, and were almost completely full.
"It's very much an individual decision when it comes to attending a funeral. The fact that over 100 people from the Red Sox organization -- players, manager, owners, front office people, staff -- came was a show of real respect and affection."
The topic touched a nerve with some players.
"If this is about Johnny Pesky, I'm not talking about it," pitcher
Jon Lester
said. "All it is is gossip, and has nothing to do with what's going on in here."
Adrian Gonzalez
said he did not attend because he and his wife, Betsy, had a previous commitment to buy school supplies for underprivileged children.
Dustin Pedroia
's wife, Kelli, is nine months pregnant and confined to bed rest.
"I'm sure everyone had a situation why they weren't there," Pedroia said. "I wish I could have been there. Obviously, everyone knows how we feel about Johnny. We love him and we're all here for his family.
"I don't want to say anything that offends anybody. All I can say is we're here for his family and Johnny was the best, man. We all love him."
Ortiz, aware of the beating the team's image was taking, appealed for some understanding.
"Hopefully people don't start making a big deal about it," he said. "We don't need that right now. We need to continue playing and focus on trying to win some games and get into the playoffs."
April, 4, 2010
4/04/10
8:45
PM ET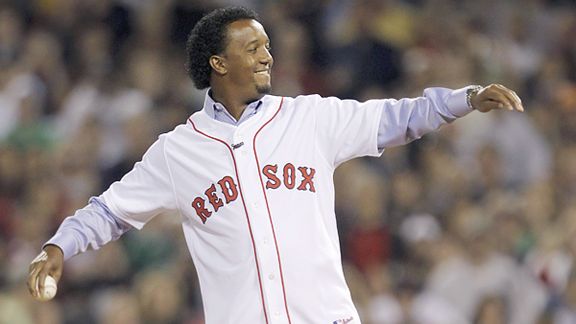 AP Photo/Charles KrupaOld friend Pedro Martinez donned his No. 45 again to throw out the ceremonial first pitch Sunday.
BOSTON -- The pomp and circumstance for Opening Night at Fenway Park was pretty impressive.
It started with an F-16 fly over and it ended with Red Sox legend Johnny Pesky kicking off the 2010 season with the familiar, "Play Ball!"
Everything in between was done in typical Red Sox style, with
Pedro Martinez
throwing out the ceremonial first pitch. The former Red Sox ace emerged from behind an American flag covering nearly the Green Monster and walked toward the mound as he was greeted by cheering fans. Martinez drew some boos when he shook hands with Yankees third baseman
Alex Rodriguez
on his way to the mound.
Martinez had some fun, pretending to call off Sox catcher
Jason Varitek
before he tossed his pitch (high and inside). The former battery mates hugged, then Martinez embraced the 90-year-old Pesky behind home plate.
Then it was Joshua Sacco's turn.
Joshua Sacco?
The 5-year-old became an internet sensation for his portrayal of Herb Brooks' "Miracle" speech. Sacco re-enacted Brooks famous speech at home plate.
During pregame player introductions, the Yankees'
Mariano Rivera
was cheered and Rodriguez was booed. Red Sox infielder
Mike Lowell
received the loudest ovation and tipped his cap to the fans in appreciation. Lowell's future has been a hot topic in recent weeks as he lost his starting job at third base when the Red Sox signed
Adrian Beltre
.
The Red Sox also set off fireworks during the pregame ceremonies.
The 38-year-old Martinez is a free agent after pitching last year for the Philadelphia Phillies, who signed him July 15. He was 5-1 with a 3.63 ERA in the regular season.
His last appearance came in the sixth and final game of the World Series, a 7-3 win by the Yankees that clinched their 27th championship. Martinez, who also lost Game 2 despite a solid performance, gave up four runs over four innings in the finale.
In the last of his seven seasons with the Red Sox in 2004, he was part of the team that won the club's first championship since 1918. From 1998 through 2004, the right-hander was 117-37 with a 2.52 ERA and two AL Cy Young Awards with Boston.
Information from The Associated Press was used in this report.