Boston Red Sox:

Jonathan Herrera
July, 5, 2014
Jul 5
6:50
PM ET
By
Kyle Brasseur | Special to ESPNBoston.com
BOSTON -- The story of how the Red Sox earned their sixth walk-off win of the season Saturday afternoon perhaps doesn't invoke the glory of those before it.
There were no home run heroics to send the crowd into a frenzy. No easy chances gifted by the
Baltimore Orioles
that allowed Boston to trot home easily.
Instead, it's a tale of three veteran players who knew what they had to do to get the job done. And they did just that as soon as they were called upon.
[+] Enlarge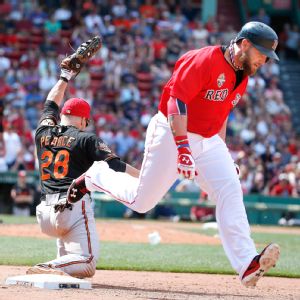 AP Photo/Michael DwyerJonny Gomes beat out an infield hit before coming around to score the winning run against the Orioles.
Entering the bottom of the ninth tied 2-2 and with the bottom third of the order due up against Orioles left-handed reliever
T.J. McFarland
, the Red Sox, led by pinch-hit efforts from
Jonny Gomes
and
Jonathan Herrera
, pushed across the winning run Saturday to take Game 1 of their doubleheader 3-2. It was the team's first walk-off win since June 18 against Minnesota.
"Veteran guys, they know their role," manager John Farrell said. "We had anticipated a lefty being on the mound in the ninth inning so we had some lead time to give them a chance to prepare."
First up to face McFarland was Gomes, who came in to hit for
Stephen Drew
. As he's done for Boston many times before, Gomes understood that his job as the leadoff man was to get on base, something he had in mind stepping into the box.
"Where we are right now -- whether it's three hits, no hits, getting hit -- it's about touching the dish," Gomes said. "That's where we're at now. Any way possible to have more runs than them."
After watching two pitches from McFarland, Gomes lined a 1-1 two-seamer deep in the hole at short that
J.J. Hardy
made a valiant effort to get to. However, Hardy wasn't able to get enough on the throw, allowing Gomes to reach first.
"Nothing new on my end, just anything to get on," Gomes said. "He made a great play and I was able to leg it out."
Next up was
David Ross
, who had gone 0-for-3 in his previous at-bats against Orioles starter
Miguel Gonzalez
. Understanding that his job was to get Gomes to second, Ross wasted no time, dropping a sacrifice bunt that easily accomplished the task at hand.
With Gomes now at second, Farrell made another move, bringing in Jonathan Herrera to pinch hit for
Jackie Bradley Jr
. Despite having phenom youngster
Mookie Betts
available off the bench, Farrell entrusted the job to the veteran Herrera, who's been in such a spot many times before.
"I've been doing this the last few years so I feel pretty comfortable," Herrera said. "I know my role and who I am. I prepare myself every single day."
Herrera took a ball before blooping a broken-bat single over the head of
Jonathan Schoop
at second base and onto the outfield grass. Racing around third, Gomes, taking no chances, slid into home plate headfirst to score the winning run.
"It's one of those plays where if [Schoop] makes that catch I'd be on 'SportsCenter' with him -- congratulations," Gomes said. "But if he doesn't, that's a win. That's the risk and the reward going into those late innings."
The walk-off hit was the first of Herrera's career.
"It was a great feeling," Herrera said. "It's a really nice feeling helping the team do something to win them games."
[+] Enlarge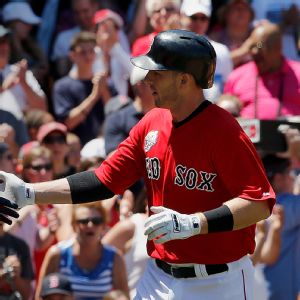 Jim Rogash/Getty ImagesStephen Drew celebrates after hitting his first home run of the season.
In fact, the bottom third of the order fueled the Red Sox from start to finish on Saturday afternoon. In his three at-bats, Drew went 1-for-3 with his first home run of the season, a solo shot in the second to put the Red Sox up 1-0. Drew entered the at-bat in the midst of a 3-for-42 stretch dating back to June 18.
"[Criticism is] something that I've dealt with my whole career," said Drew of some of the backlash he's heard while he's struggled. "Everybody deals with it. I know my talent, and I knew it was going to be tough coming in. The way I started, I'll keep my head high and I'll come around. All these guys in here, they know as well.
"I put a good swing on it finally and it worked out for me."
Meanwhile, Jackie Bradley Jr. was able to create the Red Sox's second run of the day with a couple of hustle plays. The rookie outfielder was quick out of the box on a line drive to right for a two-out double in the second before taking advantage of a botched play at first by
Steve Pearce
on a
Brock Holt
infield single to score Boston's second run. Bradley added a single in the seventh to go 2-for-3 on the day.
The offense, in addition to a key double play in the eighth inning started by Drew ranging to his left, was enough to keep
Jon Lester
from taking the loss as the ace left-hander tossed eight strong innings allowing two runs, both unearned as a result of three Red Sox errors in the game.
Lester was appreciative of the job the bottom of the order did, particularly in the ninth inning.
"That was huge for us to get [Gomes] on and then [Ross] did a good job getting the bunt down," Lester said. "Herrera with the big hit -- that's just a good way to start the doubleheader, especially after two off days. Hopefully we can carry it over to [Game 2]."
June, 21, 2014
Jun 21
4:01
PM ET
By
Eric Gilmore | Special to ESPNBoston.com
OAKLAND, Calif. -- Slumping third baseman
Xander Bogaerts
is out of the lineup Saturday against Oakland, getting a day off to regroup.
Jonathan Herrera
will start at third base.
"This is a chance to rotate Jonathan through the left side of the infield today and tomorrow," Red Sox manager John Farrell said before the game. "I'm giving (shortstop) Stephen (Drew) a day off as well tomorrow. A chance to match up another left-handed hitter against (Jesse) Chavez and get Xander off his feet for a day. He's working through some things right now at the plate, and we're going to give him a day to do just that."
Bogaerts batting average has dropped from .304 on June 3 to .265. He's hitless in his past 12 at-bats and has just one home run and one double in his past 15 games.
Farrell said he hasn't noticed Bogaerts "expanding the zone" during his skid.
"I think there's been a number of pitches where he's gotten on the plate where he's just missed them," Farrell said. "Whether that creates a little frustration for him, having a chance to sit with him this morning and talk at him at length, I don't think it's him trying to make up for previous at-bats or pressing to do more. I think there's just been over a stretch of time here where he's just missed his pitch on the plate.
"He's a good hitter that teams are planning and game-planning specifically for him. With that comes some peaks and valleys along the way."
Here's the Red Sox lineup:
1.
Brock Holt
RF
2.
Dustin Pedroia
2B
3.
David Ortiz
DH
4.
Mike Napoli
1B
5.
Daniel Nava
LF
6.
A.J. Pierzynski
C
7.
Stephen Drew
SS
8.
Jonathan Herrera
3B
9.
Jackie Bradley Jr
. CF
Rubby De La Rosa
RHP
June, 1, 2014
Jun 1
1:10
AM ET
BOSTON -- Red Sox third baseman Brock Holt's first Major League home run ball is likely to land in the same place of honor as many youth athletic achievements: the family mantle.
"[I'll] probably write 'first home run' on it or something," Holt said after Saturday's 7-1 win over the
Tampa Bay Rays
at Fenway Park. "I got the ball, so that's pretty good."
Holt launched a 3-2 fastball from
Jake Odorizzi
into the Red Sox bullpen in the third inning, marking his first blast in 202 at-bats.
[+] Enlarge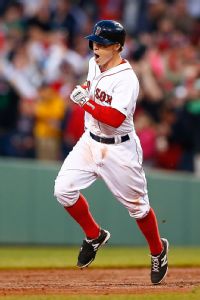 Jared Wickerham/Getty ImagesBrock Holt rounds the bases after hitting his first Major League home run -- a two-run blast that landed in the Boston bullpen.
The 25-year-old infielder is becoming increasingly comfortable in the leadoff spot, as well. Holt has reached safely in 10 of his last 12 games and is batting .327 in that span with six multi-hit games.
But, like most utility infielders who don't have a career home run through 70 games, Holt made his way to Boston largely with his glove.
That was evident in the second inning, when Holt helped starter
Rubby De La Rosa
avert danger. With runners on the corners with two outs, Holt snagged a
Sean Rodriguez
chopper with a dive to his right, snaring the ball even as it took a hop back over his head. Holt calmly completed the long throw across the diamond to get Rodriguez at first and keep the game scoreless.
"He's done an outstanding job on both sides of the ball since he's come back to us," Red Sox manager John Farrell said of Holt. "He's seemingly settled into that leadoff role and he's given us some stability at the top of the order."
As Holt continued to set the table, the Red Sox also got a bump in production from the No. 9 hole, with
Jonathan Herrera
making a spot start in place of
Dustin Pedroia
(hand).
In making his first start since May 11, Herrera went 3-for-4 with two runs scored. He also drove in Boston's fourth run, dropping down a perfect safety squeeze in the fourth. The bunt was placed on the first-base line and scored
Grady Sizemore
easily.
"I feel great, I'm happy about it," Herrera said. "Those are the little things that come right to me. When I'm in the game, something is going to happen -- to put the ball down or to move the guy."
While it likely was just a one-day substitute job -- Farrell said he "fully expects" Pedroia to be back in the lineup Sunday after X-rays and an MRI on his right hand came back negative on Saturday -- Herrera will be ready the next time his name is called.
"I prepare myself every day," he said. "I come to the ballpark and do the little things -- bunt and take my regular ground balls.
"Just be ready all the time, that's part of my job."
May, 7, 2014
May 7
5:49
PM ET
BOSTON -- A day after going hitless in five at-bats and striking out three times, rookie shortstop
Xander Bogaerts
was on the Sox bench for the start of Wednesday night's game against the
Cincinnati Reds
.
Jonathan Herrera
was at shortstop, batting ninth, against Reds right-hander
Mike Leake
.
Bogaerts had a 10-game hitting streak (April 16-27), the longest by any Sox player to date, but in seven games since then he is batting .200 (5 for 25) with one extra-base hit, 11 strikeouts and 5 walks. He has had two 3-K games in his last five starts, the first coming in last Thursday's doubleheader against the Rays.
Sox manager John Farrell wouldn't call Bogaerts' absence from the lineup a benching, noting that Herrera hasn't started in eight games. His only appearance in that time was Sunday against Oakland, when he pinch-ran for
Mike Carp
and was thrown out attempting to steal.
"A day off and a chance to get another left-handed bat in the lineup," Farrell called it. "Leake has been very tough on right-handers, and some other alignments in the lineup kind of reflect that as well."
Leake, who has pitched into the seventh inning in all six of his starts this season, has a much better slash line against right-handed hitters (.210/.238/.300/.538) than against left-handed hitters (.271/.338/.525/.864). Only three Sox hitters have faced him previously:
A.J. Pierzynski
(0 for 3),
Grady Sizemore
(1 for 3) and
Shane Victorino
(4 for 10).
With Bogaerts out of the lineup, Farrell moved Pierzynski up one spot to the No. 6 hole, moved
Jackie Bradley Jr
. into the 7 hole and dropped Herrera into the ninth spot that had been occupied by Bradley.
The last four hitters in the Sox order (Bogaerts, Pierzynski,
Will Middlebrooks
and Bradley) were a collective 1 for 19 with 8 strikeouts in Tuesday night's 4-3, 12-inning win against the Reds, with Bradley collecting the only hit, a single.
Farrell also balked at calling it a "mental breather" for Bogaerts.
"I wouldn't say a mental breather," the manager said. "He expanded the strike zone, I thought, on one at-bat when we had the bases loaded. They were giving him a heavy dose of breaking balls. I think it's more just situational with the opposition, the opposing pitcher in Leake tonight and really getting Herrera back in a game where it's been eight days since he's been in there."
Farrell on Wednesday explained his decision the night before not to have Bogaerts bunting in the eighth inning of a tie game after a leadoff single by Grady Sizemore, which was counter to the strategy he has employed in recent games.
"In the eighth inning you get the leadoff guy on, right-on-right situation, much like it was with Jackie the other day. Do you take the bat out of their hand and look to sacrifice, which maybe that's what the game might call for, just a traditional approach to it, or is there some benefit long-term to letting them swing the bat and grow in an opportunity? I selected the latter of those two."
Bogaerts took a called third strike from Reds reliever
J.J. Hoover
in the eighth. Reliever
Manny Parra
then entered and struck out Pierzynski and retired Middlebrooks on a force play.
Interestingly, during batting practice Wednesday, Bogaerts spent extra time bunting.
Overall, Bogaerts has gotten off to a pretty good start at the plate for the Sox; his .379 on-base percentage ranks second on the club to
Mike Napoli
's .415. His power stroke has yet to surface with the regularity the Sox are confident will appear as the season progresses; he has 7 doubles and 1 home run in 112 at-bats.
"I think there have been a lot of opportunities that he's growing from," Farrell said. "They might not have all ended in a positive result."
The same, he said, is true of Bradley.
"But we're hopeful and we're expecting that because of these challenges or experiences they're going to pay off dividends as we go deeper in the season," Farrell said.
The Sox were 2 for 13 with runners in scoring position Tuesday, and the team is batting a collective .219 in those situations. Bogaerts, in particular, has struggled, batting .125 (4 for 32) with RISP.
"There may be a tendency to expand the strike zone at times with him," Farrell said. "I think there's more expansion of the strike zone, particularly up with the fastball and off the plate away with the breaking ball where we've seen a selective, patient approach with nobody on base. There might be more of a tendency to swing the bat in those situations."
March, 20, 2014
Mar 20
8:53
PM ET
FORT MYERS, Fla. --
Jonathan Herrera
, the odds-on favorite to win the job from the time the Red Sox acquired him in a trade from Colorado for left-hander
Franklin Morales
, appears set to open the season as the team's utility infielder.
Herrera beat out holdover
Brock Holt
, his superiority at shortstop the primary factor, according to manager John Farrell. Holt was optioned to Triple-A Pawtucket.
"While Brock has made strides on the left side of the infield, particularly from the start of last year, we felt with the acquisition of Jonathan there was more middle-of-the-field experience and that's the choice made," Farrell said.
Herrera, a native of Maracaibo, Venezuela, has spent parts of the previous five seasons with the Rockies, appearing in 375 games. He has split most of his time between second (181) and short (114), with 43 appearances at third base. Because of his lesser familiarity with the position, the Sox have played him primarily at third this spring; he started there Thursday night and made his best play in the sixth, charging a ground ball by
Francisco Cervelli
and throwing him out while on the run.
The Sox made two other roster moves Thursday, optioning pitcher
Rubby De La Rosa
to Pawtucket and reassigning
Brandon Snyder
to minor-league camp. De La Rosa, who posted a 7.36 ERA in four relief appearances, giving up 13 hits and walking 3 in 7 1/3 innings, will start in Pawtucket, Farrell said. De
La Rosa, who came with pitcher
Allen Webster
from L.A. in the
Adrian Gonzalez
/
Carl Crawford
/
Josh Beckett
deal, is further along than he was last spring, when he was still coming back from Tommy John surgery.
"The biggest difference is there are no restrictions, as was last year when in the month of April it was no more than three innings, 50 pitches," Farrell said. "Those restrictions are taken off him.
"The last couple of times out, there's been a couple of adjustments made: one to his delivery, where we take him from a full delivery to one where he keeps his hands in front of his chest. We also started to add a little bit more of a curveball to the mix to give him a little bit more of an off-speed pitch [to complement his fastball and changeup]. We feel those two adjustments will help him not only command his fastball better but give him some off-speed to attack a given hitter with.
"With Rubby, it's not a matter of stuff but better location."
March, 15, 2014
Mar 15
5:17
PM ET
By
Rick Weber
| ESPNBoston.com
FORT MYERS, Fla. -- Greetings from the Fort, where the Great
Grady Sizemore
Experiment continues.
Manager John Farrell said that Sizemore -- who is hitting .308 in 13 at-bats after missing the past two seasons -- will not only start tonight against the Phillies at JetBlue Park, but will play seven or eight innings, possibly the entire game.
Where does that leave
Jackie Bradley Jr
. in the battle for the starting center field spot?
[+] Enlarge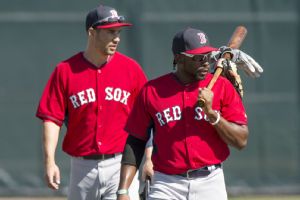 Michael Ivins/Boston Red Sox/Getty ImagesPerhaps Grady Sizemore ends up splitting time in center field with Jackie Bradley Jr.
"We came into camp with Jackie as the guy," Farrell said. "We projected him as the starting center fielder, and I don't think anything has radically changed that thought. But we can't deny the fact that Grady Sizemore has looked very well in camp, and we're still in the process of trying to get our arms around his durability."
Farrell said he isn't ruling out the idea of carrying both Bradley Jr. and Sizemore on the roster.
"The one thing we've benefited from is a deep and talented roster," he said. "Early in the season, you want as many of those players as you can. And if that causes decisions one way or the other to keep as many good players as you have, that's something we'll arrive at as we break camp here."
Patience is the key. No decisions have to be made right now.
"We wanted to take a look at spring training itself, and let's see how things unfolded, because before games were played or we even got on the field, we didn't know how he was going to respond to day-to-day volume," Farrell said. "And it's been favorable. His timing at the plate has looked very good. He might say otherwise just based on his own comfort level. But just looking at him, it doesn't look like he's missed two years."
Flyin' Hawaiian is back:
Shane Victorino
, who had discomfort in his right thumb and took batting practice Friday in Fort Myers while the team was in Dunedin, will start tonight in right field. Farrell said Victorino will get three at-bats and play five innings.
No worries:
Will Middlebrooks
is off for the second straight game, but Farrell he's just resting a right middle finger that was hyperextended when he stole second against the Twins on Thursday. He is expected to be back in the lineup Sunday against the Rays, or Monday at the latest.
Rotation:
Jon Lester
, who starts tonight, is scheduled to go again when the Yankees come to town Thursday.
Farrell on the battle for the utility spot:
"There's a competition going on. Both (Jonathan) Herrera and (Brock) Holt ... those two guys have the versatility you need at the position. The ability to play shortstop is the preference on the defensive side of things. And that's why as we've gotten those guys on the field, we've tried to get a number of innings played on the left side of the infield. We think they're both capable at second base. So that's the evaluation going forward. Both have shown well so far."
Here are today's lineups:
Red Sox
1. Grady Sizemore, CF
2. Shane Victorino, RF
3.
Dustin Pedroia
, 2B
4.
David Ortiz
, DH
5.
Jonny Gomes
, LF
6.
Daniel Nava
, 1B
7.
Xander Bogaerts
, SS
8.
A.J. Pierzynski
, C
9.
Brandon Snyder
, 3B
SP -- Jon Lester, LHP
Also scheduled to pitch:
Burke Badenhop
,
Edward Mujica
Phillies
1.
Ben Revere
, CF
2.
Jimmy Rollins
, SS
3.
Marlon Byrd
, LF
4.
Domonic Brown
, LF
5.
Darin Ruf
, 1B
6.
Bobby Abreu
, DH
7.
Kevin Frandsen
, 3B
8.
Cesar Hernandez
, 2B
9.
Wil Nieves
, C
SP -
Cliff Lee