Boston Red Sox:

Kelly Shoppach
July, 27, 2012
7/27/12
7:44
PM ET
NEW YORK -- Bobby Valentine returned to New York to manage for the first time since he was fired by the Mets after the 2002 season.
He may not have come back as a conquering hero -- not with the Red Sox a game under .500 (49-50), 10½ games behind the Yankees and 4½ games out in the wild-card race -- but he was hardly cursing his fate, either, regardless of how much his team has underachieved.
"

I think we're heading in the right direction. ... I think we could build on that to 10, 15, 20 games over .500.

"

-- Bobby Valentine, on the Red Sox
"I'm a lucky guy," Valentine said when asked if his enthusiasm for the job has waned at all. "When I wake up in the morning, I count my blessings.
"Hell's bells, it's been exciting. Challenging for sure."
As upbeat as Valentine sounded Friday, it was hard to imagine how giddy he would have been if the Sox had come in here as something more than a team that has gone 8-13 in July, has lost 5 out of its past 6 and had beaten the Yankees only once in six previous meetings this season, all of which took place in Fenway Park.
The Sox manager talked about what a "great group of guys" he has, saying "I think we're heading in the right direction.
"We got off to a lousy start there with some confusion in the bullpen, we've been about five games over since that bad start in April, I think we could build on that to 10, 15, 20 games over .500."
For the Sox to finish 20 games over .500 (91-71), they would have to play at a .667 pace (42-21) the rest of the way. What does Valentine see that makes him believe this team is built to win?
He mentioned
Dustin Pedroia
and
Adrian Gonzalez
's getting hot, referenced the return of
Jacoby Ellsbury
and
Carl Crawford
, noted that
David Ortiz
should be back soon and mentioned the stabilizing of the bullpen and his continued confidence in the team's starting pitching despite a 4.85 ERA and a record of 36-38.
"I've seen Adrian and Dustin really hitting their stride," Valentine said. "We went 80 games without them really getting their stride. They're feeling good. I see David coming back. I see Ellsbury and Carl in the lineup. I see our bullpen pretty well-stabilized and our starting staff feeling pretty good about themselves.
"Everyone says, 'How can the staff feel good about itself without
Josh Beckett
] or
Jon Lester
] winning their last starts and all that? They're healthy and throwing the ball well. I believe when you have quality people and they're healthy and maybe balls aren't hit at people -- whatever the hell it is that combined to have them not get W's and not do as well as we wanted to do in some of the games -- I think they will because they are healthy and they have qualities.
"A lot of the young guys we've had play are more established than they were early.
Dan [Nava]
is a more established player.
Will [Middlebrooks]
is a much more established player. Salty [
Jarrod Saltalamacchia
] has [19] home runs.
Kelly [Shoppach]
is working really well. The team has come along pretty well. I don't see things going backward."
He also singled out
Mike Aviles
as having "erased all doubts."
"He's played great defensively, made all the plays, he's been a iron man, and he's had a lot of big hits."
So there you have it: a team, by Valentine's reckoning, built to win.
And if it doesn't, who gets blamed? Hmmmm.
April, 13, 2012
4/13/12
8:56
PM ET
BOSTON -- It was an incredible homecoming for Boston Red Sox catcher Kelly Shoppach.
[+] Enlarge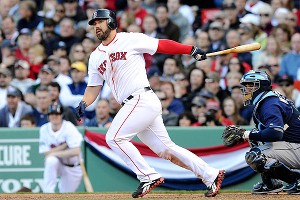 Bob DeChiara/US PresswireKelly Shoppach went 3-for-4, but his first career stolen base made his Fenway opener truly special.
When he arrived at Fenway Park early Friday morning, he saw his name on the lineup card. He would be behind the plate for starter Josh Beckett's second start of the season. Red Sox manager Bobby Valentine thought it would be a good move having Shoppach back there, especially since he played the last two seasons with the Tampa Bay Rays.
The strategy worked.
Shoppach was solid behind the plate and helped Beckett, who lasted eight innings and allowed only one run on five hits with one walk and one strikeout. Shoppach also went 3-for-4 with two doubles, two RBIs and even a stolen base, the first of his career.
After the game, he already had the second-base bag in his stall.
"It was awesome," he said. I've already got a great idea of how I'm going to hang it up: still photo of me sliding, jumping, kissing the dirt, then getting the bag. What a day for all of us, a lot of fun. It's nice to have those days, especially with today's opening day and 100 years and all that stuff. So, a lot of fun day."
He was given a delayed steal signal with runners on the corners in the sixth inning. He made it safely to second, but not before an extreme belly flop got him there.
"I've been saying for years, if I ever steal a base, I'm taking the bag. I'm making light of it but I'm really excited," Shoppach said. "That's a column that I hadn't filled as a professional."
His Red Sox teammates were giving him grief for the slide.
"Oh my God, I was looking for somebody to beat my best slide in the past 10 years. He beat all of them," said David Ortiz. "Oh my God. And then he ended up hitting the bag with his head I tried to make him feel better, I told him nobody saw it big guy, for us it's hard to slide man. It's like a challenge."
The Red Sox originally selected Shoppach in the second round of the 2001 draft. He was traded to the Cleveland Indians as part of the Coco Crisp deal and spent four seasons with the Indians before signing with the Rays.
He signed with the Red Sox this offseason as a free agent, and he was genuinely excited about his start on Fenway's opening day. With the stolen base in the books, he's got his next personal milestone in sight.
"I haven't hit a triple. That requires you to be fast," he said.
March, 17, 2012
3/17/12
6:46
PM ET
FORT MYERS, Fla. -- Takeaways from the Fort, where the green-clad Sox beat the Orioles, 7-4, in a split squad here while tying another batch of O's, 3-3, in 10 innings in Sarasota:
The Red Sox released pitcher Carlos Silva,
who was coming off shoulder surgery and was shut down with shoulder inflammation this spring, taking him out of the competition for a starting spot here. GM Ben Cherington said the team elected to give Silva a chance to catch on with another club.
[+] Enlarge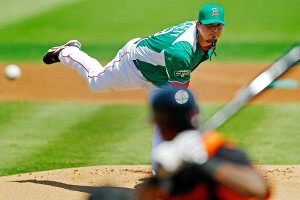 AP Photo/Charles KrupaJosh Beckett delivered five solid innings Saturday against the Orioles at Fenway South.
Cody Ross had a double and a home run,
his first since hitting two in the college games, and
Lars Anderson
had a double and two-run single for the Sox in the Fort. Ross is hitting .450 this spring, Anderson .429.
Aaron Cook made his second spring appearance,
giving up a hit in 3 1/3 scoreless innings against the Orioles in Sarasota.
"It's what I was looking for," Cook said upon his return to the Fort. "Groundball outs, and short innings. Four fly ball outs, one strikeout, rest were ground balls."
Cook has been hurt each of the last two seasons -- a broken leg in 2010, and a broken finger and an inflamed shoulder last season -- and was placed on a slower progression than the other pitchers in camp this spring. That's not a concern, he said.
"I don't worry about it," he said. "I threw three and a third today, they keep putting up innings and I'll just go out there and keep pitching. There are no issues."
Cook has a May 1 opt-out of his contract. "I want to start,'' said Cook, who pitched 10 seasons for the Rockies, winning a career-high 16 games in 2008, before signing a minor-league deal with the Red Sox. But if asked to go to the pen would he do so? "Definitely,'' he said.
Josh Beckett had an easy time of it Saturday,
pitching against an Orioles team that had just one regular position player,
Chris Davis
(possibly two if you project
Wilson Betemit
as the team's DH). Beckett worked five innings in which he threw 59 pitches, an impressive 40 for strikes. Beckett gave up a run on two hits and a walk, striking out two. The game was completed in a snappy 2 hours 37 minutes, which should give you a sense of the pace at which he worked, and the results he achieved.
February, 18, 2012
2/18/12
6:15
PM ET
FORT MYERS, Fla. -- Sunday is the first official reporting date for Red Sox pitchers and catchers, but already the bullpens have been busy the last week.
STARTERS GETTING AFTER IT:
Clay Buchholz
, who missed the majority of the 2011 season with a stress fracture in his lower back, has already thrown 10 bullpen sessions this spring. He began his offseason throwing program a lot sooner than normal because he wanted to be strong in camp and not suffer any setbacks. The right-hander looked sharp during his 45-pitch session on Saturday. He was working with catcher
Kelly Shoppach
. Buchholz said afterward that he felt strong.
Reliever-turned-starter
Daniel Bard
threw 55 pitches during his session and admitted afterward he was a bit tired but still felt good. Bard worked with catcher
Jarrod Saltalamacchia
.
Left-hander
Jon Lester
tossed a similar amount of pitches as Buchholz and Bard. Lester was popping the mitt as he worked with catcher
Ryan Lavarnway
.
Red Sox pitching coach Bob McClure and manager Bobby Valentine were keeping close tabs on all the pitchers. After the session, all the pitchers ran sprints.
BAILEY READY TO GO:
Red Sox closer
Andrew Bailey
also tossed a brief bullpen session and deemed himself healthy and strong afterward. It was his first throwing session in camp.
"I'm excited to here," Bailey said. "Obviously this is an organization that has a proven history of winning and contending every year. It's nice to be around the guys and get to know them early and I'm looking forward to a good year."
CATCHERS PUTTING IN THE TIME:
It was a busy day for Red Sox catchers. After catching numerous bullpen sessions, the group, led by Saltalamacchia, Shoppach and Lavarnway, hit on one of the back fields and then ran sprints for 15 minutes.