Boston Red Sox:

Lars Anderson
May, 2, 2012
5/02/12
12:06
AM ET
By
Tony Lee
| ESPNBoston.com
BOSTON -- Red Sox general manager Ben Cherington walked through his team's clubhouse late Tuesday night, only briefly indicating to waiting reporters that he did not have any news on
Aaron Cook
, who had the right to opt out of his contract if he wasn't on the big-league roster as of May 1, which he wasn't.
However, Cherington did confirm that he had created an opening for Cook.
Outfielder/first baseman
Lars Anderson
was optioned to Triple-A Pawtucket following Boston's 5-3 loss to Oakland. The move will be made official Wednesday, when a corresponding move will be made, most likely involving Cook.
Anderson struck out in the midst of a two-run rally in the ninth inning Tuesday. He went 1-for-7 since being recalled last week.
Before Anderson emerged for that at-bat, the injured
Kevin Youkilis
was seen on the dugout steps with a batting helmet and a bat. Manager Bobby Valentine admitted he had no intention of using Youkilis, but rather was hoping to force A's manager Bob Melvin to bring in a right-hander.
"No, he wasn't available," Valentine said of Youkilis, who has missed three straight games with a sore back. "I was just using everything I had. It was just sort of a decoy. Didn't work very well did it?"
Moments later, Anderson went down swinging and the rally fizzled when
Dustin Pedroia
grounded to second with the tying runs on base.
Prior to the game, the Red Sox recalled shortstop
Jose Iglesias
and optioned reliever
Junichi Tazawa
. That left them with just 11 pitchers, two fewer than the total they carried to begin the season.
April, 26, 2012
4/26/12
7:52
PM ET
Lars Anderson
will start in left field for the
Boston Red Sox
in Chicago.
"I've watched him now for four days. He's good off the fungo," Boston manager Bobby Valentine said before Thursday's game against the
Chicago White Sox
, according to The Boston Globe. "The reports on him are that he caught everything that was hit to him when he played. We'll see. Hasn't been challenged. I would say that the wind and the big league hitters will challenge him a little more than he's been challenged before. He feels good about it."
Cody Ross
left Wednesday night's game with a sore left knee and is not starting Thursday, though he could be used as a pinch hitter. He'll likely return to the lineup Friday, according to Valentine.
Ross reportedly had his knee protected with an elastic support but said "I'm fine. We're just being careful."
Meanwhile, pitcher
Rich Hill
is progressing well in his rehab. Valentine indicated that the left-hander could rejoin the Sox as early as this weekend.
March, 24, 2012
3/24/12
6:25
PM ET
By
Matt Porter
| ESPNBoston.com
JUPITER, Fla. -- After
Felix Doubront
's last start,
Boston Red Sox
manager Bobby Valentine said the left-hander lacked a "killer pitch" and didn't attack hitters. Those grumblings were not heard after Saturday's 4-1 win over the
Miami Marlins
.
In his longest start of the spring, Doubront went six innings and allowed one run. He lowered his spring ERA from 3.38 to 2.70. In total, he has struck out 11 and walked six in 18 2/3 innings.
Basically, he's been a serviceable back-of-the-rotation starter.
"He's progressed as well as anyone in camp," Valentine said. "He's done what we asked for."
With an open debate about
Daniel Bard
's lack of a third pitch and
Alfredo Aceves
' struggling in Saturday's split-squad game in Fort Myers, Doubront's fairly clean, 78-pitch outing looks a little better.
He walked one, struck out two and allowed five hits, including a
Gaby Sanchez
double that just caught the left-field line and a solo homer to
Austin Kearns
. Doubront finished off several 1-2 counts, induced two double plays, threw his curveball for strikes and reached 94 mph with his fastball.
"He kept his composure and he pitched well. It was a positive outing," Valentine said.
Catcher
Ryan Lavarnway
, who was 2-for-3 with an RBI single off Marlins starter
Wade LeBlanc
, has spent parts of four seasons with Doubront in Boston's farm system. He said it was one of the lefty's better games.
"I don't want to limit him and say that was his best, but he threw the ball tremendously today," Lavarnway said. "He was aggressive from the start. He filled up the strike zone with all four pitches. He went right at guys. I haven't seen him throw that well in a long time.
"You can see that look in his eye that he means business. He wants to not only pitch in the big leagues, but be successful and be in the Boston Red Sox starting rotation."
* Valentine played along with a joke that
Pedro Ciriaco
might skip Fenway and head straight for Cooperstown. The 26-year-old infielder, who played second base next to
Jose Iglesias
, went 2-for-3 with a double and run scored. That raised his already gaudy batting splits to .441/.457/.676.
With Iglesias,
Mike Aviles
and
Nick Punto
ahead of him, Ciriaco isn't a candidate for a roster spot. But Valentine clearly enjoys having him around.
"How about Ciriaco," he said. "I'm telling you. Everyone's talking about the shortstop situation ... he's a very good player. I'm telling you."
Lest anyone think he was ready to move Ciriaco up the depth chart, Valentine tempered his enthusiasm: "Well, he's played very well. He has very good talent, and he's played very well."
*
Lars Anderson
went 0-3, dropping his numbers to .357/.457/.567.
* There was no pregame lineup card exchange between Valentine and Marlins manager Ozzie Guillen. The managers left those duties to coaches Joey Espada (Marlins) and Jerry Royster (Red Sox). Reporters sitting in the press box were unable to see if the managers waved at each other from their opposing dugouts.
March, 17, 2012
3/17/12
6:46
PM ET
FORT MYERS, Fla. -- Takeaways from the Fort, where the green-clad Sox beat the Orioles, 7-4, in a split squad here while tying another batch of O's, 3-3, in 10 innings in Sarasota:
The Red Sox released pitcher Carlos Silva,
who was coming off shoulder surgery and was shut down with shoulder inflammation this spring, taking him out of the competition for a starting spot here. GM Ben Cherington said the team elected to give Silva a chance to catch on with another club.
[+] Enlarge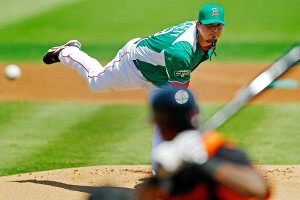 AP Photo/Charles KrupaJosh Beckett delivered five solid innings Saturday against the Orioles at Fenway South.
Cody Ross had a double and a home run,
his first since hitting two in the college games, and
Lars Anderson
had a double and two-run single for the Sox in the Fort. Ross is hitting .450 this spring, Anderson .429.
Aaron Cook made his second spring appearance,
giving up a hit in 3 1/3 scoreless innings against the Orioles in Sarasota.
"It's what I was looking for," Cook said upon his return to the Fort. "Groundball outs, and short innings. Four fly ball outs, one strikeout, rest were ground balls."
Cook has been hurt each of the last two seasons -- a broken leg in 2010, and a broken finger and an inflamed shoulder last season -- and was placed on a slower progression than the other pitchers in camp this spring. That's not a concern, he said.
"I don't worry about it," he said. "I threw three and a third today, they keep putting up innings and I'll just go out there and keep pitching. There are no issues."
Cook has a May 1 opt-out of his contract. "I want to start,'' said Cook, who pitched 10 seasons for the Rockies, winning a career-high 16 games in 2008, before signing a minor-league deal with the Red Sox. But if asked to go to the pen would he do so? "Definitely,'' he said.
Josh Beckett had an easy time of it Saturday,
pitching against an Orioles team that had just one regular position player,
Chris Davis
(possibly two if you project
Wilson Betemit
as the team's DH). Beckett worked five innings in which he threw 59 pitches, an impressive 40 for strikes. Beckett gave up a run on two hits and a walk, striking out two. The game was completed in a snappy 2 hours 37 minutes, which should give you a sense of the pace at which he worked, and the results he achieved.
March, 13, 2011
3/13/11
5:01
PM ET
BRADENTON, Fla. --
Lars Anderson
went hitless in all 18 of his spring training at-bats last season and was in the first group of players cut by the Red Sox in camp. When I talked to him about that at Triple-A Pawtucket last summer, asking him if it had caused him to lose any sleep, he looked at me dismissively.
"Why would it do that?'' he said. "It's only spring training.''
So much for feeling the urge to make a good first impression.
This spring, Anderson survived the first round of cuts, and Sunday afternoon, he hit his second home run of the spring, a solo shot off former Yankee
Jeff Karstens
. The left-handed first baseman also hit an opposite-field single. Overall, he's batting .182, but hey, it's only spring training.
Still, manager Terry Francona offered some positive feedback on Anderson's performance.
"When he first came, he was a little ill at ease,'' Francona said, "and he's kind of growing into it. I think he's a smart enough kid to know that even though Gonzy [
Adrian Gonzalez
] is here, if he goes out and does what he needs to do .... You don't see too often guys who are supposed to be in the big leagues that aren't.
"Things have a way of working out. He knows he needs to go and play.''
Only spring training?
"He plays first base,'' Francona said. "You gotta hear some noise. He's starting to show that.''
September, 6, 2010
9/06/10
6:22
PM ET
BOSTON -- The Red Sox will have five players in their starting lineup Monday who weren't here when the season began when they play the
Tampa Bay Rays
, 25 games from the finish line of a season destined to end on the first Sunday of October.
First baseman Lars Anderson was called up from Pawtucket and will play in place of
Mike Lowell
, who has a fractured rib in addition to his bad hip and went just 1-for-9 over the weekend against the White Sox. Rookie
Yamaico Navarro
will make his second start in place of shortstop
Marco Scutaro
, who has started 130 games at short but was limited to a pinch-hitting appearance Sunday and is scheduled to undergo an MRI on his inflamed rotator cuff Tuesday. Navarro has just two hits in his first 15 big-league at-bats.
Jed Lowrie
will start at second base, and two rookies,
Daniel Nava
and
Ryan Kalish
, will be in the outfield. Nava is leading off, even though he hasn't had a two-hit game since July 10, also the last time he had an extra-base hit. In 20 games since then (14 starts), Nava is batting .146 (7-for-48), which is also his slugging percentage over that time. His on-base percentage is .268.
Kalish's last two-hit game came in Texas on Aug. 14. In 18 games since, he is batting .149 (7-for-47).
The Sox activated
Josh Reddick
on Monday, but did not have him in the starting lineup. Reddick was batting .196 on June 14, but finished the Triple-A season with a .266 average by batting .319 (82-for-257) the rest of the way. Reddick played Monday for Pawtucket and had a two-run home run and double before being pulled in the sixth inning. He'd also had a torrid 12-game hitting streak in which he batted .436 with six home runs and three doubles before going hitless in two games over the weekend.
Still, when asked if the Sox had considered bringing up Reddick sooner with Nava struggling, Red Sox manager Terry Francona made light of the question, saying, "I don't know how he could get here any faster without a speeding ticket.''
Jason Varitek
also was activated Monday night but was not expected to play after serving as DH for the PawSox Monday afternoon, singling in three at-bats.
Pitcher
Michael Bowden
will be activated in time for Tuesday night's game. The additions of Anderson, Varitek and Reddick give the Sox 32 players for Monday night's game, with Bowden making it 33 on Tuesday night. The Rays have 31 players on their roster, so the Sox could hope to win by outnumbering them.
Anderson, who turns 23 on Sept. 25, was listed as the team's best prospect by Baseball America entering the 2009 season, after combining for a .317 average with 18 home runs in a 2008 season split between Class A Lancaster and Double-A Portland. But he struggled in Portland last year, batting .233 with nine home runs, and this spring did not get a hit in 18 spring-training at-bats with the Red Sox.
He began the season by returning to Portland, but after batting .355 with five home runs and 16 RBIs in 17 games, was promoted to Pawtucket. For two months he struggled, batting just .218 (41-for-188) with five home runs, but hit .300 or better in both July and August, finishing at .262 with 10 home runs and 53 RBIs. In his last 30 games for the PawSox, he hit .330 with 3 homers, 8 doubles and 16 RBIs.
Francona said he was unsure of how much Anderson will play the rest of the way, but he's likely to play enough for the Sox to make an evaluation going into 2011, as well as give other clubs a chance to contemplate him as a potential trading piece.
"He earned the chance to be here,'' Francona said.
* Francona said that while the plan is for
Clay Buchholz
to start on three days' rest Wednesday, that plan is subject to change. Translation: If the Sox lose one or both of the first two games of the series, expect a switch, perhaps to
Tim Wakefield
.
* Varitek was the 15th Red Sox player to rehab in Pawtucket this season, a club record. Here are the 15:
Josh Beckett
,
Boof Bonser
, Buchholz,
Mike Cameron
,
Jacoby Ellsbury
(twice),
Jeremy Hermida
, Lowrie,
Daisuke Matsuzaka
, Lowell,
Dustin Pedroia
,
Kevin Cash
,
Hideki Okajima
,
Jarrod Saltalamacchia
,
Eric Patterson
, and Varitek.
May, 24, 2010
5/24/10
5:41
PM ET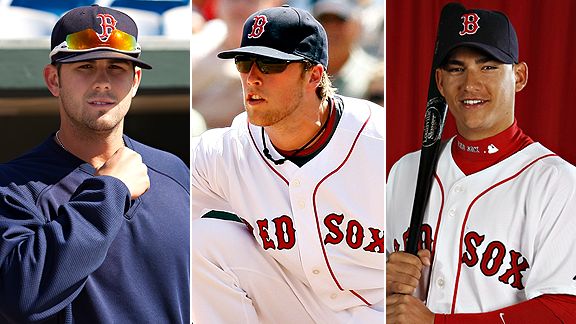 Getty ImagesRed Sox top prospects (left-right) Casey Kelly, Lars Anderson and Jose Iglesias are living up to expectations so far this season.
Now that we're more than six weeks into the minor league season, here's an updated look at the top five prospects in the Red Sox system. While all five have had some ups and downs early on, each has made significant individual strides and all look like potential major league regulars at this point.
The rankings have remained fairly steady since the beginning of the season, except for a diminution in the prospect status of Josh Reddick. The 23-year-old outfielder has disappointed in 2010, hitting .187/.220/.355 with Triple-A Pawtucket, making him one of the least-productive regulars in the International League this season and dropping him out of top-tier prospect status.
With that, here is the updated top five:
1. Casey Kelly, RHP
Age:
20 years, 7 months
How Acquired:
Drafted in the 1st round, 2008
Assignment:
Double-A Portland (League average age for pitchers: 24.3)
Line:
0-3, 4.45 ERA, 28 strikeouts, 13 walks, 28.1 IP
The Report:
The Sox challenged Kelly with an aggressive placement in Double-A this spring, making him the youngest pitcher in the Eastern League. The right-hander has shown flashes of dominance in his first eight outings, but has also had a few bad starts where he struggled to find his control. Focused solely on pitching for the first time in his career, the 20-year-old has been on a limited pitch count early in the season so that he doesn't jump too much beyond his 2009 innings total. Having pitched roughly 120 innings in 2009 (including spring training), look for Kelly to be limited to about 160 innings in 2010. Coming into the season, two primary emphasis points for Kelly were: (1) picking up a few ticks of velocity on his fastball while maintaining movement and control; and (2) missing more bats. On the first point, his fastball has generally registered around 90-92 mph early in 2010, about the same velocity that he had in 2009, but there have been reports that he has topped out at 94 mph on occasion. At the same time, he has had bouts where his fastball has been flat, leading to lackluster command and subpar results. In regards to the second point, Kelly has increased his strikeout-per-nine-inning figure from 7.01 in 2009 to 8.89 in 2010 -- a solid improvement in a key area. As far as when Kelly can be expected to land in Boston, look for a possible cup-of-coffee in September, an assignment to Pawtucket out of the gate in 2011, and an early-to-mid-season promotion to Boston next season.
2. Lars Anderson, 1B
Age:
22 years, 8 months
How Acquired:
Drafted in the 18th round, 2006
Assignment:
Triple-A Pawtucket (League average age for hitters: 27.0)
Line:
.302/.387/.550, 7 HR, 129 AB (combined Portland/Pawtucket stats)
The Report:
After showing signs of the Lars Anderson of old throughout minor league spring training, reports were that the Red Sox front office contemplated promoting the first baseman to Pawtucket to start the 2010 season. They opted to send him back to Portland, where he dominated through 17 games, leading the Eastern League with a .677 slugging percentage prior to his April 29 promotion to Pawtucket. While his stat line hasn't been as impressive in his first 20 games with Pawtucket (.254/.367/.433), he looks quite comfortable at the plate and should shortly make the necessary adjustments required to succeed at that level. That being said, Anderson could certainly stand to be more aggressive at the plate. The 22-year-old tends to take a lot of strikes waiting for the right pitch -- which results in both a lot of walks and a fair share of strikeouts -- and that could frustrate some Boston fans when he gets the call to the majors. Don't be surprised if that call-up occurs prior to Sept. 1 this year, but that may depend on Boston's status in the playoff hunt and whether there is a spot for the first baseman to get everyday at-bats.
3. Ryan Kalish, OF
Age: 22 years, 2 months
How Acquired:
Drafted in the 9th round, 2006
Assignment:
Double-A Portland (League average age for hitters: 24.3)
Line:
.254/.376/.440, 6 HR, 134 AB
The Report:
Don't let Kalish's mediocre batting average fool you -- he has been quite impressive at the plate this season, showing increased power, excellent plate discipline, and hard contact rates. His peripherals indicate that his low batting average is a matter of bad luck to this point, something that should regress back to the norm over the course of the season. Additionally, Kalish has shown impressive base-running skills and solid all-around defensive tools, playing all three outfield positions more than adequately. As a regular, he looks best suited for left field from a defensive standpoint at this stage, as his arm is not that of an ideal everyday right fielder and his range is not that of an ideal everyday center fielder. Ultimately, Kalish projects to be a .285/.385/.425, 20 home run, 25 stolen base type of player at the major league level. The question of his long-term status with the Sox may be one of whether the team can move forward with that type of power production in left field, where the expectations include higher home run and slugging totals.
4. Anthony Rizzo, 1B
Age:
20 years, 9 months
How Acquired:
Drafted in the 6th round, 2007
Assignment:
Double-A Portland (League average age for hitters: 24.3)
Line: .258/.341/.478, 7 HR, 159 AB (combined Salem/Portland stats)
The Report:
As many fans know, Rizzo missed most of the 2008 season with Hodgkin's Lymphoma after coming out of the gates with a .372/.402/.556 line with Low-A Greenville at the age of 18. Despite missing that full season, Rizzo is still well ahead of the curve in terms of age advancement, particularly since being promoted to Portland on May 10. He shows an advanced approach at the plate, a good eye, and a quick bat. His power, which has always involved a lot of projection, is developing nicely in 2010 to the tune of 7 home runs in 159 at-bats. He could develop into a 35-home-run hitter over the long term. Rizzo is also an excellent defender at first base with a solid arm, surprising lateral quickness for his size, and outstanding fundamentals. He'll be a fan favorite when he gets to Fenway Park, but don't expect that to be until 2012. Until then, Rizzo will need to get adjusted to advanced pitching, cut down on the strikeouts, and continue to put work in toward building more muscle onto his broad frame.
5. Jose Iglesias, SS
Age:
20 years, 4 months
How Acquired:
International free agent, 2009
Assignment:
Double-A Portland (League average age for hitters: 24.3)
Line: .301/.333/.406, 0 HR, 133 AB
The Report:
The Cuban shortstop has come as-advertised on defense, demonstrating outstanding instincts, extremely quick hands and excellent fluidity. Simply put, his glove is major league ready right now. Meanwhile, Iglesias' offense has been a pleasant surprise. His smooth mechanics and quick bat have resulted in a lot of contact, evidenced by a .301 batting average. However, he still needs some work with plate discipline, as he doesn't like to take a lot of pitches and tends to fish for balls outside of the zone a la Nomar Garciaparra. He also hasn't flashed a lot of power, with no home runs and just 8 doubles to this point. All that being said, Iglesias is still four years younger than the average competition in the Eastern League, and those are tools that can certainly develop in time. Look for Iglesias to spend the remainder of the minor league season in Portland while working on those aspects of his game, with the possibility of a limited call-up in September. Like Kelly, the shortstop is likely to begin the 2011 season in Pawtucket in the hopes of making major league contributions by mid-season next year.
Mike Andrews is designer and developer of SoxProspects.com and a special contributor to ESPNBoston.com.
April, 29, 2010
4/29/10
4:49
PM ET
Lars Anderson, 22, who is off to a great start for the Double-A Eastern League Portland Sea Dogs, has been promoted to Triple-A Pawtucket and may make his PawSox and McCoy Stadium debut tonight or Friday when the PawSox host the Indianapolis Indians, the PawSox announced.

Anderson was hitting .355 in 17 games for Portland this season with five home runs and 16 RBIs. He also led the league with a .677 slugging percentage and was tied for second in the league in total bases with 42. He had reached base safely in 16 of his 17 games played.

Anderson, who is ranked as Boston's fourth-best prospect by Baseball America after earning the No. 1 ranking prior to the 2009 season, spent all of last season with Portland and was a mid-season Eastern League All-Star. He hit .272 with eight home runs and 42 RBIs in 79 games prior to All-Star break. Anderson's production lagged after the break, however, and he batted .233 in 119 games for the season with nine homers and 51 RBIs.
February, 26, 2010
2/26/10
10:16
AM ET
FORT MYERS, Fla. -- It's common practice during spring training for prospects to learn as much as they can from veteran players since they're all together during big league camp.
The young guys are respectful and don't bug the older guys too much, but it's still a great opportunity to soak in all they can.
Red Sox first baseman
Kevin Youkilis
used to be one of those younger players who learned all he could from veterans in the early part of his pro career. Now, he's the one dishing out the advice.
"With some of these young guys it's fun with the respect they show you," he said. "They come up and ask questions, and I really enjoy that part of it. I really find it intriguing. I don't think of myself as any better than anyone here. I go out and play the game the right way. You try to teach these young guys, not just about the physical aspects of baseball, but the mental part of baseball. Hopefully I can have an impact on them some how so they can become major league ballplayers and do really well."
Youkilis' pupil the last two years has been first base prospect Lars Anderson. The two were having a conversation on Thursday about defense and positional play.