Boston Red Sox:

Lyle Overbay
March, 26, 2013
Mar 26
11:43
AM ET
FORT MYERS, Fla. -- The
Boston Red Sox
on Tuesday released first baseman
Lyle Overbay
, adding further clarity to the final bench spots on the Opening Day roster.
The Red Sox had a deadline of noon Tuesday under the collective bargaining agreement to tell Overbay whether he would make the 25-man roster. He is now a free agent.
The release of Overbay, who hit .220 with a double, two triples and seven RBIs in 19 spring training games with the Sox, gives first baseman/outfielder
Mike Carp
a better chance to make the team. Either Carp, who is on the roster, or outfielder
Ryan Sweeney
, who is not, will fill that final spot on the bench. Sweeney has an opt-out option Thursday if he is not added to the big league roster.
Assuming the Red Sox add Jackie Bradley Jr. to the roster and start him in left field, it looks like the bench will consist of catcher
David Ross
, utility infielder
Pedro Ciriaco
, outfielder/first baseman
Daniel Nava
and either Carp or Sweeney.
Jonny Gomes
projects as the team's designated hitter with
David Ortiz
starting the season on the disabled list.
March, 23, 2013
Mar 23
3:11
PM ET
FORT MYERS, Fla. -- A few other things to pass along while wondering what Tito Francona will say if Harvard beats his alma mater (Arizona) in the tournament tonight:
* According to sources, the agent for first baseman
Lyle Overbay
has been contacting other clubs to gauge interest in the first baseman, a nonroster player who can exercise the opt-out in his contract next week. Overbay is not expected to make the big league Sox roster, and has not elicited a great deal of interest from other clubs, including the Yankees. Some back tightness hasn't helped.
* One scout who has watched
John Lackey
since his college days said Lackey looked as good as he has seen him since early in his career, and attributed the improvement not only for the obvious reason, the Tommy John surgery, but to his significant weight loss. "He could have a big impact," the scout said.
* The last positional battle on the team may come down to a choice between
Ryan Sweeney
, a nonroster outfielder who can play all three outfield positions, and first baseman
Mike Carp
, who has not lit up camp since coming over from Seattle, batting .194 entering play Saturday. One scout said he believes that
Daniel Nava
would be a serviceable first baseman on the occasional times the Sox would need him there; if the Sox feel the same way, and prefer an extra outfielder, Carp could be odd man out.
*
Stephen Drew
(concussion symptoms) played catch on the field with a trainer and also took a regular round of batting practice with the regulars. He was the only player wearing a batting helmet.
*
David Ortiz
's cardio work continues indoors, and the Sox were hoping he'd hit in the cage. Manager John Farrell said he hopes that Ortiz will at least be able to take BP on the field before camp breaks, but is laying out no timetable.
* Farrell plans to play his regulars here Saturday and again Sunday in Clearwater. The plan is for regulars also to get a couple of at-bats in a minor league game Monday (instead of traveling to Sarasota), since there is a scheduled day off Tuesday.
* A talent evaluator on Jackie Bradley Jr.'s debut in left field Friday: "He moves over in the seventh inning and makes a couple of plays that no other outfielder on that team could have made."
Bradley's 21 hits this spring are 8 more than any other player on the Sox.
Pedro Ciriaco
led the team with 18 last spring.
* Ciriaco, by the way, is nearly over his back spasms. He may play in a game Sunday.
*
Jacoby Ellsbury
has not attempted a stolen base this spring. No physical reason for that, Farrell said, adding the team is striving to begin the season as healthy as it can. Ellsbury stole 14 bases in 17 attempts during an injury-shortened 2012.
"He wasn't the guy that stole 70 a couple years ago," Farrell said, "but that is strongly being encouraged -- not the number, but the approach."
March, 21, 2013
Mar 21
9:39
PM ET
FORT MYERS, Fla. -- Red Sox GM Ben Cherington touched on a number of subjects besides rookie Jackie Bradley Jr. and shortstop
Stephen Drew
during his session with the media Thursday afternoon, including the status of reliever
Daniel Bard
on the eve of the season.
Bard is still in camp competing for a bullpen spot, but he has an option left, allowing the Sox to send him to Pawtucket without exposing him to waivers. Given the depths to which he plummeted last season, the Sox are likely inclined to have him start in Pawtucket and experience some success there. That would allow them to get some value out of
Clayton Mortensen
, who is out of options.
[+] Enlarge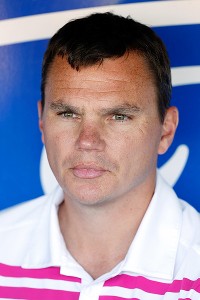 J. Meric/Getty ImagesBen Cheringon touched on a number of topics Thursday, providing some clues as to how the roster will shape up.
"Well, we think he's a lot further ahead than where he ended the season," Cherington said. "Probably still not all the way to where he wants to be, but in the range of possibilities he's a lot closer to where he wants to be than where he was struggling last year.
"I think the nice thing, from my standpoint, of his spring is we haven't talked much about it, it doesn't seem like. He has been able to get in his work and get ready for his season. There have been definitely a few outings where he looked pretty close, and I think he's feeling gradually better about himself."
*
Daniel Nava
's spot on the rotation as a backup outfielder-first baseman seems assured, judging by Cherington's comments.
"He's done a good job," Cherington said. "He's had good at-bats, he's done well defensively. He seems more and more comfortable at first base, not that that would be a primary part of his role, but he has the ability to go there if needed."
* Cherington acknowledged that the fact
Lyle Overbay
is not on the roster and
Mike Carp
is could factor into which player is kept as a left-handed hitting first-base alternative to
Mike Napoli
. Overbay is one of three players -- the others being
Mitch Maier
and
Ryan Sweeney
-- who have opt-out options in their contract that come into play next week. It was reported here incorrectly Thursday morning that
Drew Sutton
also had an opt-out.
* Cherington's assessment of the way the starting rotation has performed this spring:
"They'd all tell you it's spring training, but a lot of encouraging things. There's clearly a purpose to the work. They're going out, taking certain things into the game, whether it be pace, aggressiveness within the strike zone, attention to detail -- for the most part, they've been paying attention to the running game. We saw [the work] early in camp and now they're taking it into games. The pitching overall has been pretty encouraging."
* On whether the team needed to add depth to the rotation:
"I guess you can't be deep enough. Our job is to look out for reinforcements, but we feel pretty good about some of options we have, in addition to the five guys [in the rotation]. [
Alfredo Aceves
] has been stretched out, he gives us another guy. The guys projected to start at Pawtucket, we feel better than we did last year at this time about our options.
"[Chris] Hernandez, [Terry] Doyle, [Allen] Webster...
[Rubby] De La Rosa
, we'll give some time to get his pitch count built up. There are a lot of guys coming after them. We feel hopefully we're a little further ahead than we have been."
* On Drake Britton, the Red Sox pitcher whose first big league camp was curtailed after he was arrested on multiple DUI charges and is now awaiting an April court date:
"I've had a number of conversations with Drake and gone over some things I'm not going to comment on. At this time we don't have reason to believe he's going to miss time. There's obviously a legal progression that needs to be worked out; we'll let that work itself out."
Britton could face up to a year's jail time on the most serious charge, a DUI with property damage.
"There's a protocol I'd rather not get into," Cherington said when asked if the team has a set protocol for dealing with situations in which a player faces criminal charges. "For a player on the 40-man [roster], it's a little different than a nonroster player. It's not all a discipline process the player goes through."
Presumably, Cherington was referring to counseling, though he would not elaborate.
"I just think it's better to let that process play out behind closed doors," he said, " but I will tell you this is something we take very seriously. Part of what it gets to is a matter of reliability. Part of being a major leaguer with the Red Sox is being reliable, being someone we feel we can trust day in and day out to perform and be ready. Certainly, on the field is part of it, but the other stuff is part of it, too.
"He's shown a great deal of remorse and understands the gravity of what happened and is going through the steps to learn from it."
February, 13, 2013
Feb 13
11:30
AM ET
FORT MYERS, Fla. -- First baseman
Lyle Overbay
was not quite an afterthought for the Red Sox, but he was close.
"It was late," said Overbay, who on Jan. 31 signed a minor league contract with the team, with an invitation to big league camp.
"They were kind of going down the line, losing out on guys. I guess if you wait long enough and they lose out enough, the opportunity comes about."
With the uncertainty regarding Mike Napoli's hip, the 36-year-old Overbay, who has lived something of a gypsy existence in baseball the last few seasons, gives the Sox potential insurance at the position and a possible backup.
"In the beginning, I was saying I need Napoli to sign with Boston and then I can give him a day or something," said Overbay.
Overbay's career has been in eclipse since a five-year run as the Blue Jays' every-day first baseman ended after the 2010 season. He has been with three teams since -- the Pirates, Diamondbacks and Braves -- and made just 131 plate appearances last season.
"It's been different," he said. "I knew last year going in, I knew my role. In a perfect world, you want to play more, but at this point it's like, what's more important: Do I want to be miserable and lose 150 games or have a chance to win a World Series? That's a big plus for me, if I can be part of that."
He said he doesn't want that chance at any expense to Napoli, who won't be cleared to take ground balls at first base until he undergoes another MRI.
"I don't think anybody knows," Overbay said when asked about how playing time at first base might be impacted. "I know he's got the hip disease. I don't think he knows. There's that possibility [he might be limited].
"I didn't look at it that way. I'd love to see him play 162 games, and play 81 games at Fenway. I've seen a lot of fly balls in Anaheim Stadium [Napoli began his career with the Angels] that were at the warning track, and those things are gone in Fenway.
"I'm just interested in seeing what he can do there. Him in that lineup will make everyone better," said Overbay. "I didn't come in here thinking and hoping he's injured, anything like that. Potentially, I might have had an opportunity with someone else, where I might have had more playing time, but I'd rather have this."
To that end, Overbay said he has spoken to the Sox about taking fly balls in the outfield, if that would increase his chances of making the club. He grew up as an outfielder and played maybe three games as a first baseman, all in Legion ball, before being drafted by Arizona and told he'd be playing first base.
"I said, 'You got a first baseman's glove, because I don't,'" he said. "I'm willing to play the [outfield]. If it's something that helps my cause, I'm all ears. I'm game."
January, 31, 2013
Jan 31
5:17
PM ET
The
Boston Red Sox
on Thursday agreed to a minor league deal with first baseman
Lyle Overbay
, a contract that includes an invitation to spring training, a team official confirmed.
The Red Sox are thin at the position, with newly signed
Mike Napoli
(who had primarily has been a catcher over his career and comes with hip issues) and
Mauro Gomez
(15 career major league games started at first) the only first basemen on the roster.
The 36-year-old Overbay would fit well on the Red Sox bench, which is in need of another lefthanded bat and a competent defensive backup at first base.
He has struggled offensively over the past two seasons after hitting 20 homers for the Blue Jays in 2010. Since then, he's bounced from the Jays to the Diamondbacks to the Braves, performing at a mediocre offensive level at each stop.
His best season came in 2006, when he hit 22 homers and hit .312 for the Blue Jays with an .880 OPS. The Brewers reportedly had also been interested in Overbay.
August, 20, 2010
8/20/10
11:56
PM ET
BOSTON -- It didn't take long for Red Sox starter
Jon Lester
to know it wasn't going to be a good night.
Entering his 25th start of the season, Boston's southpaw had won his previous two games by beating the
New York Yankees
and
Texas Rangers
. Friday night, it was the
Toronto Blue Jays
who beat up on Lester.
Toronto scored early and often en route to a staggering 16-2 victory. The Blue Jays pushed across five runs in the first inning and added another four in the second and third innings off Lester. The Blue Jays'
Lyle Overbay
collected three-run homers off Lester in both the first and third innings.
Overall, Lester allowed a career-high nine runs in only two-plus innings pitched, which is the shortest of his career. He's now 13-8 this season.
"I didn't have anything from pitch one," Lester said. "I dug myself in a hole and couldn't get out of it. A team that swings the bat that well, you can't give them any leeway like that. They took advantage of it."
Lester had command issues with all of his pitches, especially his off-speed stuff.
"It was a tough go right from the beginning," said Red Sox manager Terry Francona. "It doesn't happen very often with him."
Lester agreed.
"I've had worse. I have better," he said.
What's disappointing is the fact his worst start of the season comes on the heels of two solid performances against two of the top lineups in the league with the Yankees and Rangers.
"They're all disappointing," Lester said. "Anytime you don't win it's disappointing, regardless of what time of the year it is, or who we're playing. A loss is a loss. It doesn't matter if you lose 1-0, or by a score like tonight. They all sting and hopefully this is just a fluke -- one of those deals that happens once in a blue moon."
How long will it take to file this one away?
"It's already gone," Lester said.