Boston Red Sox:

Mark Buehrle
May, 11, 2013
5/11/13
7:54
PM ET
By
Tony Lee, Special to ESPNBoston.com
BOSTON -- When
Clay Buchholz
and
Mark Buehrle
squared off May 1 in Toronto, it was a mismatch. Buchholz, before accusations of doctoring the baseball temporarily clouded his early success, was on an absolute roll. The veteran Buehrle was at the top of the list of the big-name additions that were either hurt or struggling mightily for the Jays.
A 10-1 Red Sox win simply reinforced that separation. But so much has changed in the past 10 days.
[+] Enlarge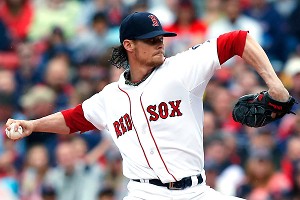 AP Photo/Michael DwyerClay Buchholz was solid through eight innings but regretted a couple of early RBI singles.
While Buchholz was solid in a no-decision Saturday against Toronto, Buehrle -- who has often struggled at Fenway Park -- sparkled, allowing just one run in seven-plus innings to provide a sellout crowd with a bit of an unexpected pitcher's duel and to further support the assertion that the Red Sox offense is not what it was in April.
It is actually a shame that the bullpens figured so prominently in the final result.
Darren Oliver
took over for Buehrle with a man on in the eighth and almost immediately blew a 2-0 lead, and Boston closer
Junichi Tazawa
served up a go-ahead solo shot to
Adam Lind
in the top of the ninth. This one really should have been all about Buchholz and Buehrle.
"Both guys settled in and pitched extremely well on both sides," Boston manager John Farrell said. "Seemed after the second inning Buehrle really settled into a very good rhythm. As we know, he works fast. Lived on the edge the whole game."
On the other side, John Gibbons has been waiting for more positive results from guys like Buehrle, although he seemed to sense this kind of performance was coming.
"He was changing spots, changing speeds, had everything going," Gibbons said. "There were no mistakes. They say Mark's always been a slow starter but kicks it in when May gets rolling. Buchholz was good. It was one of those ballgames where it was unfortunate it got away."
Indeed, May has traditionally been a strong month for Buehrle. He sports a 3.35 ERA in 68 career starts during the month. Buchholz has also been a better pitcher as the season wears on (9-1 with a 2.49 ERA in June), and Saturday served as a nice recovery from his first nonquality start Monday against Minnesota. But unlike the last time he opposed Buehrle, there was no margin for error, and RBI singles in the third and fourth left Buchholz with a bit of regret.
"Felt pretty good about it but left a couple of pitches up early with runners in scoring position," he said. "They were able to put the bat on it. I've got to make better pitches at that part of the game."
Buchholz did begin to make better pitches, and the duel really took off once he got a 4-6-3 double play to escape the fourth. He would allow only a walk and a single over his final four frames, keeping the Sox in it long enough to rally in the eighth.
Buehrle, meanwhile, retired 13 straight until walking
David Ross
to begin the rally.
"It was one of those days I had the majority of my pitches working," Buehrle said. "Down in the zone and when I did miss they didn't make me pay for it. A big part of this game is luck, and I had that on my side today."
Luck, and 10 days of rather dramatic changes in Boston. The Sox have averaged just over three runs a game since that 10-1 pounding of Buehrle and the Jays. They are hitting .179 with runners in scoring position in that stretch. Several big bats have hit the skids. Meanwhile, the veteran lefty in Toronto seems to have found his form.
It all adds up to Buehrle ever-so-slightly outdueling Buchholz, a scenario that seemed impossible earlier this month when the former was a poster boy for Toronto's struggles and the latter was the symbol of Boston's phenomenal start.
May, 11, 2013
5/11/13
5:46
PM ET
By
Tony Lee, Special to ESPNBoston.com
BOSTON -- Buried beneath everything that has gone into the
Toronto Blue Jays
' misery is the life and times of
Adam Lind
, an extremely talented batter who has fallen off in a big way in the last two years. If he could ever rediscover the form he had in 2009 (.305, 35 homers, 114 RBIs), this Blue Jays lineup would take on a very different look.
While Toronto managed just three runs Saturday, Lind showed he still has the ability to carry the order from time to time, going 3-for-4 with the tiebreaking home run in the top of the ninth inning off Red Sox closer (for now)
Junichi Tazawa
, keying a 3-2 win over Boston. It is the seventh loss in nine games for the Sox.


Boston rallied for two runs in the bottom of the eighth after Jays manager John Gibbons elected to yank starter
Mark Buehrle
, but Tazawa's sixth pitch to Lind to begin the ninth was a slider that didn't, well, slide, and Lind hammered it into the bleachers in center, setting up a rubber game Sunday afternoon at Fenway Park.
Tazawa's troubles:
In the end, the bullpens disappointed after Buehrle and
Clay Buchholz
put forth a solid duel. On the day the Red Sox learned that onetime closer
Joel Hanrahan
will have season-ending surgery and closer No. 2
Andrew Bailey
was still days away from returning to the mound, Tazawa's performance put more questions on the back end of the Boston bullpen.
A marvel of efficiency earlier this season, Tazawa has given up four runs in his last 4 2/3 innings. It may simply be a quick market correction for a guy who has outstanding stuff, but the fact that Tazawa has been scored upon in his first two outings since being named the new closer -- albeit both in non-save situations -- speaks to the uncertainty of the ninth inning.
That's why they play the games:
Strictly from a numbers standpoint, the meeting between Buchholz and Buehrle was a complete mismatch. Buchholz entered with a 2.42 ERA in his career against the Blue Jays. The Toronto starters were a combined 24-for-130 (.185) against him. He absolutely dominated the Jays in the Rogers Centre on May 1 en route to a 6-0 start.
Meanwhile, Buehrle was winless with a 5.50 ERA in his last six starts against Boston and had a 5.60 mark in his career at Fenway Park. He entered with a 7.02 ERA this season, and the Red Sox starting lineup was 55-for-159 (.346) against Buehrle. The lefty was thoroughly outpitched by Buchholz 10 days ago.
Then the game began. While Buchholz was good, he was not quite on par with Buehrle, who stymied the dormant Boston bats, leaving with a 2-0 lead in the bottom of the eighth. Buehrle allowed five hits and struck out five, retiring 13 straight at one point.
[+] Enlarge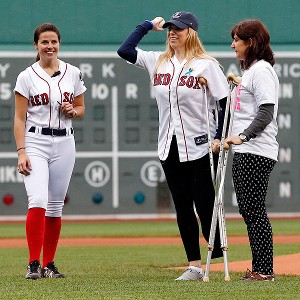 AP Photo/Michael DwyerBoston Marathon bombing victim Heather Abbott, center, throws out the ceremonial first pitch.
We'll make up for it:
A rain delay of 51 minutes before the first pitch lengthened the afternoon, but Buchholz and Buehrle more than made up for it. Buehrle is widely recognized as one of the fastest workers in the game, and Buchholz has made efforts to pick up the pace quite a bit this year. Throw in some efficient outs early on and the two were able to turn what could have been a long afternoon into a rather tidy one.
The game lasted two hours, 42 minutes, tied for the fourth-shortest Red Sox game of the year.
Where's the offense?
Aside from eight runs in a blowout loss to Minnesota on Wednesday, the Sox's attack has been quiet. While attention has been given to
David Ortiz
's recent slide and
Mike Napoli
's swoon, the struggles of
Jacoby Ellsbury
have been just as severe.
Entering his at-bat in the bottom of the eighth, Ellsbury was in a 3-for-29 stretch. He had just one extra-base hit in his last 14 games, had scored only one run in May and had one steal, while being caught stealing twice, in a span of 13 contests.
Then came an absolute bomb on the second pitch of
Darren Oliver
's appearance that resulted in an RBI triple for Ellsbury. There was a quick thought that the big hit could serve as a catalyst for the breakout everyone seems to be waiting for. Then came a first-pitch tapper to the mound to end the game with the tying run on second. Back to the drawing board for one of Boston's struggling stars.
Get away from me!
When
Will Middlebrooks
and
David Ross
pass by each other, they must flinch. The two seem to have a knack for meeting up. Four days after they pounded into each other chasing a foul popup, the two nearly came together on a
Munenori Kawasaki
bunt in the third. The result was a pretty nice play on both ends.
The ball rolled off Kawasaki's bat and just to the left of the mound. As Middlebrooks charged hard, Ross circled around the ball preparing to scoop and fire to first. When Ross grabbed the ball, Middlebrooks was right on him and had to go into a slide to avoid losing his noggin on the throw to first.
The two shared a few words after the out, likely planning for the next encounter.
Early efficiency:
This is nothing more than one of those quirky things that baseball often produces, but here goes. On Wednesday,
Allen Webster
and
Felix Doubront
combined to face 19 hitters in the first two innings against Minnesota.
John Lackey
,
Jon Lester
and Buchholz have combined to face the minimum of 18 hitters in the first two frames since.
Sunday is big:
Mother's Day brings with it a small dose of urgency for the Sox to snap out of their funk. After a day off Monday, Boston begins a stretch of 20 games in 20 days with just six of those games at home. One cannot discount the value of taking a little momentum into such a span.
Rhode Island Strong:
While celebrating Rhode Island Day at the park, the Red Sox continued their emotional tributes to victims of the Boston Marathon bombings by honoring Heather Abbott, a native of the Ocean State who lost a leg in the tragic events. David Ortiz said hello to Heather before the pitch,
Jarrod Saltalamacchia
caught it, and the crowd rose as one in appreciation of her bravery and spirit.