Boston Red Sox:

Marlon Byrd
June, 9, 2012
6/09/12
2:38
PM ET
By
Tony Lee
| ESPNBoston.com
BOSTON -- As expected, the Red Sox designated outfielder
Marlon Byrd
for assignment to make room on the roster for
Daisuke Matsuzaka
, who is coming off the disabled list Saturday to make his first start in more than a year.
Byrd, acquired in a trade with the
Chicago Cubs
on April 21, hit .270 with a home run and seven RBIs in 34 games with Boston. He was brought in amid a rash of injuries to the outfield and started 27 times for the Red Sox.
"Marlon came here and kind of saved the day and now he'll more than likely be with another team," manager Bobby Valentine said Saturday at Fenway Park. "Hopefully it's not in our division whose competing against us. He did a good job while he was here, we just needed room for a starting pitcher for today."
The Byrd trade was made eight days after
Jacoby Ellsbury
suffered a right shoulder subluxation and two days before Boston placed replacement
Jason Repko
on the disabled list with a left shoulder sprain. Left fielder
Carl Crawford
was already on the disabled list recovering from left wrist surgery. Outfielders
Darnell McDonald
,
Cody Ross
and
Ryan Sweeney
all suffered injuries in May, which allowed Byrd to remain a regular.
McDonald returned from a right oblique strain earlier this week. With Matsuzaka coming back and the club needing to open up a roster spot, it came down to Byrd and McDonald, Valentine said. The manager said that much of the decision was based on the fact that McDonald has a familiarity with the coaches and players, and that he provides more pop against left-handed pitching.
Also playing into the decision was the emergence of
Daniel Nava
as a standout atop the lineup. After a 2-for-5 showing in the series opener against Washington on Friday night, Nava was hitting .311 with two homers and 19 RBIs in 28 games since being recalled from Triple-A on May 10. Although the sample size is not large, Nava is leading the team with a .955 OPS.
"When we got Marlon there was a real need for outfield depth, and Daniel has filled in very nicely there. He's done a great job," Valentine said. "Of course, Darnell coming back, it was kind of a decision of Darnell or Marlon.
"When you're a good switch hitter it is an advantage," Valentine said, referring to Nava. "It looks like he is swinging the bat well from both sides. He's hit some balls hard from the right side with a real small sample as a quality at-bat."
Nava is batting in the leadoff spot for the seventh time Saturday against Nationals lefty
Gio Gonzalez
.
In other clubhouse news:
* Crawford played catch Saturday for the second day in a row and took some swings in the batting cage. Valentine said "he's progressing" and that he "looked good" throwing. However, there remains no timetable for Crawford to begin a rehab stint.
* The same can be said of Ellsbury, who has been throwing and running and has hit off a tee for five days in a row. There have been no setbacks and Ellsbury is in great shape, Valentine said.
* As for what to expect from Matsuzaka on Saturday, Valentine offered a sentiment many Red Sox fans have had over the years.
"I would like to get it over with actually because I have no idea what to expect," he said. "I have seen him a little on film, but never seen him on the big stage."
* The Red Sox activated rehabbing outfielder Ryan Kalish from the 60-day disabled list and optioned him to Triple-A Pawtucket and transferred Repko to the 60-day DL.
June, 9, 2012
6/09/12
12:47
AM ET
BOSTON --
Marlon Byrd
's days in a Red Sox uniform are about to come to an end.
With
Daisuke Matsuzaka
scheduled to be activated Saturday, the Red Sox must make a corresponding roster move, and after Friday night's game, Byrd was summoned to a meeting in Bobby Valentine's office with the manager and GM Ben Cherington. The club held off on making an official announcement, but Byrd is expected to be designated for assignment Saturday.
His departure will still leave the Red Sox with five outfielders, not including the five on the DL (
Jacoby Ellsbury
,
Carl Crawford
,
Ryan Kalish
,
Cody Ross
and
Jason Repko
). Ellsbury and Crawford both are throwing as of Friday, Kalish has been tearing it up on a rehab assignment in Pawtucket, and Ross's fractured foot is healing.
Byrd, who came to the Sox in a trade for minor league pitcher
Michael Bowden
, had a paltry OPS of .606 (on-base .286, slugging .320) and his outfield play was spottier than advertised. The return of
Darnell McDonald
from the DL and the emergence of
Daniel Nava
made him expendable.
May, 11, 2012
5/11/12
6:32
PM ET
By
Tony Lee
| ESPNBoston.com
BOSTON -- One of the first signs of activity at Fenway Park on Friday was a rather ordinary sight. It was
Kevin Youkilis
playing catch at around 3 p.m. in shallow right field. Given the situation Youkilis is in, however, that qualifies as something notable. Not jaw-dropping, but notable.
The brief game of catch, during which Youkilis twisted and turned in order to limber up his back, was the first dose of baseball activity that the veteran third baseman has had since going on the 15-day disabled list with a lower back strain.
The next step may involve picking up a bat. When that occurs remains to be seen.
"Seemed like he could swing but they're delaying him," said manager Bobby Valentine.
Youkilis is eligible to return Monday. That appears to be a stretch at this point in time.
In other clubhouse news:
•
Daisuke Matsuzaka
is still on schedule to make his fourth rehab start Saturday in Pawtucket. It will be his second start at the Triple-A level. He threw 4 2/3 scoreless innings for the PawSox on Monday and is almost major league-ready.
"I would say he's very close," Valentine said. "He's done everything except string the innings together. He's worked on all of his pitches. He's happy with his pitches, he's happy with his velocity, his strength, his ability to field, pitch out of the stretch, the windup. If there's a checklist he's checked off a lot of those things and now it's just stringing innings together."
Barring anything unforeseen or a particularly rocky inning, Matsuzaka will throw about 90 pitches.
• Shortstop
Mike Aviles
is out of the starting lineup for the first time in over a month. The only game Aviles has missed was April 10 in Toronto.
Valentine said he was going to wait until Sunday to sit Aviles since that will be the halfway point of the team's current stretch of 20 games in 20 days, but he chose not to.
•
Marlon Byrd
is also out of the starting lineup for the first time since his debut with the Red Sox on April 23. That gives
Ryan Sweeney
his first start in center field with Boston and allows Valentine to have two left-handed hitters in Sweeney and
Daniel Nava
against Cleveland righty
Ubaldo Jimenez
.
"Byrd's been playing an awful lot and I want to see what this alignment looks like now that we have another left-handed hitter here," Valentine said.
May, 6, 2012
5/06/12
10:31
PM ET
By
Tony Lee
| ESPNBoston.com
BOSTON -- Roughly one hour after the Orioles-Red Sox game on Sunday, someone dressed as a ram mascot with an unidentifiable blue jersey on was running the bases at Fenway Park with a video crew in tow and Lionel Richie's "All Night Long" blaring overhead. And that wasn't even close to being the oddest sight at Fenway Park on Sunday.
[+] Enlarge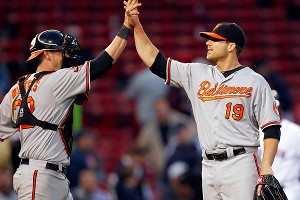 Greg M. Cooper/US PresswireChris Davis' sour day at the plate (0-for-8, 5 K's) was sweetened when he earned the win by pitching the final two innings.
In the longest Sox game in terms of innings and time (17 innings spanning 6 hours, 7 minutes) since 2006, Baltimore outlasted the reeling hosts by a 9-6 margin. It was the kind of game that would best be summed up in a "War and Peace"-sized recap. But that's ridiculous. Here is your Cliffs Notes version, 10 observations taken from a wild one at Fenway:
(1)
It is so rare to see a position player pitching. It is even rarer to see a position player pitching in a tie game. It is like spotting a unicorn to see position players for both teams squaring off at the same time in a tie game. Such was the case as this one boiled down to Orioles designated hitter
Chris Davis
and Red Sox designated hitter
Darnell McDonald
in a matchup for the ages. Or the aged, as the case was by the time the game ended.
Davis got the win with two scoreless frames, showcasing a heater that reached the low 90s and some off-speed stuff that did not look all that bad. Just ask
Adrian Gonzalez
, who flailed at what looked like a changeup to strike out with two men on in the bottom of the 17th.
(2)
That strikeout was part of an awful day at the plate for Gonzalez. He seemed to have broken out of a slump with back-to-back three-hit efforts, but this one will be tough to get past. Gonzalez, who did not speak with reporters, became the first Red Sox cleanup hitter ever to go 0-for-8. Included in that performance were two strikeouts and one double play. He made first-pitch outs in the 10th, 12th and 15th.
Given all that, Bobby Valentine was quick to point out that Gonzalez was offering up his services in the event the manager needed anyone to pitch beyond McDonald.
(3)
The silver lining again was the bullpen. Taking out McDonald's one inning, Red Sox relievers threw 12 1/3 scoreless innings. They threw 13 1/3 innings over the first two games of the series. When asked if a move is necessary to survive the upcoming series in Kansas City, Valentine was non-committal. But it seems almost impossible to begin that set without adding a fresh arm. The only pitcher Valentine said was definitely not available was
Scott Atchison
, who threw 23 pitches one day after throwing 35.
[+] Enlarge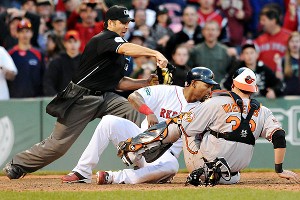 Darren McCollester/Getty ImagesThe Sox would have won it in the 16th if Marlon Byrd had been safe on this play at the plate.
(4)
When a runner is thrown out at the plate, especially in a big situation, it always seems like a mistake. Why did they send him, the masses will scream. However, it is hard to blame the Red Sox for trying to score
Marlon Byrd
from first base on a
Mike Aviles
double in the 16th. When you haven't scored in seven innings and you haven't won since Tuesday and you get a ball in the gap with two outs, why not? The Orioles made a great relay to nail Byrd by several steps. One hesitation or extra bounce in the outfield and the Sox are mobbing Byrd at home and Aviles at second.
(5)
In large part because of its quirky dimensions and the close proximity of fans, Fenway Park has so often played into the hands of the Red Sox. Few places in all of sports boast such a distinct home-field (or home-court or home-ice) advantage. The club wins 50 games here on a yearly basis just by showing up.
Not anymore. After dropping 10 of their final 14 games at Fenway last season, Boston has dropped 10 of its first 14 this season. For those of you without an abacus, that's an 8-20 stretch at the Fens. You don't need any adding machines to recognize that as an extreme departure from the norm.
(6)
Amid the wonderful performance by the bullpen were two standout jobs by lefties
Andrew Miller
and
Rich Hill
. Miller got the last out of the fourth inning after taking over for
Clay Buchholz
and then struck out the side in the fifth. Consider that in his 10 appearances for Pawtucket, Miller had just two perfect outings.
Also consider the fact that Hill, just four games into his return from Tommy John surgery, worked into a third inning of relief. He never managed an out in that third frame, walking the leadoff man and getting yanked, but the fact that he was sent back out for more was a tad surprising. Don't expect him to be working Monday in Kansas City as well.
(7)
Pretty incredible how things are developing between the Sox and O's. With Sunday's win Baltimore is back in first place in the American League East, 7½ games ahead of last-place Boston. And this was a rivalry once so one-sided that the Sox were 64-25 against the Orioles from 2005 through 2009.
Baltimore's sweep is its first of the three-game variety at Fenway Park in nearly 18 years. Yikes.
(8)
The term "rookie mistake" was uttered several times after
Will Middlebrooks
failed to run out a ball that bounced fair down the left-field line in the bottom of the 11th. His lapse in judgment turned a sure double into a single, and with two outs in the inning it loomed large.
However, Valentine is 100 percent correct in referencing the odd wind patterns in that part of the field and how it can fool players who are not accustomed to it. A handful of times every season a left fielder overruns a ball that blows back into fair territory behind him. Nine times out of 10 it is an opposing player. The 10th time it is
Jeremy Hermida
, or at least it was in 2010, when he made a mockery of such plays.
(9)
Just in case you need to be reminded, the winning pitcher was Chris Davis, who also struck out five times and grounded into a double play, and the losing pitcher was Darnell McDonald, who pinch-ran for
David Ortiz
in the eighth. That's the kind of game it was.
(10)
Felix Doubront
has yet to last into the seventh inning in eight career starts. With a bullpen in tatters heading to Kansas City, now's the time, Felix.
April, 30, 2012
4/30/12
6:05
PM ET
By
Tony Lee
| ESPNBoston.com
BOSTON -- The clock is ticking on
Aaron Cook
. The right-hander, who has been pitching well for Triple-A Pawtucket, has an opt-out clause in his contract for May 1, which for those without a calendar handy is Tuesday.
As the Red Sox opened a homestand against Oakland, manager Bobby Valentine said no moves had been made related to Cook. However, he did acknowledge a plan to use Cook out of the bullpen.
"If he came here, yes," Valentine said when asked if Cook would be used as a reliever.
That would seem to strengthen Daniel Bard's hold on a starting spot. Bard is coming off his best outing as a starter; he allowed two earned runs in seven innings at Chicago on Friday.
Cook is 3-0 with a 1.89 ERA in five starts for the PawSox, including two complete games. He has pitched just once out of the bullpen in the majors since 2003 and was not initially considered a candidate for such a role when he signed with Boston in January.
As Valentine is quick to point out, a baseball season is an evolutionary process. The desire not only to add a veteran arm to the major league staff but to keep Cook in the fold for security purposes has led an alteration to the initial plan.
That doesn't mean it's going to be easy.
"It'd be challenging," Valentine said of using Cook in such a role. "You don't know what's going to happen. Right now I couldn't say that it could be anything other than [pitching in relief]."
Valentine admitted that an upcoming stretch of 20 games in 20 days could alter the plans once again. The manager said using Cook as a sixth starter is "a consideration."
In other clubhouse news:
*
Marlon Byrd
will be playing his first game as a member of the Red Sox at Fenway Park. It also marks his first game here since being hit in the face by an
Alfredo Aceves
offering last May when he was with the
Chicago Cubs
.
Byrd is 8-for-26 (.308) with an RBI and a walk in seven games with the Sox.
"I'm glad that he's a Red Sox," Valentine said. "[Hitting coach]
Dave Magadan
has worked with him so that I think he's more comfortable at the plate than when he got here and I think that will continue. He's had some pretty good at-bats. Played some pretty good center field."
*
Daisuke Matsuzaka
is on track to make his third rehab start Friday for Pawtucket. Valentine said the weather could alter that plan. Matsuzaka allowed one run and struck out seven in 4 2/3 innings for Double-A Portland in his prior rehab outing.
* The game marks a reunion of sorts for several players, including Boston outfielder
Ryan Sweeney
and Oakland outfielder
Josh Reddick
. They were both part of the
Andrew Bailey
trade this winter.
Sweeney offered a light moment when a reporter asked him how the markets compare. He laughed out loud and asked back, "Trick question?"
Then Sweeney got a bit more serious in assessing the discrepancy.
"Obviously we're a little bit of a bigger market, but it's just baseball," he said. "Here more you're probably expected to win a little more. There you want to win but I would say that there isn't as much pressure."
April, 28, 2012
4/28/12
7:01
PM ET
By
Sahadev Sharma
| ESPNBoston.com
CHICAGO -- When the
Boston Red Sox
acquired
Marlon Byrd
from the
Chicago Cubs
, no one expected from the veteran outfielder. Byrd had started the season off in a horrible slump, amassing only three singles for a .070 batting average for the Cubs. But with injuries to star outfielders
Carl Crawford
and
Jacoby Ellsbury
and with fourth outfielder
Jason Repko
heading to the DL, the Sox were a team in desperate need of another outfielder who could play center field.
Since joining the Red Sox, Byrd is hardly lighting the world on fire (.318 BA/.318 OBP/ .318 SLG), but he's already more than doubled the amount of hits he had in Chicago, with seven, and he's playing solid defense in center. Red Sox manager Bobby Valentine believes Byrd brings more to the table than just what he does on the field.
"I just like his attitude, he's got a bounce in his step," Valentine said. "He's ready to go, I don't want to say it's contagious, but it was a great added feature to our group. He's getting hits and that's all that matters. Great trade, the exact pickup we needed."
Valentine said in the small sample that he's seen of Byrd, he's been pleased with his defense, as Byrd has gotten good reads and jumps while patrolling center. Byrd is still without an extra-base hit on the season and hasn't taken a walk while with the Red Sox, something that's counter to the Red Sox's philosophy of plate discipline and patience. But clearly Valentine wasn't concerned with Byrd's approach. The manager is just happy that his new center fielder is starting to turn things around after an awful start in Chicago.