Boston Red Sox:

Matt Barnes
April, 27, 2014
4/27/14
3:00
PM ET
By
Matt Huegel, SoxProspects.com
| ESPNBoston.com
PAWTUCKET, R.I. -- Friday night marked Matt Barnes' first start of the season, but outside of a couple of hiccups and an abbreviated pitch count, you would hardly know it based on the five strong innings the right-hander put together.
"He had fastball command tonight, he had a feel for a breaking ball, and threw a couple good changeups," Pawtucket Red Sox manager Kevin Boles said following the start. "He attacked the zone. I thought it was very impressive for his first time out."
Barnes is currently the eighth-ranked prospect on SoxProspects.com, coming off a solid 2013 season spent mostly in Portland in which he struck out 142 batters in 113 1/3 innings with a 4.13 ERA. The 6-foot-4 UConn alum owed the delayed start to his season this year to a sore shoulder. Any mention of a shoulder injury for pitchers usually will raise red flags, but in this case, Barnes described it as minor.
"It was just a little tenderness," Barnes said. "It was early in the season, just kind of wanted to be cautious with it. But I feel really good now."
[+] Enlarge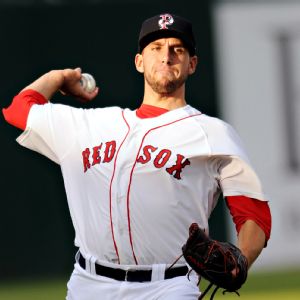 AP Photo/Ken BabbittThe start of Matt Barnes' 2014 season was delayed by a minor shoulder issue, but he showed no ill effects.
"I think the good thing is, normally, when guys are coming back off of injuries or having setbacks, the command's usually the last thing to come," Boles said. "But we saw some really good signs tonight and he attacked the zone. I thought the tempo was good, the pace of his delivery was good."
The results reflected Boles' observations, as Barnes picked up the win, allowing one earned run on six hits over five innings to go along with a pair of walks and strikeouts. Perhaps the only real trouble he ran into was when he gave up back-to-back hits to lead off the fifth inning, putting men on second and third with no outs. After those two hits, he was at 74 pitches, and with a target pitch count of around 75 coming in, it looked like it could be an opportune time to take Barnes out of the game.
In the manager's eyes though, it was instead an opportune time for Barnes to grow as a pitcher.
"We want guys to try to work out of jams," Boles said. "Obviously, we're going to go within reason with the pitch count, so we did that. He had a few pitches left to go and we gave him a chance to finish that fifth inning and he sure pulled it through."
That he did, as he needed just seven more pitches to retire the next three batters in order, including a sacrifice fly that drove in the only earned run he allowed on the day.
In the outing he featured his best pitch, the fastball, especially in the first two innings. The heater sat around 91-94 mph on the McCoy Stadium radar gun -- a range confirmed by scouts behind home -- and touched 97 once in the fourth inning. Although the McCoy Stadium gun sometimes adds a mile per hour or so, it was encouraging for Barnes to hold his velocity and even max out late in the start.
"I make a living off my fastball and being able to locate the fastball," the 23-year-old said. "Everything else kind of comes off of that, so especially first time out there, I definitely want to get ahead with that and establish it."
Boles endorsed the fastball-heavy approach for Barnes as well.
"Absolutely, it's his best pitch, the fastball," he said. "I don't know what the velocity was, but it looked like it was coming out of his hand pretty good. Establishing fastball command, working ahead in the count: That's what we're looking for. He's not a guy that's going to pitch backward. You know what you have -- guys know when they step up to the plate that he's going to be aggressive with his fastball."
While relying on the heater, as the outing progressed Barnes mixed in his two secondary pitches, a curveball and a changeup. Particularly in the third inning, he seemed to make an effort to feature them more, throwing three secondaries out of the four pitches to the first batter in the inning, striking him out swinging on a 77-mph curveball. The changeup sat around 83-85 mph and was the more consistent pitch for him in the outing. It's a pitch that he feels has developed well for him recently.
"I thought the changeup was really good," Barnes said. "That's kind of been my staple secondary pitch for the last season and a half, or last season. I thought the curveball has been a little inconsistent, so it was nice to have that changeup that I could go to as a secondary I could count on."
Though he flashed a few plus curveballs in the game, the offering can come and go for him at times. The mildly cold weather probably did not help with gripping the ball, but the Connecticut native said he actually prefers such conditions to pitching in the heat, having pitched in New England his whole life. True to that, the weather did not prevent Barnes from snapping off a few nice benders in the 75-77 mph range.
"The curveball was kind of hit or miss for me tonight," he said. "Some of them were really good, some of them I kind of lagged behind on and left high arm-side. It's a work in progress -- it always is. It's the first one out back in a real competitive atmosphere in a while, so I was happy with it."
Glad to be out of extended spring training in Fort Myers -- he admitted that getting motivated to pitch in a 10 a.m. game on the back fields was a challenge at times -- Barnes is happy to be in a competitive environment again. Though just one step away from the major leagues, he is well aware of the heavy competition he faces among his peers in Pawtucket's all-prospect rotation, which also includes
Rubby De La Rosa
, Anthony Ranaudo,
Allen Webster
and
Brandon Workman
. All Barnes can do is continue to pitch like he did Friday night and hope that will put him in position to be called upon should the major league club need a starter.
Matt Huegel is managing editor for SoxProspects.com. Follow him on Twitter @MattHuegelSP.
June, 30, 2013
6/30/13
4:32
PM ET
By
Jon Meoli, SoxProspects.com
| ESPNBoston.com
His star may have shone the brightest coming into the season, but as the All-Star break approaches, Portland's youngest pitcher, right-hander Matt Barnes, has been overshadowed by some of his more experienced compatriots in the rotation.

Brandon Workman earned a quick promotion to Triple-A Pawtucket, while left-hander Drake Britton and right-hander Anthony Ranaudo have dominated at times through the first half of the season.

But in his July 23 start at Trenton, Portland right-hander Matt Barnes showed off some of his development in what has been a challenging Double-A campaign by pitching to his game plan and using his heavy fastball to cruise through the outing.

Barnes and catcher Matt Spring exploited a light-hitting Trenton lineup, and attacked hitters with his fastball -- 84 of his 96 pitches were fastballs -- on his way to five three-hit, shutout innings in which he fanned eight but walked a career-high five batters. Barnes exited the game with a 2-0 lead after five innings, but the Portland bats turned the game into an 11-0 laugher in the late innings.

"He competed extremely well today," Portland pitching coach Bob Kipper said after the game. "He responded to all the game challenges and, quite frankly, some of the self-induced challenges. He went out there and walked five guys today, which is probably a little bit uncharacteristic of Matt Barnes, but there was always a response, an adjustment, an ability to re-establish and reclaim the strike zone. He made some big pitches in some challenging situations today."

Such descriptors -- sticking with the pregame plan for hitters, making pitches in big situations, responding to game challenges -- aren't typically used for pitchers of Barnes' pedigree. But in a season when Barnes has been hurt by the big inning, his effectiveness with runners on base Sunday showed strides that will be useful as he climbs to Boston.

Barnes threw exclusively fastballs in the first inning, and got into his first high-leverage situation after a one-out walk, a stolen base, and a bloop single put runners on first and third with one down. But Barnes found his fastball command and fanned the next two batters.

Another one-out walk in the second inning was erased by a 6-4-3 double play, and Barnes issued his third one-out free pass of the game in the third inning. But for all of his control issues, Barnes was always able to regain control of his fastball and get out of the inning.

"He did a really good job getting ahead of guys and we were trying too hard to put guys away, but he calmed down and made some good pitches. He pitched really well today," Spring said.

In the third inning, Barnes began to introduce his breaking ball. The pitch flashed above-average potential, with tight two-plane break. The offering was inconsistent, but Barnes didn't need it against Trenton.

"Nobody in that lineup proved that they could hit (the fastball) today, so until they can prove that they can hit it, it just doesn't make sense (to throw something else)," Barnes said.

Manager Kevin Boles said Barnes has struggled with "not giving in to certain hitters if their bat speed is a little bit suspect, and giving them the off-speed, that can be more of a gift at times."

But as the outing progressed, Barnes was able to steal early strikes with his breaking ball, and he snuck one in the back door for a key strikeout with a man on base in the fourth. His seven other strikeouts came on his fastball, which sat between 92-94 mph and topped out at 95 mph. Its late life confounded Trenton hitters when it was in the strike zone, and Barnes was able to both locate the pitch on the corners and elevate it in the zone with two strikes.

Overall, the outing was consistent with what Boles said before the game was his impression of Barnes throughout the season.

"He's got a quality arm," Boles said. "One thing I do think is the execution has to be a little bit better with the fastball. Sometimes he has good leverage to the fastball; he's down in the zone, but (there are) other times where he misses -- that's with all young pitchers. I think the breaking ball needs to get a little better shape, that's coming along nicely, and he's going to have a feel for a changeup."

Overall, the 2011 first-round pick out of UConn lowered his ERA from 5.49 to 5.03 with the effort in Trenton and evened his record at 4-4 with the win, but he says the numbers don't tell the full story.

"Numbers are very misleading unless you see somebody pitch; unless you watch them perform you really don't know anything," he said. "The numbers aren't the best, but I feel great, I'm stringing a couple good ones, decent ones together and going from there."

Jon Meoli is a Senior Columnist at SoxProspects.com. Follow him on Twitter @JonMeoli.