Boston Red Sox:

Mauro Gomez
March, 28, 2013
3/28/13
5:25
PM ET
FORT MYERS, Fla. -- The Red Sox on Thursday optioned right-handed pitcher
Daniel Bard
to Double-A Portland and placed shortstop
Stephen Drew
on the seven-day disabled list (retroactive to March 27) for players with concussive symptoms.
The Bard move means the right-hander will not start the season with the big club (no shock there) and likely means
Clayton Mortensen
will be awarded the final spot in the Red Sox bullpen. In eight Grapefruit League appearances this spring, Bard has a 6.75 ERA and has surrendered nine hits, walked four and struck out 10 in eight total innings.
Drew, who has been taking batting practice, would be eligible to come off the list in time for the second game of the season, April 3 in New York, but given that he has not played in a game since March 7, there's little reason to believe he'll be activated that soon.
"There's still no timeline determined with games," said manager John Farrell, adding that Drew is expected to remain in Florida.
The Red Sox also optioned first baseman
Mauro Gomez
to Pawtucket.
The Sox still have until noon on Sunday to file their 25-man roster, so they're under no obligation to do so in advance. And they have pending opt-out issues with two players, outfielders
Ryan Sweeney
and
Mitch Maier
, that factor into the equation. Maier, who has been out with a sprained wrist, just started hitting off a tee and hitting some soft toss.
Farrell also said that DH
David Ortiz
will accompany the team to New York to maintain the consistency of rehab work he is doing with coordinator of sports medicine service Dan Dyrek. Ortiz will return to Florida to get some at-bats, Farrell said, when he is ready to play in games. Ortiz was scheduled to take batting practice with his regular group before the game and also is increasing the volume of work he is doing in agility drills.
Lefthander
Franklin Morales
(back) and
Craig Breslow
(shoulder) are scheduled to throw off a mound Saturday and Monday, respectively.
As for a decision on whether rookie Jackie Bradley Jr. will break camp with the big club?
"Not yet," he said.
August, 26, 2012
8/26/12
1:50
AM ET
By
Tony Lee
| ESPNBoston.com
[+] Enlarge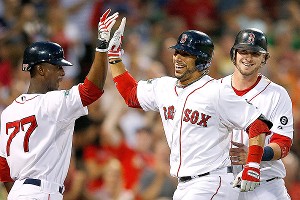 Jim Rogash/Getty ImagesMike Aviles, center, celebrates his home run with Pedro Ciriaco, left.
BOSTON -- After the Red Sox traded away three stars and another known veteran in the trade that sent shockwaves throughout baseball, they brought in some minor leaguers to fill the roster spots and installed the fringy
Aaron Cook
to take
Josh Beckett
's vacated start.
This is the new era of Red Sox baseball, one no longer marked by star power at virtually every position and shiny sports cars in the players' lot to prove it. Or at least not as many.
In actuality, the blockbuster trade cannot be truly judged for years. In the interim, it will present the faithful with scenes like the one presented Saturday night at Fenway, where a ragtag bunch flirted with a rout, lost it all in inglorious fashion and then fought tooth and nail into the night before falling to a
Kansas City Royals
team careening toward its 10th straight losing season.
Meanwhile, 3,000-plus miles away, the
Los Angeles Dodgers
were trotting out their new toys like the rich kid at show-and-tell.
Adrian Gonzalez
hit a three-run homer in his first at-bat as a Dodger and curtain calls abounded for each new member of a team high on life, playoff hopes and the pay scale. Even
Nick Punto
, the bit player in the big deal, scored the last run in an 8-2 rout of Miami.
Again, the trade is just hours old. Los Angeles might miss the playoffs and find itself hamstrung by the big contracts in the coming years. Boston may rebuild quicker than expected. But for now, the dichotomy is striking.
That leaves the Sox finding the positives where they can. On Saturday, many came from those extras that have to fill the gaps and, perhaps, fight for a future in the organization.
Mauro Gomez
, never to be confused with Gonzalez, did his best impression with a home run of his own to go along with three singles.
Pedro Ciriaco
had two more hits and is batting .351 after 41 games with the club.
Scott Podsednik
had two of his own and is sitting at .375. And Cook put in a yeoman's effort on three days' rest and on a night in which Boston was already thin in the bullpen due to the
Alfredo Aceves
suspension.
"More than we expected," manager Bobby Valentine said of his emergency starter. "Cook got his ground-ball double plays when he had to. He gave us everything he had. Seventy pitches and six innings, pretty good."
Gomez and others keyed an offensive effort that gave the Sox a 9-3 lead after four innings. His homer kicked off a four-run second and he had run-scoring singles in the third and fourth.
Cody Ross
had hits in those two innings, including one to score Ciriaco.
The names are not flashy. The results sometimes aren't as well. Blowing a six-run lead at home to a team 14 games below .500 is downright disgusting. But the energy, which enabled the crowd at Fenway to exhibit more positivity and support than the club has seen in recent weeks, may be the first sign of a potential change in the culture, a change for which many have clamored. There was even a standing ovation during Gomez's at-bat to lead off the ninth in which he fouled off pitch after pitch before grounding out.
"I did see some relaxed play. Definitely a positive. We didn't come out flat like I would assume a lot of people thought we would after what went down earlier in the day," Ross said. "Came out ready to play, fired up."
It did not translate into success. In fact, the new era in Boston began in rather miserable fashion. Meanwhile, in L.A. it started with a bang. But in Chavez Ravine right now it is about dreaming big. In Fenway, it's all about the little things. It has to be.
August, 18, 2012
8/18/12
4:23
PM ET
Red Sox starter
Felix Doubront
landed on the disabled list Saturday, retroactive to Aug. 10, GM Ben Cherington announced in a team release.
To fill Doubront's spot on the 25-man active roster, the Sox called up infielder
Mauro Gomez
from Triple-A Pawtucket in time for Saturday's game at the Yankees.
July, 14, 2012
7/14/12
6:05
PM ET
ST. PETERSBURG, Fla. --
Adrian Gonzalez
was not in the lineup for the second straight game Saturday night and was doubtful to play Sunday, according to manager Bobby Valentine.
The issue? Back spasms.
Gonzalez worked out Thursday when the team gathered here after the All-Star break. "I was perfectly fine that day," he said. "[Friday], the more I did the more it tightened up. Just locked up. Weird."
About an hour before Friday's game, a 3-1 Red Sox win, Gonzalez was scratched from the starting lineup, replaced by
Mauro Gomez
.
"I told Bobby yesterday, 'I can play if you want me to. I can get enough heat on my back, numbing pills I can just forget about it and gut my way through it,'" Gonzalez said. "He doesn't want me to do anything.
"It's better today. They just don't want me to do anything."
This will be the third game Gonzalez has not started this season. He played in 159 games last season, his first with Boston, and played 160 games or more in his last four seasons in San Diego. He had not missed back-to-back games since becoming an every-day player in 2006.
Meanwhile, to make room for
Clay Buchholz
, who came off the DL for his start Saturday night, the Red Sox have optioned Gomez back to Pawtucket. Gomez hit .308 in six games here, the first five of which he started at third base. He knocked in three runs and committed four errors.
With Gonzalez out,
Brent Lillibridge
drew the start at first base. He has made 14 big league starts at the position. Bobby Valentine mentioned
Nick Punto
and
Jarrod Saltalamacchia
as other options there, and of course
David Ortiz
can play the position. Punto was receiving treatment on his ankle after
Ben Zobrist
slid hard into him in the eighth inning Friday, but said he thought he'd be fine.
July, 8, 2012
7/08/12
12:54
AM ET
BOSTON -- They come from the same lineage that produced such names as Pemberton and Gubanich, Navarro and Crespo, Malave and Alcantara.
They ply their trade in Pawtucket, have spent much of their baseball lives in similar minor league outposts, and seldom see their names in headlines, only in the small print in which baseball conducts its most ordinary of transactions. They occasionally dazzle in spring training, then typically fade from sight, their exploits obscured by the drumbeats that accompany an organization's most favored prospects.


When they make it to the big leagues -- if they do -- it is usually for only a few days, a couple of weeks, a handful of games, at-bats, putouts and assists -- before their services are no longer required, the exigencies of the moment met.
But then there are those rare nights -- like Saturday in Fenway Park -- when their disbelieving ears hear an entire ballpark chanting their names ("Pedro, Pedro, Pedro"), and their grateful eyes take in the sight of people, most of whom may not have known their names, standing in appreciation of their skills.
And, on those rarest of nights, it happens in the midst of Yankees-Red Sox, when the Jeters and Ortizes, A-Rods and A-Gonzes, step back and yield to the likes of
Mauro Gomez
and
Pedro Ciriaco
, two kick-abouts who turned a rivalry inside out with their splendid play.
With the Yankees threatening to make it three straight over the Sox and take a double-digit advantage over Boston in the AL East, Gomez and Ciriaco, two minor league free agents who were not on the big league roster this spring, combined talents to spark a 9-5 Sox win Saturday night.
"I love seeing that," said
Cody Ross
, who was on second in the sixth inning when Ciriaco hit a bases-loaded double that cleared the bases and gave the Sox their first lead in a day-night doubleheader in which the Sox lost the first game 6-1. "I came up as an underdog, I like seeing the guys who weren't really expected to be contributing major leaguers, come up and do what they're doing. It makes me smile."
Gomez, a 27-year-old Dominican with 10 seasons in the minors playing in his sixth big league game, more than atoned for a double error in the Yankees' three-run first with three hits, including two doubles, and two runs scored. In the first three games of this series, he has seven hits and has knocked in three runs.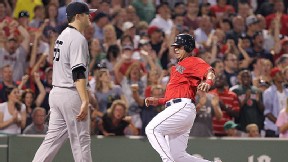 Jim Rogash/Getty ImagesMauro Gomez scores the third run on Pedro Ciriaco's bases-clearing double in the sixth inning to give the Sox a 5-3 lead.
"I believe in him as a hitter," manager Bobby Valentine said of Gomez, who began his career as a third baseman, made 31 errors in 71 games, and has spent this season playing either first or DHing for Pawtucket, though he has been working out at third.
"I don't know that he's going to be our everyday third baseman because
Will [Middlebrooks]
is coming back. The little we saw of him in spring training, and following reports and seeing what Arnie [Beyeler, the Pawtucket manager] and Triple-A staff say about him, he's a hitter. And it's good to have hitters."
But the marquee billing went to Ciriaco, a 26-year-old Dominican who like Gomez is on his third big league organization and had played in just a handful of games (31) with the Pirates the past two seasons before making his Red Sox debut here in the first game Saturday.
Ciriaco, summoned after
Dustin Pedroia
went on the disabled list and
Will Middlebrooks
was idled with a sore hamstring, laid down a perfect bunt to set up a run in the third; singled and scored in the fifth; hit his three-run double in the sixth; and doubled in a run, stole third, and scored Boston's final run on another error. He also turned a terrific play in the hole at short.
"I think he's a nice player," Valentine said after the Sox put an end to their five-game losing streak and remained a game over .500. "He played so well for us in spring training, doing for us what he did tonight. Being able to steal a base, bunt for a base hit, swings the bat, play exciting defense -- he did all those things tonight. I don't know if he can do it every day on the major league level, but it's nice, a breath of fresh air."
The big boys did their part, too --
Adrian Gonzalez
had three hits, including two doubles, to extend his hitting streak to a career-best 18 games and scored twice, while the newly activated
Ryan Sweeney
tripled to the center-field triangle, driving in a run and scoring another. And pitcher
Felix Doubront
recovered from
Mark Teixeira
's three-run home run in the first to hold the Yankees scoreless until
Andruw Jones
homered to open the seventh.
"He was determined," Valentine said of the left-hander. "I talked to him and said, 'You know we're
going to score runs. If you want to win, just hold 'em.' We scored runs and he wanted to win, and he held 'em."
But by night's end, fans were chanting the slender Ciriaco's name ("Amazing," he said) and rewarded him with a clamorous standing ovation before his last at-bat.
"It's a wonderful baseball moment," Valentine said. "I can guarantee you most people who came to the ballpark, they were not carrying his baseball card."
Meanwhile, Gomez, who had heard catcalls after his error total climbed to three in the doubleheader, also received his due from the crowd when he was lifted for a pinch runner after his seventh-inning double.
How do the Sox find the likes of Ciriaco and Gomez? In this case, the same man -- Jared Porter, the team's director of professional scouting -- can take a bow. The Sox signed both players on his recommendation.
If form holds, neither will have a prolonged stay, a return to obscurity just one roster option away.
But on a night when the Yankees were poised to apply another blow to a reeling rival, Valentine instead was able to register his first win against the pinstripers as Sox manager.
"They can come up and be that fire we need," Ross said. "Pedroia goes down, a team sometimes can get down on that. He's a star player, you miss that energy. But when you get a guy like Ciriaco and Gomez do what they've done, it gives you life, it gives you excitement. You can feed off that."
May, 13, 2012
5/13/12
1:02
PM ET
BOSTON -- The Red Sox placed outfielder
Darnell McDonald
on the disabled list on Sunday with a right oblique strain and recalled first baseman Mauro Gomez from Pawtucket.
Gomez, 28, is in his 10th pro season. This is his first call-up to the big leagues. He's hitting .294 with 10 homers and 33 RBIs for the PawSox this season. He signed with the Red Sox as a minor league free agent in February.
McDonald said after Sunday's 12-1 win that the injury is something he's been battling for a few weeks and it did not occur during his recent pitching performance.
"My whole body was sore after that," McDonald said with a laugh. "It wasn't one particular thing because it's been going on for a while. I've been treating it but it hasn't gotten 100 percent, so they want me to rest and get it right."
To make room on the 40-man roster, the Red Sox transferred outfielder
Jacoby Ellsbury
to the 60-day DL.
Speaking of Ellsbury, he continues to rehab from a separated shoulder he suffered on April 14. "He's progressing exactly the way the training room wants him to progress," Valentine said. "He's feeling good and getting stronger, working out."
* Red Sox third baseman
Kevin Youkilis
(back strain) was able to hit, throw and take ground balls on Sunday. He's eligible to come off the disabled list on Monday. Valentine said on Saturday that he wasn't sure whether Youkilis would need a few minor league games before being activated.
"He's progressing nicely," Valentine said.
* Red Sox minor league outfielder
Jason Repko
was in the clubhouse Sunday morning at Fenway to have his knee and shoulder looked at by the team's medical staff. He began the season at Triple-A Pawtucket and was called up to Boston on April 15. He was placed on the DL with a left shoulder strain on April 23 (retro to April 21). According to Valentine, Repko's shoulder is feeling good and his knee is getting close to where he'll be able to resume playing.