Boston Red Sox:

New York Mets
December, 8, 2010
12/08/10
3:47
PM ET
LAKE BUENA VISTA, Fla. -- There have been reports that the
Boston Red Sox
were interested in a trade with the
New York Mets
for
Carlos Beltran
, but the outfielder's agent, Scott Boras, denied there's been any communication in regards to his client.
"His plan right now is to be a New York Met," Boras said. "He has a no-trade clause, so if anything were brought to him, I think it would depend on what the situation was. I would say certainly now his expectation is to be a Met next year."
March, 17, 2010
3/17/10
6:56
PM ET
The outcome:
After winning six in a row and tying one in their annual St. Patrick's Day game, the Red Sox have now lost three of their last four while wearing the green, falling to the Mets 4-2 on Wednesday in City of Palms Park. The Sox, shut out on both ends of a split-squad doubleheader on Tuesday, have scored just six runs in their last four games, and only the Cardinals (six) have hit fewer home runs in Florida than the Sox (seven). The Sox led 1-0 until the eighth, when the Mets scored four runs off Ramon Ramirez.
The notable:
On a day he said he "wore the green" for the first time, John Lackey says he has no idea what his nationality is. "I'm Texan,'' he said. "I really don't know anything about where my family came from.''
A Google search would suggest that Lackey has Scottish roots, but no matter: He may not know his origins, but he knows the strike zone. In three spring starts totaling nine innings, Lackey has yet to walk a batter, and it's hard to imagine that he could be any more efficient than he was Wednesday, when he worked four scoreless innings, allowing two first-inning singles, and retired the last six batters he faced on ground balls. His total yield: 39 pitches, 28 for strikes. Extrapolated over nine innings, he would have thrown an 87-pitch complete game.
[+] Enlarge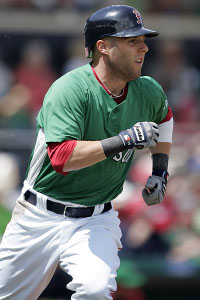 AP Photo/Steven SenneDustin Pedroia heads to first on his RBI single off the Mets' Mike Pelfrey in the third inning.
"I definitely wouldn't have been able to make it nine today, for sure,'' he said. "I feel pretty good. I feel like my delivery is on time, my location is pretty good, arm strength isn't quite there, but it's getting there.''
Lackey has yet to allow a run this spring. Asked if he could imagine having a better spring in his first go-round with the Red Sox, Lackey said, "Honestly, I'd probably like to give up a couple of runs here. Don't want to bring them all north with me.''
Asked if it was at all unusual that he hadn't walked a batter yet, Lackey had a blunt reply. "I don't walk too many people, honestly,'' he said. "I expect that of myself. Especially in spring training, when I get to three balls, most of the time I just throw it in there.''
With the start of the regular season less than three weeks away, Lackey said he'd like to build up arm strength and tighten up his breaking ball. Left unsaid is that he'd also like to avoid the injuries that caused him to miss six weeks at the start of each of the last two seasons. Last season, he went on the disabled list with a strained right forearm and didn't make his first start until May 16. In 2008, he had a strained right triceps and didn't pitch until May 14.
"First-pitch strikes, that was fun to watch,'' manager Terry Francona said. "Let them put it in play, threw his breaking ball for strikes, threw everything for strikes. Down in the zone, let our defense work, fun to watch.
"Works quick. There's not much not to like. Like he says, win or lose, I'm going to get it done quickly and get it over with. The idea is, everything you talk about. Get it, throw it, throw strikes, keep it down, let 'em hit it. Things work better that way.''
Prospect update
: Josh Reddick lined a single and lined out in two plate appearances, his average at .429, but his most impressive act Wednesday was to avoid being tagged out during a rundown after he committed a base-running gaffe between second and third. Reddick dived into second just ahead of third baseman Fernando Tatis, who mistakenly decided he could tag Reddick before he dived into the bag. For his trouble, Reddick took a knee in his right shoulder as Tatis tumbled over him and was wearing an ice pack after the game, but he said he was OK.
Progress report:
Ramon Ramirez had another appearance to forget, with control once again the issue. Ramirez, who walked four batters in an inning Sunday and gave up a two-run homer to Baltimore's Brandon Snyder the next day, walked the first two batters he faced in the eighth Wednesday, then gave up a three-run homer to highly touted Mets prospect Fernando Martinez. After a single and another walk, he was out of the game without having retired any of the five batters he faced.
Ramirez, who came to the Sox in the Coco Crisp trade after the '08 season, avoided arbitration by coming to terms on a $1.15 million deal this winter, and the assumption is that he has a spot locked up in the bullpen, but even before this spring, there were a few red flags. He did not have a good second half last season, batters combining for an OPS 200 percentage points higher in the second half (.814) than the first (.614), and he struggled in Fenway, with batters having an .840 OPS in the Fens, .585 on the road. Given the volatility of middle relief from year to year, he bears watching the rest of the spring.
Up next:
A scheduled day off for most, except Clay Buchholz, who is scheduled to throw in minor league camp Thursday. Fabio Castro and Ramon A. Ramirez also are scheduled for duty against the minor leaguers. Josh Beckett, meanwhile, threw a bullpen and is on track to make his start Friday in Bradenton against the Pirates.
Short hops:
Mike Lowell will serve as DH for five or six innings in a minor league game Friday, work out Saturday and play third base Sunday -- at least that's the plan, according to Francona.
March, 11, 2010
3/11/10
6:19
PM ET
The outcome: As Red Sox manager Terry Francona said, "It wasn't just a long bus ride and a sandwich."

Boston's game against the New York Mets at Tradition Field in Port St. Lucie on Thursday had a rain delay, but the teams were able to resume with the Red Sox finishing with an 8-2 victory. A lot of the Red Sox regulars made the three-hour trip to the east coast, including Dustin Pedroia, Marco Scutaro, Victor Martinez, David Ortiz and Mike Cameron.

Once the game resumed, all the veteran starters, with the exception of Ortiz, were out of the lineup. After Boston scored three runs in the top of the first inning, Red Sox bench players provided the rest of the offense, scoring five runs in innings six, seven and eight. Minor league veteran Gil Velazquez continues to impress this spring as he drove in two runs against the Mets and has a total of seven RBIs in Grapefruit League games.

The notable: Red Sox pitcher John Lackey made his second start of spring training, working three scoreless innings. He allowed only three hits on 30 pitches (17 strikes). After his outing, Lackey tossed 12 more pitches in the bullpen.

"His fastball was down with good movement," said Francona. "I didn't get to see his last outing, but I heard it was about the same. He was efficient and did a really good job. It was a relief his outing [didn't get rained out] because you could see the weather coming. He didn't get interrupted, he got his work in."

Lackey has dealt with injuries the last two springs while with the Angels, but he's healthy this season and right on schedule.

"I'm on time," he said. "I'm not getting ahead of myself. My two-seamer was pretty good today. I got a lot of ground balls, but some of my other pitches are not there yet. I've got some work to do, for sure."

Lackey was able to work with new batterymate Victor Martinez for the first time this spring, and said his working relationship with Martinez went very well.

"He was great, it was a lot of fun," said Martinez. "I was talking to him, he really looked effortless. He wasn't trying to overthrow or push his pitches. And he really has that two-seamer working pretty good today. He mixed his pitches and worked on what he needed to work on. I think it went great for him."

Prospect watch: Red Sox pitcher Junichi Tazawa worked the eighth and ninth innings and held the Mets hitless. The right-hander recorded two strikeouts with one walk. Francona was impressed with Tazawa's curveball and fastball.

The 23-year-old made his major league debut with the Red Sox in 2009 and in six games (four starts) he posted a 2-3 record in his first season of pro ball. Francona is already seeing a difference this year.

"He's stronger and I'm sure his confidence level is [higher] because everything he did last year was a first," Francona said. "It was a lot to ask and he did a great job. Now he's out there competing on a level playing field like everyone else."

Progress report: Francona said he was thinking about putting Jason Varitek in the lineup against the Cardinals on Friday, but the weather report is bad and the manager doesn't think it's a good idea. Francona told both Varitek and third baseman Adrian Beltre to stay in Fort Myers. Varitek has missed several days of camp to tend to his ailing father.

Up next: The Sox remain on the east coast of Florida and will face the Cardinals on Friday at Jupiter. Clay Buchholz, Daniel Bard and Boof Bonser are scheduled to pitch. Francona was given a forecast for Friday and it doesn't look good at this point. The manager thinks there's a strong possibility the game could be rained out.

Boston returns to City of Palms as the Sox host the Pirates on Saturday. Michael Bowden, Jonathan Papelbon, Hideki Okajima, Ramon Ramirez, Brian Shouse, Manny Delcarmen and Ramon Ramirez are all scheduled to pitch for the Sox.

Etc.: Right-handed pitcher Daisuke Matsuzaka will throw live batting practice at the minor league complex on Saturday. ... It's not etched in stone, but there's a very good chance Mike Lowell will be able to play against the Twins on Monday. "We'll see how he gets through the rest of the week," said Francona. ... A day after Nomar Garciaparra officially retired from baseball as a member of the Red Sox, people are still talking about his career. Garciaparra made his Triple-A debut for the Pawtucket Red Sox as a 22-year-old in 1996. He hit .343 with 16 homers and 46 RBIs in 43 games for the PawSox that season. When former PawSox manager Buddy Bailey learned of Garciaparra's retirement, Bailey was impressed by the way it was handled. "Good for him, the Red Sox organization and especially for the Red Sox fans," said Bailey. "He was good for the fans, and Boston was good to him. Class move by the Red Sox and Nomar."
March, 11, 2010
3/11/10
4:54
PM ET
PORT ST. LUCIE, Fla. -- With the
Boston Red Sox
in town to play the
New York Mets
in Grapefruit League action, the majority of the focus was on
Jason Bay
.
The former Red Sox outfielder signed a four-year $66-million deal as a free agent with the Mets during the offseason, but there was another Mets player who was also getting a lot of attention on Thursday morning --
Alex Cora
.
Cora played four seasons (2005-2008) in Boston and was very popular in the clubhouse. He played a key role as a utility man on the field, and as a mentor off the field. It wasn't unusual during his stint in Boston to hear manager Terry Francona describe Cora as a wealth of knowledge with a possible future as a manager.
"Yes. Yeah. He pays attention. I would say yes. I don't doubt he would want to do that," said Francona. "He's good. He did a good job. You could tell his influence on bench guys. Sometimes you have guys sitting on the bench, and rarely do bench guys take guys up. Most of the time you hope they don't drag guys down. He had a special way of doing that. He could give guys a nudge and say, 'Hey, man, go get loose because this is what could happen here.' He's a pretty special guy."
When he wasn't playing, Cora was invaluable to have in the dugout because of his ability to pick up the opposition's signs and pitches.
"He's good, real good," said Francona. "Each team has a couple of those guys. He's good. He's a guy who [playing] jobs will keep opening up because teams want him around. He knows how to play the game and he's a great influence on the players."
Either in the dugout or in the front office, Cora definitely wants to stay in the game once his career is over.
"You love the game and understand that you have a passion about it, when the time comes and the time is right, it's something I would love to do," he said.
March, 11, 2010
3/11/10
4:35
PM ET
PORT ST. LUCIE, Fla. -- Jason Bay is done talking about his offseason free-agent status. He doesn't want to discuss his four-year $66-million deal he signed with the New York Mets. He doesn't want to talk about the fallout he had with the Red Sox and the supposed health issues Boston was concerned about.
"First and foremost, I've got to tell you if you guys came to get any offseason quotes, I'm done talking about that," Bay told a small group of Red Sox beat writers Thursday morning at Tradition Field. "Health-related, or anything like that, I'm taking the fifth. I'm trying to move on. I said my peace and I've moved on. It's done. Nothing is going to change."
To read more about Jason Bay's reunion with the Red Sox, click
HERE.
March, 11, 2010
3/11/10
10:29
AM ET
PORT ST. LUCIE, Fla. --
Jason Bay
is done talking about his offseason free-agent status. He doesn't want to discuss his four-year $66 million deal he signed with the
New York Mets
. He doesn't want to talk about the fallout he had with the Red Sox and the supposed health issues Boston was concerned about.
Before his Mets took on the Red Sox in a Grapefruit League contest, Bay met with a small group of Red Sox beat writers at Tradition Field and stated his case.
"Health related, or anything like that, I'm taking the fifth [amendment]," he said. "I'm trying to move on. I said my piece and I've moved on. It's done. Nothing is going to change."
Bay is in today's lineup against the Red Sox and is looking forward to seeing his former teammates.
He did talk about the Red Sox in the post-J-Bay era, saying all the talk about Boston's lack of offense is nonsense.
"I think it's ludicrous that everybody keeps talking about their offense," Bay said. "I don't really understand it. You lose one guy and you add [Marco] Scutaro, [Adrian] Beltre and [Mike] Cameron, I guess it's just offseason fodder.
"You're doing you're calculations and all of that, but I mean it's actually kind of baffling, almost funny to me that those guys over there have to keep answering offensive questions, because I think they're going to be fine.
"You look at the guys they have, are you going to score 15 runs a game? Who is? But how much offense are you looking for. I think it's laughable that's even an issue because I think they will be more than fine."
When Bay signed with the Mets and the Red Sox signed Cameron to play center field, Boston's management decided to move
Jacoby Ellsbury
to left field. Bay believes it'll be a good move.
"I think he'll do great. If anything, he might not know it, it'll probably help him a little bit," Bay said. "It'll save his legs because he won't be covering as much ground definitely at home, and even on the road you're not covering as much room as you normally would, and for a guy like him it'll keep him a little bit fresher here and there.
"In a perfect world he's definitely a center fielder, but I don't think this is going to hurt him at all."