Boston Red Sox:

Oakland Athletics
December, 7, 2012
12/07/12
8:27
PM ET
BOSTON -- The
Boston Red Sox
have obtained right-hander
Graham Godfrey
from the
Oakland Athletics
, completing a trade for right-hander
Sandy Rosario
.
Godfrey was 9-2 with a 3.29 ERA and one save last season with Triple-A Sacramento. He started the year with Oakland and appeared in five games, going 0-4 with a 6.43 ERA. Godfrey, 28, has made eight starts in his 10 major league appearances, all during the past two seasons, and is 1-6 with a 5.09 ERA.
The Red Sox assigned him to Triple-A Pawtucket.
Boston traded Rosario to Oakland on Nov. 28. The Athletics designated him for assignment two days later.
July, 2, 2012
7/02/12
12:57
AM ET
By
John Hickey
| ESPNBoston.com
[+] Enlarge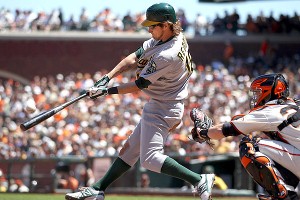 Brad Mangin/Getty ImagesJosh Reddick had just 10 career homers in 375 at-bats with the Red Sox before this season.
SEATTLE -- Is the
Josh Reddick
-to-Oakland-for-
Andrew Bailey
deal going to stand as one of those trades the
Boston Red Sox
are going to regret down the line?
At the time, the deal made a lot of sense. Reddick had been less than sensational in 2011 with the Sox, and Boston badly needed a closer with
Jonathan Papelbon
having taken a hike to Philadelphia.
Bailey had just completed his third season with the A's, during which he'd saved 75 games and had a 2.07 ERA.
It seemed to be a no-brainer.
But here we are in July. Bailey's been hurt and hasn't pitched all season. He'll probably still pan out in the long run, but so far his contribution has been zilch after having surgery on his right thumb.
And Reddick? Well, when the Red Sox last saw him as the calendar turned from April to May, he was just another guy in the Oakland lineup. He was batting third, sure, but he wasn't hitting like a No. 3 hitter should. He had four homers and nine RBIs. No big deal, right?
In the interim, Reddick has become a big deal indeed. He is in fact the biggest deal in the Oakland lineup day in and day out given that
Yoenis Cespedes
, the outfielder signed out of Cuba, has spent considerable time on the disabled list.
Reddick has 14 homers and 30 RBIs for the A's since the Red Sox last saw him, and if you want a bit of perspective on how good a performance that is, consider that the Next Great Thing in Boston, third baseman
Will Middlebrooks
, has hit 10 homers over the same span.
"I'm not a guy who likes to talk in terms of expectations," Oakland manager Bob Melvin said last week. "But there is no question that Josh has exceeded all the expectations we had for him.
"Based on what we'd seen about him before this and his numbers last year with the Red Sox [seven homers in 254 at-bats], you'd be looking at maybe a 15-to-20-homer guy. So for him to be out there with [18] already, that's saying something."
May, 2, 2012
5/02/12
10:56
PM ET
By
Steven Krasner
| ESPNBoston.com
BOSTON -- Before Wednesday night's game,
Boston Red Sox
manager Bobby Valentine was asked about
Daniel Bard
's transition from the bullpen to the starting rotation.
Bard was coming off a solid start, having allowed three runs in seven innings in picking up his first major league win as a starter, a 10-3 decision in Chicago against the White Sox last Friday night.


Valentine said that it would be great if the young pitcher's career in the rotation took off like a skyrocket, with each outing getting better and better. But Valentine said there usually are some bumps in the road along the way, growing pains.
And Wednesday night, Bard suffered through one of those bumps in the road in only his fourth career start.
The right-hander coughed up four runs on eight hits to the
Oakland Athletics
, the worst-hitting team (by far) in the American League, in 5 1/3 innings as the Red Sox suffered a 4-2 loss at Fenway Park. Boston dropped the final two games of the three-game series, and fell to 4-7 at home. The Sox have lost 7 of their past 8 at Fenway.
A misplay in left field by defensively challenged
Cody Ross
didn't help, but Oakland, which was hitting a mere .212 entering the game (the Angels were next-worst, at .238), scraped together three runs in knocking out Bard in the sixth and taking a 4-0 lead.
Bard threw 101 pitches. He seemed to lose his rhythm after needing only 21 pitches to sail through the first two innings. Over his final 3 1/3 innings, Bard was consistently pitching from behind in the count. He went to three balls on seven batters over that stretch, and this was against a lineup in which six of the hitters entered the game batting .229 or lower.
Either he was nibbling far too often against a feeble lineup or he just plain lost his command, but Bard whiffed only one batter after having struck out 19 in 18 2/3 innings over his first three starts.
Bard was nicked for a run in the fourth on a double off the wall by
Yoenis Cespedes
and a single by
Seth Smith
. In the sixth, ex-Sox OF
Josh Reddick
led off with a single to left-center, and he scored when Ross played Smith's catchable fly ball into a double, over-running it as he raced toward the left-field line near the Wall.
A ringing RBI double pulled to right by
Kila Ka'aihue
, a hit batsman and a sizzling RBI double to left-center by
Brandon Inge
, who was batting .103 at the time, finished Bard. Only good relief by
Matt Albers
, who stranded runners at second and third, kept the damage to four earned runs charged to Bard.
MAJOR LEAGUE DEBUT:
Will Middlebrooks, the third baseman of the future, arrived at Fenway Park on Wednesday night, replacing
Kevin Youkilis
, who was placed on the disabled list with a back injury. Clearly, the Athletics were wary of the hot prospect -- Oakland starter
Brandon McCarthy
walked him on four pitches with two out and none on in the second inning in the first big league plate appearance for Middlebrooks, who was wearing uniform No. 64 and hitting eighth in the order. Middlebrooks promptly stole second, but was stranded.
In his second plate appearance and first official at-bat, he notched his first big league hit. It wasn't a thing of beauty, but it counted. Middlebrooks beat out a dribbler down the third-base line in the fifth inning, giving him a batting average of 1.000 in the majors.
He maintained that 1.000 average by going the other way and smacking a double toward the right-field corner in the seventh.
But in the eighth, his average dropped to .667. Middlebrooks was fanned by flame-throwing right-hander
Ryan Cook
with a runner at second and two outs.
Defensively, Middlebrooks' first chance came on a slow roller in the second. He charged in, scooped up Cespedes' grounder and threw on the run, easily getting the Oakland cleanup hitter at first base. He also made the routine 5-3 on Brandon Inge's hard hopper with two on and two out in the fourth.
RED SOX DEBUT:
Clayton Mortensen
's debut was a success after a rocky beginning. The right-hander, called up from Pawtucket earlier in the day, gave up a single to
Cliff Pennington
, the first batter he faced, and then uncorked a wild pitch. But he settled down. He fanned Reddick and Cespedes and retired Smith on a weak roller to first. He also pitched a spotless eighth, whiffing two more. And he polished off the Athletics with ease in the ninth, too, racking up his fifth and sixth strikeouts along the way.
YO, ADRIAN:
First baseman
Adrian Gonzalez
has fallen into a deep slump. When he struck out with the bases loaded and two outs in the seventh and the Sox trailing, 4-1, it lengthened his skid to 0 for 16. Gonzalez foul-tipped the final strike, which was held by Oakland catcher
Kurt Suzuki
. The normally mild-mannered Gonzalez, who has been batting cleanup, slammed his bat down to the dirt in frustration.
It got even worse in the ninth, when Gonzalez's skid extended to 0-for-17 as he bounced a game-ending grounder to third baseman Inge, stranding Dustin Pedrioa at third base.
THROWBACKS:
The Sox were wearing uniforms modeled after the team's1936 version, in honor of the acquisition of slugger Jimmie Foxx. The pant legs were pulled up high, showing the red, white and blue striped socks the team wore back then.
November, 2, 2010
11/02/10
8:58
PM ET
BOSTON --
Craig Breslow
has pitched for both the
Boston Red Sox
and the
Oakland Athletics
.
The left-handed reliever has worked closely with the newly appointed Red Sox pitching coach for the past two seasons in Oakland, and Breslow thinks Curt Young will be a good addition in Boston.
"The Red Sox are getting a great pitching coach," Breslow wrote in an e-mail.
Young had been Oakland's pitching coach for the last seven seasons before being named to the same post with the Red Sox on Tuesday afternoon. Breslow worked out of the bullpen for Boston in 2006 and spent the entire 2007 season at Triple-A Pawtucket.
Knowing the Red Sox the way he does, Breslow said he believes Young will fit in nicely in Boston.
"I think Curt will be a perfect Red Sox pitching coach," Breslow wrote. "He has shown a remarkable ability to adapt, and I think that will serve him well. The A's staff, while talented, was young and unestablished. The Red Sox staff, also very talented, consists primarily of veteran guys. I think Curt will endear himself and will be able to reach each player individually."
During his stint as pitching coach in Oakland, Young helped guide the Athletics to an American League-best 4.03 ERA and held opponents to an AL-low .257 batting average. Last season, A's pitchers led the AL in ERA (3.56) and shutouts (17).
Stepping into his new role, Young said he would bring suggestions to help the Red Sox pitchers get better.
"Curt was a great pitching coach," Breslow said. "He recognizes that each player is unique and must be handled differently. There are a few fundamental tenets from which he never strays, but I'm confident that he will also use his personality and skills to foster different relationships with different players."
Even though Breslow spent 2007 (Farrell's first season as pitching coach in Boston) at Triple-A, he was able to learn about Farrell's philosophy. Breslow doesn't see much of a difference between Young and Farrell.
"I'm not sure there is a ton of difference, considering both recognize the importance of consistent delivery and strike one," Breslow said. "Both guys try to keep pitching simple: change speeds, locate and use both sides of the plate."
June, 1, 2010
6/01/10
3:31
PM ET
BOSTON -- Lightning is flashing and thunder rumbling in the neighborhood, which explains why the tarp is on the field at Fenway this afternoon.

The Sox have not posted any updates on the weather as of yet, so I won't make any guesses (other than to say they'll find one way or another to get this one in -- strictly a guess).

The tarp, meanwhile, has become a gigantic ad for a New England clothier. Unscramble the letters for the advertiser adorning the tarp: eblanl.