September, 18, 2012
9/18/12
11:51
PM ET
The Pawtucket Red Sox lost, 10-3, to the Reno Aces in the one-game Triple-A championship game at Durham, N.C.

PawSox starter Nelson Figueroa, who had won the clinching game in the two Governor's Cup playoff series, lasted just two innings, giving up three runs in each inning.

Pawtucket managed just five hits and couldn't take advantage of 11 walks by Reno pitchers, going 1-for-11 with runners in scoring position.

Tony Thomas homered to lead off the fourth inning for Pawtucket, and Che-Hsuan Lin knocked in the other two PawSox runs.
September, 5, 2012
9/05/12
9:29
PM ET
PAWTUCKET, R.I. --
Boston Red Sox
president/CEO Larry Lucchino did not want to comment when asked about manager Bobby Valentine's colorful interview Wednesday afternoon on sports radio station WEEI.
In town to visit the club's Triple-A affiliate, the Pawtucket Red Sox, the only team in the organization to earn a postseason berth in 2012, Lucchino said he heard about Valentine's interview but did not hear it firsthand.
"I don't have any comment," Lucchino said. "I did not hear them. I heard about them. I don't have any further comment on it. Talk shows are talk shows."
During Valentine's interview, he described this season as "miserable," and Lucchino said he agrees in terms of the organization's goals.
"That, in accordance with our expectations, it has been a miserable and disappointing season," Lucchino said.
"How many different words can you use? It's been disappointing, not up to our expectations, frustrating and sometimes infuriating. But for 10 years, we averaged over 92 wins, so we helped set the bar at a very high level. If it's broke now, and I've said this over and over, we'll fix it. We're determined to do that and I think we now have the wherewithal, and the opportunity financially, to do so in light of the megatrade with the Dodgers."
The Red Sox sent pitcher
Josh Beckett
, outfielder
Carl Crawford
, first baseman
Adrian Gonzalez
and infielder
Nick Punto
to the Dodgers on Aug. 24, shedding more than $250 million in payroll in the process. Boston acquired first baseman
James Loney
, along with a pair of minor league prospects -- Allen Webster and
Ivan De Jesus
-- and two players to be named later.
Since the Red Sox completed that nine-player trade, they are 4-8, including a season-high seven-game losing streak that finally ended Tuesday.
"After the trade it's been a different season, it's been a different team that we've had to put out there," Lucchino said. "I shouldn't say just the trade; when
David Ortiz
went down in July and
Will Middlebrooks
soon thereafter, it took a lot of the heart and oomph out of the lineup, so it's been a very difficult and demanding assignment that Bobby has had."
When asked if Valentine would return as manager in 2013, Lucchino deflected the question, saying he was at McCoy Stadium to wish the PawSox good luck in the playoffs. He did admit the organization has already begun to focus on 2013.
"We've already started, in general, to think about next year. We've already begun that process in a general manner," Lucchino said.
Red Sox principal owner John Henry joined the team in Seattle and told reporters that sabermetrics guru Bill James, a senior adviser to the Red Sox, would be given a more in-depth role with the organization. Lucchino echoed the owner's comments on Wednesday night.
"He's never been gone, but he will be even more active than he's been in recent years," Lucchino said of James. "He will be more centrally involved in the evaluation process. We have great faith in him. He's a tremendous asset and we intend to utilize him to the fullest degree."
When asked whether James could have made a positive difference if he had been more involved this season, Lucchino said he did not want to speak in a hypothetical manner.
It was Lucchino's first trip to McCoy Stadium in a couple of years, but he expressed his high regard for the PawSox, both on and off the field.
"Mike [Tamburro, PawSox president] and Lou [Schwechheimer, general manager], and the entire organization, have done an exceptional job year in and year out," Lucchino said. "We are really pleased and proud to have them as our closest and longest affiliate. I try to get down here once in a while just to maintain some connection and dialogue, and I've not been as good as I would like to be. Time was running out this season and with the [major league] team on the West Coast it made it a little easier."
Lucchino made the trek to Pawtucket with Red Sox assistant GM Mike Hazen. They spent a bit of time with PawSox manager Arnie Beyeler before Game 1 of the Governors' Cup playoff, a best-of-five series against the Scranton/Wilkes-Barre Yankees.
"I teased Arnie before the game," Lucchino said. "I said, 'Arnie, I don't want to put too much pressure on you, but it would be nice to win some postseason games this year at some level.'"
September, 1, 2012
9/01/12
11:13
PM ET
PAWTUCKET, R.I. -- At least the Triple-A affiliate of the
Boston Red Sox
has something to celebrate.
The Pawtucket Red Sox defeated the Scranton/Wilkes-Barre Yankees 2-0 Saturday night at McCoy Stadium to clinch the 2012 International League wild card.
The PawSox have two more regular-season games, Sunday and Monday, before the best-of-five first-round playoff series begins against the Yankees on Wednesday and Thursday at McCoy. Both games are at 7:05 p.m.
Like their parent club, the PawSox have faced a ton of changes to their lineup all season, but Pawtucket has been able to win.
Throughout the season, especially of late, the PawSox lost key players after they were called up to Boston, including first baseman
Mauro Gomez
(2012 IL MVP), shortstop
Jose Iglesias
, catcher
Ryan Lavarnway
, outfielder
Daniel Nava
, outfielder
Ryan Kalish
and pitchers
Clayton Mortensen
,
Mark Melancon
and
Junichi Tazawa
. Even former first baseman
Lars Anderson
was traded to the
Cleveland Indians
organization.
With all that movement, the Red Sox organization promoted players from Double-A Portland to Pawtucket, including catcher Dan Butler and reliever
Josh Fields
, among others.
"For us down here in the minor leagues, it's all about being consistent and these guys showing up and working hard every day," said PawSox manager Arnie Beyeler. "If you work hard, do your work, play hard and play the game right, we're going to win some games. This stuff is a bonus."
The PawSox return to the postseason for the second consecutive season, and Beyeler becomes the first Pawtucket manager since Ed Nottle (1986 and 1987) to earn back-to-back playoff appearances.
Pawtucket received a strong performance by starter
Nelson Figueroa
, who worked eight scoreless innings and allowed only four hits with one walk and six strikeouts. Butler provided the offense with a pair of solo home runs, and Fields picked up his fourth save.
"Our guys stepped up," Beyeler said. "Figgy, what can you say about him? I'm glad we got the opportunity to get him. He's pitched very well over here and he's an experienced guy. On a night when we needed some innings to start with, forget about wins and losses, he goes deep into the game and throws zeros up on top of that. You can't say enough about him."
Figueroa, 38, signed with the Red Sox as a free agent on July 24 after he was released by the
New York Yankees
. Prior to his arrival here, he made 19 appearances (seven starts) for Scranton/Wilkes-Barre and posted a 7-2 record with a 3.96 ERA.
With the PawSox, the right-hander has been solid. Saturday was his eighth appearance (sixth start), and he's 5-3 with Pawtucket.
"It was a huge outing for us to get this over with and now we can focus on the playoffs," Figueroa said. "These guys have worked their butts off all year long and I got to watch them from the other side, and with everything they did and the team that they had early on, to get here and to be a part of it, and then to see so many pieces change, it kind of got us a little worried. The guys who have come up from Portland have played a major role. We've taken every opportunity to show what we can do."
Butler had a front-row seat for Figueroa's performance.
"The guy was unbelievable," Butler said. "He just paints. It's unbelievable how good his stuff is. He can throw anything at anytime, anywhere."
With the way Figueroa was pitching, the two home runs by Butler gave the PawSox the offense they needed en route to victory. He hit his first homer in the bottom of the sixth inning and added his second in the seventh.
Butler was promoted to Pawtucket on Aug. 3 after spending the majority of the season with the Sea Dogs.
"He's a young guy who's getting an opportunity to play up here and he's earned his way up here," Beyeler said. "He can swing the bat a little bit and he's catching. He did a great job out in the Fall League for us and kind of put himself on the map with some people. He's done a good job. He's getting a chance to play. He's always been a guy who has had to grind it out and play, so that's nothing new to him. He has to earn everything he gets and he's a good guy to throw out there. He does a good job."
After Pawtucket's dramatic win Saturday, the players were celebrating with libations in the clubhouse. Butler and Figueroa were doused with beer and shaving cream for their performances.
"Hopefully you get to do this a lot more than just once," Butler said. "A lot of people in their career don't get to do this too often. This is just fun."
As the veteran Figueroa put it, the players on this team have done a lot of "ego swallowing" with so many of their former PawSox teammates getting called to the big leagues.
"You realize how much it took to get here, so we're very appreciative of it," he said. "This will not be the only taste of champagne we have."
June, 22, 2012
6/22/12
10:22
PM ET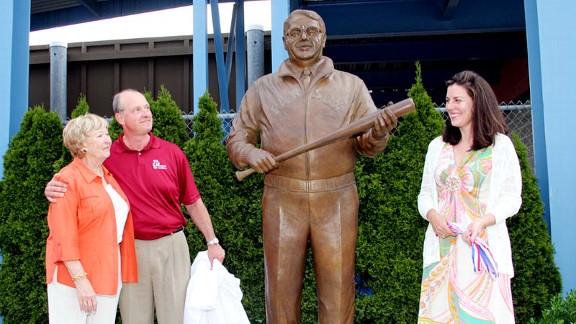 Mardo-Zayat/Pawtucket Red Sox
PAWTUCKET, R.I. -- The Pawtucket Red Sox unveiled an impressive bronze statue of team owner Ben Mondor, who passed away on Oct. 3, 2010.
PawSox team president Mike Tamburro, Mondor's widow, Madeleine, and artist Carol "Tayo" Heuser were on hand Friday at McCoy Stadium to introduce the newest addition to Mondor Gardens.
"He was a special guy. He had a special impact on this state and touched a lot of lives and we wanted to honor that forever," Tamburro said.
Former PawSox and Red Sox players, along with local politicians and many close friends and family, attended the ceremony.
"He was one of my dearest friends and a close mentor of mine," said Heuser. "I consider it an honor to bring him to life like this and think it's one of the most wonderful things I think I've ever done."
Mondor had just completed his 34th year as PawSox owner when he passed away at age 85. He purchased the bankrupt franchise in 1977 and brought it to national prominence.
May, 11, 2012
5/11/12
9:13
PM ET
BOSTON -- Needing an extra outfielder in Triple-A Pawtucket after calling up
Daniel Nava
, the Red Sox made a deal with the
Philadelphia Phillies
for 36-year-old outfielder
Scott Podsednik
in exchange for what one baseball source described as "modest" cash considerations.
Podsedsnik is a 10-year big-league veteran who last played in the majors in 2010, with the Royals and Dodgers. He has spent the last two seasons with Lehigh Valley, the Phillies' Triple-A affiliate. He was batting .203 in 22 games this season with Lehigh Valley.
September, 5, 2010
9/05/10
1:09
PM ET
BOSTON -- In need of bullpen help, the Red Sox today called up pitcher Robert Coello from Triple-A Pawtucket. This is his first stint in the majors.
The 25-year-old right-hander was recently converted from starter to reliever and posted a 7-6 record with one save and a 3.86 ERA this season between Double-A Portland and Pawtucket. Coello has recorded 130 strikeouts in 107 1/3 innings pitched this season. Since his call-up to Triple-A on June 12, he posted 79 strikeouts in 64 innings.
As a reliever with the PawSox, he owns a 1.40 ERA with 24 strikeouts in 19 1/3 innings over nine appearances.
"He's kind of an interesting story," said Red Sox manager Terry Francona. "It's not the route a lot of guys have taken, but that doesn't mean he can't be successful. This will be interesting. He's got a pretty good fastball. His secondary pitches are probably still in progress, still developing but it'll be interesting to see how he does."
Coello was selected by the
Cincinnati Reds
as a catcher in the 20th round of the 2004 draft. He was released by the Reds in 2006 and signed with the Angels. He was converted into a pitcher by the Angels in 2007 and spent that season in the Arizona League. In 2008, he was playing independent ball in the Golden League before signing with the Red Sox as a minor league free agent on Nov. 10, 2008.
Coello spent last season at Single-A Salem and made one appearance for the PawSox.
"I was excited when I got the call," he said. "[Pawtucket manager] Torey Lovullo told me, 'This is what you worked hard for.'"
He admitted he wasn't expecting a call-up.
"Whenever the organization thought I was ready," he said. "I was ready since I first signed. To get up here, to the major leagues, was my ultimate goal to be a Red Sox pitcher."
September, 4, 2010
9/04/10
6:15
PM ET
BOSTON --
Boston Red Sox
catcher
Jason Varitek
will begin a brief minor-league rehab assignment at Triple-A Pawtucket on Sunday.
He will join the PawSox and catch 4-5 innings on Sunday against the Syracuse Chiefs, and is scheduled to DH on Monday in Pawtucket's season finale.
Varitek met with the organization's medical staff Saturday before his was given clearance to play.
"Hopefully he'll be able to go play," \Red Sox manager Terry Francona said prior to Game 1 of Saturday's doubleheader. "I know time is running out for the Triple-A guys, so today's an important meeting, an important day for him."
Varitek has been on the disabled since July 1 with a fractured right foot.
August, 2, 2010
8/02/10
11:18
PM ET
PAWTUCKET, R.I. -- Catching prospect Jarrod Saltalamacchia wanted a fresh start.

He got it Monday night at McCoy Stadium.

The newest member of the Boston Red Sox organization made his PawSox debut and went 0-for-4 with two strikeouts, a walk and run scored as Pawtucket pounded the Durham Bulls 12-0. Despite a tough night at the plate, the Red Sox were more interested in seeing what he could do behind it.

"Great. Great," said PawSox manager Torey Lovullo. "He received the ball very well. Unfortunately, because of the score, we didn't get to see him throw the ball down to second base. I thought he was outstanding. The agility he showed at blocking several pitches was outstanding. For a big guy, to get down and block the balls the way he did, as easily as he did, was pretty impressive."
August, 2, 2010
8/02/10
11:15
PM ET
PAWTUCKET, R.I. -- When the Red Sox placed outfielder
Mike Cameron
on the disabled list Monday afternoon, PawSox outfielder
Daniel Nava
was promoted from Pawtucket for the second time this season.
For the second time in a few days, prospect
Josh Reddick
saw a PawSox teammate get the call to the big leagues while he remained behind. Ryan Kalish made his major league debut last Saturday, and Nava continues his magical season.
Whether or not he wanted to make a statement, Reddick turned in a big offensive night for the PawSox, going 4-for-5 with a pair of doubles, a single and a three-run homer to help Pawtucket to a 12-0 victory over the Durham Bulls on Monday night at McCoy Stadium.
"I think about it for about two seconds and then I push it away," Reddick said of not getting promoted. "That's one of the main things at Triple-A that you see people struggling for, is seeing different people going up and then you're wondering why it's not you. Then you start pressing, trying to do too much."
After PawSox manager Torey Lovullo told Nava of his recall to Boston, Reddick shook Nava's hand and told him he probably wouldn't be back in Pawtucket this season.
"Deep down you want it to be you, but at the same time I can understand why they didn't want it to be me. It's understandable. It sucks in a way, but I'm happy to be here and to be swinging the bat like I am right now. I hope I can continue that."
"I think a lot of guys will see [other players] go up and it's easy to say, 'Hey, I'm getting passed over,'" Lovullo said. "Josh Reddick is too smart to know when and if he starts to get that feel back, and he takes care of his own business that he'll be where he's supposed to be.
"It's easy to get distracted by those callups, but it's something that we try to avoid here," added Lovullo. "We preach avoiding that thought because you're not keeping your mind in the moment. Josh simplified things today and it was good to see."
Reddick made his major-league debut with the Red Sox in 2009 and has been recalled three times this season. He had been struggling at the plate in the first half of the season, but since the All-Star break he's been on a tear.
In his last 11 games, he's hitting .434 with 7 doubles, 1 triple and 2 homers.
"It's about not thinking about it, or way too much," he said. "I needed to quit worrying about the numbers. I think going home during the All-Star break has a lot to do with it, seeing family and friends and not worrying about baseball, not thinking about it. It did a lot of good for me. I kept my mind off of it, and when I got back it was time for business."
Reddick has been asking Lovullo for the last few weeks to bat in the leadoff spot, but the manager didn't feel like Reddick was ready for the top spot until he penciled him in on Monday.
"He's finally starting to solidify his approach with his lower half, and he's not so jumpy," Lovullo said. "And he got a little shot in the arm by leading off today. He had a great day and we're looking for that to continue."
July, 30, 2010
7/30/10
5:18
PM ET
BOSTON -- As colleague Gordon Edes reported earlier today, Red Sox outfielder
Jacoby Ellsbury
will work out with the club tonight at Fenway and then play for Triple-A Pawtucket on Saturday and Sunday at McCoy Stadium.
Ellsbury played 87 games for the PawSox in 2007 and hit .298 with two homers, 28 RBIs and 33 stolen bases. He was recalled to Boston twice that season, making his major league debut on June 30, and later was a September call-up.
Coincidentally, the PawSox are holding Jacoby Ellsbury Bobblehead Doll Night at McCoy on Saturday.
July, 23, 2010
7/23/10
9:34
PM ET
SEATTLE –
Mike Lowell
continues his minor-league rehab stint with Triple-A Pawtucket and he's scheduled to play third base Saturday in Columbus.
He began his rehab assignment Thursday in Pawtucket and went 1-for-5 as the club's designated hitter.
Red Sox manager Terry Francona did not talk to Lowell after the game, but PawSox skipper Torey Lovullo spoke with Francona.
"It sounds like his first at-bat he was a little jumpy," Francona said. "He hadn't been in the box for a while. As the game progressed, I guess he had an at-bat late where he was trying to move the runner and the game was on the line. They said he really got into that at-bat and he swung the bat really good."
Lowell is scheduled to play six games in the next eight days for Pawtucket.