Boston Red Sox:

Pawtucket
September, 5, 2012
9/05/12
9:29
PM ET
PAWTUCKET, R.I. --
Boston Red Sox
president/CEO Larry Lucchino did not want to comment when asked about manager Bobby Valentine's colorful interview Wednesday afternoon on sports radio station WEEI.
In town to visit the club's Triple-A affiliate, the Pawtucket Red Sox, the only team in the organization to earn a postseason berth in 2012, Lucchino said he heard about Valentine's interview but did not hear it firsthand.
"I don't have any comment," Lucchino said. "I did not hear them. I heard about them. I don't have any further comment on it. Talk shows are talk shows."
During Valentine's interview, he described this season as "miserable," and Lucchino said he agrees in terms of the organization's goals.
"That, in accordance with our expectations, it has been a miserable and disappointing season," Lucchino said.
"How many different words can you use? It's been disappointing, not up to our expectations, frustrating and sometimes infuriating. But for 10 years, we averaged over 92 wins, so we helped set the bar at a very high level. If it's broke now, and I've said this over and over, we'll fix it. We're determined to do that and I think we now have the wherewithal, and the opportunity financially, to do so in light of the megatrade with the Dodgers."
The Red Sox sent pitcher
Josh Beckett
, outfielder
Carl Crawford
, first baseman
Adrian Gonzalez
and infielder
Nick Punto
to the Dodgers on Aug. 24, shedding more than $250 million in payroll in the process. Boston acquired first baseman
James Loney
, along with a pair of minor league prospects -- Allen Webster and
Ivan De Jesus
-- and two players to be named later.
Since the Red Sox completed that nine-player trade, they are 4-8, including a season-high seven-game losing streak that finally ended Tuesday.
"After the trade it's been a different season, it's been a different team that we've had to put out there," Lucchino said. "I shouldn't say just the trade; when
David Ortiz
went down in July and
Will Middlebrooks
soon thereafter, it took a lot of the heart and oomph out of the lineup, so it's been a very difficult and demanding assignment that Bobby has had."
When asked if Valentine would return as manager in 2013, Lucchino deflected the question, saying he was at McCoy Stadium to wish the PawSox good luck in the playoffs. He did admit the organization has already begun to focus on 2013.
"We've already started, in general, to think about next year. We've already begun that process in a general manner," Lucchino said.
Red Sox principal owner John Henry joined the team in Seattle and told reporters that sabermetrics guru Bill James, a senior adviser to the Red Sox, would be given a more in-depth role with the organization. Lucchino echoed the owner's comments on Wednesday night.
"He's never been gone, but he will be even more active than he's been in recent years," Lucchino said of James. "He will be more centrally involved in the evaluation process. We have great faith in him. He's a tremendous asset and we intend to utilize him to the fullest degree."
When asked whether James could have made a positive difference if he had been more involved this season, Lucchino said he did not want to speak in a hypothetical manner.
It was Lucchino's first trip to McCoy Stadium in a couple of years, but he expressed his high regard for the PawSox, both on and off the field.
"Mike [Tamburro, PawSox president] and Lou [Schwechheimer, general manager], and the entire organization, have done an exceptional job year in and year out," Lucchino said. "We are really pleased and proud to have them as our closest and longest affiliate. I try to get down here once in a while just to maintain some connection and dialogue, and I've not been as good as I would like to be. Time was running out this season and with the [major league] team on the West Coast it made it a little easier."
Lucchino made the trek to Pawtucket with Red Sox assistant GM Mike Hazen. They spent a bit of time with PawSox manager Arnie Beyeler before Game 1 of the Governors' Cup playoff, a best-of-five series against the Scranton/Wilkes-Barre Yankees.
"I teased Arnie before the game," Lucchino said. "I said, 'Arnie, I don't want to put too much pressure on you, but it would be nice to win some postseason games this year at some level.'"
September, 1, 2012
9/01/12
11:13
PM ET
PAWTUCKET, R.I. -- At least the Triple-A affiliate of the
Boston Red Sox
has something to celebrate.
The Pawtucket Red Sox defeated the Scranton/Wilkes-Barre Yankees 2-0 Saturday night at McCoy Stadium to clinch the 2012 International League wild card.
The PawSox have two more regular-season games, Sunday and Monday, before the best-of-five first-round playoff series begins against the Yankees on Wednesday and Thursday at McCoy. Both games are at 7:05 p.m.
Like their parent club, the PawSox have faced a ton of changes to their lineup all season, but Pawtucket has been able to win.
Throughout the season, especially of late, the PawSox lost key players after they were called up to Boston, including first baseman
Mauro Gomez
(2012 IL MVP), shortstop
Jose Iglesias
, catcher
Ryan Lavarnway
, outfielder
Daniel Nava
, outfielder
Ryan Kalish
and pitchers
Clayton Mortensen
,
Mark Melancon
and
Junichi Tazawa
. Even former first baseman
Lars Anderson
was traded to the
Cleveland Indians
organization.
With all that movement, the Red Sox organization promoted players from Double-A Portland to Pawtucket, including catcher Dan Butler and reliever
Josh Fields
, among others.
"For us down here in the minor leagues, it's all about being consistent and these guys showing up and working hard every day," said PawSox manager Arnie Beyeler. "If you work hard, do your work, play hard and play the game right, we're going to win some games. This stuff is a bonus."
The PawSox return to the postseason for the second consecutive season, and Beyeler becomes the first Pawtucket manager since Ed Nottle (1986 and 1987) to earn back-to-back playoff appearances.
Pawtucket received a strong performance by starter
Nelson Figueroa
, who worked eight scoreless innings and allowed only four hits with one walk and six strikeouts. Butler provided the offense with a pair of solo home runs, and Fields picked up his fourth save.
"Our guys stepped up," Beyeler said. "Figgy, what can you say about him? I'm glad we got the opportunity to get him. He's pitched very well over here and he's an experienced guy. On a night when we needed some innings to start with, forget about wins and losses, he goes deep into the game and throws zeros up on top of that. You can't say enough about him."
Figueroa, 38, signed with the Red Sox as a free agent on July 24 after he was released by the
New York Yankees
. Prior to his arrival here, he made 19 appearances (seven starts) for Scranton/Wilkes-Barre and posted a 7-2 record with a 3.96 ERA.
With the PawSox, the right-hander has been solid. Saturday was his eighth appearance (sixth start), and he's 5-3 with Pawtucket.
"It was a huge outing for us to get this over with and now we can focus on the playoffs," Figueroa said. "These guys have worked their butts off all year long and I got to watch them from the other side, and with everything they did and the team that they had early on, to get here and to be a part of it, and then to see so many pieces change, it kind of got us a little worried. The guys who have come up from Portland have played a major role. We've taken every opportunity to show what we can do."
Butler had a front-row seat for Figueroa's performance.
"The guy was unbelievable," Butler said. "He just paints. It's unbelievable how good his stuff is. He can throw anything at anytime, anywhere."
With the way Figueroa was pitching, the two home runs by Butler gave the PawSox the offense they needed en route to victory. He hit his first homer in the bottom of the sixth inning and added his second in the seventh.
Butler was promoted to Pawtucket on Aug. 3 after spending the majority of the season with the Sea Dogs.
"He's a young guy who's getting an opportunity to play up here and he's earned his way up here," Beyeler said. "He can swing the bat a little bit and he's catching. He did a great job out in the Fall League for us and kind of put himself on the map with some people. He's done a good job. He's getting a chance to play. He's always been a guy who has had to grind it out and play, so that's nothing new to him. He has to earn everything he gets and he's a good guy to throw out there. He does a good job."
After Pawtucket's dramatic win Saturday, the players were celebrating with libations in the clubhouse. Butler and Figueroa were doused with beer and shaving cream for their performances.
"Hopefully you get to do this a lot more than just once," Butler said. "A lot of people in their career don't get to do this too often. This is just fun."
As the veteran Figueroa put it, the players on this team have done a lot of "ego swallowing" with so many of their former PawSox teammates getting called to the big leagues.
"You realize how much it took to get here, so we're very appreciative of it," he said. "This will not be the only taste of champagne we have."
June, 22, 2012
6/22/12
10:22
PM ET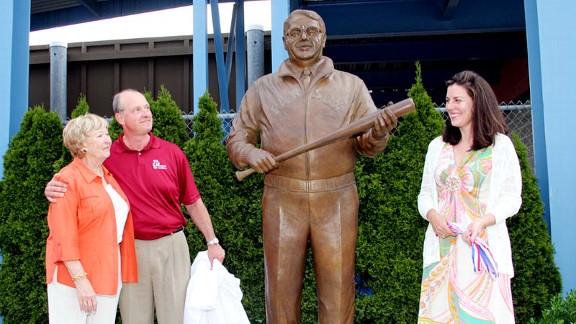 Mardo-Zayat/Pawtucket Red Sox
PAWTUCKET, R.I. -- The Pawtucket Red Sox unveiled an impressive bronze statue of team owner Ben Mondor, who passed away on Oct. 3, 2010.
PawSox team president Mike Tamburro, Mondor's widow, Madeleine, and artist Carol "Tayo" Heuser were on hand Friday at McCoy Stadium to introduce the newest addition to Mondor Gardens.
"He was a special guy. He had a special impact on this state and touched a lot of lives and we wanted to honor that forever," Tamburro said.
Former PawSox and Red Sox players, along with local politicians and many close friends and family, attended the ceremony.
"He was one of my dearest friends and a close mentor of mine," said Heuser. "I consider it an honor to bring him to life like this and think it's one of the most wonderful things I think I've ever done."
Mondor had just completed his 34th year as PawSox owner when he passed away at age 85. He purchased the bankrupt franchise in 1977 and brought it to national prominence.
June, 6, 2012
6/06/12
6:53
PM ET
PAWTUCKET, R.I. -- The last time Red Sox pitcher
Daniel Bard
exited McCoy Stadium, on May 10, 2009, no one expected he would ever be back at the Triple-A level.
The Red Sox promoted Bard to Boston that day, and for the next two and a half seasons he was one of the more dominant relievers in the majors. He was converted into a starter for the 2012 season, but due to his inconsistencies and struggles, Bard will be back in a PawSox uniform when he reports for his minor league assignment on Thursday. He's scheduled to start on Friday.
PawSox pitching coach Rich Sauveur has worked with Bard and the two have a strong relationship. Sauveur, like the rest of the Red Sox organization, feels Bard's trip to the minors will be short and sweet.
"With him, I think it's going to be all right," Sauveur said. "I think it's not going to be as tough as it could be. I have a good relationship with him from [2009]. I know him real well. We've just got to figure out what the problems are. We'll get some video of what's going on up top and figure out what road we're going to take."
There's no denying Bard is smart, but he did not want to be sent down and he'll have to contend with the mental challenge of accepting what has happened and figuring out how to fix it.
"He's going to have to be mentally prepared to be here for just a little bit," Sauveur said. "That in itself is tough after what he's been through up there for two and a half years. He's done a great job for Boston, a great job out of the 'pen. Let's just hope that it's a quick fix, but again, the mental part is going to be the toughest part, I think, for him, just to get over the 'I was sent down.' Once we get into his brain that he's here to figure out what's going on, we'll get his ass back up there. I think he's a big part of that team. There's no doubt in my mind."
Sauveur doesn't plan on trying to convert the hard-throwing right-hander into something he's not. It's going to be a case of simplifying things and making sure everything from a mental and performance standpoint is in sync.
"I've got to reiterate that getting him back to the big leagues should be short and sweet. Fix it and get him out of here," Sauveur said. "He's [been] a big part of the
Boston Red Sox
for the past two and a half years and I think he's a big part of the Boston Red Sox for the next eight or nine. I really do."
Bard, who as a reliever routinely hit 99 and 100 m.p.h. on the radar gun, has seen a dramatic decrease in his velocity as a starter. His mechanics are the reason for that decline and that'll be a focus for Sauveur once Bard arrives in Pawtucket.
"The velocity was something that wowed us because it was so fluid," Sauveur said. "He was so easy going. It just flowed through and then all of a sudden here it comes flying out of his hand. You see a normal guy pump up trying to get 93 and 94, and he's nice and easy going 96, 97, 98. I'm sure that's a factor with what they're worried about, but starting takes a lot out of you. I think starters are a different breed than relievers. We'll see what happens."
When Bard made it known to the Red Sox last November that he wanted to be converted to a starter, the organization felt he would be up for that challenge and he could have success. But the inconsistencies have crept in and now the organization thinks sending Bard to the minors would be the best for everyone involved.
"I know he wants to perform well up top," Sauveur said. "[Starting] was a challenge that he took on, that he either asked for or said that he would accept. Not all stories come to a happy ending, but this one's not over yet. Put it that way."