Boston Red Sox:

Positional series
February, 5, 2014
Feb 5
11:56
PM ET
This is the fifth in a weekly series evaluating the Red Sox roster by category: infield, outfield, catching, starting pitching, bullpen and DH.
Ah, yes, the genius of the Red Sox, with their formula for building a championship bullpen: Make trades in back-to-back seasons for proven closers, watch them both go down with season-ending injuries within weeks of each other, then place your fate in the hands of a brittle Japanese veteran who was left off the roster the last time he was on a team that went to the World Series.
[+] Enlarge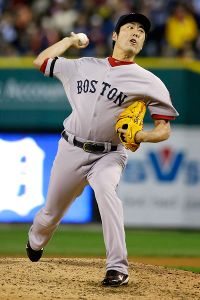 AP Photo/Matt SlocumKoji Uehara's numbers in 2013, including a record 0.56 WHIP, will be mighty tough to match.
Works every time. All it takes is for that Japanese veteran,
Koji Uehara
, to have the type of season that made
Mariano Rivera
deserve every second of the league-wide sendoff he received in his last year as a Yankee.
What appeared to be a decent but hardly shape-shifting transaction at the time -- the Sox signing Uehara to a one-year, $4.25 million free-agent deal (with a hidden $5 million option for 2014 tucked inside) -- became a franchise saver. Uehara not only filled the void created by the injuries to
Joel Hanrahan
and
Andrew Bailey
, he responded with a performance epic in scope.
At 38, Uehara had a record 0.56 WHIP in 73 appearances for the Sox in 2013, nearly double the 37 appearances he made for the
Texas Rangers
in 2012. Then he came out of the bullpen 13 more times in the postseason, saving seven games in October and winning one while allowing a single earned run (Jose Lobaton's home run) in 13 2/3 innings. After the All-Star break, he made 29 regular-season appearances, allowed just 9 hits, none of them home runs, and struck out 41 while walking 1. He retired 37 consecutive batters, the equivalent of a perfect game carried into the 13th inning.
Line up any Red Sox closer -- Dick Radatz,
Jonathan Papelbon
, Flash Gordon,
Keith Foulke
, anyone else you care to nominate -- and Koji trumped them all.
David Ortiz
thinks he's entitled to an extension? Consider what Uehara could have gotten on the open market this winter:
Joe Nathan
, who at 39 is the same age that Uehara turns on April 3, signed a two-year, $20 million deal with the Tigers.
Keeping Uehara whole, especially after his heaviest workload since 2008, his last season in Japan, will be one of John Farrell's top priorities this spring. The Red Sox manager already has announced that he will scale back Uehara and left-hander
Craig Breslow
in camp, looking to keep them fresh as long as possible.
[+] Enlarge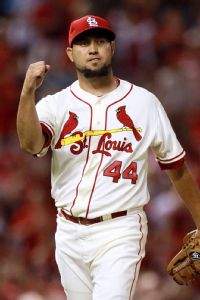 AP Photo/St. Louis Post-Dispatch/Chris LeeEdward Mujica, who was the Cardinals' closer much of 2013, is one of several eighth-inning options.
Breslow, like Uehara, stepped up after an injury, becoming the team's most dependable lefty after
Andrew Miller
sustained a season-ending foot injury. Breslow posted the best ERA of his career (1.81), his only real hiccup coming at the most inopportune time, the World Series.
With neither Bailey nor Hanrahan returning this season, GM Ben Cherington buttressed the pen with the addition of setup man
Edward Mujica
, who spent much of last season as the Cardinals' closer, and
Burke Badenhop
, a right-handed sinkerballer acquired by trade from the Brewers. Strike-throwing remains a priority: As the 2014 Baseball Prospectus points out, the two newcomers, along with Uehara and
Junichi Tazawa
, combined for 30 unintentional walks in 269 innings. That computes to a single walk per nine innings.
Miller is fully recovered from his foot injury, according to the club, and is coming back from his best season in the majors, one in which he had fantastic reverse splits, holding right-handed hitters to a .155 average. After walking six batters in his first seven appearances (four innings), Miller showed great progress in harnessing the control issues that have sidetracked him in the past; he walked just two batters in his next 16 appearances and posted a 1.31 ERA in his last 21 appearances, striking out 30 batters in 20 2/3 innings.
Farrell has four legitimate eighth-inning options in Tazawa and Mujica from the right side, Breslow and Miller from the left. Badenhop and whichever starter does not crack the rotation --
Ryan Dempster
finished the season in the bullpen -- offer Farrell length, and there are a host of young arms that will be bidding for the kind of opportunity that rookies
Brandon Workman
and
Drake Britton
ran with last season.
There is depth here, and quality depth, the same component that made the Sox bullpen so successful last season. Uehara may have had a once-in-a-lifetime season -- what's the Japanese version of Joe Hardy? -- but whatever might occur, the Sox appear prepared to deal with it.
January, 8, 2014
Jan 8
10:50
PM ET
This is the first in a weekly series evaluating the Sox roster by category: infield, outfield, catching, starting pitching and defense. DH? Hey, David Ortiz is in a league of his own, but we'll take a look at him too.
There is an infield in the American League East that shares 31 All-Star appearances, 12 Gold Gloves, 3 MVPs and a World Series MVP -- and may be the worst infield in the division.
The average age of the Yankees' infield -- assuming
Mark Teixeira
at first,
Brian Roberts
at second,
Derek Jeter
at short and
Alex Rodriguez
at third -- will be 36.5 on Opening Day 2014. Even if A-Rod's suspension is upheld and 32-year-old
Kelly Johnson
winds up at third, the average drops only to 35. All four starters (Johnson not included) are coming off debilitating injuries, with no certainty that any of them will come close to peak form.
[+] Enlarge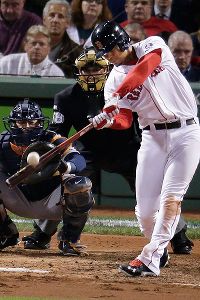 AP Photo/Charlie RiedelXander Bogaerts has the look of a star from the very start of his big league career.
Jeter turns 40 this summer. Only two shortstops 38 or older have ever started a World Series game, according to Baseball-reference.com: Pee Wee Reese of the Dodgers was 38 in the 1956 Series; Phil Rizzuto of the Yankees was 38 in the 1955 Series.
The Red Sox, meanwhile, go into spring training saying they are comfortable with a rookie shortstop,
Xander Bogaerts
, who was only 25 days past his 21st birthday last October when he was the second youngest player ever to start a World Series game at third base. Only 18-year-old Freddie Lindstrom of the New York Giants, who was 18 years and 318 days when he started in Game 1 of the 1924 World Series, was younger than Bogaerts when he started in Game 3 against the Cardinals in St. Louis and went 2 for 4 with a triple and RBI.
With Bogaerts at short and 25-year-old
Will Middlebrooks
at third, the Sox would enter the 2014 season with the youngest infield in the AL East, averaging 27 years, almost a full decade younger than the Yankees' infield. The Blue Jays would average 27.5, the Orioles 28.2 and the Rays 30, as things stand now. Re-signing
Stephen Drew
, who turns 31 on March 16, could alter the Sox numbers a bit.
So we've established that the Sox have the youngest infield in the division, but who has the best? By one measure, Wins Above Replacement (WAR), the Rays do, their infielders combining for a 17.4 WAR last season. The Orioles, with corner infielders
Manny Machado
(6.5) and
Chris Davis
(6.3) leading the way, come in at second at 16.5, even though new second baseman
Jemile Weeks
spent last season in the minors.
The Sox are third at 10.8. Of course, Bogaerts (0.3) played in just a handful of games last season, while Middlebrooks (-0.1) battled injuries and slumps. Bogaerts is regarded as one of the best prospects in baseball, an All-Star in the making. The Red Sox were not receptive to trade proposals involving Middlebrooks, reluctant to trade a bat they believe could consistently produce 25 to 30 home runs a year, power that is in short commodity these days.
At the other two infield positions,
Dustin Pedroia
(6.5) was tops at his position, ahead of Tampa Bay's
Ben Zobrist
(5.1), while
Mike Napoli
(4.1) was second, behind Orioles slugger Davis (6.3) and just ahead of Toronto's
Edwin Encarnacion
(4.0).
Another way to measure players' offensive impact is by OPS+, which takes a player's combined on-base and slugging percentage and adjusts it for ballpark factor. Napoli, who came in at 129 (100 being average), trailed Davis (165) and Encarnacion (145). Pedroia (116) just edged out Zobrist (113), while Rays third baseman
Evan Longoria
(134) ranked behind only Davis and Encarnacion.
[+] Enlarge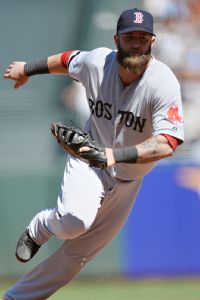 Thearon W. Henderson/Getty ImagesMike Napoli's defense at first, among the best in the league, was a pleasant surprise.
While the Sox re-signed Napoli to a two-year deal, they did spend some time imagining a world without him. The Sox looked long and hard at Cuban first baseman
Jose Abreu
, the 26-year-old slugger who signed a six-year, $68 million deal with the White Sox, Boston dropping out when the price went that high. And had Napoli succumbed to the interest shown by the
Texas Rangers
, the Red Sox were considering opening the season with a combination of
Daniel Nava
and
Mike Carp
at first base.
Still, the Sox are clearly a better team with Napoli back, especially at short years, which protects them against his hip condition, a nonfactor in 2013. And perhaps the unexpected bonus comes in the defense Napoli, a catcher by trade, gives them at first base. According to the Bill James 2014 Handbook, Napoli led all AL first basemen in runs saved with 10, just one run fewer than the Gold Glove first baseman he replaced,
Adrian Gonzalez
. Pedroia, meanwhile, led all major league second basemen in runs saved with 15.
Both Napoli and Pedroia scored high in another defensive metric, plus-minus, with Napoli scoring an AL-best plus-12 at first and Pedroia leading all big-league second basemen with a plus-17. Plus-minus evaluates defensive range by measuring how often defenders turn grounders and fly balls into outs. Zero is considered average.
That's the right side of the Sox infield. The left side? No one has ever said Bogaerts' defense is on par with the wizardly
Jose Iglesias
, and at this stage of his career he probably ranks a couple of ticks below Drew, even though Drew did not score well in the metrics. Middlebrooks was a -8, but with his back issues behind him, that should improve.
In sum? Barring injury, the Sox infield should be a strength of this season's team, a worthy challenger to any in the division. Napoli and Pedroia are proven run producers, Middlebrooks could be a power bat from the right side, and Bogaerts is the wild card, the rare player who is a star from the moment he makes it to the big leagues, no matter how young.