Boston Red Sox:

red sox and yankees
May, 18, 2010
5/18/10
8:17
AM ET
NEW YORK -- He bit his lip, his pauses lasting longer than his answers. He shook his head. His face clouded over. His eyes turned misty.
"I can't even find the words,''
Daisuke Matsuzaka
said.
Matsuzaka was fighting to keep his composure, and for the few minutes he stood in a hallway outside the visitors clubhouse after Monday night's 11-9 loss to the Yankees, reporters huddled around him in a tight circle, the outcome of that battle -- one no one here had seen him wage before in public -- was uncertain.
Ultimately, there were no tears, only profound frustration that once again, a pitcher for whom failure had been foreign in Japan could not repeat the success that had made him once so coveted by the Red Sox.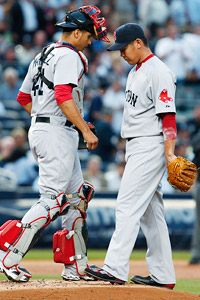 AP Photo/Kathy WillensDaisuke Matsuzaka's ERA rose to 7.89 for the season.
Inside the Sox clubhouse, meanwhile, catcher
Victor Martinez
was conveying frustration, too, of a different type, suggesting that he and Matsuzaka were in disharmony. Martinez acknowledged that Matsuzaka shook off his signs frequently Monday night, "maybe" more than he ever has, and this wasn't the first time that pitcher and catcher were not in synch.
"He's the one," Martinez said. "I'm just back there trying to help him go through the game. At the end he's the one who has the ball in his hand. I'm just behind the plate trying to help him. At the end, he's the one who has the last word. He's the one who has the ball in his hand. I just put down suggestions and he can say yes or no."
Monday night, Matsuzaka gave up five hits and a walk to the first six Yankee batters he faced. Five of them scored. He was done with two outs in the fifth, the Yankees having tacked on two more runs on a total of nine hits and three walks. Even allowing for three misplayed flyballs that turned into hits, it had been a dreadful performance, especially as an encore to what he had called perhaps his best start in the big leagues, a three-hit, no-walk, nine-strikeout performance over seven scoreless innings last Tuesday against Toronto.
Matsuzaka threw his fastball with as much, if not more, frequency than he had against the Blue Jays. According to stats provided by Inside Edge, 89 of his 105 pitches were fastballs, nearly 85 percent. But he lacked the command he'd shown against Toronto, throwing first-pitch strikes only 44 percent of the time. His average velocity also was down a couple of miles an hour, from 92 against the Jays to 90 against the Yanks.
"Early, he was missing over the plate, and he paid for it,'' manager Terry Francona said. "Balls over the middle. First pitch of the game, (Derek) Jeter whacks, and then he was pitching out of the stretch.
"For whatever reason, three of his four games, he has had one big inning. That's a hard way to win.''
Later, after he had returned to the clubhouse, Matsuzaka was asked about the emotion he had exhibited outside. Was it due to the way he had pitched, or was it because of the devastating way in which the Red Sox had lost, falling in the bottom of the ninth after rallying from the early hole created by Matsuzaka.
"I don't play the role of starting pitcher to build a game like that,'' Matsuzaka said through translator Masa Hoshino. "Even if we had held on and won the game, I still would have been disappointed in my performance.''
The setbacks of the last two years -- a lost season in 2009, three starts in four this season where he has been done in by a big inning -- are taking their toll.
"It's very difficult to adjust (to failure) when it comes to baseball,'' he said. "I'm still a very sensitive person.
"I'm still confident in my pitches, but things aren't clicking.''
Things certainly have not clicked with Martinez. The three starts he has had with Martinez behind the plate, Matsuzaka has allowed a four-run first inning, a six-run fifth inning, and a five-run first inning. The game against the Blue Jays?
Jason Varitek
, for whom learning Matsuzaka was a mandatory assignment when the right-hander first arrived from Japan, was behind the plate.
Matsuzaka offered a puzzling answer when asked why he hasn't been able to avoid the big inning.
"There's one thing I know for sure,'' he told the gathered reporters, "but I'm not quite ready to share that at this point.''
A veiled reference to Martinez? Right now, that's only guess. But if it was, it will be no simple matter for Francona to pair Matsuzaka with Varitek again on a regular basis. For one thing, Francona wants Martinez's bat in the lineup as much as possible, and he's unlikely to sit
Kevin Youkilis
or
David Ortiz
to put Martinez at first base or DH to get Varitek in the lineup. Also, Varitek has been catching Beckett regularly, and while Beckett has struggled, it's clear that he prefers to have Varitek behind the plate.
So, if there is a problem between Matsuzaka and Martinez, it is one they may have to reconcile on their own.
May, 17, 2010
5/17/10
6:25
PM ET
NEW YORK -- There will be no
Mike Cameron
sighting in the Apple, manager Terry Francona said Monday.
The Red Sox outfielder, out since April 16 with an abdominal tear, remained in Boston after acknowledging to the team's medical staff he still has some tenderness in the area. Instead of being activated for the two-game series here against the Yankees, Cameron could remain on rehab assignment and play an additional game Wednesday in Portland for the Double-A Sea Dogs, according to Francona.
Francona said the hope is that they will be able to manage the injury in such a way that Cameron will not require surgery, though the outfielder told the Providence Journal last week that he expected to need surgery.
Jacoby Ellsbury
, who
played with the PawSox
on Monday, said he was a little "tentative," Francona said, but went from first to third on a hit, slid into home, and reported no issues. He'll be re-evaluated Wednesday.
Other pregame developments:
--
Dustin Pedroia
, as he had forecast, was back in the lineup Monday, a day off Sunday apparently sufficient rest for the knee he twisted the night before in Detroit. The knee didn't qualify as a problem in Pedroia's universe. Why? "I have 3-inch legs,'' he said.
--
Victor Martinez
, mired in a 2-for-28 slump and batting just .135 (7 for 52) on the road, was dropped from the No. 3 hole to the No. 5 spot. This is the second time this season that Martinez has batted in the 5-hole. The first time was for three games (April 20-22) in which he had 5 hits in 9 at-bats.
Francona insisted that the lineup shuffle had nothing to do with Martinez's slump, but rather he was looking for balance in the lineup.
J.D. Drew
, who has 4 hits and 4 walks in 10 plate appearances against Yankees starter
Phil Hughes
, will bat third, which accomplished the dual purpose of having Boston's best hitter against Hughes hitting in that spot while breaking up the two lefties,
David Ortiz
and Drew. Of course, if Martinez was hitting, Francona could have slipped
Adrian Beltre
between Ortiz and Drew to accomplish the same purpose.
"Victor is a good hitter,'' Francona said. "I see the normal thing of trying to do too much. He gets a pitch to hit and tries to hit it too hard, or hits it right at somebody.''
Meanwhile, Yankee manager
Joe Girardi
said before the game that
Nick Swisher
(strained left biceps) is available to pinch hit from the right side, while catcher
Jorge Posada
has a "knot" on his right foot after taking a foul ball and was not expected to be available.
May, 8, 2010
5/08/10
1:55
PM ET
BOSTON -- Even though Red Sox starter
Josh Beckett
hit two Yankee stars,
Robinson Cano
and
Derek Jeter
, and knocked down
Francisco Cervelli
, Red Sox manager Terry Francona said he didn't expect the umpires to meet with the managers before Saturday's game to warn about possible retaliation.
"No,'' he said. "We took care of it. We hit 'Tek. Took it out of their hands. That's the ultimate respect.''
Catcher
Jason Varitek
has a large bruise on his left forearm after being crossed up by Beckett on a sixth-inning at-bat by
Nick Swisher
of the Yankees. Varitek was expecting a curveball, and was drilled by a 95 mile-an-hour fastball by Beckett.
"Completely my fault,'' Beckett said.
Francona is starting
Victor Martinez
behind the plate with
Clay Buchholz
, and with Yankees left-hander
CC Sabathia
on the hill, but said Varitek should be available if needed.
"I think we're pretty fortunate that we dodged a bullet there,'' Francona said. "Watching it, even live, watching his reaction and watching the pitch, I thought that had a chance to -- 96 on the forearm, can't feel real good.
"Different getting hit like that than getting hit by a pitch when you're hitting. You're trying to get out of the way, as opposed to there's no give there.''
Notes:
-- Francona said that
Mike Cameron
could begin a rehab assignment as soon as Monday, pending another consultation with the team's medical staff Sunday.
Francona said that Cameron would report to Pawtucket for his rehab; the PawSox are home Monday night at 6:15 against the Gwinnett Braves.
The manager said he didn't expect Cameron would need many at-bats. What will be more telling, he said, is how Cameron responds to game action the day after.
--
Jacoby Ellsbury
, who was given a day off on Friday, was scheduled to resume activity Saturday but still seems some time removed from a rehab assignment.
-- The tarp is on the field before the game. The Red Sox said their private weather service, Telvent DTN, called for the possibility of scattered thundershowers during the early afternoon. Relatively dry conditions are expected during the late afternoon and evening. The game is scheduled to be televised by FOX.
Here are the lineups:
Yankees:
1. Derek Jeter, SS
2.
Brett Gardner
, CF
3.
Mark Teixeira
, 1B
4.
Alex Rodriguez
, 3B
5. Nick Swisher, RF
6.
Marcus Thames
, DH
7.
Randy Winn
, LF
8. Francisco Cervelli, C
9.
Ramiro Pena
, 2B
SP: CC Sabathia, LHP
(Note on Yankees lineup: Manager
Joe Girardi
said it will be a game-time decision whether Cano is inserted in the starting lineup.
Red Sox:
1.
Marco Scutaro
, SS
2.
Dustin Pedroia
, 2B
3. Victor Martinez, C
4.
Kevin Youkilis
, 1B
5.
Mike Lowell
, DH
6.
J.D. Drew
, RF
7.
Adrian Beltre
, 3B
8.
Bill Hall
, LF
9.
Darnell McDonald
, CF
SP: Clay Buchholz, RHP