Boston Red Sox:

rollingrally
November, 2, 2013
11/02/13
1:19
PM ET
The caravan of duck boats carrying Red Sox players and executives paused when they reached the Boston Marathon finish line on Boylston Street, site of one of the two bombings during the April 15 race.
Outfielder Jonny Gomes placed the World Series trophy on the line and he and catcher Jarrod Saltalamacchia held Red Sox jerseys with the words "BOSTON STRONG" and the number 617, the city's area code. The moment was accompanied by a stirring rendition of "God Bless America" by classical singer Ronan Tynan.
As the parade moved on, David Ortiz hopped out of his duck boat and ran the final yards of the finish line to the delight of the crowd that stood at least 10 deep on the sidewalks.
Here are some photos of the emotional scene: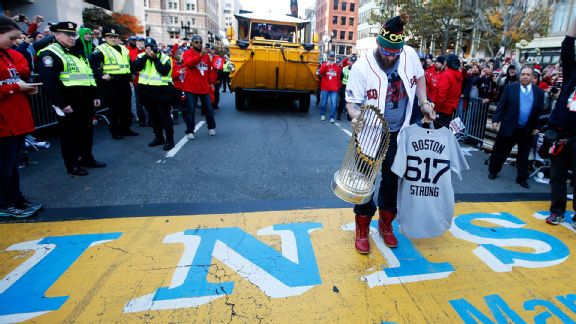 AP Photo/Elise AmendolaJonny Gomes put the World Series trophy and a Boston Strong jersey on the Boston Marathon finish line.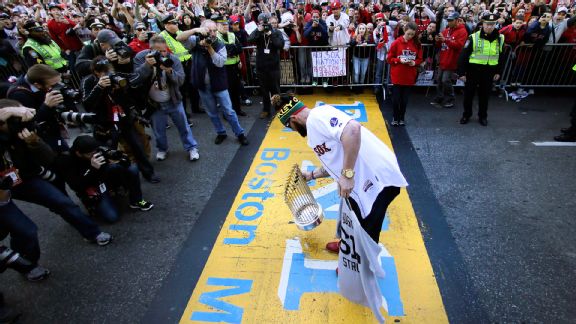 AP Photo/Charles Krupa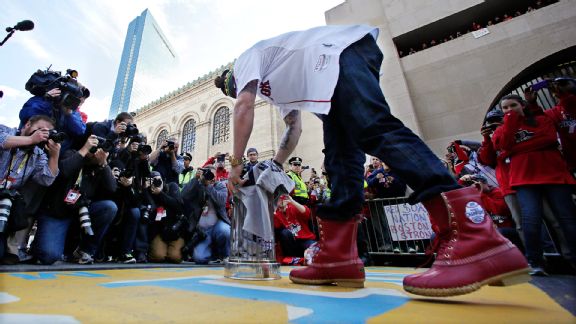 AP Photo/Charles Krupa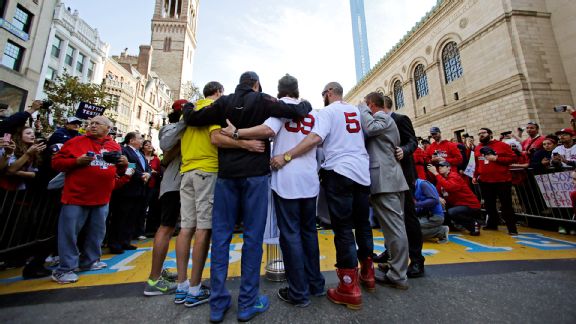 AP Photo/Charles KrupaJonny Gomes (5) and Jarod Saltalamacchia (39) stand arm in arm with some of the people affected by the April 15 bombings.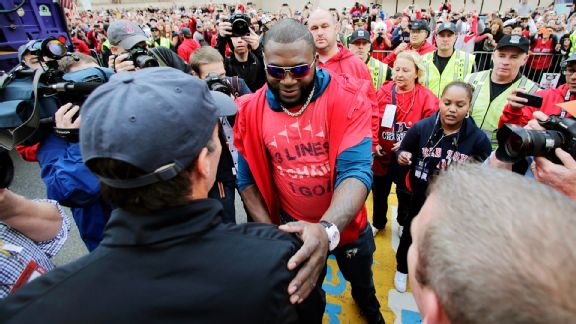 AP Photo/Charles KrupaAfter the initial ceremony, David Ortiz got off of his duck boat at the Boston Marathon finish line to pay tribute.
November, 2, 2013
11/02/13
1:16
PM ET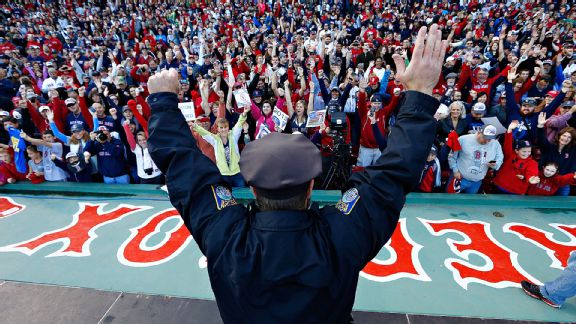 Yoon S. Byun/Getty Images
Bullpen cop Steve Horgan strikes the famous pose that made him a household name. He rode in Saturday's duck boat parade with the Sox ownership group.
November, 2, 2013
11/02/13
12:22
PM ET
BOSTON -- Since winning the World Series on Wednesday night at Fenway Park, Red Sox manager John Farrell has been a busy man.

He and general manager Ben Cherington have already begun to prepare for the offseason, while reviewing 2013. When asked if he's been able to celebrate the team's championship, Farrell just smiled.

"Just hanging out," he said with laugh. "A little bit, a lot of recover after Wednesday night. Going through the last couple of days with some meetings with the players, beginning some offseason conversations with Ben, and with each passing hour, what we just accomplished starts to sink in a little bit more."

This isn't Farrell's first World Series parade.

As a member of Terry Francona's coaching staff from 2007-2010, Farrell's already been on a celebratory ride on the duck boats. This time around, however, he expected it to be a lot better.

"I expect an awful lot of people to share in a really great day," Farrell said. "Having been on one of these after the '07 series where it was maybe a little bit more of an expected outcome, winning that World Series, this [parade] will have a much more intense feel. All that we've come through, the way this group came together and what we achieved as a team, and the way our fans have shared in this and rekindled a relationship back with this team, it's an awesome day."
November, 2, 2013
11/02/13
12:05
PM ET
BOSTON -- The now-famous bullpen cop Steve Horgan received some of the loudest ovations by fans at the Red Sox World Series parade Saturday morning.

Before the rolling rally kicked off at Fenway Park, Horgan, a Boston police officer, was taking pictures and signing autographs. The image of him standing in the Red Sox's bullpen with his arms raised in celebration after David Ortiz's grand slam in Game 2 of the ALCS will be remembered as the iconic image of Boston's run to the championship.

"Since that night it's been overwhelming, very overwhelming," Horgan said. "It's been really great, positive, just fantastic. It's been a great ride."

Speaking of great rides, Horgan, a 27-year veteran of the force, rode in the duck boat along with Red Sox owner John Henry.

Horgan is still learning to live with his new fame.

"At first it was a little bit overwhelming, but now I kind of got used to it," he said. "The fans have been great, the organization, the police department, the commissioner's office, the guys I work with, everyone's been great about it, my family especially."
November, 2, 2013
11/02/13
12:01
PM ET
BOSTON -- Red Sox catcher
Jarrod Saltalamacchia
doesn't know what his future holds in Boston. In the final three games of the Series against the
St. Louis Cardinals
, the free-agent catcher was on the bench as fellow catcher
David Ross
was in the starting lineup.
Prior to the rolling rally around the city, Saltalamacchia was asked if he's spoken with general manager Ben Cherington about his future with the Red Sox.
"No," he said. "I've been enjoying this and I'm assuming things will pick up here soon, but I haven't heard anything from Ben.
"This is a great place to play and it's been home for me the last three, four years," he said. "Things are going to work out the way they're going to work out. We'll have to sit and wait and see."
November, 2, 2013
11/02/13
11:55
AM ET
BOSTON -- The 2014 version of the
Boston Red Sox
will be different than the club that just won the World Series, and we're not just talking about the players on the field.
Current Red Sox bench coach Torey Lovullo is expected to be interviewed for the vacant managerial jobs with the
Detroit Tigers
and
Chicago Cubs
. Farrell, who also had Lovullo as his first-base coach when both were with the
Toronto Blue Jays
, understands there's a chance his bench coach is hired by another organization this offseason.
"We're hopeful we have the whole staff returning," Farrell said. "I think Torey Lovullo will have some legitimate opportunities, and whenever that interview process begins for him, he's deserving and I promote his next step in his career. Whoever else may be involved in that remains to be see, but if Torey doesn't secure another position elsewhere, our whole staff will be back."
After the Red Sox defeated the
St. Louis Cardinals
in Game 6 Wednesday night at Fenway Park to clinch the title, Lovullo said he did not have any interviews lined up and that he's looking forward to continuing this winning tradition in Boston.
"You never want it to end," he said, "you want to keep saying, 'Hey, look let's enjoy it, taste it and keep moving forward to spring training next year.' We have such a great thing here. We have a mold, a template that we fit all these guys into. They bought into this program and it should be a real special run for a lot of year."
November, 2, 2013
11/02/13
11:40
AM ET
BOSTON -- Despite playing with a torn ligament in his left thumb, Red Sox second baseman
Dustin Pedroia
missed only two games the entire season and helped Boston to its third World Series title in a decade.
As the team prepared for the rolling rally around the city, Pedroia admitted he's tired and sore from the grind of the season, but he was all smiles because he's a two-time World Series winner. He will have surgery at some point in the coming weeks to repair the damage from the injury he suffered diving into first base on Opening Day.
"It was frustrating at times but it's a part of the job," Pedroia said. "Every day players, you go through [injuries] and you've just got to find a way to manage it. Our training staff was awesome, but I just had to limit my swings in the cage and find a way to get through it."
Pedroia finished the season with a .301 batting average, including 84 RBI and a career-low nine homers. He also earned his third Gold Glove award.
November, 2, 2013
11/02/13
9:25
AM ET