Red Sox:

Rubby De La Rosa
March, 6, 2013
Mar 6
8:44
PM ET
FORT MYERS, Fla. -- Takeaways from the Fort, where one intrasquad game in college at Rice University is all the third base
Brock Holt
ever played before Boston's 9-3 spring training loss to the
Pittsburgh Pirates
on Wednesday afternoon.
[+] Enlarge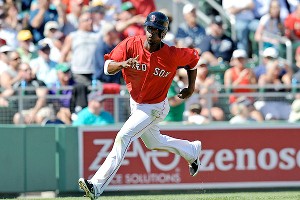 Steve Mitchell/USA TODAY SportsIs Pedro Ciriaco leading the race to be Boston's utility man?
Naturally, it took only two batters before Holt was tested, and he was equal to the task, diving to his left and spearing a ground ball by
Andrew McCutchen
, and throwing out the swift McCutchen with a strong throw across the diamond. In the fifth inning, he came in on a chopper and threw to second for a force.
And just like that, the battle was joined in earnest for one of the few jobs available on a Sox roster offering very little in the way of intrigue, other than the Big Question posed by Big Papi and his troublesome Achilles tendon.
The Sox are looking for a backup infielder who can play at least three positions, with bonus points if that player can also play the outfield. There are three candidates. The incumbent is
Pedro Ciriaco
, 27, whose fast start and impressive mugging of the Yankees masked the fact that he limped to the finish line, posting a .233/.269/.291/.560 line in the season's last month. There is veteran
Drew Sutton
, 29, who was with the Sox in 2011, played the infield for the Rays last season and the outfield for the Pirates, and has hit in spurts.
And there is Holt, 24, the other player in the deal that brought closer
Joel Hanrahan
to the Red Sox from the Pirates. Holt stands nose to nose with
Dustin Pedroia
, and put up impressive on-base numbers during a rapid ascent through the minors that led to a late-season call-up to the Pirates.

Holt is a shortstop by trade and has also played a lot of second, but had never played third until John Farrell started him there Wednesday afternoon. It won't be long, Farrell said, before the Sox take a look at Holt in center field, too.
"He's a good athlete, and he's shown a lot of good aptitude," Farrell said. "He's taken on third base, one new position. Gradually, we'll look to incorporate [center field] as well, but he made a couple pretty good plays today at third base."
Procedural matters favor Ciriaco, who is out of options and would have to pass through waivers for the Sox to send him back to the minors. Sutton is a non-roster player, which means the Sox would have to create a roster spot for him to make the team, which is not an enormous obstacle but would require some shuffling. Holt has options, which means the team could stash him in Pawtucket, have him play every day there, and be on call should the need arise.
That's why making a strong impression in camp is of some urgency to Holt, who suspects that the ability to play third behind
Will Middlebrooks
will be an important determining factor.
"I think it's huge," Holt said. "Obviously, right now it's just Middlebrooks. Ciri has proven he can play over there. He plays great defensively, no matter where he's at. The more positions I can play, the better.
"I'm coming here every day, trying to get as much work as possible at every position. If I'm at second in the morning, I'm trying to take ground balls at short and third after practice, trying to get as much work as I can. Hopefully, they see I'm working hard and starting to get more comfortable over there. I think it's been going good."
[+] Enlarge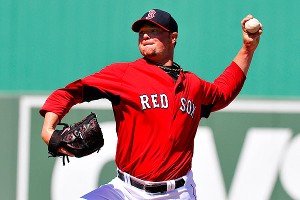 Steve Mitchell/USA TODAY SportsJon Lester had "four good innings of work" Wednesday, in Sox manager John Farrell's estimation.
* The novelty of having a knuckleballer in camp has been a popular storyline early, but
Steven Wright
, still a kid in knuckleballer years (28), very much remains a work in progress, one that Farrell said Wednesday will require patience. Wright was cuffed for five hits and three walks in two innings by the Pirates, who in his last outing had three hits and three walks while scoring two runs in 2 1/3 innings.
"Going back to the final inning in the previous outing and today, just not the consistent feel or the shape to the knuckleball," Farrell said. "It's one of those things where we have to be patient with the pitch and him as a knuckleball pitcher."
Farrell then cast the issue in terms suitable for discussion in a Harvard philosophy class: How do you perfect the imperfect?
"If you look at the bigger picture, he's at the early stages of trying to perfect this pitch, one which is an imperfect pitch," Farrell said.
* Hot prospect
Rubby De La Rosa
also had a flawed afternoon, giving up three runs on three hits and a walk.
*
Jon Lester
threw 52 pitches while giving up a run on two hits in four innings, walking three and striking out three. "Good four innings of work," Farrell said. "I thought he used his curveball more today than in the previous two outings. Part by design, part by situations that arose. Might not have been as sharp as his last time out, still 52 pitches in four innings, a good day of work for him."
March, 2, 2013
Mar 2
6:45
PM ET
FORT MYERS, Fla. -- Takeaways from the Fort, where
Clay Buchholz
made it through his first formal spring exercise,
Allen Webster
brought the most heat on an unseasonably cool Florida day, and
Shane Victorino
and
Alfredo Aceves
prepared to leave camp for a little flag-waving -- Victorino for Team USA, Aceves for Team Mexico -- both playing in the World Baseball Classic.
Buchholz, with his first exhibition start having been delayed by a tweaked hamstring sustained in a fielding drill on the first official day of camp, ran up a high pitch count in Saturday's 2-1 Sox win over the Twins, throwing 40 pitches to register four outs before manager John Farrell pulled him with one out in the second. That's what happens when you go to a three-ball count on five different hitters, but for Buchholz, that was of far less import than the fact he was able to throw all three of his pitches, felt good doing so, and actually threw first-pitch strikes six times.
With camp running longer than usual because of the WBC, Buchholz will have plenty of time to refine his mechanics and his stuff. He can ill afford to start this season the way he did last, when he gave up five or more earned runs in each of his first six starts, and surrendered a whopping 10 home runs in just 32⅔ innings. Until he finally righted himself, Buchholz was turning every hitter he faced into a potential Hall of Famer, which is where a batting line of .343/.428/.613/1.041 would get a hitter. That's what everyone was hitting collectively against Buchholz into May.
"It's sad it had to take that long to get in the right form," Buchholz said of his awful start, "but I felt as good as anybody in the game for a 2½-to-3-month span [after that]. I was confident. The team was confident."
The numbers underscore why he had every reason to be confident. Over a span of 15 starts that took him through mid-August and a bout with esophagitis that sidelined him for three weeks, Buchholz's 2.69 ERA ranked 10th among big league starters with at least 75 innings, and he surrendered just eight home runs in 107 innings.
With the memory of his early-season struggles still fresh, Buchholz said he is determined to not measure his expectations by the numbers.
"If you're able to go deep into the game every time you go out there, that alone should take care of everything else," he said. "The numbers will come if you do everything right."
Buchholz had 13 starts in which he went at least seven innings and gave up three runs or fewer. That was the most on the staff, but 21 big league pitchers had more, led by Tampa Bay's
David Price
, who went 15-1 in 22 such starts. It's a great barometer of true ace status: The next five names on the list are
R.A. Dickey
and
Clayton Kershaw
, with 21 apiece,
Felix Hernandez
with 20, and
Justin Verlander
and
Johnny Cueto
with 19 apiece.
That's what a top-of-the-rotation starter does; it's what the Sox want to see more of from Buchholz and
Jon Lester
, who made 10 such starts in 2012.
* While the Boston media corps was engaged in clubhouse conversation with Victorino prior to his departure to join Team USA in Arizona, Webster registered a scintillating encore to his first appearance last Monday in Dunedin, touching 99 on the radar gun again while throwing three scoreless innings.
"You missed Webster?" Farrell said. "You missed the highlight of the day. Ask the umpires. It was an impressive performance."
But as with fellow newcomer
Rubby De La Rosa
, Farrell says the plan is for Webster to begin the season in the minors as well, assuming the five starters he has slotted in the rotation remain healthy. "Our rotation is spoken for," he said. But there is every reason to believe both pitchers will be called upon at some point this summer, and the early returns promise far better than run-of-the-mill call-ups.
* Aceves had a hefty workload, throwing 3⅔ innings and giving up a long home run to
Justin Morneau
that accounted for Minnesota's only run.
* Juan Carlos Linares hit an opposite-field home run to right, and
Ryan Sweeney
singled home the other Boston run.
* Jose De La Torre, who is leaving to pitch for Team Puerto Rico, which is scheduled to visit the Fort on Tuesday night to play the Sox, had a seven-pitch ninth inning, including two whiffs, for the save.
March, 2, 2013
Mar 2
7:00
AM ET
FORT MYERS, Fla. -- Good morning from the Fort, where Friday's news that ex-Sox outfielder
Carl Crawford
is experiencing nerve issues in his surgically repaired throwing elbow had one Sox official expressing sympathy for Crawford, but also relief that the team had dodged that bullet with last August's megatrade to the Dodgers.
Dodgers manager Don Mattingly told reporters in Arizona on Friday that Crawford, who has five years and $107.7 million left on his contract, would be shutting it down for a week and his availability come Opening Day is in some question.
[+] Enlarge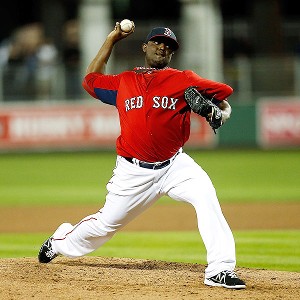 J. Meric/Getty ImagesRubby De La Rosa was impressive once again versus the Pirates on Friday.
Meanwhile in the Fort, the Sox got another look Friday night at
Rubby De La Rosa
, one of the two pitchers they got back from the Dodgers in the Crawford/
Adrian Gonzalez
/
Josh Beckett
/
Nick Punto
deal, and the excitement was palpable. There will be no Opening Day in the big leagues for De La Rosa, either, but not because the Red Sox entertain any doubts about his ability. Manager John Farrell had said at the outset of camp that because De La Rosa is just 19 months removed from Tommy John surgery and has thrown just 13 2/3 innings since undergoing the procedure, the team planned to limit him to two innings per outing while still grooming him as a starter.
That plan precluded any possibility that De La Rosa, who turns 24 in two days, would be breaking camp with the Sox, a point that Farrell reiterated after Friday night's exhibition against the Pirates, saying that De La Rosa would begin the season in the minors, even mentioning that he could begin the year in Double-A Portland. But that didn't temper Farrell's excitement over what he saw in De La Rosa's two scoreless innings Friday night.
De La Rosa didn't light up any radar guns with a 100 mph fastball, the most obvious tool in his arsenal. He sat in the mid-90s Friday night.
But what separates De La Rosa are his secondary pitches, which were the secret to Pedro Martinez's greatness, especially his changeup, a pitch Senor Martinez taught to De La Rosa in the Dominican Republic.
"Most impressively is the feel he has for his secondary pitches, particularly his changeup," Farrell said. "A couple of 3-and-2 counts, right-handed, left-handed, he's not only willing [to throw his changeup] but he goes to that pitch with confidence, and when you combine that with the power, it's really a rare combination.
"He hasn't been afraid to go to any pitch in any count. It's been very encouraging the way he's thrown the baseball."
Here's the scouting report on De La Rosa, as prepared by
SoxProspects.com
:

"Well-filled out righty, especially in lower half. Has been physically developing over the last couple of years. Fastball sits 94-97 mph, with sharp downward movement and explosiveness. Can top out at 98-100 mph when reaches back. Heater shows ability to miss bats. Fringe-average command. Tends to get long with delivery and has trouble keeping arm in slot. Will need to refine delivery to enhance command. 84-87 mph changeup grades as plus-to-better. Strong depth and deep fade. Shows separation and deception between fastball. Can miss bats or produce weak contact. Also throws a fringe-average mid-to-high 80s slider. Flashes plus at times, but inconsistent staying on top of pitch. Tends to wrap wrist. Potential to round into a swing-and-miss offering. Ceiling of a number three starter on first division team. Work becoming more consistent with slider and refining fastball command are keys to reaching ceiling as a starter. Late-inning reliever projection without any improvement. Had Tommy John Surgery in August 2011.''
The Dodgers had some questions about De La Rosa's maturity and work ethic, and the Red Sox were not thrilled that he came to camp with a bit of a pot belly. But with Martinez around as a mentor, and with Farrell and new pitching coach Juan Nieves paying close attention, De La Rosa has a chance to blossom into something special, as does
Allen Webster
, the other right-handed pitcher the Sox acquired in that deal.
The Sox want to give both pitchers as much time as possible to develop further, but either or both could help the big league club at some point in 2013.
The Sox will be playing the
Minnesota Twins
in Hammond Stadium later this afternoon.
Clay Buchholz
and
Alfredo Aceves
are among the pitchers scheduled to throw for the Sox, while
Shane Victorino
was tentatively scheduled to play before leaving Sunday for Team USA in Arizona.
February, 24, 2013
Feb 24
6:58
PM ET
By
Jeff Greer, Special to ESPNBoston.com
JUPITER, Fla. --
Rubby De La Rosa
meandered out of the away team's shower and quietly dressed. He looks nothing like a former Dodgers Minor League Pitcher of the Year, nor does anything about his 5-foot-10, 205-pound frame imply he can throw a 100-mph fastball.
But it was the 23-year-old Dominican who caught the eye of Red Sox manager John Farrell in the Red Sox 5-3 win Sunday against the
St. Louis Cardinals
here in Jupiter. De La Rosa hit the 100-mph mark several times over his two flawless innings and needed only three pitches to close out Boston's win in the ninth.
[+] Enlarge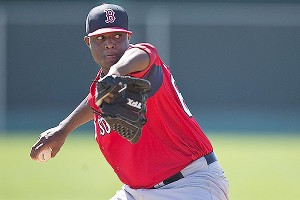 Matthew J. Lee/The Boston Globe/Getty ImagesRubby De La Rosa hit 100 mph several times over two solid innings on Sunday.
"Three pitches for strikes, confidence on the mound -- a lot of good things," Farrell said of De La Rosa. "It's electric stuff. Without getting too far ahead of ourselves, time will tell what role he settles into."
De La Rosa, acquired by the Red Sox as part of the massive trade that sent
Josh Beckett
,
Carl Crawford
,
Adrian Gonzalez
and
Nick Punto
to the
Los Angeles Dodgers
, debuted with the Dodgers as a 22-year-old reliever in 2011, striking out two. He eventually made 10 starts that season for Los Angeles, going 4-5 with a 3.71 ERA and 60 strikeouts over 60-plus innings.
Then he tore the ulnar collateral ligament in his throwing shoulder in his final start of the 2011 season, an injury that required Tommy John surgery. A year later, he made one appearance for the Dodgers in the big leagues.
Now here he is, some five months into his time with the Red Sox. Farrell implied Sunday that his goal is finding some kind of role for De La Rosa in the Red Sox organization, and he'd like to see De La Rosa as a starter.
De La Rosa, in his hushed voice, said his first outing of 2013 felt comfortable, despite coming in as a late-inning reliever.
"I felt good," said De La Rosa. "(My arm) feels better than before the surgery."
Comfortable's good enough for Farrell, who was blown away by De La Rosa's two innings, even though they're just that. Farrell spent some two minutes of his five-minute postgame interview with media talking about De La Rosa, even with veteran lefty
Jon Lester
making a strong spring-training debut.
"Physically ahead of what a realistic plan would be for him," Farrell said. "It's two innings in spring training, but a very impressive two."
February, 22, 2013
Feb 22
4:32
PM ET
FORT MYERS, Fla. -- Takeaways from Camp Farrell, Day 12:
* It's called the ladder, and you've probably seen it in your health clubs at home. This ladder is not intended to be leaned against a wall but placed on the ground, not to be climbed but to be stepped through with rapid movements -- advancing forward with stutter steps, going side to side while quick-stepping, often followed with a brief sprint. That was the drill
David Ortiz
went through Friday, the latest test for his strained Achilles tendon under the direction of strength and conditioning coach Pat Santora, and he
seemed quite encouraged by the progress
. He's getting closer, he said, to running the bases and then playing in a game.
[+] Enlarge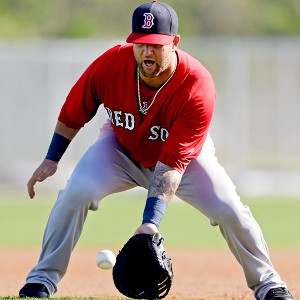 AP Photo/David GoldmanMike Napoli has been cleared to run the bases and could make his Grapefruit League debut next week.
*
Mike Napoli
has been cleared to run the bases on Sunday, manager John Farrell said, which puts him on track to play in a game sometime next week, perhaps by midweek.
*
John Lackey
will take the mound Saturday for the first time in 517 days. It's scheduled to be just an inning, but Farrell calls it a
"significant step" in Lackey's comeback
.
*
Pedro Martinez
was very hands on with
Alfredo Aceves
during the latter's side session Friday, and also has been closely watching
Rubby De La Rosa
.
"He's been impressive, not just in terms of his stuff, but his ability to manipulate a baseball,'' Farrell said of De La Rosa. "He has a good feel for a changeup, throws his breaking ball for strikes. Coming off Tommy John, we're a little more slow-paced with Rubby, but he's been really impressive early on.''
*
Allen Webster
is the other good-looking arm who came over with De La Rosa from the Dodgers in the
Adrian Gonzalez
/
Carl Crawford
/
Josh Beckett
deal. The baby-faced Webster, who is from North Carolina and is listed at 6-foot-3 and 185 pounds, sits at the far end of the Sox clubhouse, and keeps a watchful eye on things.
"I'm posted up here in the corner,'' the 23-year-old Webster said. "Just peeking around.''
This is Webster's first big-league camp, but so far, he said, the acclimation has been smooth.
"It's not taken near as much time as I was thinking,'' Webster said. "I didn't know what to expect when I got traded over. Everybody's been really nice to me, acting like I've been here the whole time.''
Asked what he foresees as the team's plans for him, Webster said: "I don't really know how to answer that. I can only do what I can.''
* Ortiz, upon hearing that Bobby Valentine will be named athletic director at Sacred Heart University: "Good. Good for him.''
*
Daniel Nava
turned 30 on Friday, becoming the 12th player on the Sox roster to be 30 or older. On March 16,
Stephen Drew
will become the 13th 30-something, and
Dustin Pedroia
(Aug. 17) and
Jacoby Ellsbury
(Sept. 11) will also cross that threshold this season. Am I the only one finding it hard to believe that Pedroia and Ellsbury will soon be 30?
The Sox have three roster players who were born in the 1990s: Webster (Feb. 10, 1990), shortstop
Jose Iglesias
(Jan. 5, 1990) and catcher
Christian Vazquez
(Aug. 21, 1990). The youngest player in camp, of course, is shortstop Xander Bogaerts, who turned 20 last Oct. 1. Shortstop Deven Marrero (Aug. 25, 1990) and outfielder Jackie Bradley Jr. (April 19, 1990) are the other '90s babies.
Vazquez is in his first big-league camp. A native of Bayamon, Puerto Rico, Vazquez was drafted on the ninth round in 2008. He began last season with Class-A Salem before being promoted to Double-A Portland for 20 games.
If the Dominican Republic can be considered the cradle of shortstops (28 natives of the island nation have played at least 500 games at short in the big leagues, including such notables as
Jose Reyes
,
Hanley Ramirez
,
Tony Fernandez
,
Rafael Furcal
, Rafael Ramirez,
Juan Uribe
, Jose Uribe,
Neifi Perez
), Puerto Rico can make a similar claim for catchers. Pudge Rodriguez,
Jorge Posada
,
Benito Santiago
,
Sandy Alomar Jr.
, Ozzie Virgil,
Javy Lopez
,
Geovany Soto
,
Javier Valentin
, Ellie Rodriguez,
Ramon Castro
, Junior Ortiz and the Molina brothers (Jose, Yadier and Bengie) all have come from Puerto Rico.
Vazquez is from Bayamon, close to San Juan, which is also home to the brothers Molina. He was drafted out of the Puerto Rico Baseball Academy.
"I was 15 when I tried out,'' Vazquez said Friday. "If you make the tryout, you can study there. I started there in the 11th grade and graduated from there. Two years of school.
"The school was one hour's drive from where I live. I would get up at 5:30 every morning, because school started at 7. The day ended at 5. We did baseball first, 8 to 11. We ate lunch, and then we studied from 1 to 5.''
Vazquez is regarded as a very good defensive catcher, with a strong arm. "I'm quick to second base,'' he said.
With so many catchers to choose from, Vazquez was not invited to play in the World Baseball Classic for Puerto Rico. "But I'm learning a lot in this camp,'' he said. "The veterans, Salty and
David Ross
they're good guys.''
Here's the scouting report on Vazquez, courtesy of Soxprospects.com:
"Excellent defensive catcher with a strong wide frame and solid agility behind the plate. Plus arm strength. Struggled in the past blocking balls in the dirt, but has made strong strides improving with controlling his body to front offerings. Firm when receiving pitches. Quick feet. Smooth footwork when firing out of crouch. Learning to lead behind the plate. Average batspeed. Has worked to quicken swing load. Extends on offerings middle-to-away well. Gets tied up by higher velocity fastballs on inner third. Must increase hitting zones to make consistent contact in higher levels. Tends to be fooled by sharp breaking balls. Fringe-average-to-average power potential. Capable of driving balls into the gap hard. Ceiling of backup/platoon catcher at the major league level."
* The final word belongs to Farrell. When someone suggested to Farrell that maybe every pitcher should undergo Tommy John surgery since so many seem to be stronger than before the operation, Farrell said:
"Having gone through it twice, I wouldn't wish it on anybody, nor would I recommend it before they got hurt.''
February, 8, 2013
Feb 8
2:18
AM ET
The final installment of a five-part series looking at the biggest questions facing the Red Sox leading into spring training:
5: Which young players will help this season?
FORT MYERS, Fla. -- The Red Sox begin camp next week with what appears to be few open roster spots and little competition for jobs. One injury could change all that, of course, but at the moment, the bullpen and a backup reserve spot or two would appear to be the only jobs up for grabs in February.

Still, there are a number of young players who may not break camp with the club on Opening Day but almost certainly will make an impact before the end of the season, some for years to come.
Here are seven to watch:
Ryan Lavarnway:
Lavarnway's immediate future took a detour when the Red Sox signed veteran
David Ross
as a backup catcher to
Jarrod Saltalamacchia
, leaving Lavarnway looking at a return to Pawtucket, where he certainly has little left to prove, especially at the plate. Coaching guru Gary Tuck praised the strides Lavarnway made behind the plate, although that still remains a matter of debate in some circles. Lavarnway batted just .157 in 153 at-bats in 2012, far too small a sample size to draw any conclusions, and with Saltalamacchia just a year away from free agency, a trade is not out of the question.
Jose Iglesias:
2013 was the year the Red Sox had projected for Iglesias to arrive, but his light bat and this winter's signing of
Stephen Drew
have postponed any coming-out party for the gifted shortstop, whose defensive skills may have no equal. Yes, that's saying a lot, but it may all be for naught if Iglesias, who has looked woefully overmatched at the plate in two big league exposures, doesn't pick up his offense. It's much too soon to quit on him -- he is still just 23 -- but Xander Bogaerts, the player regarded as the best prospect in the system, is closing fast.
Allen Webster, Rubby De La Rosa:
They're served as a parlay here because they came together from the Dodgers in the Gonzo/CC/Beckett deal, and both have legitimate shots at cracking the rotation at some point this season. De La Rosa has the more spectacular assets, including a 100 mph fastball and a changeup inherited from
Pedro Martinez
, but he also has had Tommy John surgery. Webster, who turns 23 on Sunday, may actually be the more polished pitcher, and has outstanding sink action on his fastball that should play well in the big leagues. They may be in Pawtucket in April, but check back at midseason, if not sooner.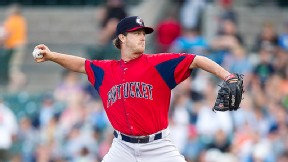 AP Photo/Mike Janes/Four Seam ImagesCould Steven Wright succeed Tim Wakefield as Boston's resident knuckleballer?
Jackie Bradley Jr.:
We all may be getting just a little ahead of ourselves here. Bradley, after all, began last season in high Class A and has just half a season of Double-A experience. Don't be surprised if he opens 2013 back in Portland, although a promotion should not be long in coming. Bradley is an above-average defender with a strong arm who has not only been productive at the plate but also disciplined, which accounts for his rapid rise. He projects as the team's center fielder of the future if
Jacoby Ellsbury
leaves as a free agent, but it's no certainty that he'll contribute to the big club this season. Still, I wouldn't bet against it.
Steven Wright:
The knuckleballer with the comedian's name is 28 -- old for a rookie but equivalent to puberty for the practitioner of the pitch that made
Tim Wakefield
famous. Wright came to the Sox from Cleveland, and if any organization is inclined to give a fair hearing to a knuckler, it should be this one.
Alex Wilson:
He may have a tough time cracking what looks to be a crowded bullpen, but the former Texas A&M star successfully made the transition to the 'pen in Pawtucket last season and could receive a summons at some point.
December, 1, 2012
12/01/12
1:44
PM ET
BOSTON -- A few matters of note Saturday morning, where the Red Sox are staging "Christmas at Fenway," on the one-year anniversary of Bobby Valentine's introduction as Red Sox manager:
•The Sox made
Jonny Gomes
' signing of a two-year, $10 million deal official. "He fits well on a number of fronts -- personality standpoint, ability standpoint -- into what we're trying to do," GM Ben Cherington said during a 15-minute session with reporters at the ballpark.
Cherington talked about Gomes playing in left field for the Sox in 2013.
"Exactly how many at-bats, that's up to (manager) John (Farrell), and I guess, up to Jonny to some degree, how he performs," Cherington said. "We think the ballpark is a good fit for him. He's a grinder, an intense competitor. Matchups aren't always about left-right."
Sox closer
Andrew Bailey
said he'd heard from a number of former A's teammates raving about Gomes. "From the first day of spring training, he came in and said this team reminded him of the 2008 Rays and kept the positive message throughout," Bailey said. "Guys told me I'm going to love him. I'm really looking forward to playing with him."
•Gomes' signing has not altered the team's desire to re-sign
Cody Ross
, Cherington said, with whom the club has maintained "consistent" contact. "But he is talking to other teams as well," he said.
•The Sox would like to sign at least one more outfielder, Cherington said. He said the team would prefer to have another outfielder who could play both center and right, though he acknowledged that's not always possible.
•Bailey said he plans to begin throwing next week, a little earlier than usual, with the idea of getting on a mound after the first of the year and coming to Fort Myers around Feb. 1. He said he expects to be the team's closer next season. "I think I have to," he said. "Right now I'm the only guy in that role."
•Catcher
Ryan Lavarnway
said the Sox have not approached him about a possible move to first base and said he would be open to it if they did, but made it clear he would prefer to remain a catcher, given the work he has put in at the position. He called new acquisition
David Ross
"a great catcher" and said he didn't know how Ross's acquisition would impact his role with the club. Lavarnway has moved to Colorado and is training there.
"I feel prepared (for playing with the Sox), but I trust Ben. Whatever he feels I need to do, I'll do," said Lavarnway. Asked about the possibility of being traded, he said he won't worry about things he has no control over.
•Cherington said that he'll have a better sense in Nashville whether the Sox will address their needs more through trades or free agent signings. "Coming off the year we had, maybe in light of that, teams not surprisingly are inquiring about things that maybe they haven't in the past," Cherington said. "Look, we have to be open-minded when you have a year like this."
•Asked if the Sox would entertain trading a starting pitcher, Cherington said: "Anything is possible, but it certainly gets harder to do that."
•Cherington said that
Rubby De La Rosa
, one of the pitchers acquired from the Dodgers in last August's megadeal with the Dodgers, is coming to camp as a starting pitcher and could factor into the big league picture in 2013. De la Rosa is working out in Arizona, where a couple of Sox people visited him and were pleased with the progress he is making.
October, 30, 2012
10/30/12
1:13
PM ET
On each weekday until baseball's GM meetings Nov. 7, we will spotlight one key decision the Red Sox need to make this offseason that will help determine the success or failure of the 2013 team.
Today's topic: How do the Red Sox improve their starting rotation?
Red Sox starters ranked 27th in major league baseball with a 5.19 ERA, with only the Indians, Twins and Rockies worse, three teams that lost even more games than the Sox in 2012.
Franklin Morales
was the only Boston starter with a sub-4.50 ERA, and he made just nine starts.
Defining the decision: Do the Sox have the pieces internally to improve or are big changes needed?
The Sox already have made one change, and it is a significant one, bringing back former pitching coach John Farrell as the team's manager. When the Red Sox won the World Series in 2007, Farrell's first season as pitching coach, they had the fourth best ERA in baseball, 4.21, and a year later lowered that to 4.02, eighth best. That ERA was 4.17 in Farrell's last season, 2010.

On the day he was introduced as Sox manager, Farrell insisted that the team has a strong core to build around in
Jon Lester
,
Clay Buchholz
,
Felix Doubront
and
John Lackey
, who will be returning next season after missing the 2012 season with Tommy John reconstructive elbow surgery. Skeptics abound, especially with Lester coming off the worst season of his big-league career and Lackey having shown little in his first two seasons in a Boston uniform, though it's possible he has never been healthy here. Lackey looked to be in very good shape by the end of the summer, though, and impressed the Sox with his throwing sessions.
Lester and Buchholz are healthy, Doubront made impressive strides in his first full season in the big leagues, and Lester already has expressed great enthusiasm at being reunited with Farrell, who he credits for molding him during his successful run as one of the most consistent left-handers in the American League.
Still, the Sox will need much more than these four going forward, a fact recognized by both GM Ben Cherington and Farrell when they spoke of acquiring additional pieces.
Option A: Add from within
The Sox could promote Franklin Morales and
Alfredo Aceves
to full-time starters, convert
Junichi Tazawa
from reliever to starter, and give long looks to the two pitchers who came in the Dodgers megadeal, Allen Webster and Rubby de la Rosa.
[+] Enlarge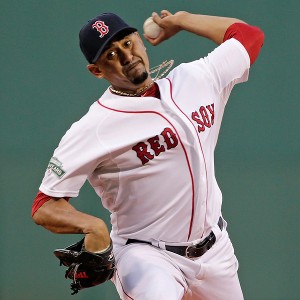 AP Photo/Charles KrupaIs Franklin Morales, who was shut down for the 2012 season's final five weeks with a "tired" shoulder, ready to be a starter?
Morales was brought along slowly in spring training because of shoulder weakness, then was shut down for the season's final five weeks with a "tired" shoulder, so he comes with questions heading into next season.
On performance alone, Aceves probably should have won a starting job coming out of camp, but
Daniel Bard
got the nod and when
Andrew Bailey
went down, Aceves became the closer. He also clashed openly with manager Bobby Valentine and was suspended, leading to suggestions he would be persona non grata going forward. That doesn't appear to be the case. Aceves' versatility still holds great appeal to the Sox, and Farrell appears on board with the notion of keeping him. But because of his ability to pitch multiple innings out of the 'pen, the Sox may be inclined to keep him there.
The most intriguing candidate may be Tazawa, who returned from Tommy John surgery to make a sensational impact on the bullpen, posting a 1.43 ERA while striking out 45 and walking just five in 44 innings. Of the last 46 batters he faced over a span of 15 appearances, Tazawa allowed just four to reach, on three hits and a walk. He allowed just one home run all season, to
Adrian Beltre
of the Rangers.
Tazawa, 26, has all the makings of a dominant setup man/potential closer. But he began his career with the Sox as a starter and has a three-pitch mix (fastball, splitter, slider) that would lend itself to returning in that role, although he questioned whether he has enough arm strength to maintain his velocity as a starter.
What the Sox do with Tazawa may be impacted by their plans for de la Rosa, who touched 100 miles an hour before undergoing Tommy John surgery last year. De la Rosa's velocity appeared back upon his return to the Dodgers, but there is some debate over whether his future is as a starter or closer type.
The other pitcher acquired from the Dodgers is Webster, who probably needs more time in the minors but like homegrown prospect Matt Barnes figures to help the Sox by 2014 at the latest, if not by the end of next season.
Option B: Look for help in the free-agent market and through trades
The Red Sox are not expected to be players for the high-end starters on the free-agent market, which include
Zack Greinke
,
Anibal Sanchez
,
Kyle Lohse
,
Jake Peavy
and
Edwin Jackson
.
Dan Haren
and
Ervin Santana
could join that list if the Angels don't exercise their options. All are expected to command multiyear deals beyond what the Red Sox are willing to give, though Sanchez, who originally belonged to the Sox before being part of the trade with the Marlins that brought back
Josh Beckett
and
Mike Lowell
, might be tempting.
[+] Enlarge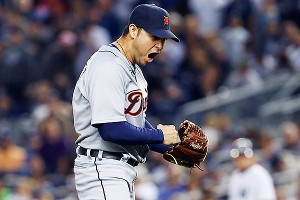 Alex Trautwig/Getty ImagesHow would Anibal Sanchez look in a Red Sox uniform?
The Sox would prefer to acquire pitchers that would require a shorter-term commitment, and thus may be more active on the lower end of the free-agent market. That could mean pitchers such as
Francisco Liriano
(elbow issues),
Brandon McCarthy
(shoulder),
Jeremy Guthrie
or
Carlos Villanueva
(who Farrell knows from Toronto).
The Sox also will look into the trade market while not wanting to part with top prospects.
Matt Garza
,
Wandy Rodriguez
,
Josh Johnson
,
Paul Maholm
and
Mark Buehrle
could be names worth exploring.
Long shot: Lee or Lincecum
Cliff Lee
or
Tim Lincecum
? Both are in the $20-million-plus range, Lee for three more seasons, Lincecum for one more before becoming a free agent. Neither the Phillies nor Giants are likely to move Lee or Lincecum, respectively, but they're both worth asking about.
Your turn: What's the best option for the Red Sox?
We've outlined the possibilities, now tell us what you would do if you were in Ben's shoes. Vote in the poll above and leave your more detailed thoughts in the comments section.
October, 4, 2012
10/04/12
6:14
PM ET
The Red Sox officially acquired right-handed pitcher
Rubby De La Rosa
and first baseman/outfielder
Jerry Sands
from the
Los Angeles Dodgers
, completing the Aug. 25 trade that sent right-handed pitcher
Josh Beckett
, outfielder
Carl Crawford
, first baseman
Adrian Gonzalez
and infielder
Nick Punto
to the Dodgers in exchange for first baseman
James Loney
, infielder
Ivan De Jesus
Jr. and right-handed pitcher Allen Webster, the Sox announced Thursday.
De La Rosa and Sands were widely reported as being part of the deal when it was first reached, with De La Rosa seen as perhaps the biggest catch for the Red Sox. At the time of the trade, one scout told ESPN.com that De La Rosa could be a "top-of-the-rotation" starter if he fully recovers from the Tommy John surgery he had in August 2011.
De La Rosa, 23, tallied an 11-9 record with six saves, a 2.86 ERA, 237 strikeouts and just 187 hits allowed in 233 innings over 59 career minor league appearances (39 starts) in six seasons in the Dodgers system. He earned the organization's minor league pitcher of the year award in 2010.
After beginning the 2012 season on the disabled list, De La Rosa made one major league appearance for Los Angeles in August and compiled a 1-0 record with a 2.08 ERA and 12 strikeouts in 13 strikeouts over six minor league outings, including five on rehab, between the rookie-level Arizona League Dodgers, High-A Rancho Cucamonga and Double-A Chattanooga.
The 25-year-old Sands spent most of 2012 with the Dodgers Triple-A Albuquerque affiliate and was named to the Pacific Coast League's postseason all-star team. This season, he led all Triple-A batters with 107 RBIs and finished third in the PCL with 26 home runs while also tallying 17 doubles, 4 triples, 84 runs scored and 59 walks in 119 games.
To make room on the 40-man roster, catcher
Guillermo Quiroz
was designated for a assignment. Quiroz, 30, was acquired from the
Seattle Mariners
on Sept. 4 and appeared in two games for the Red Sox this season, going 0-for-2.
August, 25, 2012
8/25/12
4:51
PM ET
By
Chris Hatfield, SoxProspects.com
| ESPNBoston.com
The breaking news of the Red Sox's blockbuster trade with the Dodgers took fans to a place they never really had been before.
In trying to get our heads around the massive, nine-player, nearly $300 million deal, most of the focus has been, rightfully so, on the players leaving Boston:
Josh Beckett
,
Carl Crawford
,
Adrian Gonzalez
and
Nick Punto
. Never had we seen a group of major league players owed this much in contracts shipped out in the same trade. Never had we seen a general manager, Ben Cherington, so swiftly put his stamp on a team, making it his own.
[+] Enlarge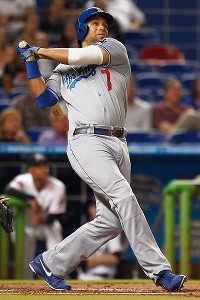 AP Photo/J Pat CarterJames Loney has a career-low slugging percentage this year.
But perhaps getting lost in the hubbub about who the Sox jettisoned is that they managed to get real value in return for those players, in addition to getting the Dodgers to pay just about $260 million of the more than $270 million owed to those four. Boston received two potential impact arms in
Rubby De La Rosa
and Allen Webster and useful bench pieces in
Ivan De Jesus
and
Jerry Sands
, while
James Loney
rounds out the deal as the man who will take over first base for the rest of this season.
So here is a primer on the five players coming east to Boston (or more accurately, in a few cases, Pawtucket or Portland):
1B James Loney
Age: 28; B/T: L/L
MLB Debut: 2006
Drafted by LAD in 2002 (first round)
The lone established major leaguer going to Boston in the deal, Loney is arguably the least important included player because he had zero use in L.A. with Gonzalez now taking over at first base. Although he has been the Dodgers' starting first baseman since 2008, Loney had become something of a punch line to the team's fans, not hitting nearly enough to justify playing at the least important position on the defensive spectrum. In 2012, Loney was hitting just .254 AVG/.302 OBP/.344 SLG with four home runs and 33 RBIs in 114 games, and his career line of .284/.341/.423 was essentially league-average over his time in the majors -- although not as bad as his poor numbers from this season, but again not the production one expects from a first baseman on a winning club. Loney is athletic and plays a good defensive first base despite his 6-foot-3, 220-pound frame.
Loney's time with the Sox may be short; he is a free agent after this season and his inclusion essentially gives the Sox a body to put at first base until they address the position in the offseason. But since we are about to delve into the "prospects" portion of the deal, it is worth mentioning that Loney, a former first-round draft pick out of Elkins High in Missouri City, Texas, was once a top prospect himself. He was one of Baseball America's top 100 prospects in 2003-05 and 2007, spending three of those years in the top 50 and peaking at No. 34. Yes, fans, the Red Sox are not the only team for whom top prospects do not reach their ceilings, although BA's 2007 Prospect Handbook did note a "wide range of opinion" on Loney's future power.
One final interesting note on Loney: He made his major league debut for the Dodgers in 2006 when their starting first baseman, a fellow by the name of
Nomar Garciaparra
, began the season on the disabled list. As they say, it's a small world, at least in the world of franchise-changing blockbuster trades.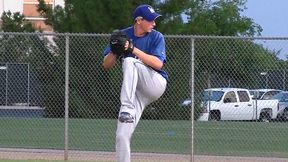 Jason Grey/ESPNThe Sox are hoping that Allen Webster becomes a household name and fixture in the rotation.
RHP Allen Webster
Age: 22
Drafted by LAD in 2008 (18th round)
Webster has been one of the steals of the 2008 draft for the Dodgers. Webster played mostly shortstop at McMichael High School in Madison, N.C., but the Dodgers moved him to the mound in the pros and Webster has taken off, rising to now being considered by many the top pitching prospect in the Dodgers' system before the trade.
Webster has been very good for Double-A Chattanooga this year, going 6-8 with a 3.55 ERA, striking out 117 and walking 57 in 121.2 innings with a 1.45 WHIP. His strength, however, is in inducing ground balls, which has earned him comparisons to
Derek Lowe
. He throws a fastball at 92-94 mph, touching 97, showing heavy sink even at higher velocities. His secondary pitches can also all be plus when they are working right and include an 82-84 mph changeup, an 80-82 mph slider and a 76-78 mph curve. All can be inconsistent at times, but when on, the changeup and slider in particular complement his sinker very well. Adding in his plus control, Webster profiles as a middle-to-back-end starter at the major league level.
Webster could be assigned to either Double-A Portland or Triple-A Pawtucket. With the PawSox just a half-game back in their chase for a playoff spot, the Sox could promote Webster to get him a taste of a playoff chase as a development tool. He should make his MLB debut at some point in 2013 and could even compete as a dark horse for a spot in the 2013 rotation out of spring training.
RHP Rubby De La Rosa
Age: 23
MLB Debut: 2011
Signed by LAD as an international free agent in 2007
De La Rosa, whose first name is pronounced "Ruby," will technically be included in the trade as a player to be named later after being claimed by Toronto on trade waivers. He only just made his return from Tommy John surgery, making one appearance for the Dodgers after being activated on Aug. 21.
[+] Enlarge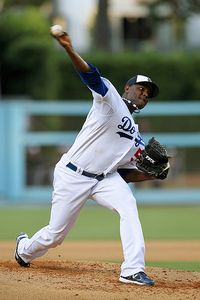 Stephen Dunn/Getty ImagesRubby De La Rosa needs to refine his secondary pitches, but boasts fastball that approaches 100 mph.
In his major league debut last year, which capped a meteoric two-year rise through the Dodgers' system, he struck out 60 batters in 60.2 innings, going 4-5 with a 3.71 ERA in 13 appearances, 10 of those starts. Control was a bit of a problem, as he also walked 30 batters.
De La Rosa is a true fire-baller, boasting a fastball that sits in the mid-90s and can hit triple-digits. Even a year removed from surgery (which took place on Aug. 9, 2011), he already has most of that velocity back, as he registered 96 mph on the gun in his return to the majors this week. His fastball gets lots of swings and misses and ground balls and is a true weapon. He mixes in two fringe secondary pitches in a changeup and slider. The slider played up better in his MLB debut, but both pitches need work. If he can develop one to be a true complement to the fastball, De La Rosa has the ceiling of a No. 3 starter or high-leverage reliever.
The right-hander signed out of the Dominican Republic in 2007 and spent two years pitching in the Dominican Summer League before making his U.S. debut in 2009. That debut was cut short, to just five appearances, before De La Rosa was sent home for disciplinary reasons. However, he apparently learned from that experience, and in 2010 he returned to the U.S. with a vengeance, reaching Double-A and going from being unranked in Baseball America's Dodgers top 30 entering 2010 to being ranked third in the system a year later and slotting in at No. 90 in the publication's top 100 prospects. In 2011, he made just eight starts in Double-A, striking out 52 batters in 40 innings before being called to the majors.
De La Rosa was optioned to the minors and could be shut down until he can be traded to the Red Sox. He presently has all three option years remaining but should not need to be optioned once he arrives in Boston if all goes well.
1B/OF Jerry Sands
Age: 24; B/T: R/R
Drafted by LAD in 2008 (25th round)
Sands was another 2008 draft steal for the Dodgers, who selected him out of Division II Catawba College in North Carolina in the 25th round and signed him for just $5,000. He has spent most of this season in Triple-A after making his major league debut and getting 227 plate appearances for Los Angeles in 2011, hitting .253/.338/.389 with four home runs.
Sands profiles best as a versatile bench player who can man first base and both outfield corners, although at his peak he could start at first or in left field for a second-division team. He makes slightly above-average contact with above-average power and solid plate discipline but can struggle against off-speed pitches. He has below-average speed, but he is an average defender in left and can play a decent right field thanks to his baseball instincts.
This season in Triple-A Albuquerque, a noted hitter's haven in a hitter's league, he is hitting .303/.380/.531 with 24 home runs and 101 RBIs. He has been scorching hot since the All-Star break, hitting .386/.448/.683 with 12 home runs in 37 games. Sands' breakout came in 2010, his second full season, when he made the jump from low Class A Great Lakes to Chattanooga and swatted 35 home runs, earning the Dodgers' minor league player of the year award.
INF Ivan De Jesus Jr.
Age: 25; B/T: R/R
Drafted by LAD in 2005 (second round)
De Jesus, son and namesake of the former major league shortstop who spent most of his 15-year career with the Dodgers, Cubs and Phillies, profiles as a versatile major league utility player. Ivan Jr. has not hit much in a limited, 40-game major league sample and has lost some of what was solid prospect luster since breaking his leg and missing nearly all of the 2009 season.
De Jesus' best position is second base, and he can passably play either position on the left side of the infield and even step into the outfield corners in a real pinch. He makes slightly above-average contact and has solid average bat speed, but below-average plate discipline and minimal power limit his offensive impact to being a solid line-drive hitter. Since the leg injury, De Jesus is an average runner.
Like Sands, De Jesus is likely headed to Pawtucket with
Pedro Ciriaco
manning with the utility infield spot in Boston. However, De Jesus will not have options remaining after this season, which means either he or Ciriaco may be traded this offseason, as they are relatively redundant position-wise.
Mike Andrews and James Dunne contributed research to this post.