Boston Red Sox:

Rusney Castillo
September, 17, 2014
Sep 17
3:08
PM ET
PITTSBURGH -- Boston Red Sox manager John Farrell said that Cuban outfielder Rusney Castillo will play center field and bat seventh on Wednesday night in his major league debut.

Castillo, who signed the biggest contract ever for a Cuban player, will debut at PNC Park when the Red Sox take on the Pittsburgh Pirates. Farrell confirmed his lineup spot in his weekly interview on Boston sports radio station WEEI on Wednesday afternoon.

September, 10, 2014
Sep 10
11:50
PM ET
PAWTUCKET, R.I. -- The Durham Bulls evened the best-of-five Governors' Cup finals at one game apiece with a 4-3 win over the Pawtucket Red Sox in 11 innings Wednesday at McCoy Stadium.
In his second Triple-A game,
Rusney Castillo
went 1-for-4 and scored a run. In eight minor league games since he signed with the Red Sox as an international free agent on Aug. 23, he's 8-for-27 with 3 RBIs, five runs scored and two strikeouts.
On the mound for the PawSox, left-hander Brian Johnson made his Triple-A debut. He worked six innings and allowed two runs on four hits, with three walks and seven strikeouts. He tossed 95 pitches, 58 of them strikes.
The former first-round pick (31st overall) in the 2012 draft, Johnson went 10-2 with a 1.75 ERA in 20 starts this season for Double-A Portland. He also struck out 99 batters in 118 innings for the Sea Dogs.
On Wednesday, Castillo singled in his first at-bat of the game. He hit the first pitch he saw from Durham starter
Alex Colome
. Castillo later scored Pawtucket's first run of the game on an infield groundout by
Ryan Lavarnway
.
In the bottom of the second inning, Castillo drew a walk. He then hit into a fielder's choice in the fourth inning before grounding out to short in the seventh.
With one out and the game tied 3-3 in the bottom of the ninth inning, the winning run stood 90 feet away when Castillo swung at the first pitch and popped out to shallow right field.
When the game went into extra innings, Castillo was removed.
Game 3 of this series will be played Thursday night in Durham. Castillo will likely have the night off, but if he's in the lineup, it will probably be as the DH.
August, 30, 2014
Aug 30
12:04
AM ET
ST. PETERSBURG, Fla. -- Cuban outfielder Rusney Castillo will be a man among boys when he makes his professional debut for Boston on Sunday afternoon in Fort Myers playing for the team's rookie level Gulf Coast League affiliate.

Castillo, 27, will be playing on a team whose oldest players are 22 and has 22 teenagers listed on its roster. He will be playing in a playoff game against the Gulf Coast League Yankees, who will host the GCL Red Sox in the first game of the best-of-three finals Saturday in Tampa.

The GCL Red Sox won a one-game semifinal playoff against the GCL Cardinals, 7-4, on Friday in Jupiter.

Castillo obtained his P-1A work visa from U.S. Custom and Immigration Services on Wednesday, making him eligible to play in games. He has been working out at the team's facility since Wednesday and will continue to do so on Saturday, Sox manager John Farrell said.

"We want him to go through another day of work tomorrow,'' Farrell said. "That'll set him up for his first activity Sunday.''

Farrell said Castillo is expected to play three innings. The game will not be held in JetBlue Park but in one of the practice fields behind the facility. Field One has been mentioned as the most likely locale, with first pitch scheduled for noon.
August, 29, 2014
Aug 29
8:46
PM ET
ST. PETERSBURG, Fla. -- This may be the first scouting report on a Cuban baseball player ever offered by a Massachusetts yankee in Queen Beatrix's court.
Then again, it's not every day that a guy who grew up in Methuen, pitched for St. Petersburg Junior College, transferred to Vanderbilt, was drafted by the Cardinals, continued his career in Australia, and moved to the Netherlands winds up with an honorary "Sir" in front of his name.
[+] Enlarge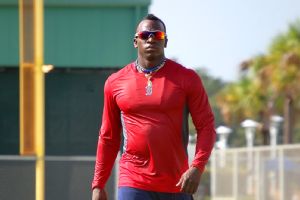 Rick WeberRusney Castillo has put on a lot of muscle since his coming out party in 2011.
The title was Brian Farley's reward for coaching the Netherlands to the championship of the 2011 Baseball World Cup in Panama, one of two places he had a chance to lay eyes on Rusney Castillo, the Cuban outfielder signed by the Red Sox last week. Farley also saw Castillo play in Rotterdam early the same year, in the World Port tournament.
Castillo played right field for Cuba in the Rotterdam tournament, Farley said, but was in center field in Panama for what turned into his coming out party. Castillo hit .512 with eight extra-base hits, including two home runs, in 10 games. Farley's Dutchmen beat Castillo's Cubans in the championship game, but the young center fielder left a lasting impression.
"He was a very difficult out for us, that's the first thing that comes to mind,'' Farley said by phone Friday from his home in Zuid Scharwoude, a suburb about 25 miles north of Amsterdam.
"He led off in both tournaments, set the table extremely well, and had a disciplined strike zone; he was really focused on getting on base.''
Farley was surprised to hear that Castillo is now listed at 205 pounds, despite his 5-foot-9 frame. That's considerably bigger than when he saw him.
"He had surprising power for his size,'' he said. "Obviously, he was very fast, but he also was strong, with short leverage and a short swing. He was very tough to beat with a fastball; he was very quick in the zone.''
Farley has lived in the Netherlands since 1986. Drafted in the sixth round by the Cardinals in 1982, he blew out his arm twice and never advanced past Class A ball. "I was 26, trying to figure out what to do,'' he said.
A legendary college coach named Jack Stallings suggested he continue playing in Australia and the European leagues. He played three winters in Australia for Adelaide, then was offered a spot with a third-division Dutch team in the small town of Heemstede.
"I was the one-eyed man in the land of the blind,'' Farley said. "I started teaching them the game.''
He soon discovered that he enjoyed coaching, and was added to the staff of the Dutch team coached by Pat Murphy, the former Arizona State coach, that shocked Cuba in the 2000 Sydney Olympics. The following year he was offered a position with the national team by former Yankee Robert Eenhorn, and spent the better part of the next decade in a variety of positions, including two years as head coach of the Dutch team in 2011-12.
While there, he also was hired by Boston's international scouting director, Craig Shipley, to serve as European scouting coordinator for the Sox, lining up bird dogs all over the continent to track talent. He held that position for five years.
[+] Enlarge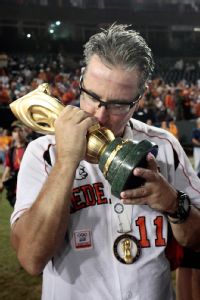 AP Photo/Arnulfo FrancoMethuen native Brian Farley coached the Netherlands to the Baseball World Cup title in 2011.
In the midst of that, he also met his future wife, Gonny, the starting second baseman on the Dutch softball team in the '96 Olympics in Atlanta. They were married at home plate in a ballpark in the small town of Bussu, where Gonny was coaching softball and Farley was coaching the baseball team.
With over a decade in international ball, Farley has had a chance to see most of the Cuban stars now playing in the big leagues, including Red Sox outfielder
Yoenis Cespedes
and Dodger outfielder
Yasiel Puig
. Puig was the center fielder when Castillo played right in Rotterdam.
"I think Puig is a very, very unusual athlete with the tools he has,'' Farley said. "He is Trout-esque, with power, speed, arm, a rare combination.
"With all of these guys, I'm talking a small sample size, but both Puig and Cespedes are bigger than Castillo. Castillo's speed is comparable to Puig's, and Castillo's baseball instincts are much better than Puig's. He's a far more mature player on the field, a far more instinctive player.''
Farley said Castillo clearly has the skills to play center field. "He's a very capable outfielder, with an arm that I would call average for a major-league center fielder. Above-average speed, good jumps on balls. He was a hustler, an energy bunny.
"He forces errors with his speed, makes people make mistakes. He definitely changed the dynamic on that team, which had a lot of players who were older. I noticed that right away.''
Farley, incidentally, is well acquainted with another player on the Sox. He had an 18-year-old shortstop named
Xander Bogaerts
. "He was so young, I think he was a little nervous,'' Farley said. "He sat on the bench behind
Didi Gregorius
. A super kid, You could obviously see the tools, and he handled not playing like a consummate pro.''
As for "Sir" Farley, understand that he didn't get down on one knee while the queen touched his shoulder with a sword. "The minister of sport knighted the whole team,'' he said. "That was a tremendous moment -- it had never been done before.''
August, 26, 2014
Aug 26
5:25
PM ET
We might have gotten our first hint Tuesday on what the Red Sox plan to do with newly signed Cuban outfielder Rusney Castillo this winter.

Rosters for the Arizona Fall League were announced this afternoon, and listed among the outfielders on the Surprise Saguaros -- the team on which the Sox will have six players -- is a "TBA" placeholder for someone in the Boston organization.

The guess here is that spot will go to Castillo, who will be headed to Fort Myers on Wednesday and could work out at the Sox spring training facility there as soon as Thursday as he continues to try to obtain a work visa. He cannot appear in any games until that hurdle is cleared.

Castillo has not played in a game in nearly a year and a half, but the Sox hope to promote him to the big club at some point in September for an audition.

Sox prospects confirmed on the Surprise roster are pitchers Keith Couch (Double-A), Aaron Kurcz (Double-A) and Madison Younginer (Single-A) and infielders
Sean Coyle (Double-A) and Devin Marrero (Triple-A).

The Saguaros' roster also includes players from the Mariners, Padres, Rangers and Reds. They play 32 games over the span of October and early November.
August, 22, 2014
Aug 22
6:03
PM ET
BOSTON -- Red Sox manager John Farrell had nothing new to report on the club's agreement with Cuban outfielder Rusney Castillo, who reached a seven-year, $72.5 million deal with the Red Sox on Friday.
"Nothing other than what everyone has read," Farrell said. "I'm aware of the reports. There are still some administrative things that he would have to go through before anything is announced officially, so until that time I'm kind of like everyone else, I've read the reports."
Farrell has seen and read the scouting reports on the 27-year-old outfielder.
"Above-average speed. Can play center field or right field. What kind of power? What kind of average? Obviously our scouts liked him enough, if the reports are true, that's a significant investment. It's an exciting, athletic player by all accounts," Farrell said.
A source told ESPNBoston.com's Gordon Edes that Castillo will play for the Red Sox at some point this season. He's expected to have a physical Saturday at Fenway Park. Asked when Castillo could play this season, Farrell said he did not know.
"I have no idea where that would be right now," he said. "He's not signed by us, yet."
When Castillo does make his major league debut, Farrell said, despite the outfielder's lack of experience in the big leagues, it would not be complicated working the newest Red Sox into the lineup this season. Castillo, 5-foot-9, 185 pounds, played five seasons for Ciego de Avila in Cuba.
"We're going to have a pretty good read on what his capabilities are based on where he's played in the past," Farrell said. "There's probably a growing level of comfort with these types of situations as the next
[Yoenis] Cespedes
, or
[Jose] Abreu
, or
Yunel Escobar
, those types of players start to pave the way for future players coming over, so you get a little bit more of a known commodity with a guy who has never played in the major leagues before. You're not always going to project to the exact number, but you're going to get a better read and feel on what they might be able to do."
Since the Red Sox are in the basement of the AL East and out of playoff contention, Castillo will have the opportunity to get his feet wet in the big leagues this September and not have to wait until spring training.
"Depending on a number of things yet to take place, if the ability to see a guy in September exists, which I don't know yet, it would be a rarity and certainly would be helpful in him getting to know, whether it's a given ballpark, a given city, all those things can only help," Farrell said.
Other Cuban players have made a quick transition and impact in the majors the past few seasons, including
Yoenis Cespedes
, who began his career with the
Oakland Athletics
before coming to Boston via trade July 31, while the
Chicago White Sox
's
Jose Abreu
and the
Los Angeles Dodgers
'
Yasiel Puig
have also enjoyed great success. The Red Sox are hoping Castillo fits into the same category.
"Yeah, that's the one thing that stands out more than anything. When you look at Yoenis' performance right away in Oakland, Abreu in Chicago, and hopefully the same holds true for every other player that comes over," Farrell said. "I think when you look at how many games they've played on the international stage, and the talent in which they play against, plus just by nature they're seemingly a very strong group physically and they're able to transition and handle the wear and tear of a long season."
Cespedes briefly saw Castillo play in Cuba.
"I don't know him all that well. We overlapped for about two years, playing in Cuba, so I was able to see him play a good amount," Cespedes told ESPNBoston.com earlier this week. "As far as impact here, or how he would be here, I can only speak to what he was in Cuba, and in Cuba I would've put him at the same level as Puig, and look at what Puig's done here. So that could materialize, it could not, but that's what I see so far."
• After leaving Thursday's game due to a family medical emergency, Cespedes returns to the lineup Friday against the
Seattle Mariners
and ace
Felix Hernandez
. A source told ESPNBoston.com's Gordon Edes that Cespedes' mother was transported from Fenway to Massachusetts General Hospital due to high blood pressure.
"Anything other than the situation in which he left for last night has improved to a point of him returning and he's in the lineup," Farrell said. "Other than that, it's still a personal, private matter and that's probably to the extent I'd say anything."
• Red Sox first baseman
Mike Napoli
will miss his third consecutive game due to back spasms. According to Farrell, Napoli is expected to return to the lineup on Saturday against the Mariners.
"Continues to improve," Farrell said. "He had some mid-back muscle spasms after Game 3 with the Angels. He's responded well, particularly in the last 24 hours and we're hopeful that he'll be back in the lineup, projects to be back in the lineup tomorrow."
Napoli is hitting .266 with 15 homers and 45 RBIs this season.
August, 19, 2014
Aug 19
6:22
PM ET
BOSTON -- It's no secret the
Boston Red Sox
have interest in Cuban defector Rusney Castillo, but general manager Ben Cherington on Tuesday would only say they're one of many teams that have had contact with the 27-year-old prospect.
"There's obviously been attention on this. He's a player that we've seen and have talked to, but we're just one of several teams that have done that," Cherington said. "There's nothing more I can say than that."
The Red Sox are one of several teams bidding for the outfielder, who has also shown the ability to play the infield. Multiple club sources told ESPNBoston.com's Gordon Edes on Sunday that the club is impressed with Castillo's power and overall hitting ability.
When asked what he likes about Castillo, Cherington would not elaborate on the organization's scouting report.
"I'm not going to get into our evaluation in public," he said. "Again, we've seen him. We've talked to him and we're one of several teams that have done that. There's not really anything else I can say."
The Red Sox lost out last year on the bid for Cuban slugger
Jose Abreu
, who eventually signed a six-year deal worth $66 million with the
Chicago White Sox
and is having a solid rookie season, with a .302 average, 31 homers and 89 RBIs.
Red Sox outfielder and fellow Cuban import
Yoenis Cespedes
briefly saw Castillo play in Cuba.
"I don't know him all that well. We overlapped for about two years, playing in Cuba, so I was able to see him play a good amount," Cespedes said. "As far as impact here, or how he would be here, I can only speak to what he was in Cuba, and in Cuba I would've put him at the same level as [Dodgers Cuban outfielder Yasiel} Puig, and look at what Puig's done here. So that could materialize, it could not, but that's what I see so far."
The baseball world is expecting Castillo's decision any day now.
August, 18, 2014
Aug 18
9:21
AM ET
Like the rest of baseball, the Red Sox are awaiting word on whether they will land 5-foot-9, 205-pound Cuban defector Rusney Castillo, who is expected to declare his intentions any day now.

The Red Sox like the 27-year-old Castillo a lot, multiple club sources said on Sunday, though in their view, his tools, especially his power and overall hitting ability, are not as immediately evident as they were with Cuban strongman Jose Abreu.

Here are a few highlights from his workout for scouts on July 26, as produced by Castillo's reps: