Boston Red Sox:

Sam Travis
June, 6, 2014
6/06/14
1:45
AM ET
By
Kyle Brasseur | Special to ESPNBoston.com
A rundown of the Red Sox's first day of the 2014 amateur draft:
[+] Enlarge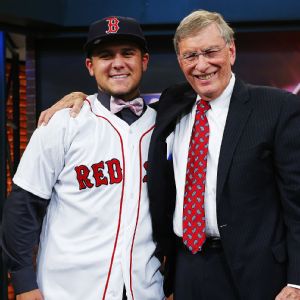 Rich Schultz/Getty ImagesRed Sox first-rounder Michael Chavis sports a bow tie alongside commissioner Bud Selig.
First Round (26)
The pick:
Shortstop Michael Chavis out of Sprayberry High School in Marietta, Georgia.
The build:
5-foot-11, 180 pounds. Bats/throws right-handed.
The stats:
.580/.663/1.197, 13 home runs, 37 RBIs in 28 games.
The ranking:
No. 28 on ESPN Insider Keith Law's Top 100 draft prospects.
The style:
One of seven prospects to attend the draft at the MLB Network studios in Secaucus, New Jersey, Chavis wore a bow tie that garnered the attention of many tuning in.
"I thought it would be a little flashy, kind of classy," Chavis said. "Thought I'd bring it out."
The scouting report:
At 18 years old, Chavis was considered one of the top high school hitters of the draft. Featuring a balanced tool set that has room to improve in each department, Chavis' calling card is his power, which projects to be above average at the major league level. Announced as a shortstop, Chavis has the versatility to play a variety of positions, including second base, third base, outfield or catcher. However, scouts expect Chavis to settle at third or a corner outfield spot as his body fills out over the next several years.
In his words:
"From what I heard from my agent and everything going on, I was expecting to go somewhere between pick 16 and beyond that, around 32 would be my ending point," Chavis said. "Watching it go by, whether it was the first pick or anything when I didn't even expect myself to go, I was nervous from when I woke up this morning. This is a lifelong dream of mine and I couldn't believe I was just going to here for this."
Chavis also said that despite his commitment to Clemson University, he's ready to start his professional career with the Red Sox.
"I'm absolutely thrilled, I couldn't be more excited. With them winning the World Series last year, obviously they have a great program and they have a great organization and farm system. I can't wait to become a part of it."
"He takes BP before his games and would put on a show," Red Sox director of amateur scouting Amiel Sawdaye said in a conference call Friday. "His [high school] ballpark sits right up on a main street, a two-way highway kind of, and I think at times Chavis was trying to hit cars. He'd launch the balls over the left field wall."
Sawdaye said the team plans to initially use Chavis at shortstop.
"He's very athletic. His feet and hands work really well in the infield. He's a guy we truly believe has a chance to stay in the infield."
The recommended bonus:
$1,870,500
Compensation Round (33, rewarded for losing outfielder Jacoby Ellsbury in free agency)
The pick:
Right-handed pitcher Michael Kopech out of Mount Pleasant High School in Mount Pleasant, Texas.
The build:
6-foot-4, 190 pounds.
The stats:
3-0, 0.44 ERA, 129 strikeouts in 64 innings pitched.
The ranking:
No. 40 on Law's Top 100.
The scouting report:
Among the more difficult early-round picks to project due to his funky pitching mechanics, Kopech has the stuff to be a mid-rotation starter but could find himself better suited for a bullpen role down the line. With a fastball that consistently hits 90-92 but can reach the mid-to-upper 90s and a curveball with strong movement, Kopech has the potential to have two plus pitches at the major league level. Control will be a work in progress as he settles into his lanky frame.
"He's got an electric arm," Sawdaye said. "We really like the way he commands his fastball. The delivery, he's got a little [Los Angeles Angels pitcher] Jered Weaver in it. We've been scouting this guy for about two years ... we're really excited to get him out and watch him develop."
The commitment:
University of Arizona
The recommended bonus:
$1,678,000
Second Round (67)
The pick:
First baseman Sam Travis out of Indiana University.
The build:
6-foot, 205 pounds. Bats/throws right-handed.
The stats:
.347/.415/.576, 12 home runs, 58 RBIs in 59 games.
The ranking:
No. 57 on Law's Top 100.
The scouting report:
Despite his stocky frame, Travis was one of the more polished bats in the draft as a result of his strong eye at the plate (93 walks versus 94 strikeouts at college level) and level swing through the zone. Playing alongside the draft's fourth overall pick, Kyle Schwarber, Travis put together an impressive junior season and has shown progress in each season at Indiana. Taken in the 40th round of the 2011 draft by the Cincinnati Reds, Travis seems to have made a wise decision as he projects to be a safe bet to make the majors at first base.
"When you watch him in BP, from a power perspective, he can spray the ball around the field but his last round he really lets it go," Sawdaye said. "He's another guy that's going to really use the Monster well and also put some balls onto Lansdowne Street."
Sawdaye added, "There's a lot of history, the hit tool is very advanced. Excellent recognition skills. He's a guy that will ambush a first-pitch fastball if he sees it. He's an aggressive hitter but also has really good plate discipline."
The recommended bonus:
$846,800
Other draft notes:
• Two local Massachusetts products were taken in the first round on Day 1 of the draft. Vanderbilt pitcher and Auburn native Tyler Beede was picked 14th overall by the San Francisco Giants before Middleboro left-hander Sean Newcomb was selected 15th overall by the Los Angeles Angels of Anaheim. Springfield Central High School's Isan Diaz was also selected Thursday as a Competitive Balance Round B pick (70th) by the Arizona Diamondbacks.
• Former Red Sox draft pick Daniel Gossett was selected by the Oakland Athletics in Round 2 on Thursday. The Red Sox took Gossett out of high school in the 16th round of the 2011 draft but failed to reach a deal with the right-handed pitcher.
• The last time the Red Sox used their first two picks in a draft to take two high school players was in 2002 (Jon Lester and Scott White).
Looking ahead:
The draft will resume Friday afternoon at 1 p.m. as teams get ready to make their picks for Rounds 3-10.
June, 6, 2014
6/06/14
1:14
AM ET
By
Mike Andrews | SoxProspects.com
| ESPNBoston.com
As far as SoxProspects.com is concerned, the
Red Sox
cleaned up on Day 1 of the MLB draft, given the players available at the club's respective draft slots. The team drafted three well-regarded prospects on Thursday evening in prep infielder Michael Chavis, high school pitcher
Michael Kopech
and college first baseman Sam Travis.
With the 26th pick of the first round, Boston selected Chavis out of Sprayberry High School in Marietta, Georgia. Chavis was one of the top players available when the Red Sox came on the clock and is generally considered among the top high school hitters in the 2014 draft class.
He has hit for average throughout his high school career, and most scouts believe he will continue to make good contact against advanced pitching, having excelled in national tournaments against other top prospects. Chavis also shows above-average power potential that is largely generated from his quick wrists and smooth mechanics rather than frame strength.
At 5-foot-10 and 190 pounds, the 18-year-old infielder profiles best at third base, but he's athletic and versatile enough to play second base or corner outfield. He has a solid arm, good footwork and fluid actions on defense. While he has played shortstop as a prep, he lacks the quickness to stick there over the long term but could play the position in a pinch as a professional.
Chavis also has good makeup, as he's generally known as a smart player who always gives maximum effort. He cited
Dustin Pedroia
as his favorite player on the Red Sox after being drafted, indicating that he emulates the second baseman's game for his drive and hustle.
For the 2014 season, the right-handed hitter batted .580/.663/1.197 with nine doubles and 13 home runs in 28 games. Chavis is committed to Clemson, but signability is not considered a significant concern. The assigned pick value for the No. 26 pick is estimated to be a shade less than $1.9 million. A slot signing would be beneficial for both the player and the club.
Overall, he's an advanced bat for a high school player but is still likely four seasons away from getting a look at the major leagues. This far out, he projects as a potential everyday regular with an All-Star ceiling. High school players almost always have bust potential by definition; while that concern is still there, it's less of a concern with Chavis than with most prep players.
If past is precedent, he'll most likely be assigned to the rookie level Gulf Coast League out of the gate, with a decent shot of seeing time with Class A Lowell starting in mid-August. The GCL Red Sox season begins on June 20.
Later in the first round, Boston picked right-handed pitcher Kopech at No. 33 overall -- the pick the Red Sox received for losing
Jacoby Ellsbury
to free agency. Kopech just turned 18 on April 30, so he's young for the draft class. Over his senior season, he went 3-0 with a 0.44 ERA and a .115 batting average against, striking out 129 batters and walking 18 in 64 innings.
Kopech has a live arm with a heavy fastball that already sits in the low- to mid-90s, topping out at 98 mph at a few points. His 6-foot-3, 195-pound frame is projectable, and he might be capable of adding even more velocity. His mechanics are maximum effort and his arm can fly open, so his delivery might need some cleaning up. If not, control and command are possible future issues. It wouldn't be surprising to see a dip in velocity early in his professional career as the front office has him focus on throwing strikes with a repeatable delivery.
He complements his fastball with two breaking pitches: an above-average slider and a workable but loopy curveball. Scouts are split on which of the two is better; he's likely to focus on just one of his breaking pitches as he starts his professional career. He also has a changeup that shows some deception and promise, but it's a work in progress at this stage.
Like Chavis, Kopech was generally considered a late-first round talent. He's committed to the University of Arizona but is also not expected to be a significant signability concern. The slot value for the No. 33 overall pick is about $1.65 million.
Overall, he has top-of-the-rotation potential if he can learn to repeat his delivery and harness his secondary stuff. He could spend all of 2014 in the Gulf Coast League. Given that he already threw 64 innings during his high school season, he might not get a lot of professional innings this year.
Among the top players who the Red Sox passed on in the first round were all high schoolers: outfielder Monte Harrison, right-handers Sean Reid-Foley and Spencer Adams and shortstop Jacob Gatewood. All four were selected later on Day 1.
In the second round, with the No. 67 overall pick, the Red Sox selected Travis out of Indiana University. He was generally considered an early to mid-second round talent, and Boston scooped him up toward the end of the round.
The 20-year-old college junior (he'll turn 21 in August) has an above-average hit tool, showing a solid ability to make contact and hit the ball to all fields in three years with the Hoosiers. He also has very good present power, hitting 31 home runs in 183 games over his college career. Travis has a disciplined approach for a power hitter, managing to limit swings and misses. At 6-foot, 210 pounds, he's slow on the basepaths but about what you'd expect from a first baseman.
On defense, Travis spent the early parts of his college career at third base but was moved off position to first base, at which he'll likely play as a professional. He has the potential to be an adequate defender -- he can scoop the ball well and has decent lateral movement -- but he's on the shorter side for the position. He might also have a chance to play left field, but his fringe arm strength might keep him out of the outfield and limit him to first base.
In 2014, Travis hit .347/.415/.576 with 16 doubles and 12 home runs in 59 games for Indiana. He's a semifinalist for the 2014 Golden Spikes Award, handed out to the nation's top baseball player. Indiana was just eliminated from the NCAA tournament after a loss to Stanford on June 2, so Travis is now free to sign a pro contract.
Overall, Travis projects as a second-division starter or an impactful bench bat at this stage, but he has the ceiling of an average first-division starter, which is a solid get in the late-second round.
Slot for the No. 67 overall pick is roughly $830,000, and it wouldn't be surprising to see Travis sign right away at, or slightly below, that number. Expect him to be with the Lowell Spinners when the club's season starts on June 13, and don't be surprised if he's with Class A Greenville before the end of the season.
Two of the best prospects whom the Red Sox passed on at No. 67 were California prep outfielder Marcus Wilson and San Diego State right-hander Michael Cederoth.