Boston Red Sox:

Takeaways
February, 28, 2013
2/28/13
6:07
PM ET
BRADENTON, Fla. -- Takeaways from McKechnie Field, the splendidly refurbished spring home of the
Pittsburgh Pirates
, who have had 20 consecutive losing seasons and offered little evidence in a 16-6 loss to the Red Sox on Thursday that that streak will end anytime soon.
If this had been a regular-season game, we would have been reaching for the record books. Since we had nothing better to do -- and with Pirates pitchers walking batters at a rate that left us plenty of time to do so -- we went to the spanking-new 2013 Red Sox media guide just to see if more Red Sox batters had ever walked in a nine-inning game than they did here Thursday afternoon.
[+] Enlarge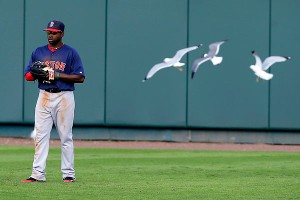 AP Photo/Charlie NeibergallJust another day at the office for Jackie Bradley, who had three hits, a steal, scored three runs and continued his stellar defense.
The answer? No. Eight Pirates pitchers walked 15 Red Sox batters in nine innings, tying the Sox record for walks in a nine-inning game in the regular season. The Sox have drawn 15 walks five times in their history. The last time it happened was May 7, 1992, when Butch Hobson's team walked 15 times and had 6 hits but still managed to lose, 7-6, to the White Sox.
Sox pitchers have walked 14 or more three times in their history, a record 18 on May 20, 1948, when starter Mickey Harris walked 7 in 1 1/3 innings and reliever Mickey McDermott walked 11 more in the next 6 2/3 innings -- manager Joe McCarthy evidently deciding to save his bullpen. Somehow, that game was completed in 2 hours and 33 minutes, more than a full hour quicker than the 3:34 it took this one to be completed.
Pirates pitchers walked four batters with the bases loaded, three in the fourth inning, and also hit two batters and threw a wild pitch.
* Great plate discipline by the Sox? Hey, we can always ask.
"It continued as we went to the 'B' squad," manager John Farrell said. "A lot of patience. What did they throw, 230 pitches? We saw a lot of 'em."
Drew Sutton
, the former Pirate who played third base here Thursday, walked four times to lead the Free Pass-palooza.
David Ross
and
Lyle Overbay
drew two walks apiece.
* The Sox also banged out 14 hits, 3 by Jackie Bradley -- who also had a hit taken away by a diving stop in the first, scored three runs, played his usual stellar defense and is batting .571 this spring. Oh, he also stole his first base.
"It's becoming a recurring theme as we talk," said Farrell, whose nonstop praise of Bradley is undoubtedly filling up one of Scott Boras' binders.
* Another former Pirate, second baseman
Brock Holt
, had a couple of hits, and Lyle Overbay, Juan Carlos Linares and
Jose Iglesias
drove in two runs apiece.
*
John Lackey
gave up a three-run home run to non-roster invitee Jared Goedert on a hanging curveball but otherwise chalked up his two innings as another step in the right direction.
"I thought he had much better fastball command than he did five days ago," Farrell said, echoing Lackey's self-assessment. "He mixed three pitches in for strikes, he left one breaking ball that stayed up in the middle of the plate. I thought today was another impressive step."
February, 21, 2013
2/21/13
9:37
PM ET
FORT MYERS, Fla. -- Takeaways from Camp Farrell, Day 11:
* The hustling lads from Northeastern had a better day of it, turning three snappy double plays and getting a diving catch, hit, and stolen base from junior outfielder Aaron Barbosa, who on this day was the pride of Dracut, Mass. The men from the Heights had their moments, none better than when Boston College junior third baseman John Hennessy, of the Andover, Mass. Hennessys, hit
Koji Uehara
's first pitch of the second game up the middle for a single, reviving memories of BC punter Johnny Ayers swatting
Daisuke Matsuzaka
's first stateside offering for a double in 2007.
[+] Enlarge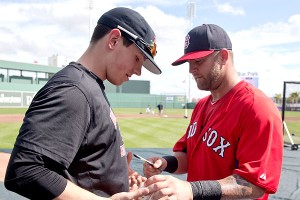 Matthew J. Lee/The Boston Globe via Getty ImagesNortheastern's R.J. Roman, a former student at Sandy Hook Elementary School in Newtown, Conn., got an autographed ball from Mike Napoli before his team faced the Red Sox on Thursday.
In the end, though, the Red Sox preserved their undefeated record against their collegiate foes, beating NU 3-0 and BC 11-1 in a couple of seven-inning affairs. They are now 11-0 against the Huskies, 23-0 against the Eagles, but no one's really counting.
If you insist on keeping score, count this as the day's most poignant moment: when former BC pitcher Terry Doyle, auditioning for a job with the Sox, pushed the wheelchair bearing his former BC teammate, Pete Frates, to the mound where Frates, a warrior against ALS, presented the ceremonial first ball to Sox manager John Farrell.
* Can't say I noticed, but one of the Sox security guards was mentioning how this was about as quiet a day of baseball as he's witnessed in a long time. The attendance for the day was listed at 8,128, and folks seemed to be cheering in the right places, when they weren't offering prayers of thanks that they won't be home for this weekend's storm.
*
Daniel Bard
took
a positive first step
in what he hopes will be a successful reclamation project, and Farrell said it looked to him like the 13 pitchers who got in some work have taken to the admonition to attack the strike zone early. There was only one walk in the NU game, two in the BC game.
* While the regulars, except for catcher
David Ross
, all got two plate appearances in the first game, the second game will be the one that left a stronger impression, as two of the team's top prospects, Xander Bogaerts and Jackie Bradley Jr., played in their first game in a Boston uniform, and did so together.
Bogaerts, playing his first game at third base after taking ground balls there for just two days, looked perfectly at ease, handling the couple of balls hit his way, including one that required a long throw from behind the bag. He also doubled and hit the ball hard in four at-bats.
"Exciting young player," Farrell said of Bogaerts. "Regardless if he's standing at third or short, he's a presence in the [batter's] box. Hard contact today.
"In Game 2 I think there was a little glimpse of the future somewhat. I thought [Bogaerts] played easily at third. I thought [Brock] Holt showed some very good range at short. And you were able to quickly see what everyone is raving about, the precision of [Bradley's] routes, his jumps.
"All three are bright, good-looking players. What might have been most impressive was seeing [Bradley] standing at second base on that pop-up, not taking anything for granted. It was exciting to see that kind of polish to a young player."
[+] Enlarge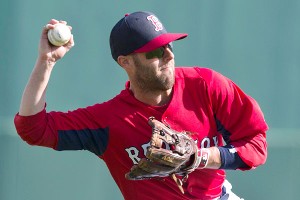 Matthew J. Lee/The Boston Globe via Getty ImagesDustin Pedroia throws to first base before the start of his team's exhibition season opener.
Bogaerts is scheduled to play in just one more game, replacing starter
Will Middlebrooks
at third in Saturday's Grapefruit League opener here against Tampa Bay, before flying to Taiwan to join Team Netherlands in the World Baseball Classic.
"The Red Sox are my first priority," Bogaerts said. "They have given me the opportunity [to play in the WBC]. I'm thankful for that."
He flashed a big smile. "I'll be back, though."
Bradley, meanwhile, expressed an awareness of what the future could hold.
"It was definitely something we've been working on," he said of playing together with Bogaerts. "Just trying to play hard. If we're both on the same field at the same time in the future, that would be great. He's a great player. I'm honored be on the same field with him."
Bradley also expressed appreciation for that quaint notion, hustling, as a key component of making a good impression.
"You always want to do the right things," he said. "Make sure you're hustling at all times. Don't take any plays off. Any time you take a play off, they're going to see it."
* Which makes me close this edition of takeaways with a prayer to the baseball gods: Please, please, keep these kids just the way they are. Wonderfully talented, off-the-charts makeup, still unspoiled and pure.
February, 17, 2013
2/17/13
7:11
PM ET
FORT MYERS, Fla. -- Takeaways from Day 7 of Camp Farrell:
* Season debut:
The Red Sox will begin the exhibition season with their annual college doubleheader against Northeastern and Boston College on Thursday at JetBlue Park at Fenway South. Red Sox manager John Farrell announced Sunday that he will use a total of 14 relievers to work both games.
* He's no J.D. Drew:
He's been here just one week, but already it's clear that
Stephen Drew
has a noticeably different personality from his brother, former Red Sox right fielder J.D. Drew. Stephen, a shortstop, is more outgoing and a bit more intense on the field, even during normal spring training drills.
"A lot more talkative than J.D.," Farrell said with a laugh.
Drew has been showcasing his solid defensive skills during infield drills this week. Farrell said the veteran continually asks for feedback.
It didn't take long for Drew and second baseman
Dustin Pedroia
to look comfortable up the middle.
* Speaking of shortstops:
Prospect Deven Marrero is enjoying his first big-league camp after he was selected by the Red Sox in the first round (24th overall) in the 2012 MLB Amateur Draft last June. He was invited to camp as a non-roster player.
"This is an awesome feeling. This is great. Not everybody gets to be here after their first draft," Marrero said. "It's pretty cool how the guys have accepted me and that's how professional they are about their business."
Like Pedroia, Marrero is a product of Arizona State, and the two constantly chirp at each other.
"We've got to stay together, us Arizona State boys," said Marrero. "He's out there teaching me a couple of things, teaching me how to be a professional. He's awesome. He keeps this clubhouse fun and he's a great guy."
Before Pedroia became an All-Star and MVP second baseman in the majors, he was a shortstop at ASU.
"We just go at it," Marrero said. "He walks into Arizona State and he'll say he's the best shortstop to ever play there, and I'm that guy who told him, 'Hey, relax. No you weren't.' He definitely set a high standard at Arizona State and I want to follow him, and definitely follow his career here. He plays the game the right way, and that's what I want to do, I want to play the game the right way and have that reputation that he has."
* Lackey looks good:
Red Sox pitcher
John Lackey
threw his first live BP session of the spring on Sunday. Farrell was pleased with what he saw.
"He threw the ball today consistent with his bullpens. There's no change in the time needed to warm up. He's throwing his fastball to both sides of the plate, so in the early going he's doing everything we had hoped to see coming off the surgery," said Farrell.
Lackey has completely recovered from Tommy John surgery, which forced him to miss the entire 2012 season.
* Overbay impresses:
Veteran first baseman
Lyle Overbay
is in camp on a minor-league deal and has been impressive. He could end up being a surprise candidate to make the 25-man roster out of camp. The 36-year-old gives the Red Sox a left-handed hitting option at first base. The team, however, is looking for a left-hander who can play both first and left field. At some point this spring, Overbay will get some work in left field.
"The one thing we know, defensively he's a well-above-average first baseman. As far as the positional fit, we're looking for that left-handed first baseman, or a player to be able to play first base as a left-handed bat to be able to spell a guy in left field, potentially," said Farrell.
Daniel Nava
, a switch-hitting left fielder, has also been working out at first base.
* Loud and clear:
The enthusiastic
Shane Victorino
was putting on a vocal display on Sunday. During communication drills between the infielders and outfielder on pop-ups, Victorino could be heard from two fields over screaming, "Hey, get out of the way, I got it" numerous times.
* Fan appreciation:
The Red Sox held an open house at JetBlue Park on Sunday. Red Sox players signing autographs were:
Craig Breslow
,
Ryan Lavarnway
,
Pedro Ciriaco
,
Daniel Bard
, Daniel Nava,
Will Middlebrooks
and
Jonny Gomes
.