Boston Red Sox:

Teddy Stankiewicz
September, 14, 2013
9/14/13
3:30
PM ET
By
Jon Meoli, SoxProspects.com
| ESPNBoston.com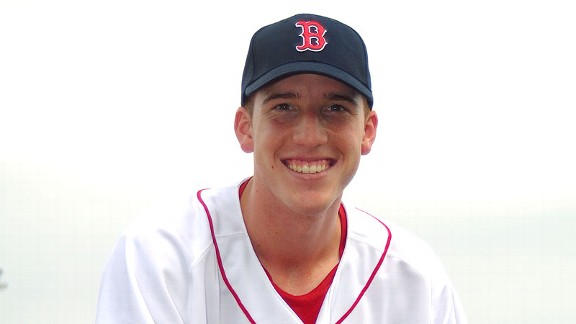 Ken Babbitt/Four Seam Images via AP Images
ABERDEEN, Md. -- To the outside observer, the last two MLB drafts might seem to have been nothing if not frustrating for Boston's 2013 second-round pick, Teddy Stankiewicz.
In 2012, the Mets took Stankiewicz as a high school draftee with the 75th overall pick, only to offer him less than slot money and ultimately not sign him. After he compiled a 4-5 record with a 2.52 ERA last year at Seminole State (Junior) College in Oklahoma, the Red Sox selected Stankiewicz in the second round in 2013, 45th overall, but ultimately cut his bonus from a reported $1.1 million to $915,000 because of an issue that arose in his physical.
Even so, the humble, gracious young Texan is able to see the positives in the detours on the way to his goal of the major leagues. The pitcher Boston drafted this June, he said, was much different from the one the Mets could have signed.
"College was a very smart choice for me because I got to mature a lot more in that year," Stankiewicz said last week in Aberdeen, Md. as his Lowell Spinners wrapped up their season. "It also helped me see a lifestyle of living away from home, living in a dorm room, making sure I have my own meals -- doing all my stuff on my own instead of having my parents there."
Stankiewicz chose Seminole State not only because it allowed him to be redrafted in a year, but because the program is run with professional baseball in mind. Seminole State's manager, Lloyd Simmons, spent six years coaching rookie ball in the Royals organization, and spent stints as an area scout for the Royals and Yankees. Since he knows what the next level looks like, Simmons said he and his staff "spent a majority of our time getting guys ready for the next level."
"There's not a whole lot of difference between junior college and rookie ball because of the fact that they're 17-, 18-year-old kids who think they know how to play the game, but they don't," Simmons said. "I pretty well manage my whole system after what I did in pro ball as far as time management on the field. A lot of these young men come in here, they've never had a set schedule. That's why a lot of kids get in trouble in pro ball, because they don't know [time management."
[+] Enlarge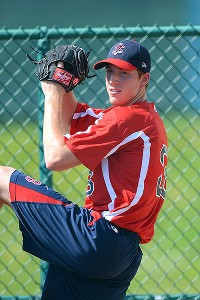 Mike Janes/Four Seam Images via AP ImagesRed Sox second-rounder Teddy Stankiewicz's transition to pro baseball has gone well so far.
Simmons said Stankiewicz "was a pretty mature young man" when he arrived in Seminole, and committed to the program's conditioning regimen to help him on the mound.
"I think the biggest thing we did for him here was ... we got him in great shape," Simmons said. "He's a good athlete, there's no doubt about that, and he's got a great arm, but the biggest thing is we put strength on him, trimmed him down and put good, lean muscle on him."
When he arrived, Simmons said the book on Stankiewicz was that he was a hard thrower who lost his velocity as games went on. At the end of the season, Simmons said Stankiewicz was still hitting 95 mph in the ninth inning.
Stankiewicz also ironed out his delivery, Simmons said. Stankiewicz said his unique motion to the plate, which begins with a high leg kick and includes a pronounced tilt backward, was honed through years of coaching and tweaking. But Simmons found that Stankiewicz could rush through his motion at times, and the manager sought to slow down his delivery to allow Stankiewicz to stay over the rubber longer and allow him to get better "tilt."
Stankiewicz debuted for Lowell on July 21 and enjoyed an extended spell of success, though the organization limited his usage. He carried a 1.08 ERA in 16 2/3 innings into his final start Sept. 3 at Aberdeen, when the IronBirds tagged him for three first-inning runs that raised his ERA to 2.29 at season's end. Still, Stankiewicz allowed earned runs in just three of his nine short outings, striking out 15 batters and walking just two in 19 2/3 innings in his first taste of the pros.
In his final outing, Stankiewicz featured a 92-94 mph fastball in the first inning, along with a mid-80s changeup and a mid-70s curveball. His fastball settled into the low 90s as his outing progressed, but despite the dip in velocity, Stankiewicz was easily able to repeat his methodical delivery throughout.
Simmons said Stankiewicz returned to Seminole after the season ended to work with his old team. Though Stankiewicz had been gone for just a few months, Simmons saw a pitcher who had improved.
"I think his off-speed stuff was much better than it was back in the spring," Simmons said. "He got a little bit better over the summer, and his off-speed pitches are a lot longer. He's not trying to rush through those or overthrow them. He's slowed down a bit with his arm."
The next step for Stankiewicz will be the fall instructional league, where he will continue to hone his arsenal and build toward a full season next year, likely starting in Class A Greenville. Going forward, his college coach expects the improvements to continue.
"He's an exceptional young man," Simmons said. "He's got a burning desire to be successful, and I think that's why he's going to be successful. He's got a deep desire to succeed, and I think he's going to do that."
Jon Meoli is a Senior Columnist for SoxProspects.com. Follow him on Twitter @JonMeoli.
June, 7, 2013
6/07/13
12:17
AM ET
By
Mike Andrews, SoxProspects.com
| ESPNBoston.com
The Boston Red Sox added two new pitching prospects to the farm system on Thursday after drafting left-hander Trey Ball and right-hander Teddy Stankiewicz.
With the seventh overall pick and the club's only first-rounder, Boston selected Ball out of New Castle High School in Indiana. Unfortunately for director of scouting Amiel Sawdaye, the team's reported top two targets, pitcher Kohl Stewart and outfield Clint Frazier, went off the board to the Twins and Indians at fourth and fifth overall, respectively. That said, Boston drafted the best pitcher available on the board. Ball is generally considered a top-10 talent and the top lefty in the draft class.
[+] Enlarge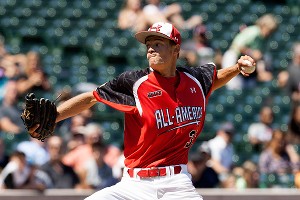 AP Photo/Damen Jackson/Triple Play New MediaTrey Ball was considered by many to be the best LHP pitching in the 2013 draft.
After finishing the 2013 season with a 0.76 ERA and 93 strikeouts in 46 innings, Ball was recently named the Indiana Gatorade Baseball Player of the Year.
At 6-foot-6 and 180 pounds, the 18-year-old southpaw still has tons of projection in his frame. His fastball already gets up to the 92-94 mph, and he has the potential to add a good deal of sitting velocity as he physically matures in the coming years. He also throws a developing mid-70s deep-breaking curveball with plus potential -- a pitch that his father did not let him throw until he was a junior in high school in order to limit injury risk. His third pitch is a solid 78- to 82-mph changeup, which is still a work-in-progress but has above-average major league potential. He throws all of his pitches with an easy, repeatable delivery and a clean arm action.
He compares favorably to current Red Sox prospect Henry Owens, another tall lefty whom the Red Sox drafted in the supplemental first round in 2010 out of Edison High School in California. Owens, now 20, is currently pitching for the High-A Salem Red Sox (4-2, 3.21 ERA, 68 strikeouts in 56 innings) and is a prime candidate to make the Carolina League All-Star Game this season. The two pitchers have a similar mix of pitches, but Ball's fastball is more projectable at this point.
An elite athlete, Ball is the best two-way player available this draft, as he was reportedly also considered a first-round candidate as a center fielder. As an outfielder, he showcased a combination of plus speed, gritty makeup and above-average power potential in high school.
He's committed to play for the University of Texas in the fall, but is not considered a signability risk at the No. 7 spot, which has a recommended slot bonus of $3,246,000. Ball will likely sign for at or around the slot recommendation later this month, at which time he'll likely be assigned to the rookie-level Gulf Coast League Red Sox. He'll have an outside shot at pitching with the Class-A Lowell Spinners later in the year.
Overall, the lanky lefty has the makings of a top-of-the-rotation starter, but one who may require a multi-year advancement through the system, possibly on a one-level-per-year path like Owens. In that case, Ball would be assigned to Low-A Greenville in 2014, Salem in 2015, reach Double-A in 2016, with a major league ETA in the late 2016 or 2017 time frame. Like many young pitchers, his developmental opportunities include adding size and physical strength, and developing his secondary pitches.
The seventh overall pick was the highest selection the club has had since 1993 when Boston selected outfielder
Trot Nixon
out of New Hanover High School in North Carolina. The most notable player whom the Red Sox passed on at No. 7 this year was Grayson (Ga.) High School outfielder Austin Meadows, whom the club had been linked to in several pre-draft reports.
[+] Enlarge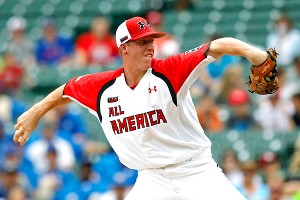 Mike Janes/Four Seam Images/AP ImagesTeddy Stankiewicz was drafted in the second round in 2012 by the Mets but did not sign.
In the second round, Boston picked Stankiewicz out of Seminole State (Okla.) at No. 45 overall -- the pick that the front office coveted enough to avoid signing any compensation free agents last offseason. The 19-year-old junior college freshman from Keller (Texas) went 4-5 with a 2.52 ERA and 70 strikeouts in 60 2/3 innings for the Trojans in 2013.
He was selected by the Mets out of high school in the second round in 2012, but didn't sign in favor of heading to the University of Arkansas. He later changed course and opted to attend Seminole State in order to be draft eligible again this year. After making some developmental progress in 2013, the right-hander was considered one of the top few draft prospects among the junior college ranks in this year's draft class. However, he was generally not considered among the top-75 prospects in the draft by most major scouting outlets.
Like Ball, he has a projectable frame, although Stankiewicz filled out a bit as a freshman and now comes in at 6-foot-4, 215 pounds. His delivery is somewhat violent and could use some cleaning up, but he has shown the ability to maintain a consistent three-quarters release point. His arsenal includes a 92- to 96-mph fastball, a plus low-80s changeup, a workable mid-70s curveball, and a decent low-80s slider. He throws his entire repertoire with solid-average command and control, and he mixes it up well.
While Stankiewicz will have the option to recommit to Arkansas, it seems highly likely that he will sign with Boston. It's possible he had come to an agreement with the club prior to his selection. There's a good chance he will agree to sign for below slot, which is $1,229,600 for the No. 45 selection. If he signs in June, he'll most likely be assigned to the Gulf Coast League with Ball, and have an opportunity for a jump up to Lowell.
Stankiewicz profiles as a middle-of-the-rotation starter, and will likely follow a similar path as Ball through the Red Sox system. Early in his development, he may be best suited to scrap his curveball and focus on his slider, which has plus potential. The team will also likely begin working on tweaking his mechanics in 2014.
The top draft prospects that Boston left on the board at No. 45 were Stanford outfielder Austin Wilson, Mississippi right-hander Bobby Wahl, and Yukon (Okla.) High School catcher Jonathan Denney.