Boston Red Sox:

Texas Rangers
April, 9, 2014
Apr 9
10:57
PM ET
By
Tony Lee | Special to ESPNBoston.com
BOSTON -- The dry erase board in the
Boston Red Sox
's clubhouse on Wednesday night listed the time the bus was set to leave for the airport for the team to catch its flight to New York, as it always does on getaway day. "Bus - 7:55," it read.
David Ortiz
began getting dressed at 8:04 p.m.
He spoke with reporters at 8:10.
And he sauntered out of the clubhouse, the last member of the team -- player or coach -- at 8:14, off to the Bronx to begin a big four-game series with the Yankees.
The bus isn't leaving without Big Papi. After another in a seemingly never-ending string of incredibly clutch home runs that lifted a dormant team to a momentum-building win, he might as well be driving it.
"Seen that before, right? Seems like we're just trying to win a ballgame and he's adding to his Hall of Fame resume," teammate
Jonny Gomes
said. "He's a heck of a player, a heck of a clutch player."
Ortiz smacked a three-run homer with one out in the bottom of the eighth inning to lift the Sox -- who were headed toward a 1-5 homestand before the blast -- to a 4-2 win that was reminiscent of his game-saving blasts in October and allowed many in the clubhouse to breathe a sigh of relief. Heading into the series at Yankee Stadium on Thursday is one thing, but doing so after a miserable homestand would have been another.
[+] Enlarge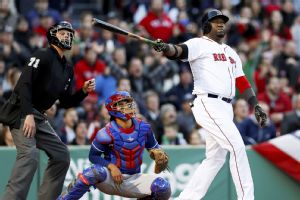 Greg M. Cooper/USA TODAY SportsDavid Ortiz watches his go-ahead three-run homer sail over the Pesky Pole.
Fortunately for Boston, Ortiz softened the blow and may have provided the kick-start the defending world champs need to get a run going.
"I'm the kind of hitter, I always believe that one at-bat, one good at-bat, gets momentum going, especially when things are not going that well," said Ortiz, whose shot was his 375th in a Red Sox uniform.
Things weren't going that well until the bottom of the eighth.
Andrew Miller
had given up a run in the top of the inning to stake Texas to a 2-1 advantage. A walk and a single opened the Boston half before
Dustin Pedroia
grounded out to put runners at the corners.
Rangers manager Ron Washington made the expected call to the bullpen to bring in lefty
Neal Cotts
, against whom Ortiz was 0-for-5 with five strikeouts. One of those encounters occurred one night earlier during Texas' 10-7 win. Ortiz whiffed, but made some mental notes.
And so, when Cotts tried to buzz an inside fastball by the big slugger, he pounced on it. The result was a majestic shot over the foul pole in right. Ortiz stood at home plate for several seconds, not to admire it but to make sure it was fair. If it was, it was gone.
"Yeah, he's a guy whose ball moves hard away late. Against lefties especially," Ortiz said of Cotts. "This is a guy that you see once in a while. That at-bat that I had against him the other night helped me out to make some adjustments today. It worked."
In more ways than one. Once
Koji Uehara
did his thing to close the door in the ninth, Boston was feeling pretty good about itself for the first time since the World Series ring ceremonies that began the homestand.
"Yeah, huge hit. Hopefully this gives us a little momentum, finishing out a series win here," manager John Farrell said. "We're going on a long road trip. Hopefully this is a jump-start for us. So many times has he bailed us out. No different today, particularly a matchup that was way in favor of Cotts. Five at-bats, five strikeouts. This time David got him."
Ortiz's homer was one of just four hits for the Sox, who also increased their major league lead by grounding into two more double plays in what was mostly a lackluster offensive showing. There has been a sense among the players that a floodgate might soon open, and Ortiz might have hit the switch in the eighth.
"With the horses we got, we get in a rhythm offensively, we're gonna win," catcher
David Ross
said.
Of course, there were other factors in seizing momentum. Starter
Jake Peavy
was excellent, allowing only a solo home run in 6 2/3 innings while striking out eight, tied for his high as a member of the Red Sox.
Peavy has only been with the team since the middle of last season, but he, too, has a keen sense of how the one mighty swing from the mightiest member of the lineup can alter things at Fenway.
"You can't count the big boy out. You can't count this ballclub out," he said.
To the Sox players, that's what is special about Ortiz. A homestand that had seen sloppy play, injuries, two poor starts and inconsistent offense (at best) could all be forgotten if he steps up with a chance to deliver the equalizer, or in this case, the dagger.
"It's hard enough to hit in this game at this level," Gomes said. "It's a step harder to situational hit, even a step higher to get the situation done. All the way down to, we needed a grand slam against Detroit [in Game 2 of the American League Championship Series]. He came through with that. Not just a walk with the bases loaded. We needed to get them all. And he did it.
"He shines the most when the light's the brightest. Nothing new."
While the Red Sox talk momentum, the old adage stipulates that it is only as good as your next day's starting pitcher. That would be
Clay Buchholz
, who will have plenty of attention as his teammates and a legion of fans watch to see if he can rebound from a poor season-opening start. At the very least, those observers will be watching with a slightly better feeling about the team as a whole. Perhaps Ortiz's homer took some pressure off Buchholz. Maybe it will spur a winning streak.
What is clear to the Red Sox is this: If Ortiz has a chance, then the team has a chance. Who cares if they have to wait on the bus a little longer?
August, 7, 2012
8/07/12
12:58
AM ET
BOSTON -- The
Boston Red Sox
front office mobilized before the game Monday night to show its support for embattled manager Bobby Valentine. The message was unmistakable: If the Sox are going to make a belated playoff run this season, it will be with Valentine in the dugout.


It may have been coincidental, but the Sox responded Monday night with one of their most impressive displays of the season, putting a 9-2 beating on the
Texas Rangers
, who had outscored them by a 39-12 margin in five previous meetings this season.
"I don't know that the players are so totally involved in all of the drama," Valentine said. "But I like when they play well, execute well."
For one night, role reversal was at work, the Sox looking like the team that began the night tied with the Yankees for the best record in the American League, while the Rangers resembled the season-long underachievers who came in a game under .500 and whose manager actually referred pregame to a single win as a "winning streak."
The Sox knocked out eight doubles, tying a season high, and spoiling the Boston debut of Japanese right-hander
Yu Darvish
, who did his own impression of
Daisuke Matsuzaka
at his most ineffective, giving up 6 runs on 11 hits and 4 walks.
Jacoby Ellsbury
and
Carl Crawford
combined for five hits, including four doubles, and scored five runs, as the first four batters in the Sox order -- Ellsbury, Crawford,
Dustin Pedroia
and
Adrian Gonzalez
-- combined to go 11-for-16, with 7 runs scored, 8 RBIs and 7 doubles, as Pedroia matched a career high with three doubles.
[+] Enlarge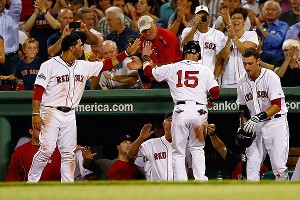 Jared Wickerham/Getty ImagesDustin Pedroia (15) is congratulated by Sox teammates after scoring a run.
"It's going to be hard to get Dustin with three hits and Adrian with three hits every night and have Ells and Carl on base the whole time," Valentine said. "But consistent at-bats are what we're getting these days. These guys are world-class players, and they're playing very well right now."
How well the Sox are playing is debatable; they just lost three out of four to the lowly
Minnesota Twins
, and are only 13-18 since reaching their high-water mark of five games over .500 on July 1. But they played at a high level Monday night, stealing two bases, executing a hit-and-run play (
Mike Aviles
), and picking a Rangers baserunner,
Nelson Cruz
, off second base.
"Me and Mike [Aviles] have talked about it all year and worked on it during spring training, that any time somebody gets on, we don't have a sign," pitcher
Aaron Cook
said of the pickoff. "We both feel it, and I told him if he goes he better keep going because I'm going to turn around and throw it and if he's not there, Jacoby's going to be chasing it.
"We were both on the same page. Being able to pick the guy off calms the inning down and lets me take a deep breath. I think guys had a lot of energy after that."
Cook rebounded from back-to-back bombardments by limiting the Rangers to a run on six hits through seven innings. He recorded 15 outs via ground ball, and even struck out a couple, matching a season high.
"Any time I have my sinker working and guys are playing great defense behind me, it's a recipe for success," Cook said. "I was just really focused staying at the bottom of the zone as much as possible tonight. Even when guys got on, I wanted to pound the bottom of the zone and let the guys play defense behind me. That's my approach every time I take the mound.
"The first couple of innings I was a little flat. I was probably throwing the ball a little harder than I needed to, so I got with Salty [catcher
Jarrod Saltalamacchia
] and said, 'Let's just pound the bottom of the zone and not worry about anything else' and that's when my balls started moving more. You could tell I was getting that movement I need to be successful."
Darvish, who had won seven of his first nine decisions, has now allowed six or more runs in each of his past three starts.
"I think we've just got to keep working and get him back on track," Rangers manager Ron Washington said. "We know he's better than what he's shown. Sometimes you've got to go back to go forward. We certainly don't want to see him go backwards, but we've just got to keep battling. We're not going to let him quit. He'll get it together."
The Sox, of course, have been wildly inconsistent all season. The chance that Monday's game will be more typical of what's to come?
"We've played pretty well most of the time," Valentine said. "It's just that at the end of the game, we haven't been able to talk about it. There's been great execution. There's been great commitment. We let some games get away from us, and they wash out all the good stuff."
April, 19, 2012
4/19/12
12:12
AM ET
By
Steven Krasner
| ESPNBoston.com
BOSTON -- Offensively, the
Boston Red Sox
have been a Jekyll-and-Hyde team so far during the homestand.
Over the first three games, Boston raked the vaunted
Tampa Bay Rays
pitching staff for 31 runs. Not surprisingly, the Red Sox won all three of those games.
Over the past three games, Boston has managed a mere six runs, and was shut out once. Again, not surprisingly, the Red Sox lost all three of those games.
In losing Wednesday night, 6-3, to the
Texas Rangers
, Boston was only 2-for-9 with runners in scoring position. The Sox were 2-for-14 with runners in scoring position overall in the three defeats.
Until Ryan Sweeney's pinch-hit RBI single in the ninth inning Tuesday night, all of Boston's runs during the losing streak had come on home runs.
Dustin Pedroia
rocketed a two-run homer and
Adrian Gonzalez
hit a solo shot in Tuesday night's 18-3 loss and
Kevin Youkilis
connected for a two-run bomb Wednesday night.
"That's just baseball," said Youkilis. "There's no formula for it. We haven't put it all together right now. They've had good pitching, too."
"We have to find a way to be more consistent," said outfielder
Cody Ross
. "That's baseball. You go through stretches when you're scoring like we did against the Rays and you go through stretches like we did the last couple of days."
November, 1, 2010
11/01/10
11:00
PM ET
Tick. Tock.
The
San Francisco Giants
are World Series champions after dismissing the
Texas Rangers
in Game 5 Monday night at The Ballpark in Arlington, so that means the offseason has officially begun for Major League Baseball.
Significant changes were made to the offseason calendar this year, and that means the
Boston Red Sox
have until only Thursday to decide whether to pick up the $12.5 million team option on designated hitter
David Ortiz
.
The Red Sox are expected to pick up the option, but the 34-year-old slugger has said numerous times he would like a multiyear deal from general manager Theo Epstein. The sides are set to talk, and either way, Ortiz will know his future by Thursday.
Because of another date change, the Red Sox now have only five days of exclusive negotiating rights with possible departing free agents. That means Epstein figures to be busy talking with Victor Martinez's representatives.
Epstein has said he would like to have the catcher/first baseman back in the mix, and Martinez has expressed similar sentiments. If the sides are able to come to an agreement, it'll have to happen quickly because Martinez is considered one of the top free agent prizes this winter.
Another big free agent is third baseman
Adrian Beltre
, who successfully accomplished his goal of 2010 by showcasing his ability to compete at a high level. He resurrected his career and is looking for a lucrative long-term deal.
Even though Beltre is looking for a major payday, he's also made it clear he wants to win a World Series, which could help Boston's chances in negotiations with Beltre and his agent, Scott Boras.
If Beltre is not in the Sox's plans, the club also could consider going after slugging first baseman
Adrian Gonzalez
via trade and move
Kevin Youkilis
back to third base. Youkilis obviously can play the hot corner, but he's also made is known how comfortable he is as the team's everyday first baseman.
Once the exclusive grace period ends, it's a safe bet Epstein (and most of the other 29 GMs) will target free agent outfielders
Carl Crawford
and
Jayson Werth
(also a Boras client).
It's also no secret Boston's bullpen struggled in 2010, and fixing that problem will be a priority. Lefty reliever
Scott Downs
, who has pitched for the Blue Jays for the last six seasons, was targeted by Epstein at the trade deadline and likely will be again this winter.
Epstein has proven in the past he's not afraid to consider almost every possibility. He'll have a lot of decisions to make this winter, and he's now officially on the clock.
April, 22, 2010
4/22/10
2:04
PM ET
BOSTON -- The picture has been obscured by the walkoff wins, the
David Ortiz
soap opera, the
Darnell McDonald
fairy tale, the
Mike Lowell
comeback saga, the stolen base slapstick, and the outfield M.A.S.H. unit.
But could someone please explain the early returns of the Red Sox starting rotation, which ranks at the bottom of the American League?
After
Josh Beckett
gave up seven runs in seven innings Wednesday night -- four runs early, Josh Hamilton's monster three-run home run in the seventh -- the ERA for the Sox rotation stands at 5.76 (55 earned runs in 86 innings).
The Big Three? In 10 starts among them, they have three wins. Jon Lester's ERA is 8.44.
John Lackey
is at 5.63, Beckett 5.26. Opposing batters are hitting over .300 against Lester (.313), Lackey (.311) and
Tim Wakefield
(.303), while hitting .283 against Beckett. They're also slugging .450 or better against all four pitchers as well, compared to a league average of .430.
The only starter with an ERA under 5 is
Clay Buchholz
(1.80), and he is looking over his shoulder at
Daisuke Matsuzaka
, who made what was supposed to be his last rehab start for Pawtucket Wednesday night and is primed to rejoin the rotation.
Here is a breakdown of Matsuzaka's start against the Lehigh Valley Iron Pigs, as
provided by Pawtucket broadcaster Dan Hoard on his blog
.
Manager Terry Francona has yet to address how he intends to incorporate Matsuzaka in the rotation; that may come later today. Pitching coach John Farrell said at the end of spring training that the team was not ruling out a six-man rotation, but if Cubs manager Lou Piniella can stick ace
Carlos Zambrano
in the bullpen, it's possible that Francona might reluctantly do the same with Buchholz.
Buchholz was tagged for four unearned runs in the first inning of his last start when center-fielder
Mike Cameron
, playing through the pain of an abdominal tear, dropped a line drive hit right at him, and a couple of batters later
Pat Burrell
doubled home three runs.
Buchholz has options left, which means the Sox could send him back to Pawtucket to allow him to continue to pitch regularly. Wakefield has been a strong first-half performer the last couple of seasons before injuries have caused him to fade, a pattern that at age 43 is likely to continue. But a strong start from Buchholz on Thursday night against the Rangers could complicate the Sox's decisions.
So far, Red Sox starters have combined for just 5 quality starts (3 ER or less, 6 IP or more) out of 15, a 33 percent rate that also ranks last in the league. It's a small sample size, and no one expects that to continue. Shoddy defense has been a contributing factor, and the arms are simply too good not to expect a turnaround. But they are not exempt in accounting for the team's slow start.
April, 22, 2010
4/22/10
3:14
AM ET
BOSTON -- Quick hits on Red Sox 8, Rangers 7, in 12 innings:
* Second straight night of walk-off dramatics, this time with
Kevin Youkilis
doubling home
Marco Scutaro
in the bottom of the 12th. Scutaro had singled and advanced to second on J.D. Drew's fly ball to center. After
Dustin Pedroia
was walked intentionally, Youkilis hammered a 3-and-2 breaking ball off the wall just to the left of the flagpole in center.
* The Rangers have lost six in a row and are 5-9 despite having held a lead in 13 of the 14 games they've played. On Tuesday night, they couldn't hold a 5-1 lead, and on Wednesday night they lost a 4-0 lead. The wheels are rapidly coming off a season of high expectations, with the sale of the club hitting unexpected snags and manager Ron Washington on the hot seat after testing positive for cocaine last summer.
* Biggest play in the Sox's winning rally was Scutaro tagging and reaching second safely, just ahead of the throw by center fielder
Julio Borbon
. "He retreated real quick,'' manager Terry Francona said, referring to how Scutaro had gone nearly halfway, then went back to first to tag up. "Great base running.''
* Washington, on why he elected to intentionally walk Pedroia to face cleanup man Youkilis, who drove a full-count curveball from
Dustin Nippert
off the wall in left-center: "I've seen that little guy at second base hit too much stuff off that Monster lately.''
* Let the controversy begin.
Mike Lowell
hit a home run and Wall-ball single as Sox DH the night after pinch hitting for
David Ortiz
. Francona was playing RH batter vs. LH pitcher when he started Lowell against lefty
Matt Harrison
, but made no attempt to pinch hit Ortiz against a series of Texas righty relievers. Lowell will start again Thursday against left-hander
C.J. Wilson
.
* Let the
Darnell McDonald
fairy tale continue. McDonald, who lost a 50-yard match race to a gelding named Zippy Chippy in a minor-league promotion nine years ago in Rochester, N.Y., hit his second home run and walked twice in his first start for the Sox in center field. He also threw out a runner at the plate, though the play was made by catcher
Jason Varitek
, who blocked Borbon from scoring in the fourth.
* Drew, who had been even more feeble than Ortiz entering the game (.133, 19 Ks in 45 ABs) hit a grand slam just inside the Pesky Pole with a sweeping, one-handed swing. Drew had the worst BA among the 98 big-leaguers with 100 or more ABs with the bases loaded, .206, before connecting.
* The team supposedly built on its starting pitching got another forgettable start from a member of its Big Three, this time
Josh Beckett
, who trailed 4-0 after two innings, was given a 7-4 lead, then saw a high fastball absolutely incinerated by
Josh Hamilton
, whose three-run homer in the seventh tied it at 7. It was the first home run of the season by Hamilton, and his first off Beckett, with whom he is linked in history: Hamilton was the No. 1 pick overall in the '99 draft by Tampa Bay, Beckett was chosen next by Florida. The Sox's starting pitching, which came into the game last in the league in staff ERA, is now at 5.76 (55 ER in 86 IP).
* Some fabulous late-inning flame-throwing on both sides, by
Neftali Feliz
of the Rangers, who lit up the scoreboard with three-figure gun readings, and
Daniel Bard
, who was a mile or two slower at 97-98. Jonathan Papelbon's mid-90s stuff was good enough for two scoreless innings in which he threw 15 pitches, 13 for strikes. And
Hideki Okajima
, who like Bard has appeared in nine of the team's first 15 games, struck out two of the batters he faced in the 12th, his value to the team impossible to overstate.
The Rangers' bullpen retired 18 in a row from one out in sixth to one out in the 12th, when Scutaro singled off Nippert.
Bard, Papelbon and Okajima combined for five scoreless innings of one-hit ball.
* The Rangers, after a club-record nine stolen bases Tuesday night, swiped only three Wednesday, with Jason Varitek catching instead of
Victor Martinez
. That was the good news. The bad news was Varitek whiffed four times.
April, 21, 2010
4/21/10
7:39
AM ET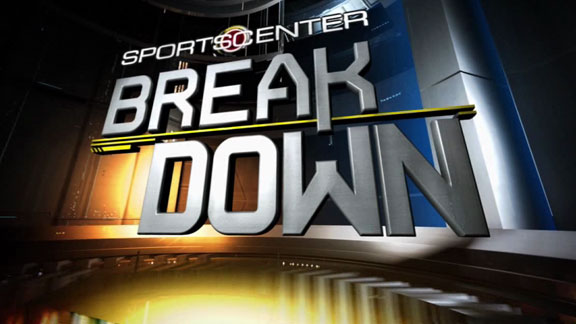 The Red Sox's 7-6 walkoff victory over the Rangers on Tuesday night at Fenway Park had it all. Here's a point-by-point recap from ESPNBoston.com's Gordon Edes, who had himself quite a busy night at the ballyard.
-- Before the game, Theo Epstein addressed the team's miserable start --
"we're playing bad baseball''
-- and said the team had to own up to it.
-- The Red Sox
placed two starting outfielders -- Mike Cameron (abdominal tear) and Jacoby Ellsbury (sore ribs) on the DL
and called up Josh Reddick and Darnell McDonald, both of whom would factor in the game (More on that later).
-- The Red Sox's problems stopping base stealers hit an apex Tuesday night, as the
Rangers swiped a team-record nine bags against Boston, all by the fifth inning
.
-- Struggling designated hitter David Ortiz was lifted for a pinch hitter (Mike Lowell) with the bases loaded. After the game, Terry Francona said he didn't like to make the move but felt it was the best move to try to win the game. ESPN analyst John Kruk agreed (see video at top).
-- Of course, the
story of the night was reserve outfielder Darnell McDonald
, who was activated at the last minute by the Red Sox when they decided to place Elsbury on the DL and came up huge. He delivered a game-tying two run homer in the eighth and won it in the ninth with a game-winning hit.
April, 20, 2010
4/20/10
9:41
AM ET
ESPN baseball analysts Karl Ravech and John Kruk preview the upcoming series between the Red Sox (4-9) and Rangers (5-7), who are both scuffling (see video above). Texas is coming off a three-game sweep at the hands of the Yankees and Boston was just swept by Tampa Bay at Fenway.
"If Boston is going to get right this might be the team to do it against," Kruk said.
The Rangers have actually had more problems on offense than the Red Sox, scoring a total of 46 runs this season, which ranks 27th in all of baseball. Boston ranks one spot ahead at 26th (50 runs scored).
Both teams carry struggling sluggers into this week's matchup:
David Ortiz
(.158 average, 2 RBIs) for Boston,
Josh Hamilton
(.220 average, 2 RBIs) and
Chris Davis
(.222 average, 1 RBI). The Rangers offense is led by the surprising
Nelson Cruz
, who has an American League leading seven homers and 15 RBIs.
Rangers pitching has actually been better than expected so far. Texas has a 3.41 team ERA, which is the fifth best in baseball. The Red Sox are 21st with a 4.58 team ERA.
When you look at starters' ERA the difference is even greater. Believe it or not, Texas starting pitchers -- besides
Rich Harden
, can you name another Rangers starter? -- have a 3.04 ERA (fourth best in baseball) while the vaunted Boston rotation has a 5.18 ERA (26th).
Here is a look at this week's pitching matchups:
-- Tuesday (7:10 p.m.)
Tim Wakefield
(0-1, 5.11 ERA) vs.
Colby Lewis
(2-0. 2.19 ERA)
-- Wednesday (7:10 p.m.)
Josh Beckett
(1-0, 3.86) vs.
Matt Harrison
(0-1, 1.38)
-- Thursday (7:10 p.m.)
Clay Buchholz
(1-1, 1.80) vs.
C.J. Wilson
(0-1, 2.08)
For more information on the Red Sox's struggles, check out ESPNBoston.com reporter
Gordon Edes' Q-and-A with ESPNDallas.com
.
March, 31, 2010
3/31/10
9:41
PM ET
FORT MYERS, Fla. -- A baseball source said Wednesday that talks between the
Boston Red Sox
and
Texas Rangers
over infielder Mike Lowell had accelerated and a trade remained a possibility. But by late Wednesday night, the source reported the sides were no closer to a deal.
"I don't think it's going to happen,'' the source said.
Earlier in the day, Lowell reinforced his case that he can still be a useful hitter with two doubles in Boston's 14-6 exhibition win over Baltimore in Sarasota.
The Rangers have been scouting Lowell regularly since he started playing this spring, and have a clear need for a backup first baseman and insurance behind
Vladimir Guerrero
as a right-handed designated hitter.
But the circumstances have changed since last December, when the Rangers agreed to a deal for Lowell in which they were willing to absorb $3 million of the $12 million on the infielder's contract, a deal later voided when it was discovered Lowell needed surgery to repair a torn ligament in his right thumb.
Lowell, who sustained the injury on the last weekend of the 2009 season, did not have surgery until Dec. 30 and was unable to resume baseball activities for nearly two months. In an interview last Saturday, he lamented the timing of the surgery, saying it deprived him of a chance to show interested teams that he was healthy.
The Rangers, meanwhile, signed Guerrero to serve as their designated hitter and, with other roster moves, essentially spent the $3 million once earmarked for Lowell.
Lowell's playing opportunities with Boston figure to be few, barring an injury to designated hitter
David Ortiz
or corner infielders
Kevin Youkilis
and
Adrian Beltre
.
It may be that the Rangers are engaged in a high-stakes poker game with the Red Sox to see how much of Lowell's salary Boston will eat to make the deal. But for now, money remains the hangup to executing a deal, and Lowell remains with the Red Sox.
December, 11, 2009
12/11/09
12:29
AM ET
Here's what you need to know about the preliinary agreement between the Red Sox and Rangers that would send third baseman Mike Lowell to Texas and catcher Max Ramirez to Boston: There is no deal until both teams complete reviews of the medical records of the players involved, Lowell by the Rangers, Ramirez by the Red Sox, and baseball commissioner Bud Selig signs off on it.

So it is premature to characterize it as a done deal, though the expectations on both sides is that it will be completed.

Lowell's injuries have been more problematic, especially the torn labrum in his right hip that required surgery after the 2008 season. But Ramirez has had tendinitis in both wrists, which he believes led directly to the big dropoff in his power, from 19 home runs in 2008, when he was a Texas League All-Star and invited to the Futures Game, to a total of 5 home runs in 80 games split between Triple-A and a rehab stint in the Arizona Rookie League.
Ramirez, who had two separate stints on the DL last summer, is currently playing in the Venezuelan Winter League, where he is tied for the league lead with 12 home runs in 182 at-bats and is batting .236, according to stats provided by minorleaguebaseball.com.

The commissioner's office had not been asked to approve the deal as of late Thursday night, and may not be involved until the beginning of next week. Selig must approve any transaction involving a transfer of $1 million or more, and in this case, according to multiple sources, the Red Sox are planning to pay $9 million of the $12 million owed Lowell in 2010.

There is also the matter of the financial issues that have hamstrung cash-strapped owner Tom Hicks and has led to MLB essentially overseeing the club's financial transactions. Selig has to sign off on the $3 million cost of this deal to the Rangers; an industry source said that while Selig has reservations, he probably will grant his OK to the deal unless there are other issues that have not surfaced publicly.
Rangers GM Jon Daniels had said Thursday morning that both teams still had the option of walking away from the deal, but other club executives said it was their understanding that the deal would move forward.