July, 31, 2010
7/31/10
12:34
AM ET
BOSTON --
Mike Cameron
was totally disgusted with himself.
The Red Sox nearly erased a five-run deficit in the bottom of the ninth inning, thanks to a
David Ortiz
grand slam, and were trailing by a run against the
Detroit Tigers
. Boston had the game-tying run on second and the would-be game-winner on first.
Cameron stepped into the batter's box with two outs and an opportunity to help his teammates prevail.
[+] Enlarge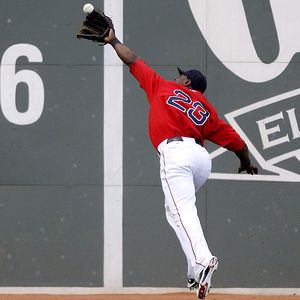 AP Photo/Charles KrupaMike Cameron can't make the play on an RBI double in the first inning Friday against the Tigers.
He struck out looking. And, the Tigers finished with a 6-5 victory Friday night at Fenway Park.
"I had a chance to make something happen," Cameron said. "He made a good pitch on that one. As sad as it may seem, I've got to chalk it up and tip my cap to him."
In that at-bat, Tigers reliever
Jose Valverde
threw Cameron five straight fastballs and had a 3-2 count when he dropped in a splitter.
"I just didn't get it done," Cameron said. "It was one of those rough days at Fenway. I will not miss a day like that. I got one good swing in, fought it off and after that it was just kind of a battle."
Even though Cameron was being hard on himself, Ortiz knew it was a tough pitch for Cameron to hit.
"That was filthy," Ortiz said of Valverde's 3-2 splitter. "He's got good stuff, man. Good stuff."
Prior to game time, right fielder
J.D. Drew
was scratched from the lineup for the third straight game with a sore hamstring, while Cameron has been battling a severe groin/hernia injury all season.
Cameron also struggled defensively Friday night.
In the top of the first inning, the Tigers'
Will Rhymes
lifted a fly ball to deep left-center field. In an all-out sprint, Cameron caught up to it, but the ball tipped off the top of his glove and dropped in for an RBI double. Cameron was clearly hurting after the play.
"Anytime I'm running, it doesn't feel good," he said. "It's just part of it, man. It's part of the grind. That's just the way it is. Some people understand and some people don't. That's the way I choose to go out there and play and be the best I can possibly be."
"I'm trying to be as productive as I can," added Cameron. "Some days will be better than others."
His gladiator-type mentality has not gone unnoticed on his teammates and manager. In fact, if
Jacoby Ellsbury
and
Jeremy Hermida
had been healthy all season, there's a good chance Cameron would have been placed on the disabled list and had the necessary surgery to repair the damage. He's gone this far and has learned to manage the pain and discomfort and will likely wait until the offseason to have the procedure done.
"He's been unbelievable," Red Sox manager Terry Francona said. "The amount of time and effort he's put in to stay out there has just been unbelievable. We're very proud of him."
July, 24, 2010
7/24/10
9:04
PM ET
SEATTLE -- With only seven days until the trade deadline, interest continues to grow for Red Sox third baseman
Mike Lowell
.
Since
Detroit Tigers
third baseman
Brandon Inge
was placed on the DL with a fractured left hand on July 20, the club is interested in acquiring Lowell's services, according to a source.
"Tigers are interested," the source said. "Not sure how serious the interest since Inge's injury is not as severe as they thought."
Lowell has been on the DL with a right hip strain since June 23 and is rehabbing with Triple-A Pawtucket. He served as the PawSox' DH and went 1-for-5 on Thursday. He's playing third base tonight and is scheduled to play first base tomorrow.
Francona has been speaking with PawSox manager Torey Lovullo and the reports on Lowell have been good.
"Torey said [Lowell] took a bunch of ground balls at third the other night, and actually looked really good," Francona said. "He moved around real well and threw real well."
Lowell is batting .213 with two homers and 12 RBIs in 31 games for the Red Sox this season. He's made it no secret of his desire to play every day and would welcome a change of scenery.