Boston Red Sox:

Tim Bogar
October, 25, 2012
10/25/12
8:38
PM ET
BOSTON -- Red Sox bench coach Tim Bogar has been told by the club his services will not be retained in 2013.
Bogar, 45, has been with the Red Sox since 2009 and his current contract expires on Oct. 31.
New Red Sox manager John Farrell is expected to name Torey Lovullo as his bench coach. Lovullo managed Triple-A Pawtucket in 2010 before joining Farrell in Toronto as the first-base coach for the Blue Jays.
Bogar was the Sox's first-base coach in 2009, then served as the third-base coach in 2010-2011 before being named bench coach last season under former manager Bobby Valentine.
Bogar is well-respected by the Red Sox players.
"To me, Bogey was that calming voice that was always thinking baseball," Red Sox second baseman
Dustin Pedroia
told ESPNBoston.com on Wednesday. "He was trying to put us in the best situation to succeed, whether that was baserunning, defensive positioning or just mentioning to calm down at the plate. And his timing was always right on. He's a very smart, no-nonsense guy, which you appreciate."
Bogar was recently offered the bench coach job with the
Houston Astros
, but he turned it down.
October, 25, 2012
10/25/12
12:47
PM ET
ESPN Boston's Red Sox writer Gordon Edes appeared on WEEI's "Dennis & Callahan" on Thursday morning to discuss the Bobby Valentine fiasco, the new positive vibe on Yawkey Way after John Farrell's hiring, the David Ortiz contract situation and more.
Talking about Valentine's televised interview with Bob Costas, which aired the same day the Red Sox introduced Farrell as their new manager, Edes said, "It's incredible to me that Bobby Valentine was able to upstage John Farrell's day, but maybe I shouldn't have been surprised."
Edes discussed his colleague
Joe McDonald's article on bench coach Tim Bogar
, and Bogar's rebuttal to Valentine's harsh criticism of his coaching staff.
"I suspect that Bogar, being the kind of guy he is, held his fire on a lot of this. That he could have gone into chapter and verse and made this a much more damning accusation, but he didn't want to play that game," said Edes.
Edes warned that the Costas interview is probably not the last we've heard from Valentine.
"You know, the tales from the crypt aren't going to end from Bobby. I suspect that he probably has more targets in mind that he'd like to take down," said Edes.
Edes went on to talk about prospects for next year's coaching staff and roster, and shared what he knows about David Ortiz's future in Boston.
"I was told that the two years have been agreed upon already," Edes said of Ortiz's contract talks.
"Ortiz would like in the neighborhood of two years, $25 million," Edes said. "I think in the end the deal will be less than that because while David will benefit from the security of having a second year, he also has to be realistic that he wouldn't get those kinds of dollars on the open market."
Edes noted that he expects that once Ortiz gets his contract finalized, "he'll have a few things to say" in response to Valentine's implication during the Costas interview
that Ortiz quit on the team
.
"The bizarre part of that was that Ortiz, at least publicly, was one of Bobby's strongest supporters this year," said Edes.
To listen to the full interview,
click HERE
.
October, 3, 2012
10/03/12
10:30
PM ET
NEW YORK --
Boston Red Sox
coaches are awaiting word on their fate,
along with manager Bobby Valentine
. General manager Ben Cherington would not address their status Wednesday afternoon, though he noted the importance of achieving some stability at pitching coach.
[+] Enlarge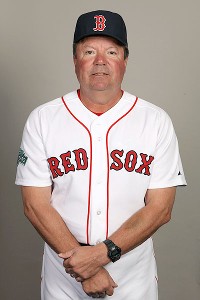 Robert Rogers/ Getty ImagesThe Red Sox value bullpen coach Gary Tuck, who he says he'll return "if the situation is good."
One Sox coach who controls his own destiny is bullpen coach Gary Tuck, who last year was denied permission by the Sox to speak with other clubs. In return, Tuck was given an option year on his contract in which he can decide whether he'll be back.
Tuck is widely considered the best catching instructor in the game, a reputation he first cultivated while working with the Yankees, and develops an intense loyalty with his catchers. He said that catcher
Jarrod Saltalamacchia
calls him at least once a day "365 days a year," a practice that began with
Jason Varitek
when Tuck first came to the Red Sox prior to the 2007 season.
"That's what you do when you join the 'Catching Academy,'" Tuck said. "Tek still calls every other day. He never left."
Asked if he wants to return, Tuck said: "If the situation is good for me, yes."
It is expected Tuck will wait to see who will manage the Red Sox next season. He also has been dealing all season with an illness in his family. But there would appear to be little doubt that the Red Sox would like him back.
The Sox, meanwhile, are now in a position where they have had four pitching coaches in the last three seasons, including two this season: Bob McClure, who was fired in August, and Randy Niemann, who initially was brought in by Valentine as a staff assistant. Curt Young was pitching coach just one season, 2011. John Farrell was pitching coach for four seasons before becoming manager of the Blue Jays.
"Too much turnover at that position," Cherington said. "That's on us. Coaches don't hold a gun to your head to be hired, and don't ask to be let go. When there's this much turnover we've got to look at ourselves a little bit. It's important to add a little more stability in that area."
The base coaches, Jerry Royster and
Alex Ochoa
, were both added by Valentine, so their fate is likely tied to the manager.
Tim Bogar
, who has been on the Sox staff since 2009 and was Valentine's bench coach this season, an uncomfortable arrangement for both men, and hitting coach
Dave Magadan
, on the Sox staff for six seasons, are both highly regarded by the Sox front office but could be victims of a housecleaning, if it comes to that. Again, the identity of the manager may be a deciding factor.
September, 18, 2012
9/18/12
6:18
PM ET
By
John Lembo, Special to ESPNBoston.com
ST. PETERSBURG, Fla. -- Red Sox manager Bobby Valentine was pleased to hear his bench coach and one of his former players,
Tim Bogar
, will interview Wednesday in Tampa for the Houston Astros' managerial job.
"That's what he wanted during the winter, that's what his dream was," said Valentine, who managed Bogar with the
New York Mets
in 1996, "to get the exposure with us so he could get noticed by other teams.
"I hope it works well for him."
Bogar was the Red Sox first-base coach in 2009 and the team's third-base coach in 2010 and 2011 before he was named Valentine's bench coach in the offseason.
"Going forward, it's going to give me a better understanding of how to run a major-league team," Bogar told ESPNBoston.com in December after getting the assignment.
Bogar spent four of his nine-year playing career with the Astros (1997-2000) and made his lone postseason appearance with the team in 1999.
He is interviewing for a job previously occupied by another Red Sox bench coach,
Brad Mills
, who was fired earlier this season by the Astros.
Mills worked under Terry Francona in Boston and became Houston's manager prior to the 2010 season. He went 171-274 in two-plus seasons at helm.
September, 18, 2012
9/18/12
1:55
AM ET
Red Sox bench coach Tim Bogar will interview for the Houston Astros' managerial opening this week, according to a report on WEEI.com.

The report said Bogar will meet with Astros executives in the Tampa Bay area at some point during the Red Sox' four-game series against the Rays.

The Astros fired Brad Mills, Red Sox bench coach under Terry Francona, last month with Houston holding a 39-82 record. Other reported candidates for the job include former manager Larry Bowa of MLB Network, Tampa Bay bench coach Dave Martinez and Nationals third base coach Bo Porter.
August, 3, 2010
8/03/10
1:18
AM ET
BOSTON -- You lose a one-run game in which two runners are thrown out at the plate, one with
David Ortiz
coming to the plate, the other while trailing by four runs, the third-base coach is going to catch some heat.
This is your life,
Tim Bogar
, the first-year third-base coach for the Red Sox who had managed to stay out of harm's way since June 3, the last time the Sox had two runners thrown out at the plate, also in a one-run loss, this one 9-8 to the
Oakland Athletics
.
Monday night,
Marco Scutaro
was thrown out in the third inning by Indians left fielder
Shelley Duncan
attempting to score on a fly ball that perhaps didn't carry as far as Bogar expected. The throw was awaiting Scutaro. The Sox led 1-0 at the time, and playing aggressively can be justified, especially early in the game against a lesser opponent apt to make mistakes. It's not quite as easy when the next hitter is Ortiz, who had singled in his first at-bat.
But there was no defending Bogar's second decision, the one in which he waved home Ryan Kalish with one out and the Sox trailing 6-2. Had he held Kalish on Daniel Nava's single to right, the Sox would have had runners on the corners, with the top of the order coming to the plate against a tiring
Fausto Carmona
. The Indians right fielder was the strong-armed
Shin-Soo Choo
, whose seven assists coming into the game were third in the league.
Choo's throw beat Kalish, who slid hard into catcher
Carlos Santana
in a fearsome collision that buckled Santana's knee in an unnatural position, but the catcher held onto the ball for the out.
Manager Terry Francona called it what it was -- a mistake.
"At that time of the game, probably trying to be aggressive, probably too aggressive, and I think Bogie knows that. You're not going to go through a year and be perfect.''
June, 2, 2010
6/02/10
8:08
PM ET
BOSTON – Red Sox first-base coach Ron Johnson is sort of out of uniform tonight.

He's been dealing with tendinitis in left Achilles heel and the pain became so bad that he was having trouble putting any pressure on it, so he finally had a team doctor look at it. Johnson, 54, was given a mobile cast to wear until it heals. After spending 18 seasons as a minor-league manager, this is his first big-league job, so he's been reluctant to let the injury interfere with his duties.

Last weekend Red Sox third-base coach Tim Bogar returned home to Illinois for his son's high school graduation and there was some thought to move Johnson across the diamond. But because of his mobility issues, and the fact Sox bench coach DeMarlo Hale served in that role for four seasons, manager Terry Francona decided to keep Johnson at first.

"It's been killing him since the end of spring training," said Francona. "He's been very self-conscious about it and it was one of the reasons we couldn't have him coach third the other night, because he hasn't been moving very well."

When Johnson emerged from the dugout to shag balls during early batting practice Wednesday, it was clear he was moving better with the aid of the walking cast. Francona told Johnson that if the boot helped his mobility, he had no problem letting him wear it on the field. There's no uniform rule against it.

"It's not like he looks that great anyway," Francona said jokingly. "I know he's been struggling and I know it's been bothering him, so if [the boot] helps him it's fine with me. He's really been uncomfortable physically. Saying that, I think he's been uncomfortable physically since 1974. But I know it's been bothering him and I know it hurts."
May, 29, 2010
5/29/10
5:55
PM ET
BOSTON -- Red Sox bench coach DeMarlo Hale will coach third base tonight while Tim Bogar attends his son's graduation from Normal Community High School in Normal, Ill.

Hale served as the Sox's third-base coach for the last four seasons until being named bench coach during the offseason.

Bogar is expected to be back in time for Sunday's game.