Boston Red Sox:

Torii Hunter
May, 17, 2014
May 17
1:18
AM ET
By
Kyle Brasseur | Special to ESPNBoston.com
BOSTON -- The iconic moment was one that stands out among the most memorable from the
Boston Red Sox
's 2013 championship season.
ALCS Game 2. Down by four runs, bases loaded in the eighth inning and perennial postseason hero
David Ortiz
at the plate.
[+] Enlarge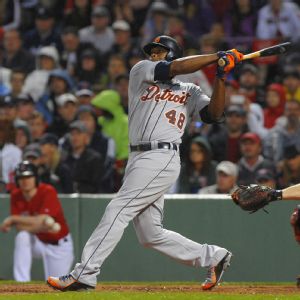 Bob DeChiara/USA TODAY SportsTorii Hunter went 2-for-4 and drove in the sole run in Detroit's 1-0 win in Boston on Friday.
The line drive hit out to right field on the first pitch Ortiz saw; the full-out charge made by
Detroit Tigers
outfielder
Torii Hunter
in an attempt to catch the ball; and, finally, Hunter's head-over-heels flip over the wall, complemented by bullpen cop Steve Horgan's celebratory reaction, arms thrust in the air, as Ortiz hit a game-tying grand slam in an eventual 6-5 Red Sox win.
The image itself will forever last in Red Sox lore, but for Hunter, the moment is a thing of the past.
"I talked to [Horgan]. We laughed," Hunter said Friday night. "He's good people, man."
In town as the Red Sox host Detroit at Fenway Park for the first time since the Tigers were eliminated from the 2013 postseason in Game 6 of the ALCS, Hunter downplayed the situation that hung over his head during the series following Game 2. The 38-year-old outfielder said that none of the fans in right field gave him a hard time about the moment during the Tigers' 1-0 victory Friday and that he didn't understand why such a big deal was made over his comments following the event.
"[Horgan's] supposed to protect and serve. This son of a gun's got his hands up. Help me, then cheer, fool," Hunter told reporters following the Game 2 loss. "I wish I would have kicked him in the face."
The comments were in jest, Hunter said, and, as a visiting player, he's known Horgan for years.
"I wasn't mad. I just cracked a joke and they thought I was mad," Hunter said. "I don't know where it came from that I was mad. I was never mad."
Although Hunter drove in the only run Detroit needed to beat Boston on Friday night, the outfielder said there was no joy in revenge taken as part of the win.
"It doesn't matter," Hunter said. "This year is different; if you dwell on the past, you can't focus on the now. They won. It's over with. Now, it's a different scene. We're not here to prove anything. We're just coming to play."
October, 14, 2013
10/14/13
1:59
AM ET
BOSTON -- For a city that has embraced its first responders in the wake of the Boston Marathon bombings, it seems appropriate that the photo of a Boston police officer with his arms raised, standing in the Red Sox bullpen celebrating
David Ortiz
's eighth-inning grand slam as
Torii Hunter
tumbled over the right field wall, will go down as the iconic image of the team's Game 2 ALCS comeback.
"I couldn't even hear myself it was so loud," said 50-year-old Steve Horgan, a South Walpole, Mass. native and 27-year veteran of the Boston police force. "I can't believe it. I don't know what to think. I can't believe it. It was an awesome feeling."
Ortiz's grand slam erased a 5-1 Red Sox deficit and sent Fenway into a frenzy. The team beat the Tigers, 6-5, an inning later on a walk-off single by
Jarrod Saltalamacchia
, but it was Ortiz's slam that will be forever remembered.
"Oh, it was awesome. It was great. David Ortiz. Grand slam. It was great," Horgan told ESPNBoston.com after the game.
The replay, showed over and over, saw Hunter flipping into the bullpen and Horgan celebrating. The officer's phone soon began to light up with text messages of the picture.
"I've got about 20 of them on my cell phone," he said.
As soon as he realized Hunter might have hurt himself on the play, Horgan quickly went over, checked on him and called for help just in case. The Red Sox pitchers in the bullpen also checked on Hunter, and a Detroit team trainer came running out from the dugout to tend to him.
[+] Enlarge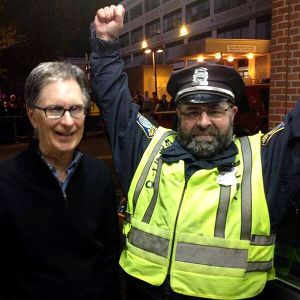 Joe McDonald/ESPNBoston.comSteve Horgan strikes his celebratory pose with Red Sox owner John Henry.
"I'm all right. Just trying to give an effort, man," Hunter said after the game. "He hit the ball and it was hit pretty hard. Just going up and try my best to get the ball and ended up flipping over. Going after it pretty hard, it was all-or-nothing. Can't believe that happened."
Prior to the game, Hunter and Ortiz embraced with a big hug as the two have been close friends since they were teammates with the
Minnesota Twins
. On the fateful play in the eighth, Hunter almost made the leaping catch but it was just out of his reach.
"I don't know, I don't remember. I went up and I lost it in the lights for a second and when I saw it I just tried to give a last effort. Next thing you know I was flipping over," Hunter said.
"I got up high and it flipped me over. I was going full speed back and it just flipped me over and I went over and kind of landed awkward. It knocked the wind out of me a little bit."
If there's one outfielder in Ortiz's mind that could make that play, Hunter is the guy.
"Torii always scares me," Ortiz said. "I grew up playing with Torii. He's one of the best outfielders I ever saw in my life. Torii can chase balls out there. This guy went from playing center field to right field, and I wouldn't be surprised if he got a Gold Glove again this year.
"I saw on the video and the reason why I think he didn't catch that ball is because the ball takes like a left turn when he was going right. And, looked to me like he kind of touched it. But that's Torii. Torii is a trooper out there, man. And he's fun to watch."
Horgan had the best view of the entire play.
Like many of the Red Sox players and their fans, Horgan started to grow his beard at the start of the playoffs. The beard is a combination of dark and white colors and he's only trimmed it once since he began to grow it. Now, he says he's not touching it. Even his boss, who was standing nearby after the game, told him not to shave it.
After the game, Horgan stood in the players' parking lot behind the Red Sox clubhouse as players were leaving. A few shook his hand. Then, Red Sox owner John Henry was leaving when his wife, Linda, introduced her husband to Horgan. The two shook hands and took a picture together with Horgan recreating his celebratory pose.
This is Horgan's first full season patrolling the Red Sox bullpen. It's now a good luck detail for the Red Sox and chances are he'll keep that post for the foreseeable future.
"It's awesome. The guys are great. The players are great and the coaches are really great," he said.
October, 13, 2013
10/13/13
6:53
PM ET
By
Kyle Brasseur, Special to ESPNBoston.com
BOSTON -- It doesn't matter if he tells you he's 26 years old, 28 years old or his actual age of 38 (albeit, a young 38), there's no denying that Tigers outfielder
Torii Hunter
is having the time of his life during the postseason.
"I came to the Tigers and now I'm rejuvenated," Hunter said of his first season with Detroit. "I've been laughing with tears in my eyes in the clubhouse all year. They brought the fun back for me and the fight."
Last season was Hunter's final year of a five-year, $90 million deal with the
Los Angeles Angels
of Anaheim. Hunter admitted to reporters on Sunday that his mind was "cloudy" during the 2012 season, a result of wanting to be with his family as his oldest son, Torii Jr., faced personal issues. Hunter still managed a career-high batting average of .313 for the Angels before hitting free agency and signing a two-year, $26 million deal with Detroit.
"It wasn't about money, it was just give me what's fair," Hunter said. "They gave me my fair offer -- I didn't want to negotiate, we're done, this is what I want to play for.
"You are what you are, you're going to get paid what you're going to get paid."
As Hunter went on to say, he's only about winning the World Series now, a stage the five-time All-Star has never played on. With two previous ALCS appearances under his belt, both ending in losses, Hunter is playing for the chance to celebrate a title with his teammates, something he said he's longed to do during his career.
"I see this all the time, guys jumping up and down on the field at the end of the season during the World Series, at the end of the World Series, and I'm sitting on my couch and having a Coors Light," Hunter said with a laugh. "That's the way you want to be. It's my dream and I'm going to keep fighting and keep trying to get there to my dream."
Hunter batted .304 with 17 home runs and 84 RBIs during the regular season for the Tigers before slowing down to hit .167 in six postseason games so far. However, the veteran outfielder has served as a model for Detroit's young players, passing on invaluable October advice to them that he's no doubt learned from his own playing experiences.
"When you're playing in the postseason, I don't care if it's the National League or American League, you better cherish this moment," he said. "You might not get a chance to do it again. Cherish the moment right now."
Cherishing the moment is exactly what Hunter is doing, no matter what age he tells you he is.
October, 11, 2013
10/11/13
9:38
PM ET
BOSTON -- Without
David Ortiz
,
Detroit Tigers
shortstop
Jose Iglesias
says he would not be where he is today.
During spring training of 2010, the young superstar in the making began to develop his skills in the
Boston Red Sox
organization. Iglesias quickly became friends with Ortiz, second baseman
Dustin Pedroia
and then-Sox shortstop
Marco Scutaro
. Iglesias was slated to be the future shortstop of the Red Sox, so it was only natural for the veterans on the club to provide guidance for Iglesias, to help the young phenom who defected from Cuba navigate professional life on and off the field.
[+] Enlarge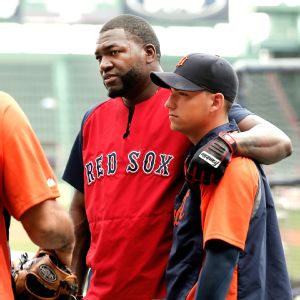 Winslow Townson/Getty ImagesDavid Ortiz and former teammate Jose Iglesias shared a moment together on Sept. 3, when the Tigers visited Fenway.
Following his first pro season, Iglesias made his offseason home in Miami and continued to work out during the winter months with Scutaro and other big leaguers, including the
New York Yankees
'
Alex Rodriguez
.
Iglesias arrived in Fort Myers, Fla., in the spring of 2011 and it was evident how hard he worked during that offseason. While his amazing defensive abilities were on full display, his offensive skills were slow to develop. Nonetheless, he improved enough to make his major league debut that summer and played 10 games for the Red Sox.
He had his first taste of the big leagues and wanted more of it.
Before Iglesias returned to Miami for the winter, Ortiz told him to be smart, do the right thing and be ready for spring training.
Iglesias listened. So, he built a gym at his house and focused on his future.
"David's been in the league for a long time and he knows the guys really well. Every time he says something, you know why he's saying it. I just listen to him, hear his advice and get better," Iglesias said Friday afternoon at Fenway Park, where the Tigers and the Red Sox were preparing for Game 1 of the American League Championship Series Saturday night.
"David wanted the best for me. I'm a hard worker but I've been blessed to be right next to David. He was an unbelievable teammate," added Iglesias.
When Ortiz advised him about how to best approach his offseason routine, Iglesias took it right to heart.
"I didn't think," Iglesias said. "I just did whatever he told me to do because I know he wants the best for me."
That's still true, even though they're no longer teammates. In need of starting pitching depth, Red Sox general manager Ben Cherington dealt Iglesias to the Tigers as part of a three-team trade, while Boston acquired pitcher
Jake Peavy
from the
Chicago White Sox
.
"

David wanted the best for me. I'm a hard worker but I've been blessed to be right next to David. He was an unbelievable teammate. "

-- Jose Iglesias on David Ortiz
Ortiz has his reasons why he gave Iglesias that advice two years ago. The veteran DH saw Iglesias' talent and wanted to make sure it didn't go to waste.
"Iggy has so much talent and sometimes you get caught into the wanting to have fun part of life," Ortiz said. "We're always going to have time for that. It's time to focus and take care of business and I think he was going through that at the time and he just needed someone to let him know about it. I think I was the right person to let him know because I went through what he went through in a different way, but at the end of the day it's pretty much the same thing. I want him to do well because he's a hell of a kid."
Ortiz thought back to when he first arrived in Boston as a free agent prior to the 2003 season. He was 27 and hadn't yet unleashed his full talent. Then-Red Sox players
Pedro Martinez
,
Nomar Garciaparra
,
Jason Varitek
and
Manny Ramirez
were guys Ortiz looked up to. He watched how they went about their daily routines and how hard they all worked at their respective crafts.
"I wanted to know why those guys were so good about their business and what they do. All of them, at the end of the day, have one thing in common -- they work hard to be the best at what they do.
"I'm one of the guys who definitely wants the game to get better. I want people to go back to the way it used to be. Just because a guy gets to be successful in the field, you have any doubt about it? No, because the guy's got talent and he works on it. I'm a huge believer of that. God gave you the talent to be successful, so if you work the talent is going to be there.
"As you get older, yes, it starts walking away from you -- no question. But it depends how you go at it. If you're responsible and even if your body's giving up and you keep forcing it to go and get there, as you get smarter you can maintain and good things can happen. The problem is that it's not going to happen if you don't work on it.
"Iggy's got unbelievable talent. He just needs someone to let him know you have to work on it -- period. Just like someone told me when I was younger, 'You've got to work on your talent.' It's not going to fall out of the sky."
[+] Enlarge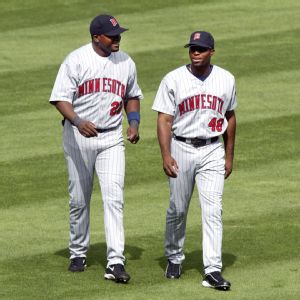 Stephen Dunn/Getty ImagesAfter suiting up for the Twins in the 2002 ALCS, David Ortiz and Torii Hunter are on different teams 11 years later, facing each other in the playoffs.
Iglesias isn't the only Tiger who has the ultimate respect for Ortiz.
Torii Hunter
was a longtime teammate with Ortiz in the
Minnesota Twins
organization. They came up through the minors together and both made their big league debuts with the Twins in 1997.
Their career paths diverged when Ortiz left for Boston, and Hunter later moved on to the Angels in 2008. During last offseason when Hunter was a free agent, Ortiz talked to him about the possibility of signing with Boston. Instead, Hunter chose Detroit and now the former teammates will face each other in the ALCS.
"David's one of the best postseason performers in the history of the game," Hunter said. "He was my teammate for a long time. He is a funny guy. He's a great clubhouse guy. But he's someone we don't want to beat us. We know what he's capable of, so we want to keep David at bay.
"He's a competitor. He wants to win at anything. When we were in the minor leagues he always wanted to win at cards, video games, anything we played he wanted to win. He wants to win. Trust me, he's trying to figure out loopholes and figure out your weakest link and he's going to expose it.
"When he left the Twins, I knew he was one of the best hitters on our team at the time, then when the Boston Red Sox picked him up in '03, I told those guys, 'You've got a diamond in the rough.' And he's been doing great things for the Red Sox."
Ortiz also did a great thing by giving Iglesias guidance, and now the Tigers are reaping the benefits.
November, 14, 2012
11/14/12
12:39
PM ET
We can take one name off the board of potential Red Sox outfielders: Free-agent
Torii Hunter
has reached agreement on a two-year, $26 million deal with the
Detroit Tigers
pending a physical exam, a baseball source said Wednesday.
Hunter is a nine-time Gold Glove winner coming off one of his finest seasons. He batted .313 with 16 home runs and 92 RBIs for the
Los Angeles Angels
, who did not extend a qualifying offer to him. Because of that, the Tigers will not have to surrender a draft pick.
Hunter has spent the past five seasons with the Angels.
The Red Sox had been interested in Hunter and potentially have two open outfield spots. They are still hoping to re-sign
Cody Ross
. As names start to come off the free-agent board, the pressure builds for the Red Sox to strike a deal with Ross.
November, 13, 2012
11/13/12
4:02
PM ET
Free-agent outfielder
Torii Hunter
is gaining the attention of many clubs, including the
Boston Red Sox
.
Even though the 37-year-old outfielder told MLB Network on Monday that he would make a decision soon, an industry source tells ESPNBoston.com that Hunter has not received any offers as of Tuesday afternoon.
"I expect things to heat up," added the source.
Another source told ESPNLosAngeles.com on Monday that Hunter was looking to make a decision within the next two weeks.
The Red Sox have talked with Hunter's agent, Larry Reynolds, but that process was in the preliminary stages during the GM meetings last week in Indian Wells, Calif.
Red Sox general manager Ben Cherington wants to add two outfielders through either free agency or the trade market. Hunter is high on a lot of teams' wish lists, including the Red Sox,
Los Angeles Dodgers
,
Detroit Tigers
and
New York Yankees
.
He was reportedly meeting with the Tigers on Tuesday.
Hunter, 37, is a nine-time Gold Glove winner coming off one of his finest seasons. He batted .313 with 16 home runs and 92 RBIs for the
Los Angeles Angels
, who did not extend a qualifying offer to him. Because of that, any team that signs Hunter would not have to surrender a draft pick.
November, 12, 2012
11/12/12
3:21
PM ET
Free-agent outfielder
Torii Hunter
told MLB Network on Monday morning that he's going to wrap up a decision about where to sign quickly, and a source indicated to ESPNLosAngeles.com that the timeframe is about two weeks.

An industry source indicated last week to ESPNBoston.com that the Red Sox have had talks with Hunter's agent, Larry Reynolds, but the process is still in the preliminary stages because there are a lot of clubs involved at this point.
"He's a popular guy right now," said a baseball source.
The most aggressive pursuer thus far has been the
Detroit Tigers
, the team most likely to offer Hunter a two-year deal, a shot at his first World Series and an everyday job. The
New York Yankees
also have shown serious interest.
The Dodgers have spoken to Hunter's representative and shown some willingness to go to two years as well, but the team already will have a full outfield once
Carl Crawford
returns from elbow surgery, probably in April. That's assuming
Andre Ethier
isn't traded.
Hunter, 37, is a nine-time Gold Glove winner coming off one of his finest seasons. He batted .313 with 16 home runs and 92 RBIs for the
Los Angeles Angels
, who did not extend a qualifying offer to him. Because of that, any team that signs Hunter would not have to surrender a draft pick.
Hunter, who's spent the past five seasons with the Angels, is close friends with Red Sox DH
David Ortiz
and has worked out recently with Red Sox third baseman
Will Middlebrooks
.
Information from ESPNLosAngeles.com's Mark Saxon was used in this report.