Boston Red Sox:

Trade deadline
July, 24, 2013
7/24/13
8:21
PM ET
BOSTON -- A week before the July 31 trading deadline, the
Boston Red Sox
have cast a wide net in search of pitching, which makes them not unlike most other contenders.
The hot name among starters at the moment is right-hander
Jake Peavy
, the best available starter on the market. The White Sox are confident there will be a buyer willing to part with an attractive package of prospects. There's
Bud Norris
in Houston,
Yovani Gallardo
and
Kyle Lohse
in Milwaukee. The Sox are in on all of them, with Peavy still a prime target. Due diligence requires them to ask about
Cliff Lee
, even though the Phillies say they're not moving the left-hander and would have to be blown away to consider it. The same applies to Kansas City, with
Ervin Santana
and
James Shields
.
[+] Enlarge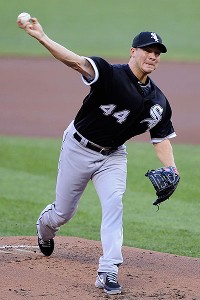 Hannah Foslien/Getty ImagesJake Peavy looks to be the prize of the pitching trade market, but it won't be easy to pry him away from the White Sox.
Bullpen? The Sox were in on
Francisco Rodriguez
before the Brewers dealt him to the Orioles. The Sox are very interested in three Padres relievers --
Luke Gregerson
,
Dale Thayer
and
Huston Street
-- and also are waiting to see a healthy
Jesse Crain
throw for the White Sox. They asked about the Royals'
Luke Hochevar
and would surely be in on All-Star closer
Greg Holland
if the Royals decided to shop him.
"We'll be aggressive in making phone calls and pursuing things and gathering information and trying to find ways to improve the team," general manager Ben Cherington said Wednesday. "What that turns into, I don't know. I think we're still in a strong position. We've got a lot of good players here, good players in Pawtucket that can help us. So we'll see. It's one thing to want something; there has to be a match.
"There's got to be two to dance and if we find a partner, if it makes sense, we'll pursue it."
Aggressive?
"That's part of our obligation," Red Sox CEO Larry Lucchino said.
That is not the same as saying they will get anything done, he cautioned. The Red Sox have the type of prospects that could get a deal done, but it's pretty clear there is a core group of prospects they have little or no interest in moving: Xander Bogaerts,
Jackie Bradley Jr.
,
Henry Owens
, Matt Barnes, Anthony Ranaudo,
Allen Webster
,
Rubby De La Rosa
, Blake Swihart and Garin Cecchini.

"That's probably a question better addressed to Ben in terms of untouchables," Lucchino said. "But we'll be aggressive in covering the waterfront, talking to clubs. If there's a player that we hear may be available on the market, we will be there to talk about and see what the possibilities are.
"Since we got here, every year we have tried to do something in July, when we've been in a race in particular. So it doesn't mean that we always do anything but because there's a real value, particularly these days, on high-quality prospects and we have a lot of them. So there's going to have to be a pretty good deal to extract some of these high-quality prospects that we have."
A critical component of making deals is a team's ability to evaluate its own prospects, making certain to correctly identify which players can be sacrificed without measurably harming the team's future. That's as much an art form as it is a science. Mistakes can, and are, made.
"That's the artistry of it, that's where the balance comes in, that's where the sense of judgment comes in from the general manager and others," Lucchino said. "You've got to be a little careful because we're not just building for one year but Ben has talked about building the next great Red Sox team, and that would involve some of the prospects who would be sought after. So we'll be aggressive in finding out what's out there. Whether we'll be aggressive in moving prospects is a whole other question."
Henry said he believes the team is "very strong."
"We have the best offense in baseball, scoring the most runs," he said. "We've had some bad luck with pitching injuries. We're looking, but it's hard to predict. Making trades at the trade deadline is expensive, especially with regard to future talent, so it'll be tricky.
"We're not going to give up the future, because we're already going forward. This team is already doing a hell of a job of going forward now. But we'll look at what availability there is. Ben will."
July, 31, 2010
7/31/10
2:19
PM ET
BOSTON -- Two and a half hours before today's 4 p.m. trade deadline, a Red Sox source said the club had "nothing major, maybe nothing minor" in the works.
Separately, a major league source said the Sox were attempting to move relievers
Manny Delcarmen
,
Hideki Okajima
and
Ramon Ramirez
and outfielder
Jeremy Hermida
.
Terry Francona said today that the team was converting Triple-A lefty
Felix Doubront
from a starter to a reliever with the idea of eventually moving him into the Red Sox bullpen. The Red Sox also recently moved righty
Michael Bowden
to a relief role and he spent some time in the Sox bullpen before being optioned back to Pawtucket.
The team could conceivably be trying to make room in the bullpen for Doubront and Bowden.
More in a bit ...
July, 27, 2010
7/27/10
5:09
PM ET
ANAHEIM -- With four days left before the trading deadline, a look at Theo Epstein's track record as Red Sox general manager underscores the likelihood that the Sox will add relief help, either now or during the August waiver period.
Epstein has been Sox GM through seven previous summer trading seasons, and in only one, 2008, he did not attempt to strengthen his bullpen. Even as an Sox assistant GM to Mike Port in 2002, Epstein's fingerprints were all over the trading-deadline deal that brought left-hander
Alan Embree
from the Padres, Epstein's former employer.
Here's the year-by-year breakdown:
2003:
-- Signed
Todd Jones
after he'd been released by the Rockies.
-- Acquired left-hander
Scott Sauerbeck
and right-hander
Brandon Lyon
from the Pirates.
-- Acquired right-hander
Scott Williamson
from the Reds.
Epstein already had made a trade on May 29 that altered the course of the team's history. He not only acquired a closer,
Byung-Hyun Kim
, but unloaded
Shea Hillenbrand
, opening up playing time for a part-timer named
David Ortiz
.
And four days later, Epstein used a fourth-round draft pick to select
Jonathan Papelbon
.
2004:
-- Signed right-hander
Curtis Leskanic
after he'd been released by the Royals.
-- Acquired left-hander
Mike Myers
in a waiver deal from the Mariners.
The previous winter, Epstein had signed free-agent closer
Keith Foulke
, without whom the Sox would not have won the World Series, his incredible workload against the Yankees in the ALCS one of the signature achievements of the postseason.
2005:
-- Acquired submarining right-hander
Chad Bradford
from the Athletics.
-- Acquired left-hander
Mike Remlinger
in a waiver deal from the Cubs.
That was also the summer the Sox drafted a reliever in the first round,
Craig Hansen
, and promoted him to the big leagues just a couple months later. That didn't work out real well.
2006:
-- Acquired left-hander
Javier Lopez
from the White Sox in mid-June.
-- Acquired right-hander
Bryan Corey
from the Rangers.
2007:
-- Acquired
Eric Gagne
from the Rangers. He was supposed to be the missing piece, and was a disaster. The Sox won the World Series anyway, with winter acquisition
Hideki Okajima
playing a big part.
2008:
-- The only Sox deal for a pitcher was for a starter,
Paul Byrd
, who was put in the rotation because of injuries.
Jason Bay
was the prime trading pickup that year
2009:
-- Acquired
Billy Wagner
from the Mets in a waiver deal. He'd be just the kind of lefty the Sox would like to have now, but Wagner was bent on closing again, and signed with Atlanta, where he has enjoyed a renaissance. All was not lost, however, as the Sox received a first-round pick and sandwich pick as compensation, which they used to draft infielder Kolbrin Vitek and outfielder Bryce Brentz, both playing at Lowell now.
Epstein picked up some useful pieces over the years, and others that made a negligible impact. But invariably, he gets someone. That should be no different this year.
July, 22, 2010
7/22/10
12:00
PM ET
By
Derek Czenczelewski, ESPN Stats
and
Info
Hindsight is always 20-20, and that certainly holds true when wheeling and dealing. Trades excite fans from coast to coast, yet many times teams end up sacrificing their future for a shot at a proven commodity in hopes of a title run. This piece sets out to shine the spotlight on some of the most notable Red Sox trades since 2005 utilizing statistical analysis and the sabermetric WAR.
WAR stands for Wins Above Replacement and is a relatively complicated formula that in the end answers the question: How much value would a team lose if a replacement player took his spot? The calculation turns out an approximate win total the player holds.
Here is a look at the best and worst trades from the Red Sox since 2005, in terms of WAR:
Best trade: July 31, 2009 -- Red Sox trade Justin Masterson, Nick Hagadone and Bryan Price to the Cleveland Indians for Victor Martinez (Red Sox net WAR gain: 2.3, and rising)
Neither Price nor Hagadone appear to be close to major league-ready, and Justin Masterson has struggled mightily with the Indians. Masterson has gone just 4-15 with a 5.05 ERA, -0.5 WAR and a 1.61 WHIP in his tenure with the Tribe.
In 122 games with the Red Sox, Martinez has batted .311 with a .373 OBP, 17 home runs and 79 RBIs. He's walked as much as he's struck out (46:48) and has proven to be a strong middle-of-the-lineup hitter while accumulating a 2.8 WAR. That number doesn't really stand out, but with the limited sample size it still represents a solid showing.
Honorable mention: July 31, 2008 -- Red Sox trade Manny Ramirez to the Los Angeles Dodgers and Craig Hansen and Brandon Moss to the Pittsburgh Pirates for Jason Bay. The Los Angeles Dodgers sent Bryan Morris and Andy LaRoche to the Pittsburgh Pirates. (Red Sox net WAR loss: -2.3 and rising, slowly)
Theo Epstein turned lemons into lemonade with this deal. Manny Ramirez had made it clear he wanted out of Boston and the team was fed up with him as well. After complaining of nagging injuries that doctors couldn't find and countless "Manny being Manny" moments, GM Theo Epstein decided it was time for the Red Sox and Manny to part ways.
During his 8-year tenure with the Red Sox, Manny hit .312 with a .411 OBP, 274 home runs, 868 RBIs and a 31.2 WAR. Ramirez made the All-Star team every year while in Boston and torched the Yankees on a consistent basis. Replacing Manny would be impossible. But in Jason Bay, the Red Sox got a solid player to fill the void.
In Bay's season and a half with the Red Sox, he hit .274 with a .380 OBP, 45 home runs, drove in 156 and totaled a WAR of 5.6. He was also an All-Star and Silver Slugger in 2009.
Worst trade: March 20, 2006: Red Sox trade Bronson Arroyo to the Cincinnati Reds for Wily Mo Pena. (Red Sox net WAR loss: -12.4 and rising, steadily)
In five seasons with the Reds, Arroyo has tallied 693 strikeouts in 1,004.2 innings pitched while going 63-55 with a 4.03 ERA. Arroyo has provided the Reds with a top of the rotation starter, an All-Star appearance and hours of great music in addition to a WAR of 14.1.
Pena provided the Red Sox with 476 plate appearances and a WAR of just 1.7. While his 1-plus seasons with the Red Sox went fairly well, his long-term status with the team turned out to be much shorter than everyone anticipated. Pena hit 16 home runs and drove in 59 with the Sox, but he also struck out 148 times while drawing only 34 walks.
This deal didn't, and won't, cripple the Red Sox long term, but Arroyo would have provided a good middle-to-back of the rotation starter.
Dishonorable mention: July 31, 2007 -- Red Sox trade Engel Beltre, Kason Gabbard and David Murphy to the Texas Rangers for Eric Gagne (Red Sox net WAR loss: -4.5 and rising, slowly)
The Red Sox certainly expected something much better than what they acquired in Gagne. Meanwhile, David Murphy has hit .276 for the Rangers since 2007 with a WAR of 4.1, and Gabbard hasn't pitched in the majors since 2008. Engel Beltre still has a fairly high ceiling, so the hurt from this deal hasn't completely presented itself yet.
Gagne was a mess with the Red Sox, receiving a WAR of -0.4. In his only season with the Red Sox, Gagne pitched 18 2/3 innings over the final stretch of the 2007 season. In that span he had a 6.75 ERA and a 2-2 record. In the 2007 playoffs, Gagne threw 4.1 innings, going 0-1 while allowing 3 earned runs. Sometimes the best move is no move at all, and this is a good example.
Never has a trade proven so beneficial and yet so costly. Beckett and Lowell were huge pieces of the Red Sox 2007 World Series championship. Ask most Sox fans if they would make the trade again and the answer would be "Absolutely!" nine times out of 10. Both Lowell and Beckett were All Stars in 2007, with Lowell hitting .324 with 21 home runs and 120 RBIs while playing stellar defense. The duo combined for a WAR of 9.8 in 2007 and have a combined WAR of 26 since joining the Red Sox. Beckett finished second behind only
CC Sabathia
in Cy Young voting in 2007, going 20-7 with a 3.27 ERA and 194 strikeouts to just 40 walks.
However, at this point in his career Lowell is a little-used bench player and Beckett has been up and down and has been hampered by injuries. Meanwhile, Ramirez was NL Rookie of the Year in 2006, came in second in the NL MVP race to
Albert Pujols
in 2009, has won two Silver Slugger swards and has been named to the NL All-Star team three times.
Ramirez's WAR of 27.5 since this trade is 1.5 wins above that of Lowell and Beckett combined! What's more, at 26 he still hasn't even reached his prime. Anibal Sanchez has shown flashes of brilliance, but has been injured more often than not since 2006.
Overall, the sting of losing Ramirez will linger for years to come, but so too will the memories of the 2007 World Series championship.