Boston Red Sox:

Vicente Padilla
August, 6, 2012
8/06/12
11:16
PM ET
BOSTON --
Red Sox
designated hitter
David Ortiz
received an injection Monday afternoon to help alleviate the pain and swelling of his right Achilles strain.
"I don't feel my foot right now and that means I feel good," Ortiz said after Boston's 9-2 win over the
Texas Rangers
on Monday night at Fenway Park. "It's going to be there for 6 to 8 hours, but it's supposed to get things better. I guess I have to give it a couple of days to see what the reaction is going to be like and go from there."
Ortiz said he's not allowed to participate in any activities for a few days, but he's hoping he'll be able to return to the lineup when the Red Sox travel to Cleveland on Thursday.
"He felt great," said Red Sox manager Bobby Valentine. "He said he could have played tonight on the bench, but who knows how long that's going to last?"
The injection of a local anesthetic, believed to be Marcaine, should help control the pain in the affected area. The treatment is not considered a setback, according to Valentine.
"[Medical staff] didn't think that was the necessarily the case when talking to them," the manager said.
Ortiz has been on the DL since July 16 and was eligible to be activated on Aug. 1.
Other injury updates:
• Reliever
Vicente Padilla
was not available to pitch Monday night due to a slight groin pull, along with biceps and triceps issues, according to Valentine. "He needs a day, at least," Valentine said.
• Reliever
Andrew Bailey
will continue his minor league rehab assignment and is scheduled to pitch back-to-back days on Wednesday and Thursday for the Pawtucket Red Sox. "He came in today and said he felt great," Valentine said.
• Starter
Daisuke Matsuzaka
(trapezius strain) made his second minor league rehab start for the PawSox on Sunday and allowed four runs (one earned) on five hits, a walk and three strikeouts in three innings of work. Valentine said Monday that -- despite the numbers -- the reports were positive. "The first two innings, he threw the ball better than he has, but when there was an error made behind him and a couple of guys got on base, he lost a little of his command," Valentine said. "(Pawtucket manager) Arnie (Beyeler) thought it was the best he's seen him so far."
• Dr. James Andrews examined right-handed reliever
Scott Atchison
's ailing forearm and elbow in Florida on Monday. The club is not expecting a final decision for the next couple of days as to whether the pitcher will need season-ending Tommy John surgery or will be able to rehab it and return to action.
• PawSox reliever
Daniel Bard
continues to progress, and the Red Sox think he's closing in on a return to Boston. "The latest is they like all the progress," Valentine said. "They sent him out for the second inning the other night and it wasn't quite what they were hoping for, but the first inning was terrific. He's getting close to helping us."
• Outfielder
Daniel Nava
received a cortisone shot in his ailing wrist on Monday.
April, 15, 2012
4/15/12
7:11
PM ET
By
Tony Lee
| ESPNBoston.com
[+] Enlarge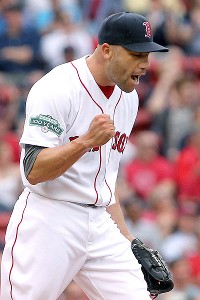 Jim Rogash/Getty ImagesAlfredo Aceves pitched a 1-2-3 ninth for his 2nd save in 2 days.
BOSTON -- Since returning to Fenway Park from a 1-5 road trip, the
Boston Red Sox
have improved in every department. That includes the one area that may have caused the most trepidation during the season-opening slump.
Indeed, the once-beleaguered bullpen has followed suit in showcasing a turnaround at home. A 6-4 victory over the
Tampa Bay Rays
on Sunday provided an excellent example.
After starter
Felix Doubront
was chased on a game-tying
Luke Scott
home run to start the top of the sixth inning, four relievers combined to stem the tide.
Scott Atchison
got one big out after an infield hit and a walk before the trio of
Vicente Padilla
,
Franklin Morales
and
Alfredo Aceves
shut the door.
The pen remains a fluid situation for manager Bobby Valentine. A few more performances like the one he saw on Sunday will help to solidify things.
"I don't think anything is set in concrete but I'm confident in the guys coming out of the bullpen," he said. "They're pitching great. Vicente, Morales and Aceves look like they're setting up nicely. Atch has been doing a good job. We'll see, it's a developing situation."
Padilla was perhaps the most impressive. He struck out Rays center fielder
Desmond Jennings
and got
Carlos Pena
to fly to right to strand Atchison's two runners in the sixth. Padilla then survived an infield single and a line drive off his leg in the seventh. He needed a few moments to recover and a couple of warm-up tosses after
Ben Zobrist
hit the comebacker, which resulted in a force out at second base, but Padilla showed no ill effects in finishing the inning off with a big strikeout of Scott.
That sequence won some fans in the clubhouse.
"He got hit pretty hard," said first baseman
Adrian Gonzalez
, who caught the carom off Padilla and threw to second for the out. "Went out there and got the next hitter out."
Morales worked around two singles in the eighth and Aceves had a perfect ninth. He struck out Zobrist to finish off the Rays and record his second save.
Overall, the Boston bullpen has allowed one run on five hits and one walk in seven innings this series, striking out seven. Before the four-game set began, the relief corps owned an unsightly 5.89 ERA.
March, 24, 2012
3/24/12
5:37
PM ET
FORT MYERS, Fla. -- Takeaway from the Fort, where the
Boston Red Sox
were clubbed, 10-5, by the
Philadelphia Phillies
, in a split-squad game at JetBlue Park:
Alfredo Aceves was lit up for 10 hits, including 3 home runs, and 9 runs in 3 innings.
He walked a batter, hit another, and threw a wild pitch. His pitches were up, he had trouble locating, and when he did throw a strike, it caught too much of the plate -- and Phillies' bats.
"He looked out of sorts from the get-go," said bench coach
Tim Bogar
, who managed this split squad of Sox players while Bobby Valentine was in Jupiter.
What does it mean? Well, neither Valentine nor pitching coach Bob McClure were here -- they were watching
Felix Doubront
, who was terrific in Jupiter -- so if they needed to make up their minds on Aceves, that wouldn't have happened.
Bogar called it a "hiccup," a rational notion given the superb way Aceves has pitched most of the spring, adding that "we haven't seen that since last August."
"A guy like Aceves, you should look at his track record,'' Bogar said. "He's shown us he can pitch.''
Aceves adopted a similar posture: "One outing is not going to tell you the value of a pitcher," he said.
Aceves walked leadoff batter
Shane Victorino
on four pitches to open the game.
Juan Pierre
swept a ground-rule double into the right-field corner, and after Aceves got away with a high slider to strike out
Hunter Pence
, he threw a wild pitch to
Laynce Nix
to score a run. John Mayberry Jr. lined a 400-foot single off the center-field fence for another run,
Pete Orr
and
Freddy Galvis
opened the second with back-to-back home runs, and
Carlos Ruiz
hit another home run to lead off the third.
"This is one of those days nothing went good," said Aceves, adding after his news conference, "I wasn't on the same page with myself."
Aceves wasn't alone. Dustin Pedroia dropped an easy throw at second,
something that may not have happened since he played at Woodland High.
Darnell McDonald
and
Jacoby Ellsbury
both made off-target throws to cutoff men, with shortstop
Mike Aviles
lunging to spear Ellsbury's throw, then losing a footrace to Juan Pierre to second base while Victorino strolled home from third.
Michael Bowden
relieved Aceves and gave up hits to three of the first four batters he faced, a run scoring.
Good news? Vicente Padilla made his first appearance since straining his hamstring,
and looked dynamic in a scoreless inning of relief, his first since Valentine told him he was out of the mix--for now, anyway--for a starting job.
Franklin Morales
and closer
Andrew Bailey
also had a scoreless inning apiece.
Shortstop competition:
Aviles had two hits, including a double, and is batting .293, while the rookie,
Jose Iglesias
, 0 for 3 in Jupiter, is now 1 for his last 13 and batting .174.
Check back later to read my thoughts on the rotation.
March, 21, 2012
3/21/12
12:15
AM ET
FORT MYERS, Fla. -- Red Sox manager Bobby Valentine left tickets for a notable guest Tuesday night: Bill Belichick, a longtime baseball fan who often visited good friend Tony La Russa in Jupiter when La Russa managed the Cardinals and visited Terry Francona several times in the Fort.
Valentine said Belichick texted him and said he was in Tampa on Tuesday and wanted to come to Tuesday night's game. Valentine said he suggested that Belichick, whom he has known from the time he was Mets manager and Belichick was with the Jets, come early. Belichick hit some traffic, he said, but arrived in time to talk to the Sox in the clubhouse before Tuesday night's game.
Did Belichick address the club in a motivational vein?
"In a Bill Belichick vein,'' Valentine said. "I think he used a little reference to when things don't go right, you can turn the page. New years are new years, make the best of them that you can make.
"He follows our team. It's not like he just dropped out of Mars to say, 'Hey how you doing?' He kind of gets it.''
Asked if he knows as much football as Belichick does baseball, Valentine, an all-state running back in high school, said: "I don't think so. I've been to his practices in the past.''
Asked if Belichick had any suggestions about the back end of his rotation, Valentine cracked: "We're going to talk about that tomorrow.''
Belichick, wearing a white visor, sat in the front row behind the screen and stayed for six innings.
"When I was in New York, Bobby was in New York with the Mets," Belichick told ESPNBoston.com's Mike Reiss at the time Valentine was hired by the Sox. "Love Bobby. Great guy. Great baseball guy. Love to talk to him. He's got a lot of energy.
"Don't get me wrong, I love Terry [Francona]. I had a great relationship with Bobby in New York. I went to several Mets games and stuff like that, watched Keyshawn [Johnson] throw out the opening pitch and all that. Bobby is a wonderful guy. I look forward to catching up with him and seeing him here."
* Left-hander
Andrew Miller
, who already was kept out of spring games for 11 days after developing a little stiffness in his elbow, lasted just three pitches before leaving with what Valentine said was a mild hamstring strain in his left leg. He'll be evaluated again in the morning. The injury happened, Valentine said, on the first pitch Miller threw. He was working with a new no-windup delivery.
*
Vicente Padilla
also has a mild hamstring strain he sustained while in the weight room, Valentine said. More will be known about his condition Wednesday.
*
Ryan Sweeney
, in his first game action since March 11 (strained quad), went 0-for-3 with two strikeouts.
Mike Aviles
had two of Boston's five hits, including a double.
*
Jon Lester
is scheduled to start Wednesday in Bradenton against the Pirates. Left-handed reliever
Franklin Morales
(shoulder weakness) is scheduled to make his first spring appearance.
March, 18, 2012
3/18/12
6:49
PM ET
PORT CHARLOTTE, Fla. -- Takeaways from the Port, where the Red Sox beat the
Tampa Bay Rays
, 8-4:
Mike Aviles's ability to make the throw
from the hole at short is one of those questions that will hover over him, and every time he makes a bad throw, as he did Sunday, alarms will go off. What made it look even worse is that the baserunner was
Jose Molina
, who would be the chalk in a lot of World's Slowest Man races. Aviles had time to set his feet and still bounced his throw past first baseman Mauro Gomez.
The good news is that Aviles had a chance to make the same play against a faster runner,
Jeff Keppinger
, and made a strong throw.
Assuming he stays healthy, Aviles will be the Opening Day shortstop, and probably will remain there until he proves he cannot handle the job. The Sox are committed to giving
Jose Iglesias
more time in the minors and believe Aviles deserves the chance to play. His bat, the hope is, will neutralize whatever plays he cannot make afield. Iglesias's time will come. Just not now.
Bobby Valentine said that he has no plans to carry a third catcher
, which puts
Ryan Lavarnway
in Pawtucket to open the season, though the manager had plenty of good things to say about the progress the Yale grad has made.
Pedro Ciriaco had another hit
in two at-bats Sunday, his average sitting at .545 (12-for-21), but the 26-year-old who played a handful of games for the
Pittsburgh Pirates
the last two seasons will not be this year's Arquimedez Pozo or Rudy Pemberton and crack the Opening Day roster. "I don't have a spot for him right now,'' Valentine said.
But the native of the Dominican Republic, who signed as a minor-league free agent, "is a good player,'' Valentine insisted. "I know you thought I was kidding early when I said that. I really like him."
The manager contended Ciriaco is a cut above the usual spring-training wonders.
"His hands are there, his arm is there, and the speed is there," Valentine said.
What you often don't see in spring training, but are revealed over time, are the holes that keep a guy from winning a big-league job. The breaking ball often is the great equalizer.
With Carl Crawford almost certain to open the season on the disabled list
, the Sox will carry a player that otherwise was not expected to make the 25-man roster. A strong candidate:
Jason Repko
, a backup outfielder with the
Minnesota Twins
and
Los Angeles Dodgers
over the past six seasons. Repko's career has been sidetracked by injuries -- a severely sprained ankle suffered crashing into a wall cost him 67 games in 2006 and a torn hamstring that required surgery to reattach the tendon caused him to sit out the entire 2007 season.
With
Ryan Sweeney
having missed the last week with a strained quadriceps muscle, an extra outfielder makes eminent sense. The Sox will have to create a spot on the 40-man roster to keep Repko.
"[Repko] can do a lot of things during a baseball game,'' Valentine said. "Yesterday he executed a perfect relay throw that cut down a runner at the plate. He can bunt and run, and he's a very good outfielder. It's good to know we have him if we need him."
The Sox are expected to carry 12 pitchers
to open the season. With Opening Day April 5, eight spots are likely sewn up:
Josh Beckett
,
Jon Lester
,
Clay Buchholz
,
Daniel Bard
,
Andrew Bailey
,
Alfredo Aceves
,
Mark Melancon
,
Matt Albers
.
Franklin Morales
, assuming he is healthy, will be one of the left-handers in the 'pen.
Felix Doubront
,
Andrew Miller
and
Michael Bowden
are out of options, so they all have an edge. That would be 12.
[+] Enlarge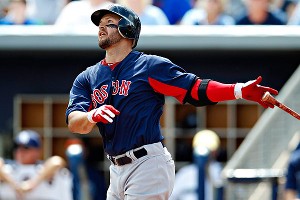 AP Photo/Charles KrupaCody Ross, who hit his second homer in two days, says he's not concerned about where in the outfield he plays.
The Sox very much want to keep
Vicente Padilla
,
Aaron Cook
,
Ross Ohlendorf
and
Brandon Duckworth
as inventory, understanding that teams on average need nine to 10 starting pitchers during the season and more than 20 pitchers in all. Both Padilla and Cook have opt-outs in their contracts. The Sox like Cook's sinker, and Padilla has gotten plenty of positive notices from both inside the organization and outside observers.
Assuming Valentine carries 12 pitchers -- and he could elect to keep a 13th -- the position players on the Opening Day roster look like this:
Catchers (2):
Jarrod Saltalamacchia
,
Kelly Shoppach
Infielders (6):
Adrian Gonzalez
,
David Ortiz
,
Dustin Pedroia
,
Mike Aviles
,
Kevin Youkilis
,
Nick Punto
.
Outfielders (5):
Cody Ross
, Ryan Sweeney,
Jacoby Ellsbury
,
Darnell McDonald
, Jason Repko.
Disabled list: Carl Crawford,
John Lackey
,
Daisuke Matsuzaka
,
Bobby Jenks
,
Rich Hill
,
Ryan Kalish
.
Buchholz threw only a handful of changeups
Sunday but he worked on everything else, especially his curveball, and looked very sharp doing so. Buchholz threw 63 pitches, 49 for strikes, and was elated at how many first-strike pitches he threw: 14 out of 20 batters. He estimates he also threw 15 cutters.
He threw back-to-back changeups to
Evan Longoria
in the first inning, and Longoria hit the second one for a home run, the only run allowed by Buchholz in five innings. He struck out four and did not walk a batter.
Padilla pitched three innings
Sunday, and according to one scout, looked at times "like he was messing around.'' He broke out his eephus pitch early and often, throwing one to Longoria on a 2-and-0 strike for a ball, throwing back-to-backers to
Jose Lobaton
, who singled on the second one, and starting
Carlos Pena
with a 53 m.p.h. eephus, following that with a 73 m.p.h. curveball, then busting a 91 m.p.h. fastball for a called third strike.
"You don't see that too often,'' said Valentine, who said he was eager to see how Padilla bounces back Monday in his long-toss session. So far, though, Padilla has been healthy and on Sunday located his fastball and threw a number of good cutters.
"If he's not throwing in the outfield tomorrow, I'd have some concern,'' Valentine said. "The last time he threw three innings and then threw in the outfield."
Cody Ross hit his second home run in two days
, this one coming off a fastball from Rays phenom
Matt Moore
in a showdown between natives of New Mexico. Ross is a native of Portales, Moore from Edgewood.
"A fellow New Mexican -- I like him,'' Ross said.
Ross is hitting .455 this spring and said he has no compunctions about where he plays in the outfield.
"No, I'm not really worried,'' he said. "They haven't come to me and told me to play here or there. They know I'm capable of playing left or right or even center. I've had looks all over. I feel comfortable at all three.
"I'm fine going back and forth. Even if Jacoby needs a day, which he rarely does, I can fill in there. I'm fine. I've done it my whole career. It's not a big deal.''
Doubront is scheduled to pitch against the Twins
on Monday, a start fraught with significance in his bid to win the No. 5 spot in the rotation, while Aceves starts a minor-league game in camp. Aceves has pitched exceptionally well this spring, showing velocity that has hit as high as 95 m.p.h.
The Red Sox optioned pitcher Stolmy Pimentel
to Double-A Portland.