June, 8, 2014
Jun 8
1:10
AM ET
By
Paul Harris | Special to ESPNBoston.com
DETROIT -- The
Boston Red Sox
look to avoid a series and season sweep at the hands of the
Detroit Tigers
on ESPN's "Sunday Night Baseball" at Comerica Park.
Not only has Boston lost the first two games of the series, it has dropped five consecutive games this season to the team it beat in the American League Championship Series last season.
But reinforcements are on the way.
[+] Enlarge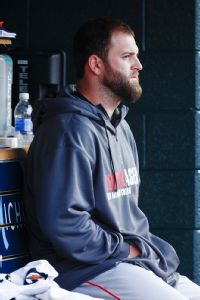 Rick Osentoski/USA TODAY SportsMike Napoli sat in Boston's dugout Saturday, but the Sox hope he provides a boost in his return to the lineup Sunday.
First baseman
Mike Napoli
, who has been on the disabled list since late May with inflammation stemming from a dislocated finger on his left hand, is scheduled to be activated on Sunday, and the plan is for him to go right into the lineup at first and his accustomed fifth spot in the batting order behind
David Ortiz
.
The Red Sox had been struggling offensively, but their bats perked up in Saturday night's 8-6 loss to the Tigers, and they're expecting another boost from Napoli.
"You're talking about a guy who had over 20 home runs and almost 100 RBI for us a year ago [23 homers and 92 RBIs]," Boston manager John Farrell said. "So that's a guy we're happy to have back."
Boston second baseman
Dustin Pedroia
, who homered on Saturday night, agreed.
"A huge part of our order. A run producer. We need him," Pedroia said.
The Red Sox will send
John Lackey
(6-4, 3.28 ERA) to the mound against Detroit's
Anibal Sanchez
(2-2, 2.15).
Jon Lester
was totally ineffective in taking the loss on Saturday night. He gave up five runs and 12 hits in 4⅓ innings. He said he didn't feel right from the time he started warming up in the bullpen.
"Hopefully, Lackey will come out and pick me up tomorrow night," Lester said after Saturday night's game.
Sanchez has allowed only a combined run and five hits in 15⅓ innings over his past two starts, with one walk and 14 strikeouts, but doesn't have a win to show for it.
The Tigers also feature the dangerous duo of
Miguel Cabrera
(.321, 11 HR and 51 RBIs) batting third in the order and
Victor Martinez
(.329, 14 HR and 37 RBIs) batting cleanup.
Cabrera was 3-for-4, including two doubles, with a RBI on Saturday night, and Martinez had a run-scoring double in five at-bats.
October, 18, 2013
10/18/13
10:34
PM ET
By
Kyle Brasseur, Special to ESPNBoston.com
• Where and when:
Fenway Park, Saturday at 8:07 p.m. ET
• Starting pitchers:
Max Scherzer
(21-3, 2.90 ERA) vs.
Clay Buchholz
(12-1, 1.74 ERA)
Scherzer
• Scouting report on Scherzer:
The tide has shifted since the beginning of the American League Championship Series. With Boston leading 3-2, Scherzer has had five days to adjust to what now seems to be a more potent Red Sox offense. However, Sox catcher
Jarrod Saltalamacchia
thinks that Scherzer has little, if anything, to change from his Game 2 performance.
"I don't see him making too many adjustments, he pitched pretty well," Saltalamacchia said. "[He] had a no-hitter going against us through five."
Indeed, Scherzer held the Red Sox hitless for 5 2/3 innings last Sunday, allowing only one run on two hits and striking out 13 in an eventual seven innings of work. The 29-year-old turned over a four-run lead to his bullpen in the eighth before Boston promptly scored four runs on a
David Ortiz
grand slam and walked off in the ninth against
Rick Porcello
on a Saltalamacchia single.
"I think we are going to be all right," closer
Joaquin Benoit
, who allowed the Ortiz slam, said of the bullpen heading into Game 6. "We've got a great group of guys and we have come in and out of tough situations pretty good."
Scherzer may need his bullpen to help keep his strong postseason alive Saturday night as the right-hander has gone 2-0 with a 2.25 ERA in three games (two starts, both seven innings; one relief appearance for two innings). The Tigers won 25 of Scherzer's 32 regular-season starts.
Buchholz
• Scouting report on Buchholz:
Red Sox manager John Farrell believes that current familiarity with Scherzer will serve as an advantage for his offense, but admitted Detroit's lineup could benefit in the same way.
"Recent experience gives some comfort level to the guys that go up to the plate each time to face them," Farrell said. "I think the same would be on the other side with Clay tomorrow and the Tiger lineup."
Detroit hitters needed no help dispatching Buchholz in Game 2, when the Tigers knocked him out of the game with five runs scored on eight hits in 5 2/3 innings. Buchholz served up two home runs during his outing, the only home runs the Tigers have hit in 164 ALCS at-bats. Despite his lack of success in Game 2, Red Sox hitters still have plenty of faith in the 29-year-old Buchholz matching up against Scherzer.
"We've got all the confidence in the world in him," first baseman
Mike Napoli
said. "I would expect him to go out there and pitch well."
"Without a doubt, it's going to be another pitchers' duel," shortstop
Stephen Drew
said.
Buchholz remains winless this postseason, allowing eight runs and 15 hits in 11 2/3 innings pitched.
Three Tigers players to watch
Cabrera
• Miguel Cabrera, 3B:
Cabrera's only home run of the ALCS came against Buchholz in Game 2, a solo shot over the Green Monster. The last two Red Sox victories have seen Cabrera neutralized by Red Sox reliever
Junichi Tazawa
in his final at-bat, both coming with runners on. Cabrera struck out with the go-ahead runs on first and third in Game 3 before grounding into a double play representing the go-ahead run in Game 5. Cabrera is 6-for-24 in 28 plate appearances against Buchholz.
• Jose Iglesias, SS:
After Iglesias' defensive prowess was on display Thursday night, Tigers manager Jim Leyland said Friday that Iglesias will start at shortstop for the Tigers in Game 6, shifting
Jhonny Peralta
back to left field. Iglesias didn't start Game 2 against Buchholz and has never faced his former teammate in his career.
• Austin Jackson, CF:
Since being moved to the No. 8 spot in the Tigers lineup, Jackson has flourished, going 4-for-6 and reaching base six times consecutively before grounding into a double play in the sixth inning of Game 5. Jackson was held hitless by Buchholz in three Game 2 at-bats and is 5-for-22 in 24 plate appearances against the Red Sox right-hander.
Three Red Sox players to watch
Napoli
• Mike Napoli, 1B:
If there's anything Napoli proved in the 2011 postseason with the
Texas Rangers
it's that when he gets hot, pitchers need to look out. In 17 playoff games that year, Napoli hit .328 (19-for-58) with three home runs and 15 RBIs in the middle of a potent Rangers lineup. The past three games have seen Napoli produce strong numbers for the Red Sox as the first baseman went from 0-for-4 with four strikeouts in Games 1 and 2 of the ALCS to 6-for-12 with two home runs and two RBIs in Games 3-5. Napoli was kept out of the starting lineup against Scherzer in Game 2 and is 1-for-13 in 14 plate appearances against him.
• Shane Victorino, RF:
Victorino hit left-handed against
Anibal Sanchez
in his first three at-bats of Game 5 before returning to batting right-handed against righty relievers
Jose Veras
and
Al Alburquerque
. It was his first time hitting left-handed since Sept. 3. Victorino said he's going back to an all-righty approach, but for his career he is 3-for-12 in 13 plate appearances against Scherzer (1-for-2 in Game 2). And he's mired in a 2-for-21 (0-for-5 in Game 5) ALCS slump. Farrell said Friday that he has considered dropping Victorino in the lineup.
• Stephen Drew, SS:
Game 6 might be Drew's last chance to hold a starting spot in the Red Sox lineup as the left-handed hitting shortstop has been held to one hit in 17 ALCS at-bats, 16 of which were against right-handed pitchers. Eight of those 16 at-bats ended in a strikeout. Drew struck out once in two Game 2 at-bats against Scherzer and is 2-for-13 off him in 14 career plate appearances.
Three key considerations
• Scherzer and Game 7 probable starter, if necessary,
Justin Verlander
made 19 starts back-to-back during the regular season, all of which came before the All-Star break. In those starts, the Tigers won both games seven times, split the two 11 times and lost both just once.
• In 12 postseason Game 6 appearances, the Red Sox are 9-3 all-time, 5-0 at Fenway and 5-0 in the sixth game of an ALCS.
• Tigers catcher
Alex Avila
remains a game-time decision for Saturday's contest after being removed from Game 5 in the fourth with a sprained left knee he suffered in a second-inning home-plate collision with Red Sox catcher
David Ross
. Avila has started all 10 of Detroit's postseason games behind the plate, going 5-for-27 with a home run and four RBIs. The home run and three of his RBIs came in Game 2 against Buchholz, against whom Avila is 5-for-11 in 14 career plate appearances.
Leyland said designated hitter
Victor Martinez
as a consideration to catch if Avila can't play. Martinez, a full-time catcher for seven years from 2004-2011, started only three games at the position in 2013.
October, 17, 2013
10/17/13
11:02
AM ET
By
Kyle Brasseur, Special to ESPNBoston.com
• Where and when:
Comerica Park, Thursday at 8 p.m. ET (listen on ESPN Radio)
• Starting pitchers:
Anibal Sanchez
(14-8, 2.57 ERA) versus
Jon Lester
(15-8, 3.75 ERA)
Sanchez
• Scouting report on Sanchez:
The 29-year-old ERA champ threw six hitless innings in Game 1, with 12 strikeouts and 18 swinging strikes. The good news for the Red Sox? It'll be tough to top that performance in tonight's Game 5.
"I don't worry too much about anything, especially when I go to the mound or face a team like Boston," Sanchez said Wednesday. "I try to be focused on what I [am] going to do [Thursday] and get ready for it."
Sanchez set the tone early for Detroit in Game 1, striking out four batters in the first inning to become the first Tiger to ever do so in a postseason game. His eventual win evened his postseason record at 1-1 and lowered his postseason ERA from 10.38 to 4.35.
He was lifted after six because his pitch count got high due to the number of strikeouts (12) and walks (six) in the outing.
"I know the situation [series tied 2-2]," Sanchez said. "But [Thursday] is one day; I'm not going to think too much where we're at or what we've got. I think I need to go out there and throw good ball for another win."
Last Friday was Sanchez's first career start against the Red Sox.
Lester
• Scouting report on Lester:
On the opposite end of Sanchez's dominance in Game 1 was Lester, the losing pitcher after 6 1/3 quality innings pitched with only one run allowed. Given a shot at redemption on Thursday, Lester hopes the quick turnaround will serve as an advantage facing the same Tigers hitters.
"I know we'll come up with our game plan, whatever that is, and try and go and execute it and I'm sure they're going to do the same thing," Lester said. "Just an intense series, pitch to pitch."
Game 1 saw Lester hold the Tigers to six hits, the lowest number he has given up against Detroit since Opening Day of the 2012 regular season. In that game, Lester was able to keep up with 2011 MVP winner
Justin Verlander
, a testament to his ability to rise to the occasion when pitching, as manager John Farrell described.
"He's had a couple of opening game assignments in a playoff series, but he's earned them because of the way he's performed over the course of a year," Farrell said. "His work between starts, that's what allows Jon to perform with the consistency and at the level he does."
Lester is 3-4 with a 2.41 ERA in 10 postseason appearances (eight starts).
Three Tigers players to watch
Jackson
• Austin Jackson, CF:
Moved from the leadoff spot to eighth in the order Wednesday, Jackson responded by going 2-for-2, nearly equaling his postseason hit total from the eight previous games (3 for 33). In total, he reached base in all four of his plate appearances Wednesday (two walks, including one with the bases loaded). Jackson had one hit in three at-bats against Lester in Game 1.
• Jhonny Peralta, SS/LF:
Game 4 was Peralta's first postseason start in which he was held hitless (0-for-2). Peralta had two hits in three at-bats against Lester in Game 1; his second hit drove in Detroit's only run in a 1-0 win.
• Victor Martinez, DH:
The postseason's leader in hits (15), Martinez was kept quiet in Game 1, going 0-for-4 with three at-bats coming against Lester. Since then, Martinez has put together three straight two-hit games, scoring three times in the process.
Three Red Sox players to watch
Bogaerts
• Xander Bogaerts, 3B/SS:
Brought into Wednesday's game as a defensive replacement in the sixth inning, Bogaerts doubled off Detroit closer
Joaquin Benoit
for his first career postseason hit. The 21-year-old continues to remain poised in his first taste of playoff baseball, making himself a candidate to start in place of a struggling
Will Middlebrooks
(1-for-10, 5 K's in ALCS) or
Stephen Drew
(1-for-13, 6 K's). Bogaerts has never faced Sanchez.
• Jacoby Ellsbury, CF:
Ells has been Boston's most dynamic player in the postseason, leading the team in hits, runs scored and extra-base hits. He was 4-for-5 in Game 4 but was held hitless in three at-bats against Sanchez in Game 1.
• David Ortiz, DH:
Wednesday marked a low point for Ortiz this postseason: 0-for-5 with five runners left on base. The designated hitter's only hit of the ALCS has been his game-tying grand slam in Game 2. Facing Sanchez in Game 1, Ortiz struck out twice in three at-bats.
Three key considerations
•
Despite the success shuffling his lineup had for Jim Leyland, Farrell is in no rush to do the same with his lineup for a spark with the series tied. Although the Red Sox only scored three times Wednesday night, their 12 hits and 10 runners left on base were their highest totals for each in the ALCS.
•
Game 4 was the first game of the series not decided by one run (1-0 Detroit win Game 1, 6-5 Boston win Game 2, 1-0 Boston win Game 3).
•
Benoit needed 21 pitches to ineffectively retire the side in the ninth inning of Game 4, putting his availability in question for Game 5. In six appearances (5 2/3 innings), Benoit has allowed seven hits and four runs this postseason.