Boston Red Sox:

Yadier Molina
October, 23, 2013
10/23/13
7:44
PM ET
BOSTON -- Future Hall of Fame catcher Ivan "Pudge" Rodriguez believes
St. Louis Cardinals
catcher
Yadier Molina
will be the key to the World Series.
Rodriguez spoke glowingly about the St. Louis backstop, saying he's impressed with the way Molina runs the pitching staff. The Gold Glove catcher led the majors by throwing out 20 of 46 attempted base stealers and he will try to stifle Boston's speed on the bases.
Rodriguez spent 21 seasons in the big leagues and won 13 Gold Gloves, so he understands how a catcher can control the game. Not only does Rodriguez believe both teams will be aggressive on the basepaths, he expects the Cardinals to bunt a lot.
Even
Philadelphia Phillies
shortstop
Jimmy Rollins
, who is working as an analyst for the Series, walked by and admitted this is going to be an exciting series.
* Prior to the game, Red Sox GM Ben Cherington was sitting in the dugout by himself. That's something former GM Theo Epstein never would have done, never mind during the World Series. Cherington spent the majority of the day on Tuesday doing so many interviews his nearly lost his voice.
* If you ever wondered how a flyover is perfectly timed, I spoke with a few guys who know the answer. Members of the Vermont Air National Guard are running the show tonight and they were on the field earlier today. When the national anthem singer (in this case, Mary J. Blige) practices during the day, it's timed so they know exactly where the planes need to be. Tonight's anthem will last 2 minutes and 14 seconds, so the F-18 Hornets will start at a spot where it takes that long to reach Fenway. The planes will be traveling 500 mph and will be 1,000 feet off the ground.
October, 22, 2013
10/22/13
8:08
PM ET
By
Tony Lee, Special to ESPNBoston.com
BOSTON -- The American League Championship Series displayed a stark contrast between the vanquished
Detroit Tigers
and the triumphant
Boston Red Sox
. While the former often looked like confused cattle on the bases, the latter was fast, aggressive and sharp when it came to such matters.
The Tigers' lack of speed certainly highlighted the disparity, but the Sox have been playing their style all season. They now meet their match in the World Series against the
St. Louis Cardinals
, who led the majors in nabbing would-be base stealers -- at 40 percent -- while allowing just 39 thefts, 13 fewer than
Jacoby Ellsbury
had this season.
At the center of this matchup is Cardinals catcher
Yadier Molina
, the game's version of disinfectant, with guys like Ellsbury playing the part of the tile scum.
[+] Enlarge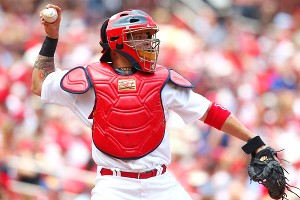 Dilip Vishwanat/Getty ImagesYadier Molina threw out 43 percent of would-be base stealers during the regular season and the Cards have allowed only two steals in the playoffs.
"He's tough. He knows his pitchers very well, he knows their times," Ellsbury said Tuesday of the Cardinals' five-time All-Star. "He knows what he has to do to get rid of it. I'm sure in certain situations he calls certain pitches to enable him to throw runners out.
"It's not only stealing bases, it's advancing from first to third, getting secondary [leads]. A lot of times people think being effective on the bases means stealing bases, but it's doing the little things, seeing the ball in the dirt. It's magnified at this stage and that's what we've taken pride in all season long is being smart baserunners and taking advantage of all those little things like the ball in the dirt."
For Molina, it begins with Ellsbury, and the process of curbing Ellsbury begins at the plate.
"I'm going to try to get him out at the plate," Molina said. "I know Jacoby and he's a great guy, a great player. He's got a lot of speed so hopefully we can keep him off the bases."
The Cardinals pitchers employ the usual methods to limit running games. They show different looks to runners, stagger their timing and are selective with what they throw. It's all with one mission in mind.
"It's basically about giving Yadi a chance, not letting the runners get too much of a jump," said reliever
Randy Choate
, who, as a left-handed specialist, isn't on the mound enough to engage much in this battle but is a trusted veteran among a young relief corps that will be tested in tight spots.
Game 2 starter
Michael Wacha
expanded on that mission.
"They've got some guys who can run," Wacha said of the Red Sox. "You've got to mix up your looks. We've got the best catcher in the league behind the plate. We've got to give him a chance, we feel like. We've got to be certain times to home plate, certain looks to first and second so it's really all in the pitching staff, whether we get the ball home in time for Yadi."
Boston already has 11 steals this postseason, a team record. The Sox had a remarkable streak of 45 straight successful steals, a run that carried into the ALDS. Overall they swiped 123 bags -- third in the AL -- while getting caught just 13 percent of the time during the regular season, easily the lowest mark in the majors. This is the most intriguing in-game battle between the teams. Strength against strength. Molina threw out 43 percent of runners this season, which is actually below his career average.
Before the first pitch Wednesday night, the Sox will finalize their game plan. As Ellsbury hinted, because of Molina's presence, that remains a work in progress.
"We're still trying to get our arms around it," Boston manager John Farrell said. "Maybe we can be opportunistic in certain situations. We don't know where they're going to be at. He's certainly a force to be reckoned with back there. You don't want to take chances, particularly as well-pitched games as it projects to be with these two staffs, you think it might be a low-run game and outs are a premium."
Farrell hints that his team may be more conservative. His players stopped short of saying Molina will completely alter their style.
"Does it shut down your running game a little bit? Absolutely,"
Shane Victorino
said. "But you have to stay aggressive, capitalize on every mistake or every dirt ball you can possibly do. Again, we understand how good Yadi is and how much he presents from a defensive standpoint. It's definitely going to be a challenge, but you can't sit there and worry about it."
Choate said he has never seen a commitment to limiting running games on the part of the pitchers as much as he did in 2011 and 2012 with the Marlins, who paid strict attention to pitchers' times to the plate and other related factors. He also hasn't thrown to anyone like Molina, whom he says gets credit as the anchor of the operation.
"It's obviously more Yadi because he still has to make the throw, but I just think what pitchers do and what we go over as a group is not falling into a pattern so it gives Yadi even more of a chance," Choate said. "There will be times when they time you, or whatever, and he still throws you out. All the credit goes to Yadi in being able to shut down the running game, I think with pitchers just stay within yourself and give him a chance."
The Pirates and Dodgers produced a grand total of two stolen bases (in three attempts) against St. Louis in the Cardinals' first 11 postseason games.