October, 1, 2010
10/01/10
11:34
PM ET
BOSTON -- After a three and a half hour rain delay, the
Boston Red Sox
and
New York Yankees
were finally postponed Friday night at Fenway Park.
The decision not to play came at the direction of the umpires, in consultation with Major League Baseball and the teams after assessing the field conditions and long-range forecast.
"That was fun," Red Sox manager Terry Francona said with just a hint of sarcasm.
The clubs will play a split admission doubleheader on Saturday, beginning at 4:05 p.m.
Tim Wakefield
will start for the Red Sox, replacing
Clay Buchholz
(sore back), and face the Yankees'
Andy Pettitte
. The nightcap is scheduled to begin at 9:05 with
Daisuke Matsuzaka
going for Boston and
A.J. Burnett
getting the nod for New York.
There was a note on the dry erase board in the Red Sox clubhouse that read: "Dress@home! Let's play two -- Little League style!"
September, 27, 2010
9/27/10
2:56
AM ET
NEW YORK --
Boston Red Sox
pitcher
Daisuke Matsuzaka
did exactly what he needed to do.
Well, almost.
[+] Enlarge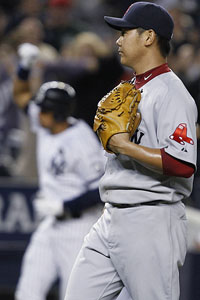 AP Photo/Kathy WillensDaisuke Matsuzaka was cruising into the seventh before Alex Rodriguez touched him for a two-run homer.
With the Sox's season on the line and a sweep of the
New York Yankees
at stake, Matsuzaka worked eight strong innings, allowing only two runs on four hits with one walk and seven strikeouts.
Unfortunately for Boston, closer
Jonathan Papelbon
had his eighth blown save of the season, and fellow reliever
Hideki Okajima
issued a bases-loaded walk in the 10th inning as the Yankees won 4-3 in 10 innings at Yankee Stadium.
"When I fell behind 3-1, I tried to be really fine with my location," Okajima said of the game's last pitch, to New York's
Juan Miranda
. "I tried to find my spot, but it sailed on me a little. I'm disappointed.
"It's the bottom of the inning in extra innings. I went into the game knowing it was all or nothing. Daisuke had pitched really well. I wish I could have followed that up."
Matsuzaka, who entered his 24th start of the season with a 9-6 record and a 4.86 ERA, did pitch well. It's been an uneven season for the right-hander, but he kept the Yankee batters off balance for 6 1/3 innings. Then
Alex Rodriguez
crushed an opposite-field two-run homer to give New York a 2-1 lead in the bottom of the seventh inning.
"In my mind, I was thinking of the strikeout pitch that I threw him in his first at-bat," said Matsuzaka. "I didn't think that pitch on the 0-2 was in that terrible of a spot, but he put a good swing on it. I also thought to myself that it's a good ballpark if you're a hitter."
Other than that one mistake, Matsuzaka was solid.
"Daisuke came out and threw the ball great," said Red Sox catcher
Victor Martinez
. "He really gave us a great chance to win the ballgame. It was a great game from both sides. Somebody has to lose. That's it."
Matsuzaka has thrown only one complete game in his career in Boston, and he was told if the game was tied going into the ninth inning that he would be back on the mound even though his pitch count had reached 110.
"Yeah it's disappointing," Matsuzaka said of the loss. "And I say this all the time, but the important thing is for the team to get the win.
"I say this all the time too; it's not how well or how poorly I pitch. At the end of the day, it's whether the team gets the win. We couldn't pull it off today."
September, 27, 2010
9/27/10
2:42
AM ET
NEW YORK --
Boston Red Sox
closer
Jonathan Papelbon
is not one to complain about the strike zone, or the men in black who call balls and strikes.
But after suffering his eighth blown save of the season in the bottom of the ninth inning Sunday of a game the Yankees won 4-3 in the 10th, all but ending Boston's playoff hopes, Papelbon decided it was time to speak his mind.
[+] Enlarge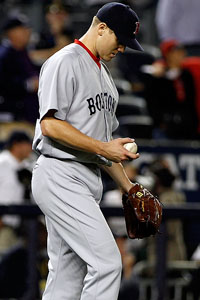 Mike Stobe/Getty ImagesJonathan Papelbon suffered his eighth blown save, then blew off some steam about the strike zone.
"It was really tough tonight. Considering I'm not only pitching against the hitter, I'm pitching against the umpire," Papelbon said. "I mean, when you've got to do that against this lineup, you'll never be successful. It just won't happen."
After Red Sox starter
Daisuke Matsuzaka
worked eight strong innings, allowing only two runs on four hits with one walk and seven strikeouts, Papelbon entered the bottom of the ninth with a 3-2 lead, his teammates having scored twice in the top of the inning off
Mariano Rivera
.
The right-hander recorded a quick out by getting
Derek Jeter
to pop out to right field, but
Nick Swisher
and
Mark Teixeira
hit back-to-back singles.
Alex Rodriguez
then worked the count to 2-2. Papelbon threw a splitter and a slider on the next two pitches and thought he had strike three both times. Instead, plate umpire Phil Cuzzi called each pitch a ball and Rodriguez drew a walk to load the bases.
Robinson Cano
followed with the tying RBI single.
Papelbon went off when asked if he thought he had Rodriguez struck out.
"Yeah. Not only with that at-bat, but plenty of at-bats I felt like I threw the ball well," Papelbon said. "I felt like I threw clutch pitches in clutch situations, mixed up my pitches well, and in those situations when you've got to pitch on the plate and resort to that, you're going to get beat, especially against this lineup in this ballpark."
Did Papelbon find himself having to give in?
"Yeah. No question. No question about it," he said. "When you've got to do that, you're in a lose-lose situation. Just call the game. There are 27 outs, call the game. Don't let the crowd influence you, don't let the hitter influence you, don't call the pitch where the catcher catches it; stay focused for 27 outs. Call the game.
"I'm not blaming the umpire. I could have definitely battled a little bit more out of that situation. I'm not one to complain about pitches, no. I'm not one to do that at all, but when you're pitching against the umpire and that lineup, nobody can win that situation. It's impossible.
"I mean, I made big pitches when I had to, and when you don't get those, it changes an entire at-bat to now where you have to pitch on the plate and give in to them, instead of them giving into you," he said. "It is what it is. I don't know what else to say, man."
Red Sox catcher
Victor Martinez
was asked if he thought Boston's pitchers were getting squeezed.
"You can't blame the umpires," Martinez said.
September, 26, 2010
9/26/10
7:05
PM ET
NEW YORK --
Boston Red Sox
manager Terry Francona received a phone call from Yankees manager Joe Girardi Sunday evening to inform him of New York's pitching change, with
Phil Hughes
getting the call.
Originally,
Dustin Moseley
(4-3, 4.94 ERA) was scheduled to start in place of Hughes, but after the Red Sox won the first two games of this series, Girardi decided to switch things up go back to Hughes (17-8, 4.31).
Francona said the pitching change doesn't effect the Sox's mindset.
"Nothing," said Francona. "We actually didn't change our lineup. We kind of looked it over, and you reserve the right to change our lineup, but we didn't. It wasn't anything crazy, so we'll go with the same lineup."
When asked if he was surprised by the change, Francona said he really hadn't thought about it much.
The Red Sox have advance scouting reports on Hughes, so the change is not a big deal -- at least on paper.
Francona admitted he will sometimes call an opposing manager to inform him of a lineup change, and said he appreciated getting a call from Girardi.
"Personal touch is nice," Francona said.
September, 25, 2010
9/25/10
10:32
PM ET
NEW YORK -- Shh! Don't say it. You can think it, but don't say it.
The
Boston Red Sox
would rather not discuss it now that they have won the first two games of this three-game set against the
New York Yankees
, who have lost four straight games.
With eight games remaining in the regular season, the Red Sox are seven games back of the
Tampa Bay Rays
for the top spot in the American League East, and only 5½ games behind the Yankees for the wild card. Plus, Boston and New York will play four more times.
The Sox have a chance to sweep the Yankees with a victory Sunday night, with
Daisuke Matsuzaka
(9-6, 4.86 ERA) taking the mound for Boston against New York's
Dustin Moseley
(4-3, 4.94).
"I think we've got a chance," said Red Sox pitcher
Jon Lester
, who improved to 19-8 after pitching seven scoreless innings Saturday. "With that being said, it's a long road. You wouldn't think [eight games remaining] is a long road, but weirder things have happened in baseball. We've got four more against the Yankees, and we'll see. All we can do is go out and play hard, put up a good effort, and we don't expect anything less from the guys in this clubhouse.
"We're going to go out and battle and grind it out. We'll see where we're at in a couple of days."
The Red Sox players are taking a one-game-at-a-time attitude, but it's now realistic to believe they could actually pull this off.
"We'll keep going out there and keep playing and see what happens," Red Sox catcher
Victor Martinez
said. "We're making sure we're finishing the season strong.
"This just shows everybody what kind of team we've got. Obviously, we've had a really tough time earlier in the season, and we've lost a lot of guys in the lineup, and there's nothing you can do about that. We're trying to win ballgames. We'll go out there and play hard."
September, 25, 2010
9/25/10
2:14
PM ET
BOSTON
1.
Marco Scutaro
, 2B
2.
J.D. Drew
, RF
3.
Victor Martinez
, C
4.
David Ortiz
, DH
5.
Adrian Beltre
, 3B
6.
Jed Lowrie
, SS
7.
Ryan Kalish
, CF
8.
Daniel Nava
, LF
9.
Lars Anderson
, 1B
LHP --
Jon Lester
NEW YORK
1.
Derek Jeter
, SS
2.
Nick Swisher
, RF
3.
Mark Teixeira
, 1B
4.
Alex Rodriguez
, 3B
5.
Robinson Cano
, 2B
6.
Marcus Thames
, DH
7.
Austin Kearns
, LF
8.
Curtis Granderson
, CF
9.
Francisco Cervelli
, C
RHP --
Ivan Nova
September, 24, 2010
9/24/10
11:38
PM ET
NEW YORK -- If the
Boston Red Sox
want to play the role of spoiler in the American League East, they started off the weekend in the Bronx on the right track.
While the
Tampa Bay Rays
defeated the
Seattle Mariners
, the Red Sox banged out 14 hits en route to a 10-8 victory over the
New York Yankees
. The Rays now have sole possession of first place in the division and Boston remains seven back.
NOT THE BEST FOR BECKETT:
Red Sox starter
Josh Beckett
was hoping his last couple of starts of the 2010 season would be good ones. Even though he improved to 6-5, the right-hander was good early but struggled in the late innings Friday. He worked 6 2/3 innings and allowed five runs on seven hits, including four home runs.
It's the fourth time in his career he's allowed four homers in a game, the first since Aug. 23, 2009 against the Yankees. The Sox got the win in the first of a three-game set here, but Beckett wasn't pleased with his performance and couldn't describe what happened.
"I don't know. I don't have any words that aren't four letters," Beckett said. "We needed a win. I'd rather pitch like that and win than pitch like that and lose. It was good for the team to win the game."
LOWRIE HITS THE MARK:
Red Sox shortstop
Jed Lowrie
set a career-high in hits, going 4-for-4. He hit a three-run homer in the second inning and added three more singles. He has hit safely in seven of his past eight games, batting .400 with 9 runs, 3 doubles, 3 homers and 7 RBIs during this stretch.
"He swung the bat great tonight," said Red Sox manager Terry Francona. "He swung at strikes, and this ballpark plays small to right field. I'm not taking anything away from Jed, it was a good swing, but if he hit that ball at Fenway, it's an out. He had really good at-bats all night."
CLOSE CALL FOR LOWELL:
The Red Sox witnessed a scary moment in the bottom of the fifth inning when
Mike Lowell
was struck in the temple by a hard ground ball off the bat of the Yankees'
Curtis Granderson
. With two outs in the inning, Granderson hit the ball down the first-base line when Lowell went to glove it for any easy play. But the ball took a bad hop and hit Lowell in the head.
He went down and was quickly attended to by team trainer Mike Reinold and Francona. Lowell finished the inning, but was later removed for precautionary reasons.
"He's OK. He's just a little bit sore," Francona said. "The ball hit him in the temple. His eye was twitching, but he didn't show any signs of a concussion. I'm sure his jaw will probably be a bit sore tomorrow."
Lowell was seen walking out of the clubhouse with no visible ill effects.
THE SEASON'S OVER FOR SALTY:
Red Sox catcher
Jarrod Saltalamacchia
will miss the remainder of the season with ligament damage in his left thumb. Hand specialist Dr. Thomas Graham will examine Saltalamacchia in Cleveland early next week. He said he doesn't know yet if he'll need surgery.
"It'll be decided when we get there and what [the doctor] thinks," Saltalamacchia said. "Nobody wants to make a decision right now until we figure everything out. There is definitely some damage in there, but nothing threatening. It's just one of those things where we just got to see how far it is."
"I did it originally in Oklahoma City," Saltalamacchia added, "but like anyone else in here, you would have kept on playing. Actually, playing through it kind of got some scar tissue that helped it heal a little bit. It's been giving me some fits, but I wanted to finish the season and finish it strong. I felt like the smart decision was to shut it down and see where we're at."
If he does need a procedure, it'll be done as soon as possible to have him ready for spring training.
"Regardless of which way it goes, that's the reason they're shutting me down, because this is the best way to have a normal offseason, he said. "I'll work with [Gary] Tuck and be ready for spring training."
CSNNE.com first reported the story.
September, 24, 2010
9/24/10
7:03
PM ET
NEW YORK -- It's a strange feeling coming to Yankee Stadium in September with the
New York Yankees
in commanding lead of the AL East over the
Boston Red Sox
.
Of course, the Sox have a chance to be the spoilers down the stretch since the clubs have six games remaining against each other in the last week of the season. Unlike years past, when the Sox and Yankees have battle for the top spot in the division, this season it's the Yankees and
Tampa Bay Rays
.
New York wants nothing less than the division title, especially since each time the Yankees have entered the postseason as the wild-card winner (1995, 1997 and 2007) they have not advanced past the first round. Since 1995, the Yankees have entered the postseason as the division leader 11 times and have won at least one series eight times, reached the World Series seven times and won the Fall Classic five times.
When Red Sox manager Terry Francona was asked about being a "spoiler," he said he doesn't think of it in that sense.
"I wish we were eight games up," Francona said. "I'm not real happy with where we are in the standings, but I didn't have any different feeling coming to the ballpark today. I love coming to the ballpark, and this is a fun place to play games. I don't know if it's any different.
"Nothing really changes," Francona added. "The best way to go about our business is to play good tonight. If we spoil somebody's chances, if it makes us better, it all comes out the same. If we win, we're going to be happy. If we lose, we probably didn't do something right. You can put any adjective on it you want, but I just want us to play good baseball."
August, 7, 2010
8/07/10
10:02
PM ET
NEW YORK -- Red Sox starter
John Lackey
is trying to stay upbeat, but the fact he's lost four times in his past five decisions did not bode well on Saturday.
The right-hander worked six innings and allowed five runs on eight hits with three walks and seven strikeouts at Yankee Stadium as New York defeated Boston, 5-2.
Lackey's outing against the Yankees was similar to the ones he's had of late during which he'll pitch well, but there will be at least one inning when he struggles and the opposition takes advantage.
The game was knotted at 2-2 as Lackey entered the bottom of the fifth inning Saturday. He quickly retired the first two batters he faced before allowing two runs on four consecutive singles to the heart of the Yankees' lineup.
"In the fifth inning, honestly, I made a lot of good pitches. They kind of nickel-and-dimed me to death on that one," Lackey said. "I made some good pitches and had several balls just out of reach."
He surrendered one more run in the sixth inning as New York gained a three-run cushion and did not relinquish it. Lackey's record fell to 10-7 in 23 starts.
"He threw the ball good," Sox catcher
Victor Martinez
said. "There were a few hits that found some holes. That's a pretty good lineup over there and you don't have much room to make a mistake. I thought he did a good job."
On the other side, Yankees starter
CC Sabathia
was solid. The hefty lefty worked eight innings and allowed only two runs on six hits with one walk and four strikeouts. He kept the Red Sox batters off balance for much of the day.
"He's always good," Lackey said. "He's a guy you have to put up a lot of zeros against."
Red Sox manager Terry Francona agrees with Lackey's assessment of his outing,
"[Lackey] just got outpitched today and we got outplayed," Francona said.
Lackey did appear frustrated at times during his outing, but afterward said he's already looking forward to his next start.
"It's frustrating not winning every day, man," Lackey said. "I definitely think I threw the ball better than the numbers are going to show today."
He's been saying that a lot recently.
August, 6, 2010
8/06/10
9:14
PM ET
NEW YORK -- Red Sox first baseman
Mike Lowell
had just finished putting on his batting practice uniform. He must have felt the warm breath on the back of his neck because he quickly turned his chair around to face the middle of the visitor's clubhouse at Yankee Stadium and sat down.
In front of him stood 15-20 reporters, waiting to hear the veteran's take on his season and what lies ahead.
It's no secret by now that he's been utterly frustrated, disappointed and hurt by his lack of playing time this season. Now, with
Kevin Youkilis
on the disabled list for the remainder of the season after undergoing surgery Friday to repair a torn adductor muscle, Lowell finds himself as an everyday player once again.
How long will that last?
The Sox placed him on waivers Wednesday and Lowell has 48 hours to clear. If he is claimed, the Sox can pull him back, but if he clears the club can decide to trade him. That scenario is unlikely at this point given Youkilis' situation.
Lowell figures to have his opportunity to play every day with Youkilis on the DL, and now comes word that the Red Sox worked out
Carlos Delgado
on Friday afternoon. Whether or not the Red Sox are seriously considering another option, Lowell isn't concerned with it at the moment.
"That bridge I definitely don't think should be crossed at this point," Lowell said. "It's a non-issue to me right now. There's chatter and the team can look at all options they want, and you guys can write all the possibilities, but if there were something concrete that would be the proper time [I would discuss it]. I don't want to speculate on something that's not out there or will happen."
Prior to the July 31 trade deadline, Lowell was on the DL with a strain in his surgically repaired hip. When he was deemed healthy enough to play, Lowell was sent on a minor league rehab assignment and tore it up at Triple-A Pawtucket.
There had been plenty of chatter the Sox were working on a deal with several teams, including the Yankees and the Blue Jays.
Lowell said he was aware the Red Sox and Yankees were having discussions, but there was no need to pursue a deal because New York is one of the four teams he can not be contractually dealt to.
"There was no point in pursuing it if I was going to reject it," Lowell said. "It was presented as a chance, but I don't know how far it had gotten. I don't think I would have been made aware of it if there was no chance."
"I've been in a lot of rumors and I've been traded twice in my life, so two trades in 12 years, if I'm traded I'll go wherever they send me," Lowell said.
Coincidentally, Lowell was originally drafted by the Yankees in the 20th round in 1995 before he was traded to the
Florida Marlins
in 1999. He said he has no ill will toward the Yankees, but there's no way the Red Sox would want him to play for their rival. He thought about it during his brief stint on the DL, but he did not want his emotions to get the best of him.
"By no means do I have that New England hatred towards the Yankees," he said. "I want to beat them on the baseball field. My emotions were all over the place at that time. It's easy to tune it out, but that's a little closer to home. So I just took the wait-and-see, but that's just part of the emotional ups and downs of the whole year."
Lowell admitted he did think about the possibility of playing his last game for the Red Sox during his time on the DL.
"I'm not disappointed it wasn't," he said. "It worked out good."
He's played three games in the last four days and is expected to be in the lineup for most of this four-game set against the Yankees. Given his recent trip to the DL, Lowell said he's not nervous about suddenly playing every day.
"Nervous? Absolutely not," he said. "I gauge how I feel the next morning, but I still maintain I ran out for the first 50 games last year, so four out of five I'm not worried about."
As much as he wanted to play all season, being back in the lineup is bittersweet for Lowell.
"Not at Kevin Youkilis' expense, not our cleanup hitter. Absolutely not," Lowell said. "My goal was not to see whether I could get at-bats because someone got hurt. My goal was to have an opportunity to play because I was healthier than I was in 2009. I don't think anything has changed since the first day I spoke during spring training."
"Am I happy that I'm playing? Yeah, I enjoying playing baseball, but with Kevin Youkilis not on our team we're not better. Do I think I can plug the hole? I'm going to try my best. This wasn't the process I was hoping for. Not at all."
As far as playing first base on a regular basis for the first time in his career, Lowell admits it still feels new to him. He's comfortable enough, but he's still learning.
"It's a minor work in progress, but I'm looking to get better and not worse," he said.
He's also talked about the possibility of retirement once his contract expires at the end of this season. Now that he's working on being a little more versatile by playing the other side of the diamond, he's not focused on the future.
"I'm not worried about whether that's going to help me be more marketable to another team. That really hasn't entered my mind," Lowell said. "We'll leave next year for next year."
Physically, he says, he's feeling a lot better than he did a season ago when "97.5 percent of the time I felt horrible."
"I would say the most telling test is when I jog I don't feel like someone is shoving a knife in my [butt]. That really feels good when it doesn't happen. Not literally in the [butt], but on the right buttocks. That's how it felt."
At least his sense of humor is back.
July, 15, 2010
7/15/10
8:11
PM ET
BOSTON -- The Red Sox observed a moment of silence prior to Thursday's game in memory of Yankees owner George Steinbrenner and public address announcer Bob Sheppard.

Both passed away this week.

Red Sox manager Terry Francona was asked his thoughts about the moment of silence during his pregame scrum with the media.

"The thing that stuck out at me, besides the so many obvious things, all the controversial things he'd been through and I'm sure he was a tough guy to work for at times, but the thing that really stuck out for me was when someone was in need of help, whether it was a person or organization, he was always first and wrote the biggest check," Francona said. "Obviously there were some parts of him that were admirable."
NEW YORK -- The paying customers, most of whom are safely under the covered concourses, were just informed that Tuesday night's Red Sox-Yankees game will not start on time, but were told that the Yankees expect the game to be played.

Yankees PR man Jason Latimer said he did not yet have a new start time, but while blowing rain is still sweeping across the tarp-covered infield, it does appear it has let up a little.

Stay tuned for further updates.