Boston Red Sox:

Yoenis Cespedes
November, 11, 2014
11/11/14
8:43
PM ET
PHOENIX -- While Ben Cherington mentioned only
David Ortiz
and
Dustin Pedroia
as "untouchables" on the team's roster, the Red Sox general manager all but said Tuesday that he won't be trading outfielder
Yoenis Cespedes
, despite considerable speculation he was on the block.
"I understand why there's speculation out there,'' Cherington said, noting that Cespedes is a year away from free agency, "but it doesn't mean it's based in any sort of evidence. We're happy to have him.
"We felt like, as we were building a lineup for next year, adding that power element in the middle of the lineup was really important to us. Now that we have it, we're not really anxious to give it away.
"We believe he's very important to the team in 2015, and 2015 is really important to us.''
Cespedes finished the season with 22 home runs and 100 RBIs in 152 games, including five home runs in 51 games after the Sox acquired him at the trading deadline from Oakland for
Jon Lester
. Only two other Sox outfielders hit as many as five home runs in 2014:
Jonny Gomes
, with six, and
Mookie Betts
with five. Only four other outfielders in the American League hit more than 22 home runs:
Mike Trout
,
Jose Bautista
,
Adam Jones
and J.D. Martinez.
Cespedes also had 36 doubles and six triples. His 64 extra-base hits ranked 16th in the majors and were more than any Red Sox player (David Ortiz had 62).
"That power element was missing from our lineup, as you know, for the better part of the season,'' Cherington said. "It's harder than ever to find power. We don't want to go into next season without a power element in the middle of our lineup aside from David [Ortiz]. That's part of the reason we pursued him in the first place.''
Cherington said the Sox have plenty of time to figure out how their outfield will align in 2015. Despite indicating that they planned on Cespedes playing right field, the Sox kept Cespedes in left field, where he was playing in Oakland. Cherington said a move to right field still is possible.
Cherington said he has yet to broach the subject of a contract extension with Cespedes' agent, Brodie Van Wagenen. Cespedes recently switched to being represented by Live Roc Nation.
"We have a good relationship with Yoenis,'' Cherington said. "He had a good experience. He's someone we like. We'll have an opportunity to talk about that.''
June, 20, 2014
6/20/14
2:49
AM ET
By
Eric Gilmore | Special to ESPNBoston.com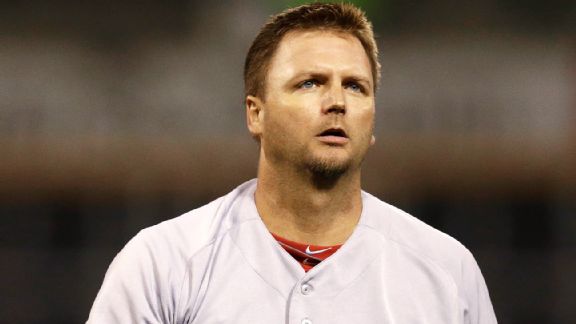 AP Photo/Ben Margot
OAKLAND, Calif. --
Dustin Pedroia
was on second base after a one-out double, and the
Boston Red Sox
, trailing Oakland 4-2, were down to their last out Thursday night when
A.J. Pierzynski
came to the plate.
A's reliever
Dan Otero
threw a first-pitch changeup, and Pierzynski ripped it on a line to center field. Pierzynski thought he hit it out, but former Red Sox center fielder
Coco Crisp
made a catch at the wall.
"I hit that ball good," Pierzynski said. "The guy jumped up at the top of the wall and caught it. What can you do? Just frustrating, you know?"
The Red Sox used back-to-back home runs by
David Ortiz
and
Mike Napoli
in the bottom of the 10th inning Wednesday to beat the Twins 2-1 and sweep that three-game series.
Those timely blasts didn't signal an end to Boston's offensive slump. The Sox scored five runs in those three wins against Minnesota and have now scored a combined seven runs in their past four games. The Red Sox came into the game batting .244, tied for 11th in the American League.
[+] Enlarge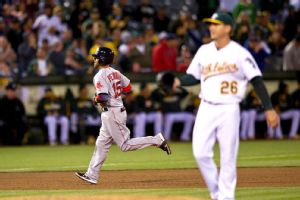 Jason O. Watson/Getty ImagesDustin Pedroia circles the bases after hitting a two-run homer off Scott Kazmir.
Pedroia had two of Boston's five hits against Oakland, a two-run homer off left-hander
Scott Kazmir
in the sixth and the double off Otero.
Kazmir struck out eight, walked none and gave up just two runs on four hits, improving to 9-2.
"We faced a tough pitcher," Pedroia said. "To be honest with you, I think our at-bats weren't that bad. We had some guys hit some balls at people. We got to find a way to have a big inning and get some momentum."
Red Sox manager John Farrell said he thought he was watching some more ninth-inning magic when the ball left Pierzynski's bat in the ninth.
"Off the bat I thought it was gone," Farrell said. "It could have been off the wall. Coco runs it down, and he's in that spot right where if it had a little more elevation it's a tie game."
Red Sox right-hander
Jake Peavy
had a decent start, allowing four runs, just three of them earned, over 6 1/3 innings while striking out four and walking three. He gave up a solo home run to A's left fielder
Yoenis Cespedes
in the third inning. Then in the fourth, former Red Sox shortstop
Jed Lowrie
hit a one-out double and scored on
Stephen Vogt
's bloop single with two outs.
The way the Red Sox are hitting, Peavy needed to be much better to avoid losing his fifth straight decision. He fell to 1-5 and hasn't won a game since April 25 at Toronto.
"We know the situation we've been in as a team," Peavy said. "Going out there you can't put your team too far behind. I certainly try not to do that. Kazmir was good."
[+] Enlarge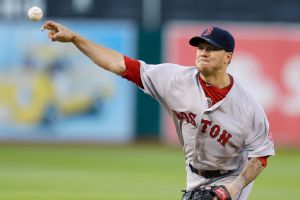 AP Photo/Ben MargotJake Peavy gave the Sox a chance Thursday night but fell to 1-5.
Peavy said he "physically didn't feel very good" in the early innings but found a better rhythm later in the game.
"I thought Jake battled, kept multi-runs off the board in any given inning," Farrell said. "He pitched around some trouble at times. Once again, we're in the ballgame going into the seventh inning. We didn't have too many opportunities. Kazmir has got a year started, halfway through. You see what he's put up not just against us but throughout the season so far. Once again, we're scrambling to create some opportunities."
And once again, Peavy came away with a loss.
"I don't feel sorry for myself one bit," Peavy said. "I got to get better and got to find a way to win."
Peavy blamed himself for a defensive mistake in the second inning that led to an unearned A's run. He gave up a leadoff single to
Josh Donaldson
, who lined a ball off the left-field fence, a foot from going out, then walked Lowrie.
Catcher
Derek Norris
then hit a hard ground ball back to Peavy. But instead of throwing to second to start a likely double play, he threw to third for the force. Third baseman
Xander Bogaerts
caught Peavy's throw on the run then made an off-balance throw to first for an error. Both runners advanced, and Lowrie scored on a ground out.
"If I go to second base on the ground ball, we probably don't give up a run on that unearned run," Peavy said.