December, 16, 2014
Dec 16
12:30
AM ET
BOSTON -- Sometimes, one injury can derail a player's career.
For someone such as
Boston Bruins
captain
Zdeno Chara
, missing 19 consecutive games due to a torn ligament in his left knee was foreign to him.
Until he suffered this injury against the
New York Islanders
on Oct. 23 at TD Garden, the only other time Chara was out of the lineup during his Bruins career was a five-game stretch with a shoulder injury during the 2007-2008 season.
[+] Enlarge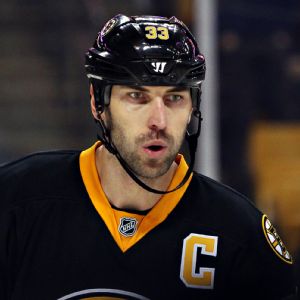 AP Photo/Anthony NesmithZdeno Chara is more motivated than ever to help the Bruins get back on track.
That's pretty amazing, especially for a player who stands 6-foot-9 and weighs 255 pounds at age 37 with 1,143 NHL games under his belt. He has dealt with plenty of injuries during his career, but he always plays through the pain of breaks, bumps and bruises.
Boston's top defenseman returned to the lineup last Thursday against the
Chicago Blackhawks
, and in the past two games it's been evident it will take Chara some time to return to form. After Saturday's 3-2 shootout loss to the
Ottawa Senators
at TD Garden, Chara was not pleased with his play, saying every part of his game needs to be better.
During the past two games, he still registered his norm of nearly 25 minutes of ice time, but he hasn't been at his best. He knows that, and the team does, too. He's been in the penalty box four times in the past two games. He's trying almost everything to slow down opponents while being whistled for hooking, interference and high sticking.
"No excuses," Chara said.
His performance is not due to a lack of effort. Everyone in the hockey world realizes how hard Chara works off the ice and how well he takes care of his body through exercise, nutrition and proper rest.
After missing so many games, it's a matter of making quicker decisions and better plays with his timing.
"He's a competitor and he pushes hard all the time," Bruins coach Claude Julien said. "He tries to be a good leader. He tries to rally the guys. He tries to get the most out of them but more so out of himself. He wants to lead by example and there's no doubt when you've missed two months -- I don't care who you are -- it's a process, and you've got to give yourself time."
Julien pointed out that in the two games Chara has played, he's trying to keep it simple. He's turned the puck over, has been caught pinching in the offensive zone and has been called for penalties.
Given that Chara has no history of a long, midseason absence, no one knows, including him, how long it will take him to find his game again. He's motivated to return to form, and the Bruins have zero concern.
"It depends how you want to look at it and how you want to judge him, but we're not worried about Zdeno right now, and we shouldn't," Julien said.
When he first suffered a tear to his posterior cruciate ligament, Chara's immediate focus was to find the desire to motivate himself in order to return to 100 percent. The original diagnosis was four to six weeks before a possible return, and he accomplished that in 5½ weeks.
"My motivation is to bring my game back where it was before," Chara said.
Coming back that soon from that type of injury is impressive, but to return to a game played on ice only adds to the level of difficulty, no matter how long he has played. He understands it will take some time before he's back to normal, but for now, no one knows how long that will take.
How hard Chara worked through his rehab did not surprise his teammates. They already know he's a maniac in the gym, but his motivation was more pronounced for the past month and a half.
"Every day, he's the hardest worker, and when he was hurt he was working even harder," said
Dougie Hamilton
, Chara's defensive partner. "It's impressive and it shows young guys just how much you have to work and keep getting better. When you see a guy like that accomplish so much and he keeps trying to improve, it makes you want to work harder."
The Bruins begin a three-game road trip Tuesday night in Nashville, Tennessee, against the
Predators
, before traveling to Minnesota on Wednesday and Winnipeg on Friday. Boston is in the midst of a 1-4-1 stretch, and, based on Chara's past two games -- along with the team's struggles -- the captain is motivated.
During his absence, the Bruins clawed their way to an 11-7-1 record. Chara wants to return the favor, and that's where he's drawing his motivation.
"Anytime you see your team being down you want to be there, so when you come back that's when your motivation's got to kick in and do what you can, as best you can, as quickly as you can after the injury to bring your game back to your level.
"Anytime you have motivation, you do perform better. You train better and you just become better. If you motivate yourself, or you see some kind of motivation that gets you motivated, that means you're involved. You're emotional about it, you want to do better and you want to perform."
His frustration has been evident after the past two games. It's a trend he wants to reverse. He wants the team to be stable again. Chara wants to prove this latest injury will not have a lasting effect on his career or the team's season.
"Z's always been a great leader for our hockey club. He's always wanted to step up. He's always wanted to be important for our hockey club, and that hasn't changed," Julien said.