December, 21, 2014
Dec 21
12:10
PM ET
The
Boston Bruins
(16-14-3, 35 points) host the
Buffalo Sabres
(13-18-2, 28 points) Sunday night at TD Garden. Here's what to watch for:


There's no place like home:
After posting a 1-1-1 record on their last three-game road trip, the Bruins return home and will play five of their next six games at TD Garden. Boston is 9-6-2 on home ice. The Bruins desperately need to produce a winning record in this upcoming homestand in order to create some momentum in hopes of climbing in the Atlantic Division standings.
What have you done lately:
The Bruins are treading along and have earned points in three of their last four games, posting a 1-1-2 record in that span. Boston is 2-5-1 in its last eight games and 3-6-2 in the last 11. The Sabres are in the midst of back-to-back games. The
Colorado Avalanche
defeated the Sabres 5-1 Saturday night at Buffalo. The Sabres are 4-2-0 in their last six games.
We meet again:
This is the third of four meetings between the Bruins and Sabres this season. The Bruins are 4-0-1 in their last five games against the Sabres, including 4-0 and a 3-2 overtime victories in the first two meetings this season. Boston is 6-5-1 against Atlantic Division opponents this season.
Masked Men:
Despite a 1-2-2 record in his last five games, it appears
Tuukka Rask
will start against the Sabres. He has a career 6-5-1 record in 14 career games against Buffalo. Bruins backup
Niklas Svedberg
has had success against the Sabres this season, posting a 2-0-0 record with a 0.99 GAA and a .957 SP in both games against Buffalo. Overall, he's 4-4-0 this season with a 2.24 goals-against average and a .925 save percentage in 10 games. Svedberg was outstanding in his last start, posting a 3-2 shootout win against the
Minnesota Wild
on Wednesday. The Sabres'
Jhonas Enroth
suffered the loss against the Avalanche on Saturday night. If he plays back-to-back games, he'll enter Sunday's game with a 9-3-0 record, a .928 SP and a 2.37 GAA in his last 12 games. In 10 career games against the Bruins, he's 1-5-3 with a 3.78 GAA and a .895 SP.
December, 20, 2014
Dec 20
4:49
PM ET
Boston Bruins
defenseman Joe Morrow has been assigned to Providence of the AHL, the team announced Saturday.
Morrow, 22, played in 15 games for the Bruins this season. He's been a healthy scratch in seven of the last eight games. He made his NHL debut on Oct. 30 against the
Buffalo Sabres
.
Prior to his recall, Morrow played in five games for the P-Bruins and had one goal and one assist.
December, 19, 2014
Dec 19
11:02
PM ET
By
Kyle Brasseur
| ESPNBoston.com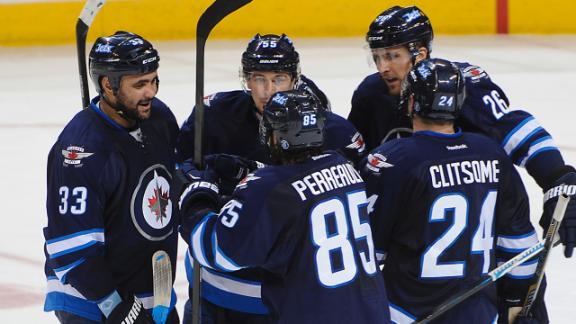 Despite playing 40 minutes of much stronger hockey following a disastrous first period, the
Boston Bruins
fell to the
Winnipeg Jets
2-1 on Friday night at MTS Centre.
Winnipeg received goals from
Evander Kane
and
Dustin Byfuglien
. Bruins defenseman
Torey Krug
registered Boston's lone tally. The loss added to what has been a woeful December for the Bruins, dropping them to 2-5-2 this month.


Winnipeg wasted little time getting things started in the first period. On the tail end of a power play that came courtesy of a Krug delay-of-game penalty 24 seconds into regulation, the Jets were able to keep pressure on Bruins goalie
Tuukka Rask
, culminating in a
Grant Clitsome
one-timer that trickled through Rask's legs. Positioned behind Rask, Kane was able to tip the puck past
David Krejci
in front of the net for the game's first goal.
Outshot 16-4 by Winnipeg in the first period, the Bruins responded with an aggressive start to the second period. Coming up ice in transition,
Carl Soderberg
and
Chris Kelly
broke away for a two-on-one, with Kelly firing a shot on net that got away from Jets goalie
Michael Hutchinson
. Krug was able to corral the rebound, firing in the equalizer at 4:49.
With less than a minute left in the period, the Jets returned the favor by again putting consistent pressure on the Bruins' defense. In the process of making a save, Rask lost control of his stick, dropping it to the ice at the front of the crease. Just after retrieving the stick, Byfuglien fired a shot through traffic that beat Rask high for the eventual winning goal.
The Bruins went 0-for-3 on the power play Friday night and have failed on their last 11 chances with the man advantage.
After the first period, the Bruins outshot the Jets 27-11, including a 16-4 edge in the third period. Rask finished with 25 saves on 27 shots faced. Hutchinson had 30 saves on 31 shots.
A former Bruin, Hutchinson has twice posted strong efforts against Boston this season, the other coming in a 36-save, 2-1 overtime loss on Nov. 28.
Krejci progressing:
Playing in back-to-back games for the first time since late October, Krejci continued to get his feet back under him Friday night. The top-line center spent 18:33 on ice, firing three shots on net. Krejci has missed 20 games this season while battling a lower-body injury.
Krug heating up:
Krug's second-period goal gives him a point in five of his last seven games. The third-year defenseman has six goals and six assists this season in 29 games played.
December, 19, 2014
Dec 19
12:16
PM ET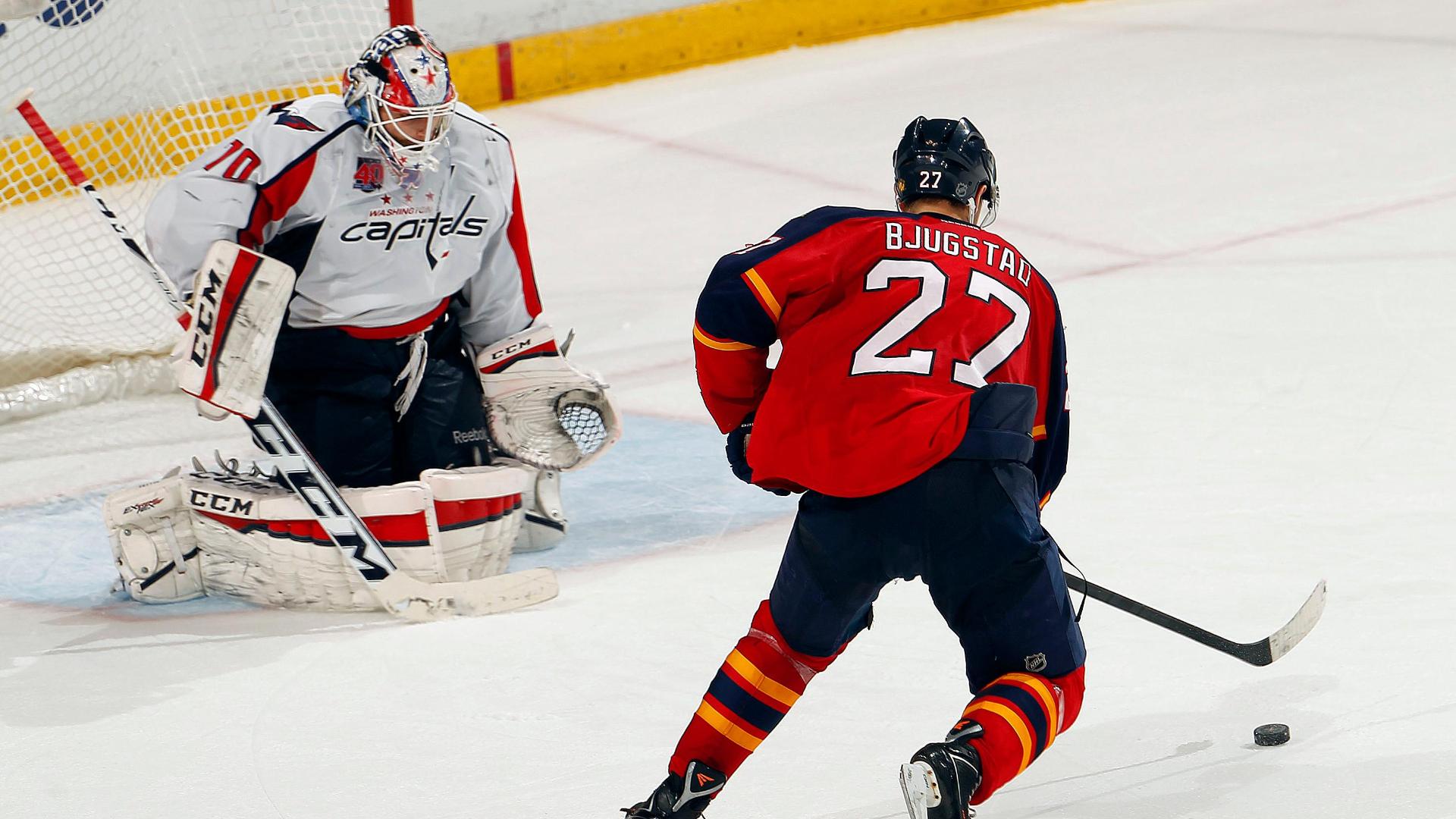 FORWARDS
Trending up: Anze Kopitar, Los Angeles Kings -- I mean, how can we overlook his most recent performance? Kopitar put up a whopping five points in the Kings' 6-4 win over the St. Louis Blues on Thursday night, marking a career-high for the Slovenian center. With six points in the last two games, Kopitar's production is on the uptick after what has otherwise been a rather slow start to the season.
Trending down: James Neal, Nashville Predators -- Yup, I'm calling him out for being the first player to be publicly shamed for his repeated diving. The NHL revealed this week that Neal has been fined $2,000 for his embellishment, after receiving a first citation and a warning. Neal can't be pleased with that, but we like the idea of using this technique to rid the game of this stuff.
Surprise of the week: Rick Nash, New York Rangers -- His skill and scoring ability are hardly a surprise, but this sort of steadiness from Nash has been a pleasant surprise for the New York Rangers. Though traditionally he has been a very streaky player, Nash has been almost mind-numbingly consistent in the midst of putting together one heck of a season for the Blueshirts. The star winger, who has 20 goals and 33 points, is riding an 11-game point streak, with 14 points during that span. He hasn't been held off the score sheet in over a month, and he's registered points in all but four games this season. Impressive.
DEFENSEMEN
Trending up: Justin Faulk, Carolina Hurricanes -- You have to figure that Justin Faulk is one of the cornerstone pieces the Hurricanes want to build around for the future, despite a dreadful start to the 2014-15 season. And though the 22-year-old blueliner has seen his share of struggles this year, he recorded a goal and an assist in the Canes' 4-1 win against the Toronto Maple Leafs on Thursday night to help halt a six-game skid for Carolina.
Trending down: T.J. Brodie, Calgary Flames -- When the Flames were riding high, their blue line was chipping in on the offensive end and giving them balanced production. That type of contribution has slipped of late, coinciding with the team's nosedive. Brodie, who has six goals and 23 points on the season, has gone eight straight games without a goal and has registered just two assists during that span. The Flames need more from him in order to make up some ground surrendered during their recent slump.
Surprise of the week: Mike Green, Washington Capitals -- It's been hard to know what to make of Green (not to mention his trade value) after injuries have hampered him in recent years, but Thursday night he provided some reminders of his offensive abilities, figuring in two important goals en route to the Capitals' 5-4 win against the Columbus Blue Jackets.
GOALTENDERS
Trending up: Marc-Andre Fleury, Pittsburgh Penguins -- Fleury not only evaded the mumps virus that has been wreaking havoc in the Penguins' dressing room but also recorded his league-leading sixth shutout of the season Thursday night in a game that not many people expected him to start. After testing negative for the mumps, Fleury made 29 saves to blank the Colorado Avalanche, despite a good performance from Avs rookie Calvin Pickard, who made 47 saves yet was saddled with the loss.
Trending down: Jimmy Howard, Detroit Red Wings -- Let us first offer a disclaimer: Howard has been terrific this season in regulation and in overtime. It's his shootout struggles that earn him this dubious honor. The Red Wings are an abysmal 1-6 in the shootout this season. Granted, their shooters need to pull their weight, as well, but we'd like to see Howard pull one out in the skills competition sometime soon.
Surprise of the week: Niklas Svedberg, Boston Bruins -- The Bruins' 25-year-old backup goalie was sensational in helping them edge the Minnesota Wild in a 3-2 overtime win Wednesday night. Svedberg made 35 of 37 saves to post a dazzling .946 save percentage, and he has a .925 save percentage overall on the season. Last season, Chad Johnson proved to be an incredibly effective backup to starter Tuukka Rask. Svedberg has shown he can fill that role nicely, as well.
December, 17, 2014
Dec 17
11:22
PM ET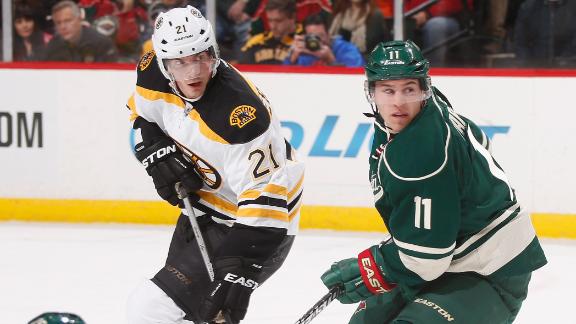 The
Boston Bruins
can thank goaltender
Niklas Svedberg
for their 3-2 overtime win over the
Minnesota Wild
on Wednesday night at Xcel Energy Center.


While the Bruins'
Loui Eriksson
provided the game-winning goal in OT, Svedberg finished with 35 saves to help Boston snap a three-game losing streak. Starting his first game since Dec. 2 (a span of five games), Svedberg was outstanding and made many timely saves, as No. 1 goalie
Tuukka Rask
was given the night off since the Bruins had back-to-back games.
With the Bruins holding a 2-1 lead after the first period, Minnesota generated 20 shots in the second period and Svedberg turned away every one of them. The Wild's game-tying goal came on a fluke bounce that gave Svedberg no chance. Fortunately for Svedberg, his teammates picked him up and finished with a win.
The Bruins are now 2-4-2 in their last eight games and head to Winnipeg to face the Jets on Friday night.
Welcome back:
After missing the past 11 games with a lower-body injury, Bruins forward
David Krejci
returned to the lineup and was reunited with linemates
Milan Lucic
and
Seth Griffith
. Krejci logged 18:22 of ice time and played well for someone who's missed a total of 20 games this season. In fact, it was the first time since Oct. 23 that both Krejci and defenseman
Zdeno Chara
have been in the lineup at the same time. Krejci made a couple of costly turnovers, but overall he was decent.
Hi Carl:
Playing through a 15-game goal drought, Bruins forward
Carl Soderberg
finally scored, giving Boston a 1-0 lead at 5:06 of the first period. A scrum ensued in front of the Minnesota net when Soderberg pumped in the loose puck. He had another quality scoring chance in the waning minutes of the first period, but his shot rang off the crossbar. Soderberg assisted on Eriksson's game-winning tally in OT.
Huge kill:
With the Bruins holding a 2-1 lead in the second period, Boston had two men in the box as Minnesota had a golden opportunity to tie the game. The Wild's two-man advantage lasted for 1:13 but the Bruins killed it off and stifled Minnesota's momentum.
December, 17, 2014
Dec 17
3:48
PM ET
Boston Bruins
forward
David Krejci
has not been ruled out for Wednesday night's game against the Wild in Minnesota after participating in the morning skate.
Krejci, who has missed 11 straight games and 20 overall this season with a lower body injury, will be evaluated before the game and a call will be made on whether he will return.
"I felt pretty good this morning," Krejci told the Boston Herald. "I just got off the ice. I've got to talk to a couple of people and I guess make the decision a little later today."
Kreji also skated before Tuesday's game in Nashville but was ultimately kept out.
The Bruins are 3-5-3 in their past 11 games, all of which Krejci has missed.
December, 16, 2014
Dec 16
11:28
PM ET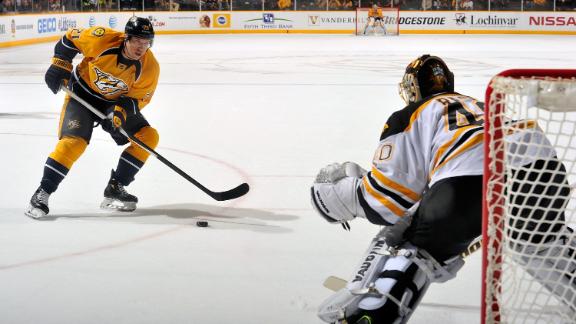 A valiant effort by the
Boston Bruins
nearly went for naught, but they earned a point in a 3-2 shootout loss to the
Nashville Predators
on Tuesday night at Bridgeport Arena.
The Bruins entered their current three-game road trip after losing seven of their last nine games and playing against one of the best teams in the NHL. The Bruins received goals from
Milan Lucic
and
Reilly Smith
, while goaltender
Tuukka Rask
was solid with a 38-save performance. But it wasn't enough as the Predators'
Derek Roy
scored the lone goal in the shootout en route to victory.
The Bruins continue their road trip and will face the
Minnesota Wild
on Wednesday night.

Countrymen:
The story of this game was the goaltending at both ends of the ice. While Rask was solid, Nashville's
Pekka Rinne
was outstanding, making 33 saves. It was a battle of fellow Finnish natives, and Rinne was a little bit better. Rask had no chance on the two regulation goals he allowed. The first was a power-play goal he never saw, and the second was an uncontested, pointblank blast. His 38 saves tied a season-high. Rinne proved why he's the early-season favorite for the Vezina with his outstanding performance.
Power play:
For the first time in six games, the Bruins actually had more than two power plays in a game. Boston went 0-for-3 but it showed signs of improving on the man-advantage. Lucic's goal was an even-strength tally, but it came at the tail end of a strong power play by Boston. However, the Bruins did not register a shot on their third power play of the game. Nashville went 1-for-4 on the PP. With Boston holding a 1-0 lead, the Predators capitalized on the man-advantage and tied the game at 1-1 on
Mike Fisher
's goal at 19:30 of the second period. It was Nashville's first power-play goal on home ice since its home opener, snapping an 0-for-43 skid.
Hello, Carl?:
The Bruins have struggled scoring goals this season and everyone needs to be held accountable, but forward
Carl Soderberg
is in the midst of a 15-game goal-scoring drought. He does have six assists in that span, but he needs to start scoring more.
Heating up:
With his goal against the Predators, Smith now has four goals and two assists for six points in the last five games.
December, 16, 2014
Dec 16
3:38
PM ET
Boston Bruins
forward
David Krejci
will miss Tuesday night's game against the Predators in Nashville, coach Claude Julien told reporters.
Krejci made the trip with the team and took part in the morning skate, but was declared a no-go for the 11th straight game (and 20th overall this season) with a lower-body injury.
The top-line center had practiced with the team for the past week and figured to have a chance to play at some point on this road trip, which will continue Wednesday night in Minnesota.
December, 16, 2014
Dec 16
12:30
AM ET
BOSTON -- Sometimes, one injury can derail a player's career.
For someone such as
Boston Bruins
captain
Zdeno Chara
, missing 19 consecutive games due to a torn ligament in his left knee was foreign to him.
Until he suffered this injury against the
New York Islanders
on Oct. 23 at TD Garden, the only other time Chara was out of the lineup during his Bruins career was a five-game stretch with a shoulder injury during the 2007-2008 season.
[+] Enlarge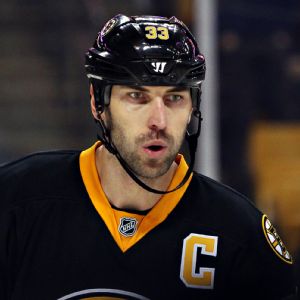 AP Photo/Anthony NesmithZdeno Chara is more motivated than ever to help the Bruins get back on track.
That's pretty amazing, especially for a player who stands 6-foot-9 and weighs 255 pounds at age 37 with 1,143 NHL games under his belt. He has dealt with plenty of injuries during his career, but he always plays through the pain of breaks, bumps and bruises.
Boston's top defenseman returned to the lineup last Thursday against the
Chicago Blackhawks
, and in the past two games it's been evident it will take Chara some time to return to form. After Saturday's 3-2 shootout loss to the
Ottawa Senators
at TD Garden, Chara was not pleased with his play, saying every part of his game needs to be better.
During the past two games, he still registered his norm of nearly 25 minutes of ice time, but he hasn't been at his best. He knows that, and the team does, too. He's been in the penalty box four times in the past two games. He's trying almost everything to slow down opponents while being whistled for hooking, interference and high sticking.
"No excuses," Chara said.
His performance is not due to a lack of effort. Everyone in the hockey world realizes how hard Chara works off the ice and how well he takes care of his body through exercise, nutrition and proper rest.
After missing so many games, it's a matter of making quicker decisions and better plays with his timing.
"He's a competitor and he pushes hard all the time," Bruins coach Claude Julien said. "He tries to be a good leader. He tries to rally the guys. He tries to get the most out of them but more so out of himself. He wants to lead by example and there's no doubt when you've missed two months -- I don't care who you are -- it's a process, and you've got to give yourself time."
Julien pointed out that in the two games Chara has played, he's trying to keep it simple. He's turned the puck over, has been caught pinching in the offensive zone and has been called for penalties.
Given that Chara has no history of a long, midseason absence, no one knows, including him, how long it will take him to find his game again. He's motivated to return to form, and the Bruins have zero concern.
"It depends how you want to look at it and how you want to judge him, but we're not worried about Zdeno right now, and we shouldn't," Julien said.
When he first suffered a tear to his posterior cruciate ligament, Chara's immediate focus was to find the desire to motivate himself in order to return to 100 percent. The original diagnosis was four to six weeks before a possible return, and he accomplished that in 5½ weeks.
"My motivation is to bring my game back where it was before," Chara said.
Coming back that soon from that type of injury is impressive, but to return to a game played on ice only adds to the level of difficulty, no matter how long he has played. He understands it will take some time before he's back to normal, but for now, no one knows how long that will take.
How hard Chara worked through his rehab did not surprise his teammates. They already know he's a maniac in the gym, but his motivation was more pronounced for the past month and a half.
"Every day, he's the hardest worker, and when he was hurt he was working even harder," said
Dougie Hamilton
, Chara's defensive partner. "It's impressive and it shows young guys just how much you have to work and keep getting better. When you see a guy like that accomplish so much and he keeps trying to improve, it makes you want to work harder."
The Bruins begin a three-game road trip Tuesday night in Nashville, Tennessee, against the
Predators
, before traveling to Minnesota on Wednesday and Winnipeg on Friday. Boston is in the midst of a 1-4-1 stretch, and, based on Chara's past two games -- along with the team's struggles -- the captain is motivated.
During his absence, the Bruins clawed their way to an 11-7-1 record. Chara wants to return the favor, and that's where he's drawing his motivation.
"Anytime you see your team being down you want to be there, so when you come back that's when your motivation's got to kick in and do what you can, as best you can, as quickly as you can after the injury to bring your game back to your level.
"Anytime you have motivation, you do perform better. You train better and you just become better. If you motivate yourself, or you see some kind of motivation that gets you motivated, that means you're involved. You're emotional about it, you want to do better and you want to perform."
His frustration has been evident after the past two games. It's a trend he wants to reverse. He wants the team to be stable again. Chara wants to prove this latest injury will not have a lasting effect on his career or the team's season.
"Z's always been a great leader for our hockey club. He's always wanted to step up. He's always wanted to be important for our hockey club, and that hasn't changed," Julien said.
December, 15, 2014
Dec 15
7:46
PM ET
BOSTON -- There's still no timetable for when
Boston Bruins
forward
Simon Gagne
will return to the team. He's on an indefinite leave of absence, returning home to Quebec City early last week to be with his ailing father, who was recently diagnosed with an incurable form of liver cancer.
After the team's practice Monday at TD Garden, coach Claude Julien said he was planning on reaching out to Gagne later in the day.
"Out of respect, I'm going to reach out to him," Julien said. "He left early last week and I want to give him some time, I don't want to be texting him every day and feeling like he's got the pressure of coming back. We told him he had to deal with his personal issues that we respect and understand. I'll reach out to him to see how's he's doing, not to see when he's coming back."
December, 15, 2014
Dec 15
2:13
PM ET
BOSTON -- Bruins forward
David Krejci
will travel with the team on its upcoming three-game road trip, according to coach Claude Julien.
The Bruins practiced Monday morning at TD Garden before leaving for Nashville, where they will face the Predators on Tuesday night. Krejci has practiced with the team for the past week but remains sidelined with a lower-body injury.
The top-line center has missed 19 games, including the past 10, but is on the verge of returning to the lineup.
"I hope so. I can't guarantee that though. I hope so," Julien said.
At Monday's practice, Krejci skated with
Milan Lucic
,
Craig Cunningham
and
Chris Kelly
.